Now that fall is here, I have been looking for ways to continue gardening, since I had so much fun with my new southern-exposure flower garden over the summer. My daughters and I found a great way to garden in the fall and to add some autumn color to a home's outdoor decor — fall container gardens!
Earlier this month, I signed up for a fall container garden workshop at what has become my favorite garden store, Timothy's Center for Gardening in Robbinsville, NJ. I was going to go by myself or take a friend along, but instead, I took my twin 10-year-old daughters, and we had a great time! The workshop was a wonderful learning experience for my children, and we had so much fun together!
Fall Gardening Fun
At the workshop, we learned that container gardening is easier than we thought it was, and we found out that container gardening can be quite a creative exercise! We all chose different elements for our fall container gardens (except for the mini scarecrows — we all wanted one of those), and I think all the fall container gardens came out terrific!
My favorite elements in my fall container garden are the yellow and black-eyed susans — they remind me of the mammoth sunflowers that I totally loved in my garden this past summer. I also put in some snapdragons, ornamental peppers and a decorative pumpkin to my fall container garden. I love the splash of autumn color that they add!
My daughters each worked on their own fall container gardens completely independently, and I think their gardens came out perfectly!
I was originally going to limit how many plants my kids could choose for their gardens, but luckily, our plants only came to just over $40 total, since I had a $10 gift card to the garden shop, which I got for signing up for their emails. We were also able to save money on our creations by bringing containers that we already had at home. I think we got a good deal — we attended a wonderful class and created three wonderful fall container gardens for just about $40!
Now our fall container gardens adorn our home's front walkway — they add cute autumn flair to the front of our home!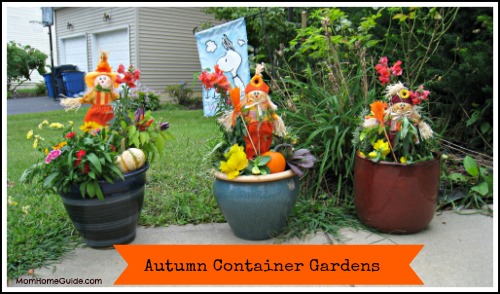 Now, my daughters and I are hoping to attend a Christmas wreath workshop in December that Timothy's, my favorite garden store, might hold! I'll keep you posted!