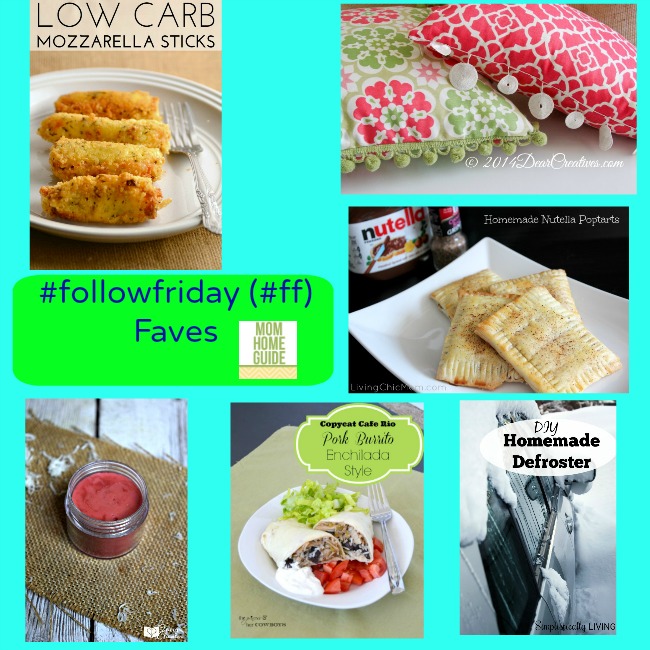 One of the best things about being a blogger is following the work of other bloggers! I am always impressed by the ingenuity and creativity of my blogging friends! These are some of the recent projects that I like the most from some of my favorite bloggers ! #Followfriday (#FF) is a great time to discover new blogs. Check them out!
My daughters really enjoy mozzarella sticks, so in the past, I've purchased frozen ones at the grocery store. I love that with this low-carb mozzarella stick recipe from Wife Mom Geek, I can make my own with regular string cheese! I can even tailor the recipe to my family's likes — we love lots of garlic and basil!
On a recent icy and cold school morning, I had to flag down a neighbor and have her take my kids to the bus stop because I couldn't defrost my car's windshield quickly enough! So I really want to try the DIY Homemade Defroster by Simplistically Living! The homemade defroster might help my kids and I get to the bus stop earlier on cold winter mornings!
I adore this throw pillow tutorial by Dear Creatives. Throw pillows are a wonderful and inexpensive way to change up home decor! I am crazy about the tassels and fringe on these pillows!
My daughters crave store-bought toaster pastries, and they flip over chocolate, so I think this recipe for homemade Nutella Poptarts by Living Chic Mom is genius! I am happy to see that this recipe doesn't look too difficult, either!
With the harsh winter weather we've been having here in New Jersey, I am eager to try this easy lip balm recipe by The Classy Chapter!  I like how I can add some lip-soothing ingredients to my favorite lipstick color with this recipe!
I've been looking for some really delicious slow cooker recipes to try out and this copy cat pork burrito enchilada style by The Princess & Her Cowboys looks perfect! I think I will be trying out this recipe this coming weekend!
These are my #followfriday (#FF) faves for this week — let me know if you try out any of these recipes or tutorials!
Happy Weekend, Everyone!
Related articles across the web