Disclosure: This Got Milk? Snacks Best In Class Party Giveaway post has been compensated by Got Milk? snack products as part of a campaign for The Mom it Forward Blogger Network.
When my kids get home from school, they are usually incredibly hungry! Snacks are an anticipated part of our daily routine!
This isn't so for many kids in the U.S. — about 16 million children in our country live in households where they can't get enough food or adequate nutrition to live a healthy life. Many of these families rely on food banks to get the food they need, but frequently, milk is a hard to come by nutritious need.
To help meet this need, Got Milk? snack products has launched the #BestinClass campaign and contest. Parents, teachers and students are invited to nominate a classroom they believe Deserves a Got Milk? party. Entries can be submitted at the Best in Class Facebook page. For every entry, a donation will be made to The Great American Milk Drive, which provides milk to families in need through Feeding America. The contest is open this week, through October 9.
Nominate a Classroom to Receive a Fun Got Milk? Party! Each submission will be paired with a donation to The Great American Milk Drive.

Five classroms will receive a Got Milk? party in a box that includes party decorations, snacks and a gift card to a local grocery store where milk can be purchased.
Got Milk Snacks Products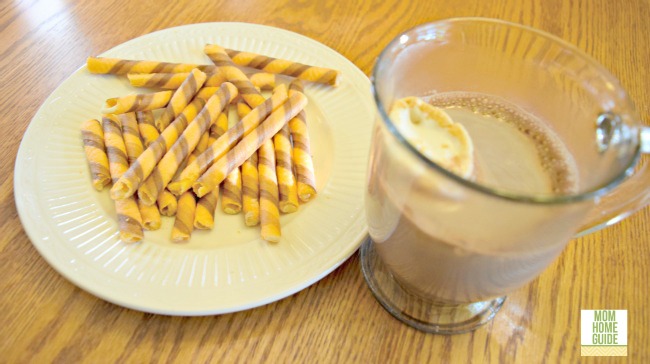 My daughters and I tried some of the delicious Got Milk? snack products one day when my girls got home from cross country practice. All the snacks go great with milk! Among the Got Milk" snack products are cookies, cereals and granola bars. The snacks even include organic, non-GMO, gluten-free and vegan offerings. My daughters and I especially liked the Crispy Wafer Spirals!
I paired the wafer spirals with a homemade hot cocoa mix that I spooned into milk — hot cocoa tastes best when made with milk! I topped each mug of hot chocolate with a toasted marshmallow. My kids loved it! My recipe is below!
Hot Cocoa with Toasted Marshmallow
2015-10-07 09:00:05
An easy to prepare hot cocoa mix that you mix into warmed milk for a delicious mug of hot chocolate
Ingredients
3 1/2 cups sugar
2 1/4 cups cocoa
1 tablespoon table salt
Whole milk for serving
Instructions
Prepare your hot cocoa mix by mixing together 3 1/2 cups sugar, 2 1/4 cups cocoa and 1 tablespoon table salt. Store in an air-tight container. For one cup of hot cocoa, pour milk into a cup or mug and microwave for up to 2 minutes. Stir in 2 tablespoons of the hot cocoa mix.
For extra fun, try toasting a marshmallow or two to top your hot cocoa. To roast your marshmallows, grease a sheet of aluminum foil with butter and place on a toaster oven baking sheet. Place your marshmallows on the sheet and slide the sheet into a toaster oven.
Turn on your toaster oven and set to broil. (Be sure to watch your marshmallows because they will cook quickly.) When the marshmallows are browned, carefully remove them from the sheet and float them in your hot cocoa! Enjoy!
Adapted from http://www.marthastewart.com/
momhomeguide.com https://momhomeguide.com/
For Additional Information
Facebook: http://woobox.com/8rqzpy
Twitter: @GotMilkGoodies
Instagram: @gotmilkgoodies