This post contains Amazon Affiliate links.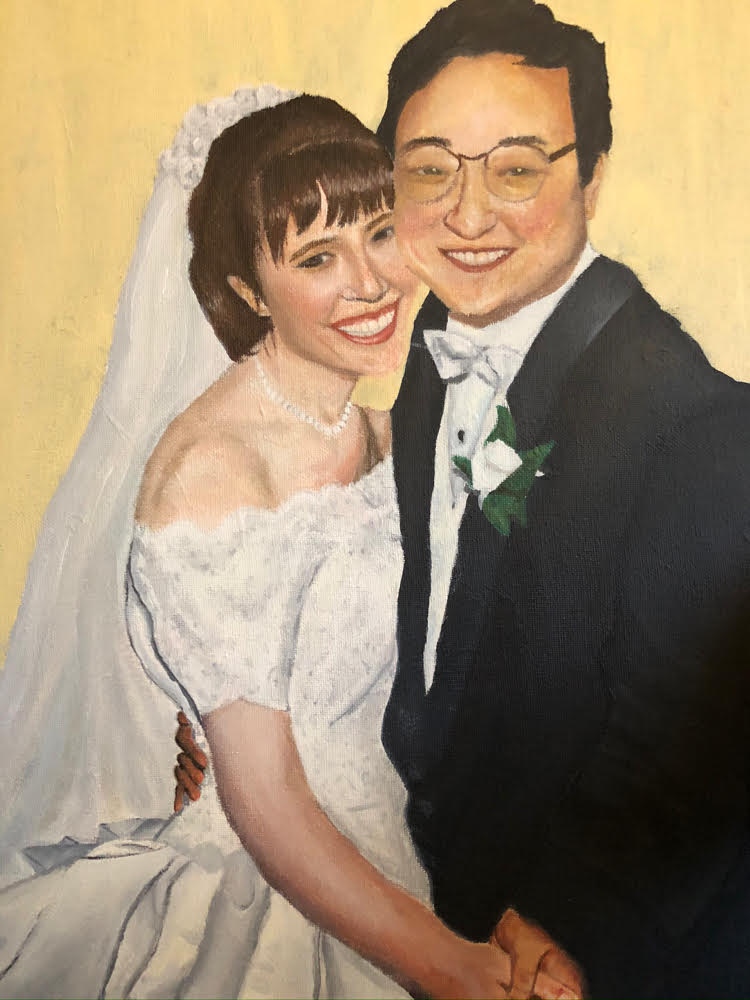 This Christmas, one of my teen daughters surprised my husband and me with a portrait of us that she painted. I was amazed by her painting. Her painted canvas is a beautiful depiction of my husband and me on our wedding day. I love it!
I immediately wanted to put the canvas up on a wall. I wanted to hang the canvas without nails. (In my experience, there never is a stud in the spot you want to put a picture. Plus, I'd rather not have to get out a hammer.)
My husband and I don't have any large framed photos from our wedding day. We couldn't afford a traditional wedding photographer. (Two talented photographer friends took beautiful photos of us on our wedding day, but we only had small photos printed of our wedding day.)
Get free inspiration in your inbox – recipes, DIY projects, crafts and more.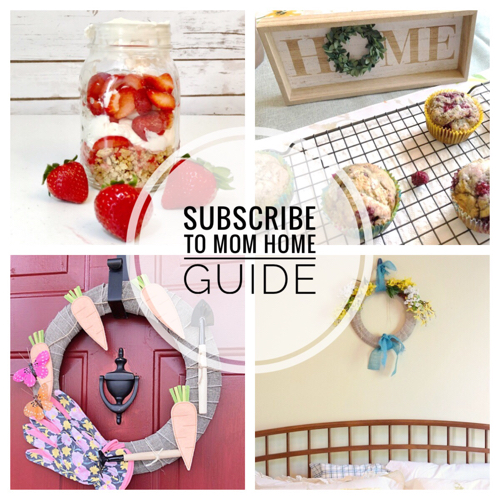 I am happy to have this large wedding portrait that our daughter painted for us! The portrait is extra special because it is painted by our daughter.
My daughter secretly borrowed the below framed photo from my husband's and my wedding day to complete her painting. (She had the photo for weeks in her bedroom. My husband and I didn't even notice!) My husband got me the frame that you see in the below photo. I can't believe our wedding day was more than 25 years ago!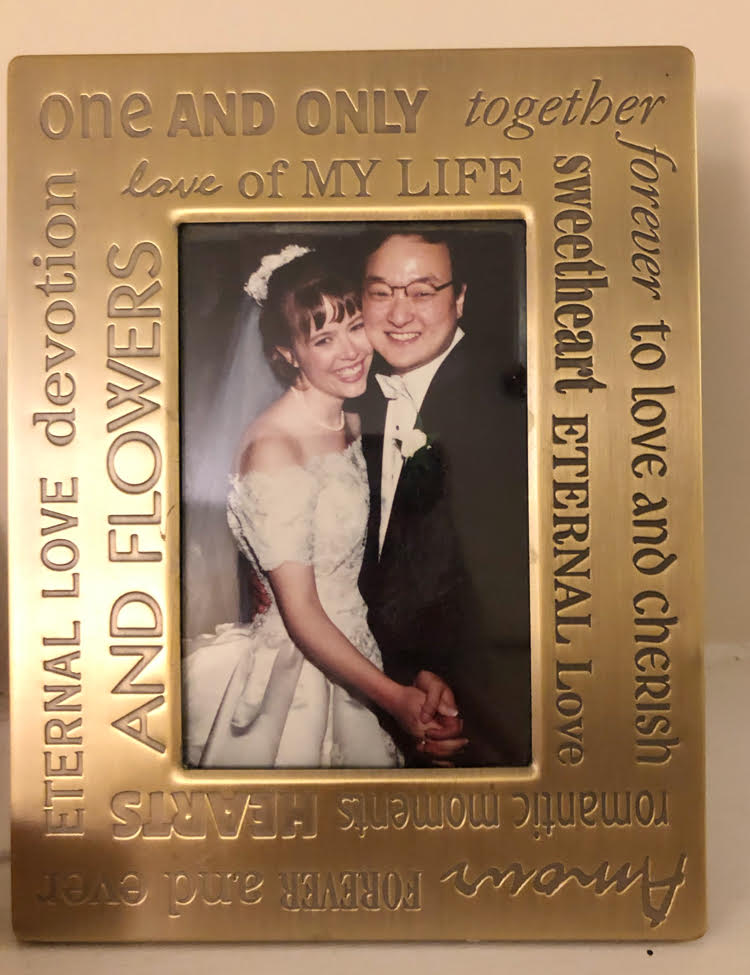 The painted wedding portrait is is the third painting my daughter has gifted my husband and me. (I am a lucky mom.) The first canvas she gave us was a beautiful painting of some koi fish that she designed and painted when I made over the hall bathroom that my twin daughters use.
Hanging a Canvas Without Nails
I decided I wanted to give my daughter's painting a place of honor above our TV in our home's family room. The spot above the television is visible from almost anywhere on the main floor of our home.
I can see that area from the living room and kitchen, and from anywhere in the family room. Since I planned to hang our painted wedding portrait above our flatscreen TV, I wanted to make sure that the painting was hung securely. (Not to mention that the painting is very important to me!)
What I love about the 3M Drywall Hangers is that they are made of sturdy steel, can hold up to 45 pounds and require no tools to install! Perfect!
I got my set of 3M CLAW Drywall Picture Hangers with Temporary Spot Markers
online from Amazon. The hangers and markers are inexpensive. I got a set of 6 hangers with markers for less than $11. That means it costs me less than $2 to hang a picture!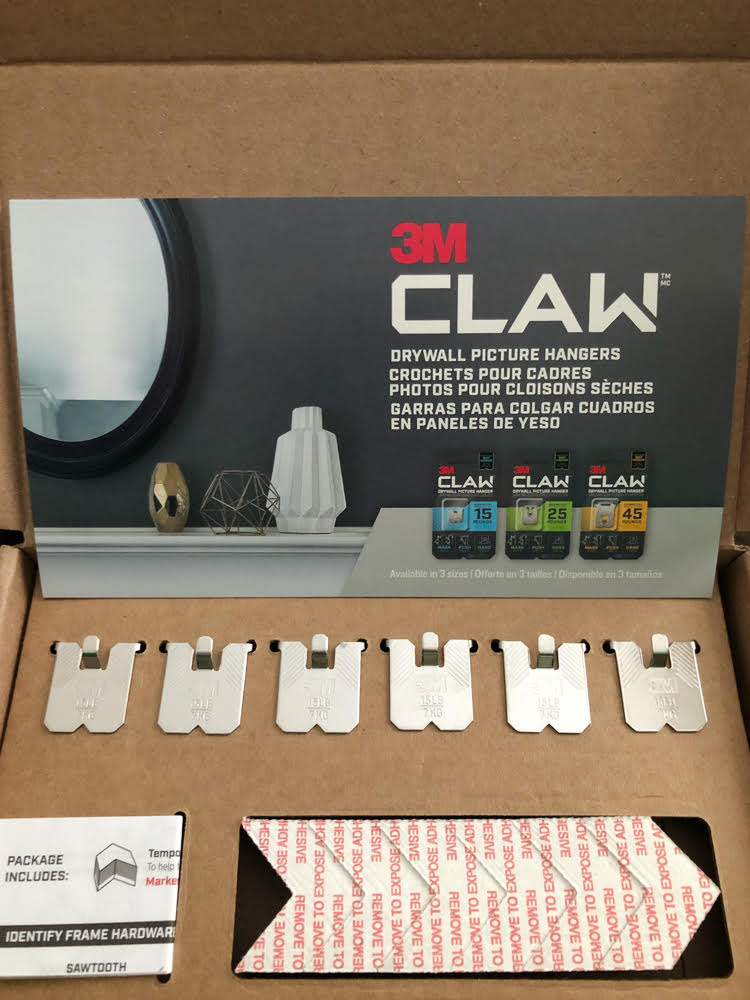 Putting the canvas up without nails couldn't be easier. I purchased an inexpensive Picture Hanging Set
so I could add a sawtooth hanger to the back of the canvas. I needed to add the sawtooth hanger to help hang the portrait on the 3M CLAW Drywall Picture Hanger
.
The sawtooth hanger was quite easy to add to the back of the canvas. I literally used a mini pocket tool set that I got at a blog conference to add the sawtooth hanger. I simply screwed the sawtooth hanger onto the back of the canvas frame with a mini screwdriver.
After I screwed a sawtooth hanger to the top back frame of the canvas, I stuck one of the self-stick temporary 3M markers (shown in the photo above) on the frame just below the sawtooth hanger.
I then pressed the canvas lightly but firmly on the wall where I wanted to hang the painted wedding portrait. (Before I did that, I measured out where to place the canvas, making sure to center it above the TV. )
The 3M temporary marker stuck to the wall, showing me where to install my 3M CLAW Drywall Picture Hanger. It was so quick and easy!
I installed a 3M CLAW Drywall Picture Hanger just above the temporary marker. All I did was place the bottom of the 3M CLAW Drywall Picture Hanger against the wall and push the stop of the hanger (which has the pointy claw part) into the drywall with my hand. I was surprised at how easy it was! I think I am in love with my 3M CLAW Drywall Picture Hangers!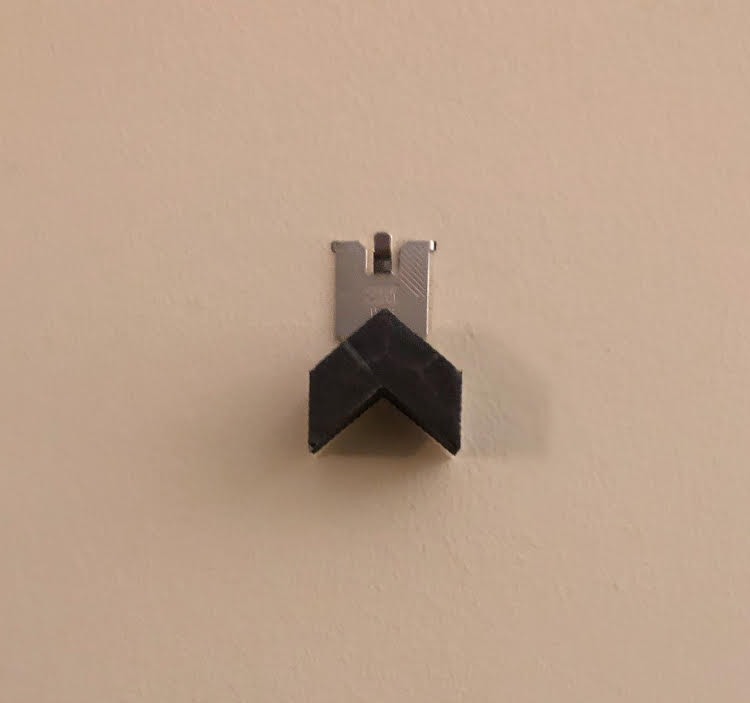 The painted wedding portrait has been up on the wall a few weeks now and is doing just fine!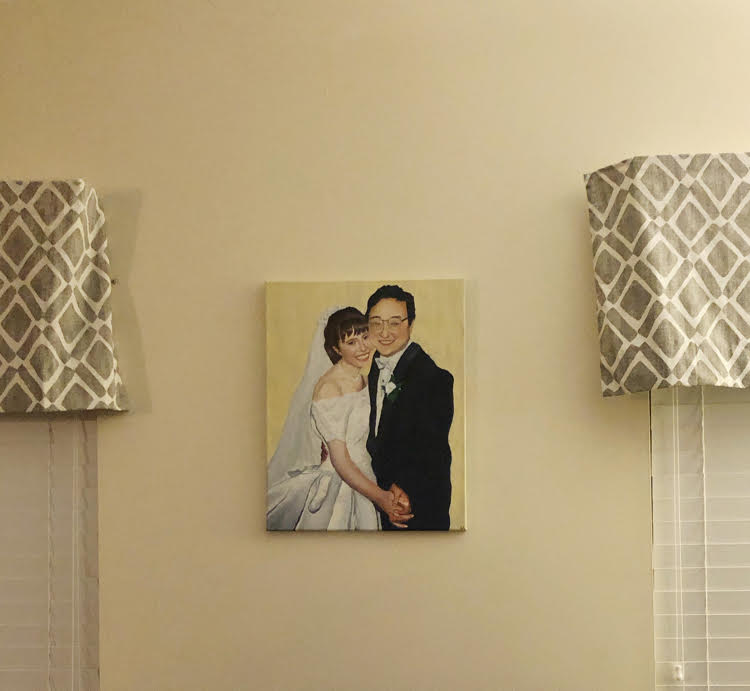 I am so happy with how easy it was to hang the picture without nails. I love that I didn't need a hammer or a traditional/old school drywall anchor!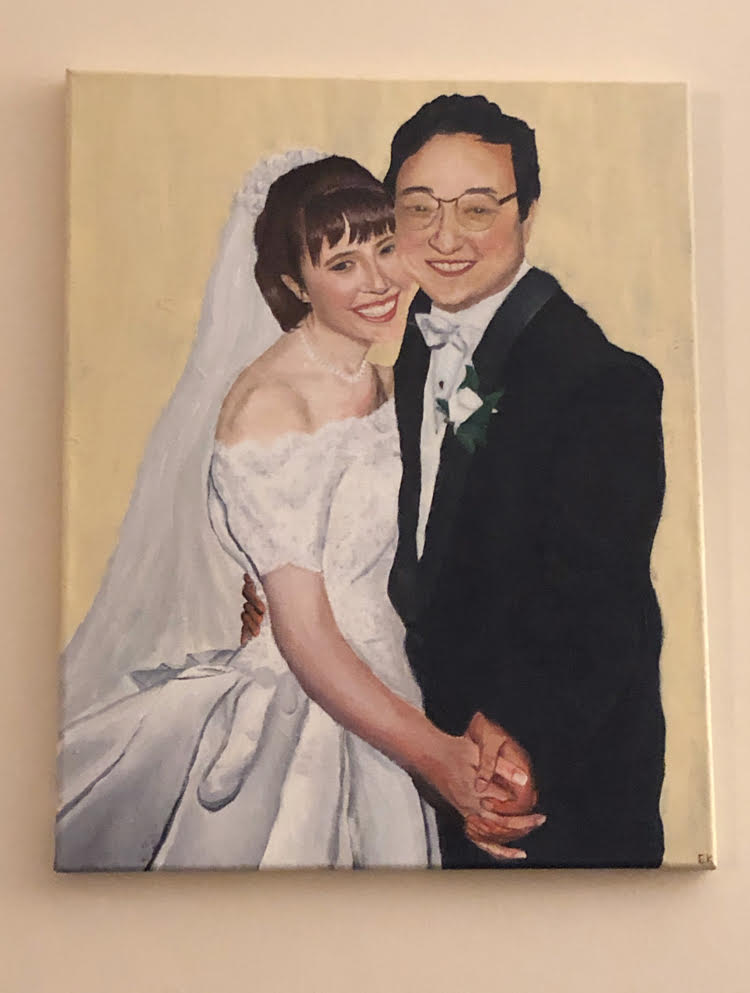 I am glad that I have a few 3M CLAW Drywall Picture Hangers left.
I have a few photo canvases that I would like to hang – I think I might put some up this weekend! I also recently received my daughters' senior photos in the mail, and would like to hang those on a gallery wall, too. (For those senior photos, I hope to design some custom photo mats with my Silhouette Cameo machine.)
You Might Also Like