Welcome to our Halloween Holiday Craftacular Blog Hop!
Throughout the year, my blogging friends and I will share our holiday or seasonal projects. Stop here Monday through Friday of this week to see great Halloween decorating projects, crafts and ideas from me and my friends!
Plus, share your Halloween project, recipe or craft at the Holiday Craftacular linky party below!
We can't wait to see your Halloween creations! We'll share our linky party favorites at our next Holiday Craftacular blog hop and on our Holiday Craftacular Pinterest Board!
Meet the Holiday Craftacular blogging crew! Please follow your Holiday Craftacular hosts!
Also, be sure to visit our next Holiday Craftacular blog hop, which starts December 7 for our Christmas Craftacular blog hop!

Lauren of Mom Home Guide
Becky of The Dempster Logbook
Carrie of Curly Crafty Mom
Now for today's Holiday Craftacular blogger, Lauren!
Hi, everyone! Happy Monday! I'm Lauren of Mom Home Guide! I am a DIY/crafting blogger who loves working on projects around the house, traveling with my family, spending time with good friends and just relaxing at home! I am a true homebody!
When I am not working on a DIY project at home, you can find me picking out a tune on the piano in my home's sunny living room, watching HGTV or burying my nose in a good book! I love hiking, natural vistas, lakes, woods, streams and mountains, and want to buy a kayak someday! I used to be a runner, but haven't gone running in ages. But now that my daughters run cross country, I'm hoping to lace up my racing shoes and enter a 5K with them one of these days! I live in Central New Jersey, which is known for its shopping malls, but I love to get lost on local country roads and take in the beautiful farmland views.
My husband and I met on our very first day on the job after graduating college and hit it off right away! (Although I didn't realize it at first. He had to do some pursuing first!) We bought our home together 13 years ago and had our twin daughters about 9 months later! Our house has been home sweet home ever since!
Today I am sharing my Halloween home tour and a super easy Halloween recipe! But first, I would like to show you my pick from last month's fall Holiday Craftacular link up party! My fave is the fall tablescape from Design Loves Detail. Mollie's farmhouse style really speaks to my heart. Her style is sweet and sentimental, pretty, yet cozy and simple. I am not one for too many fancy bells and whistles! Love it!
Now, it's time for my Halloween home tour and a simple recipe for a fun Halloween treat!

I adore my home's living room. It's sunny, and I have so much fun decorating the love seat for the seasons! For Halloween, I added a few Halloween throw pillows. My kids love the Halloween pillows!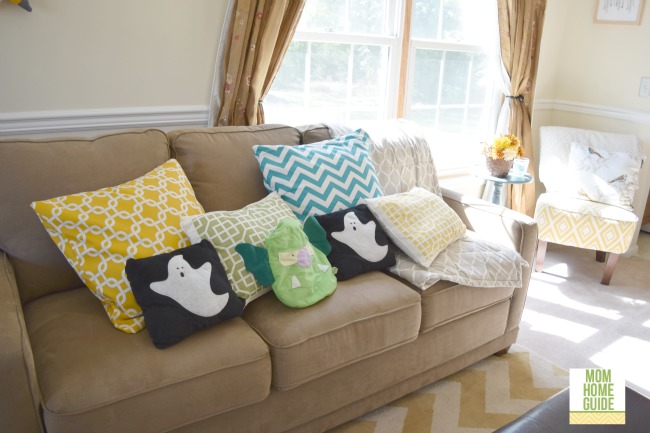 This is a closeup of the pillows.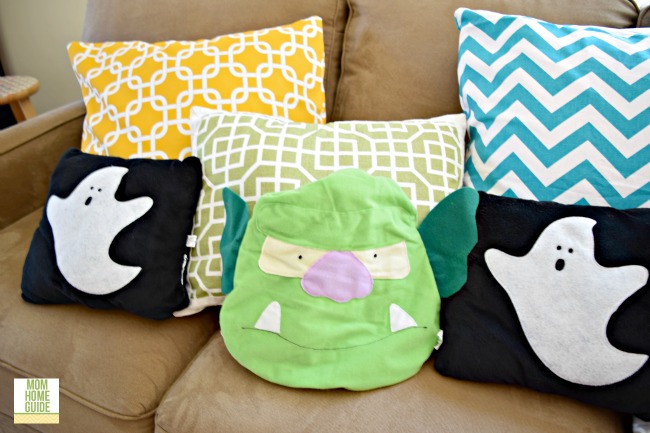 My daughters and I had a fun day of shopping the other day. While out shopping, I found a fun Halloween table runner and autumn salt and pepper shakers. (I got everything for about $12!) I couldn't pass them up. So I used them to decorate my kitchen's farmhouse-style table!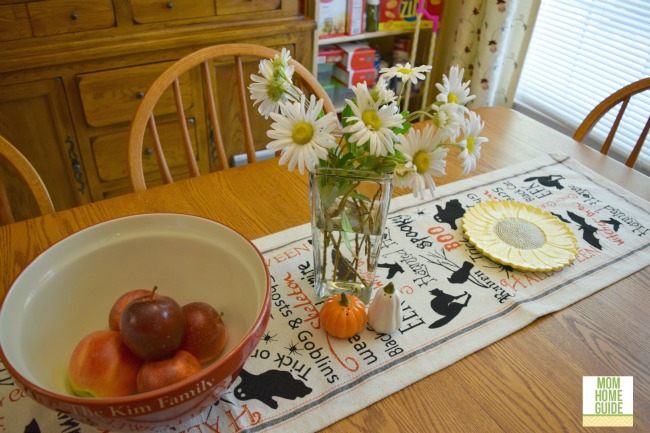 This is a closeup of my adorable new salt and pepper shakers!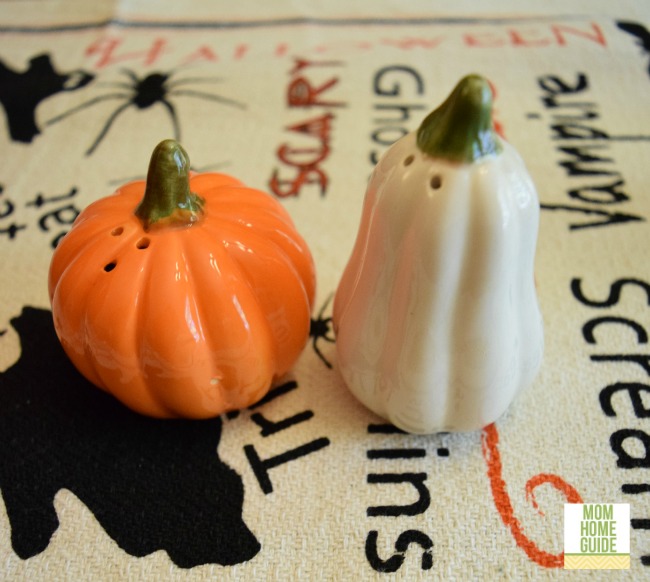 One of my daughters loves apples, so I added a bowl of apples to the table. I love the bowl that I have them in. The mixing bowl is from Personal Creations, and I had it personalized! I really like its red color! (Two smaller mixing bowls also came with the set.) I have pops of red throughout my kitchen. (If you are interested in purchasing anything from Personal Creations, check out these great Personal Creations coupon codes!)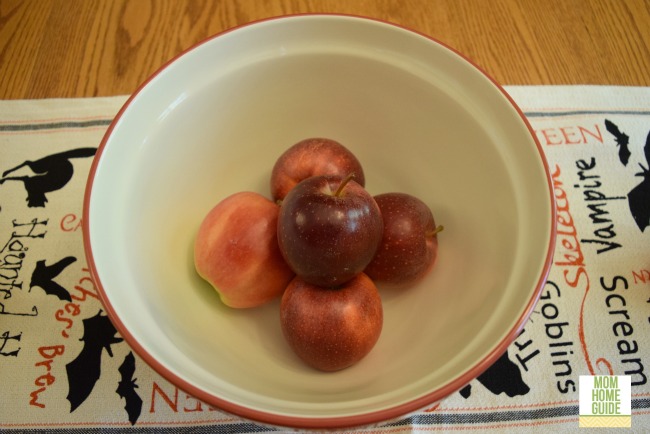 The daisy-like flowers in the vase are actually mums (also called chrysanthemums) from my garden!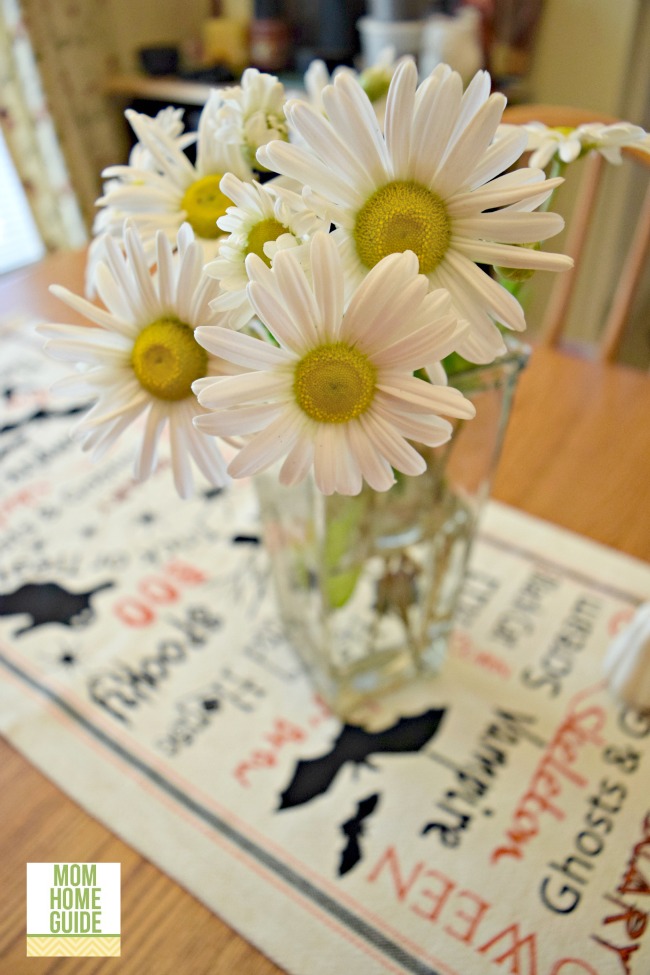 While out shopping I also found some inexpensive and fun Halloween dish cloths! I hung one from the door handle of my oven to continue my kitchen's Halloween theme.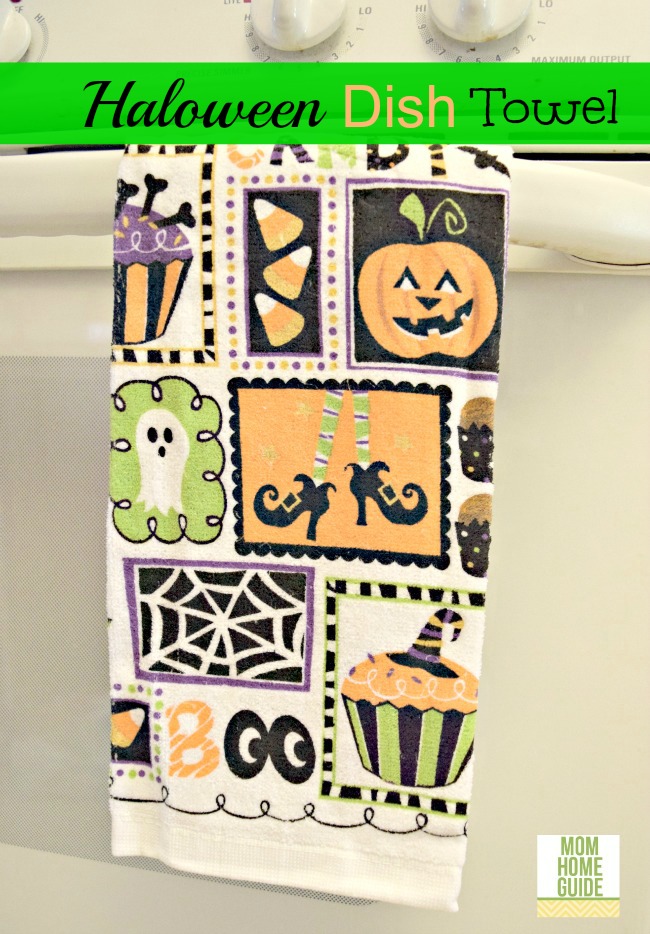 My kids were seriously hungry the other day when they got home from cross country, so I decided to make them a quick sweet Halloween treat! I made them some dark chocolate Halloween bark with Hershey's Special Dark chocolate, candy corn and Reese's Pieces for extra fall color!

The candy corn was a happy surprise for my hungry tweens! The recipe is at the end of this post!
This wraps up my Halloween home tour! Check back here tomorrow to see how my friend, Carrie of Curly Crafty Mom, has decorated her home for Halloween!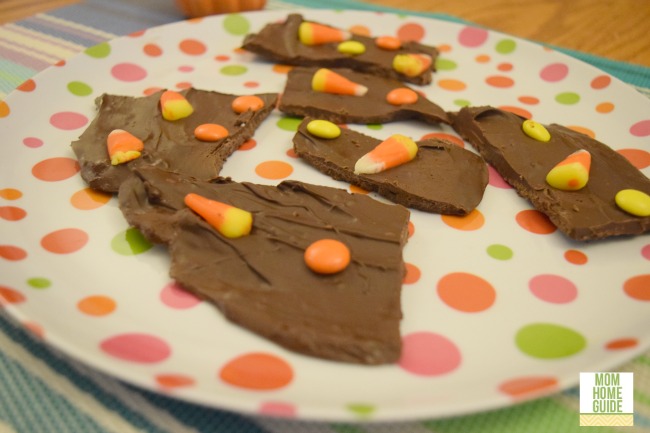 Dark Chocolate Halloween Bark
2015-10-08 11:51:01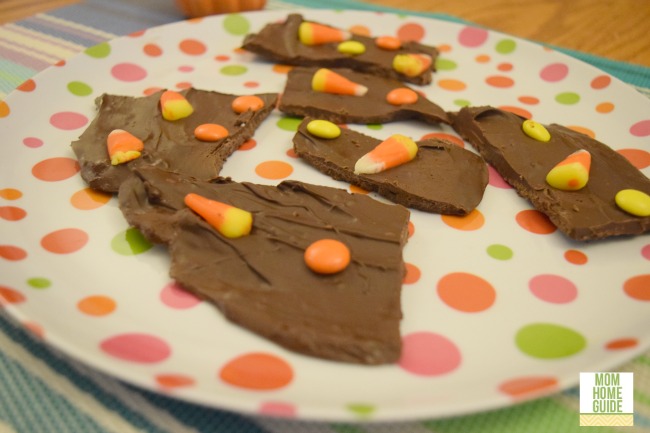 A delicious Halloween treat that simple to make with dark chocolate, candy corn and Reese's pieces.
Ingredients
One 6.8 oz bar of Hershey's Special Dark chocolate
One 10.5 oz bag of Reese's Pieces
1 small bag of candy corn
Instructions
Fill a small pot with water. Rest a small metal pot or mixing bowl in the first pot, just above the water. Place the chocolate in the top bowl. Bring the water to a simmer. Stir chocolate until it melts.
Line a small baking sheet with aluminum foil and grease the foil with butter. Spread the chocolate evenly in one layer on the foil. Gently lay the candy corn and Reese's Pieces on top of the chocolate layer. Place the tin and the chocolate in the fridge until it cools.
Once the chocolate is cool, gently break the chocolate bark into pieces and serve.
momhomeguide.com https://momhomeguide.com/