Thank you to Minute® Ready to Serve Rice for sponsoring this post and helping me to make a healthy snack for my kids that they love!

Happy 2015, everyone! My husband is of Korean heritage, and he, my kids and I love to eat Korean food! We love everything from kalbi (grilled and marinated beef) to chop chae (mixed vegetables with beef and noodles). Korean food is a highly savory and flavorful food, so it's no surprise that it's become popular in international fusion foods like Korean tacos! (Korean tacos is another family favorite.) My kids love to eat Korean dishes and snacks after school. So, I came up with a fun and easy Korean bibimbap recipe that I can serve my kids after school with Minute® Ready to Serve Rice.
Minute® Ready to Serve Rice is great for snacks, since it can be prepared in just 60 seconds, provides healthy portion control, comes in its own bowl and is portable! I used white rice for my recipe, but Minute® Ready to Serve Rice also comes in other varieties, like brown rice, multi-grain medley and jasmine rice. The Minute Rice website offers great stir-in recipes with simple and healthy ingredients that you can add to Minute® Ready to Serve Rice to create quick and healthy snacks for your kids!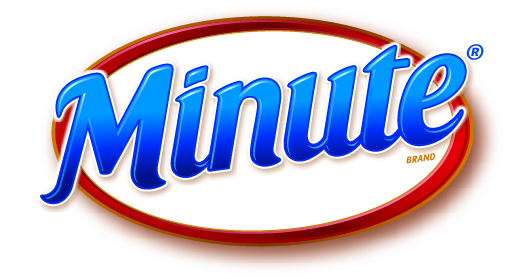 Bibimbap, which means "mixed rice," is a very popular Korean dish. It's a simple dish to put together, since you can make bibimbap with whatever you have on hand. It's a great snack to make from dinner leftovers!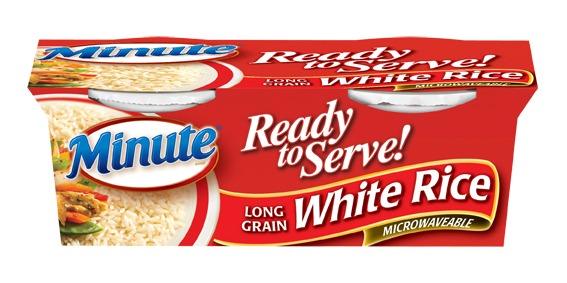 Bibimbap Snack Bowl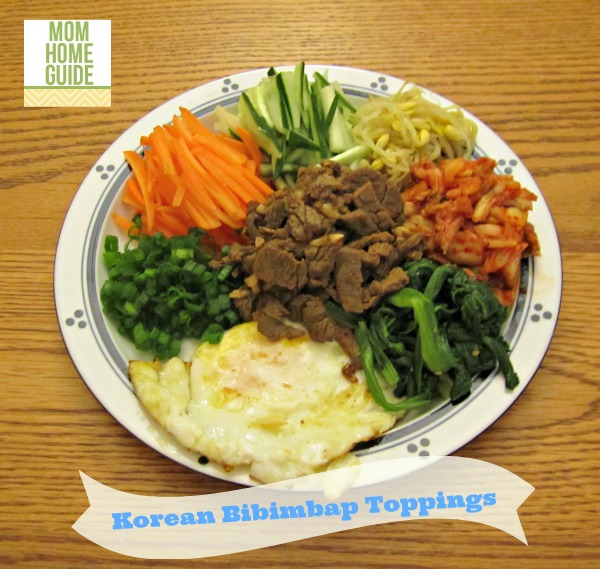 In traditional bibimbap, a bowl of rice is topped with seasoned beef, a fried egg, and various vegetables — often julienned cucumber, carrots bean sprouts and sauteed spinach. Or, you can add any vegetables you like! To add flavor, you can saute the bean sprouts and spinach in a little sesame oil.
We topped our bibimbap bowls with green onions/scallion, bean sprouts, cucumber, carrots, spinach, a fried egg and sliced kalbi that husband made for our New Year's Eve dinner. If you don't have kalbi, you could use browned ground beef or sliced sandwich steak. (You can season the meat with a little bit of soy sauce and a dash of garlic powder.) If you enjoy spicy food, top your bibimbap with Gochuchang (GOH-choo-jang), a hot red pepper paste sold at Asian markets, or a hot sauce of your choice — like Srirach sauce. You can also top the bibimbap with some delicious kimchi, which is often Korean-style cabbage fermented in a spicy red pepper sauce. (Kimchi can be purchased in Asian markets. You can also purchase radish kimchi, which I adore!)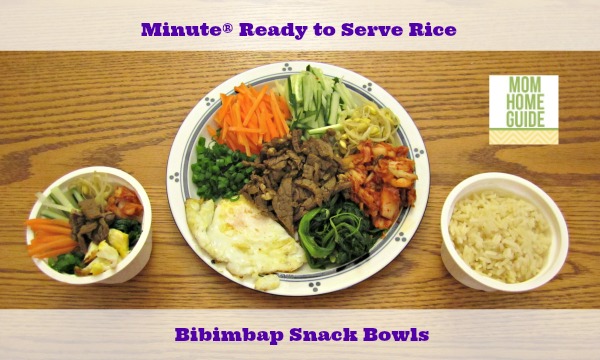 Bibimbap Ingredients
Thinly sliced sandwich steak, ground beef or kalbi. (Season plain sliced sandwich steak or ground beef with a dash of soy sauce and garlic powder.)
Small amount of julienned cucumber and carrot
Tiny bit of bean spouts
Less than a handful of sautéed spinach
One fried egg, cut into small slices.
Prepare your bowl of Minute® Ready to Serve Rice per package instructions. Saute spinach and bean sprouts until soft in a teaspoon of sesame oil. Fry one egg. Thinly cut or julienne a small amount of cucumber and carrot. Arrange the vegetables on top of your rice. Add reheated browned beef, thinly sliced sandwich steak or kalbi. Top with the egg. If you are brave, add a dash of Gochuchang or other hot sauce, and kimchi. Enjoy!
Kalbi Recipe
Since my husband's kalbi is a main ingredient in our bibimbap bowls, I am sharing his recipe! (Thanks, honey!)
Kalbi Ingredients
2 pounds Korean-style beef short ribs (found at most Asian markets. You could substitute with American-style short ribs if needed.)
1 cup soy sauce
1 cup water
4 or 5 minced gloves of garlic
2 tablespoons freshly minced ginger
3 thinly chopped scallions or green onion
1 tablespoon white or brown sugar.
Create kalbi marinade by combining 1 cup soy sauce with 1 cup water. Add in 4 or 5 minced garlic cloves and 2 tablespoons of freshly minced ginger. Add sliced scallions. Mix in a tablespoon of white or brown sugar. Marinate the beef in a covered rectangular glass casserole dish, or in a sealable plastic refrigerator bag for 3-4 hours. Remove marinated beef from refrigerator, and grill about 3 to 4 minutes on each side until desired doneness. (We like to cook ours medium-well.) Garnish with green onions and serve. You can serve the kalbi whole, on the bone, or you can use kitchen shears to cut thin pieces of meat off the bone.
This recipe was shared at The Pin Junkie Pin Party.
This is a sponsored post written by me on behalf of Minute® Ready to Serve Rice.