Earlier this summer, my family and I took a beautiful road trip from central New Jersey up to Vermont. We saw so many pretty sights! We also brought our 18-month-old Shih Tzu puppy with us. We had a great time! Today I'm sharing the first leg of our trip — from New Jersey to Saratoga Springs, NY.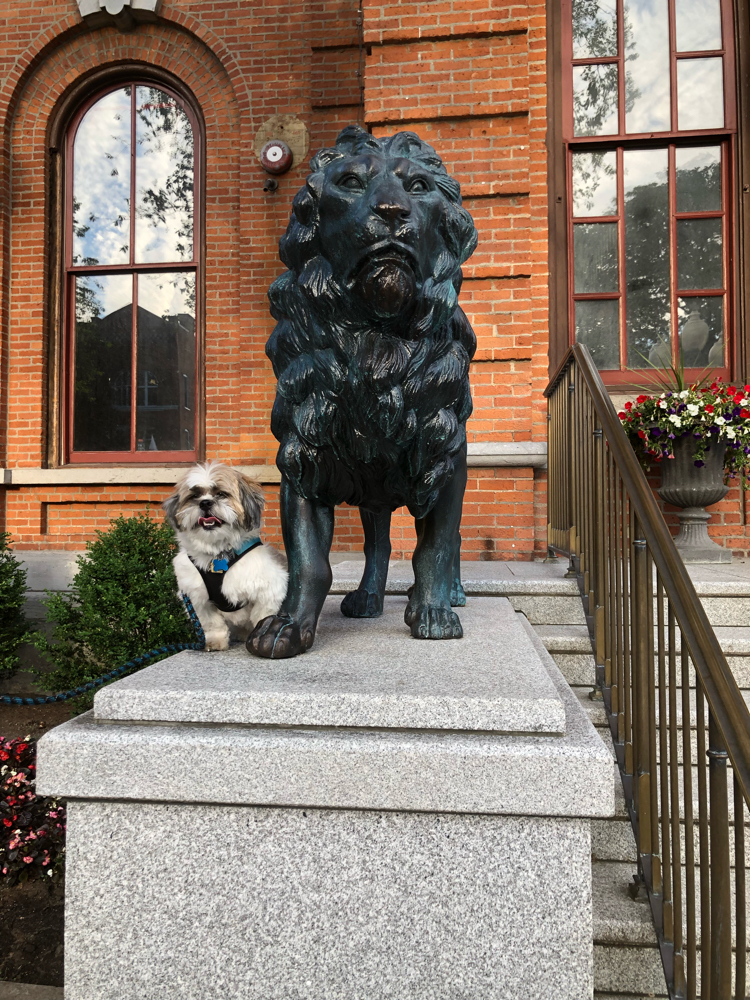 Vermont is about 6 hours away from my family's home in Central New Jersey. I thought it'd be nice to split up the drive to and from Vermont. That way, we could visit some additional areas and spend fewer hours at a time in the car.
For the way up, I picked the beautiful town of Saratoga Springs, NY, as our hallway spot. Saratoga Springs is known for its beautiful downtown, the Saratoga Springs Racetrack and its natural mineral springs. It is also home to Skidmore College.
Yaddo Gardens in Saratoga Springs
We left our home one late Sunday morning and arrived in Saratoga Springs in New York State late that Sunday afternoon. We first checked into our hotel at the Residence Inn by Marriott at Saratoga Springs. The hotel is close to town and allows pets. I always like staying in a Marriott, since we can usually enjoy a free breakfast. I always find the rooms and the service to be great at a Marriott.
After we dropped our bags off at the hotel and checked into our room, we headed to the Yaddo Gardens in Saratoga Springs. The gardens are only 3 miles from the Residence Inn by Marriott hotel. The Yaddo Gardens are much more beautiful than I expected! There is no entrance fee to see the gardens.
The first part of the gardens we encountered is a beautiful shallow pool.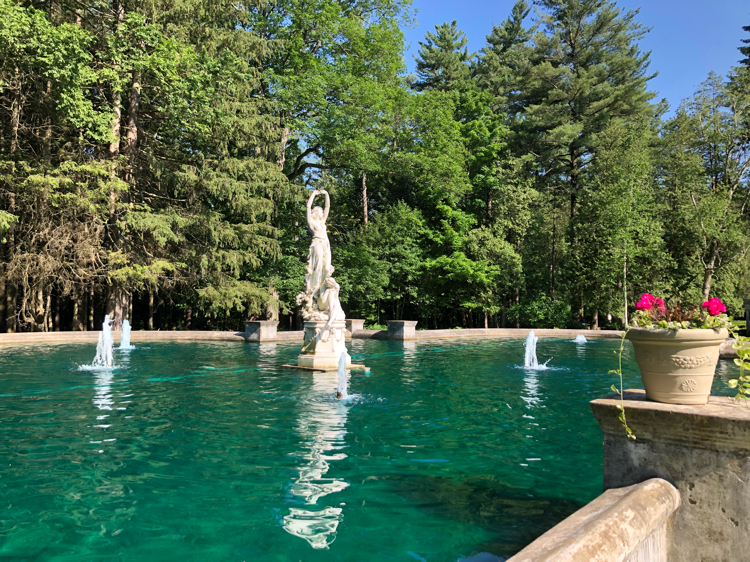 The pool is filled with fountains and classical-style statues.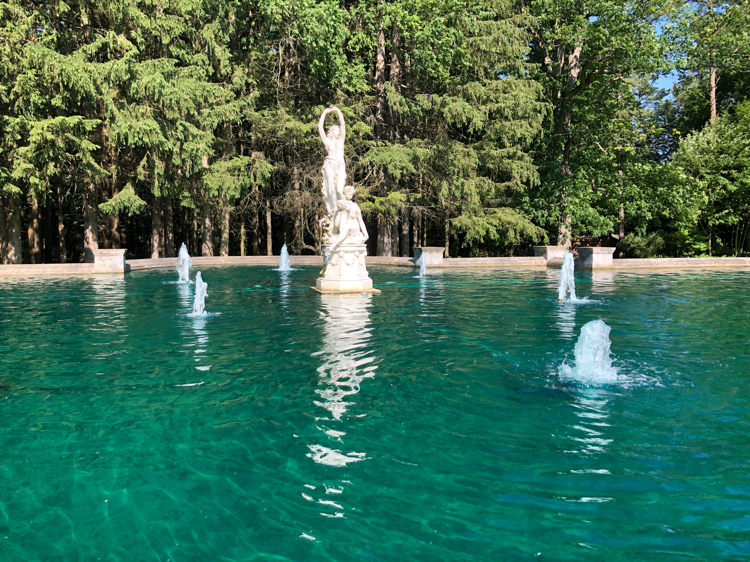 After viewing the reflecting pool, my husband, daughters and I ascended some stairs (that look like marble) to a beautiful pergola.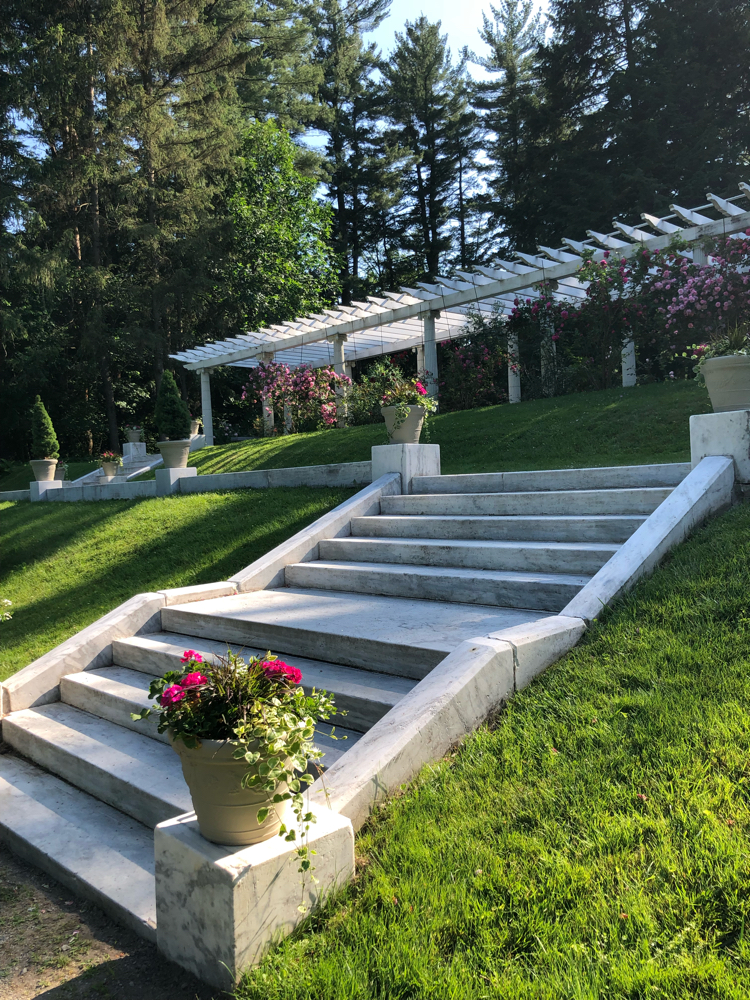 The pergola was planted with lovely scented roses and other flowers.
It was the perfect spot to take some photos.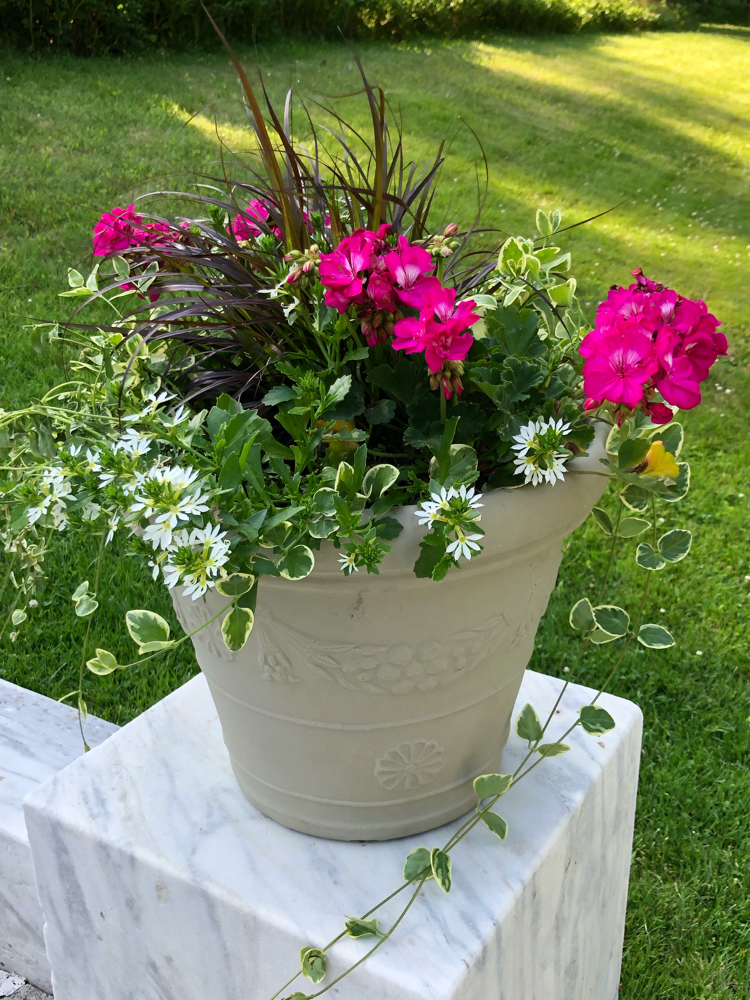 After the gardens, we enjoyed dinner at a restaurant with an outside patio that let us include our puppy. We walked around the cute downtown, even though the stores were closed at that point.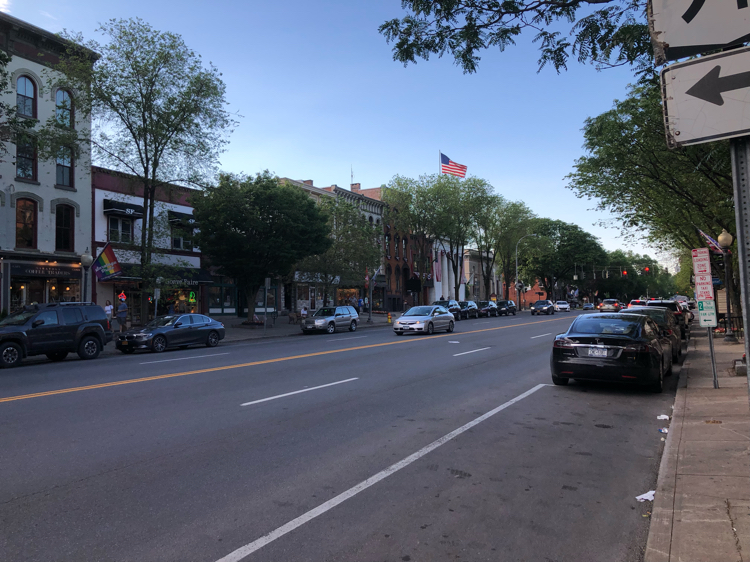 We snapped the photo of our puppy (at the top of this post) downtown. (I believe it's in front of the city hall.) Shih Tzus are known as lion dogs, so I think it's appropriate to have a photo of him next to a lion! Since my daughters will be high school juniors this year, we decided to take a quick look at Skidmore College after dinner. It's a pretty campus!
Relaxed and Easy: Burlington, Vermont
The next morning we enjoyed the free hot breakfast buffet at our hotel. We then packed up our car and headed up to Vermont. Our first stop in Vermont was Middlebury College — we figured we should take a brief tour while in the area. The campus is set in rural Vermont and enjoys gorgeous mountain views.
After visiting Middlebury, we headed north to the lakeside city of Burlington, VT. Burlington sits on the scenic lake Champlain and has a breathtaking boardwalk area that hugs the lake.
Before seeing the lake, we headed to Church Street Marketplace. Church Street Marketplace is an area of the city that's only open to pedestrians. It is filled with shops and restaurants. On Church Street we passed the campaign headquarters for Vermont senator and Democratic presidential candidate, Bernie Sanders.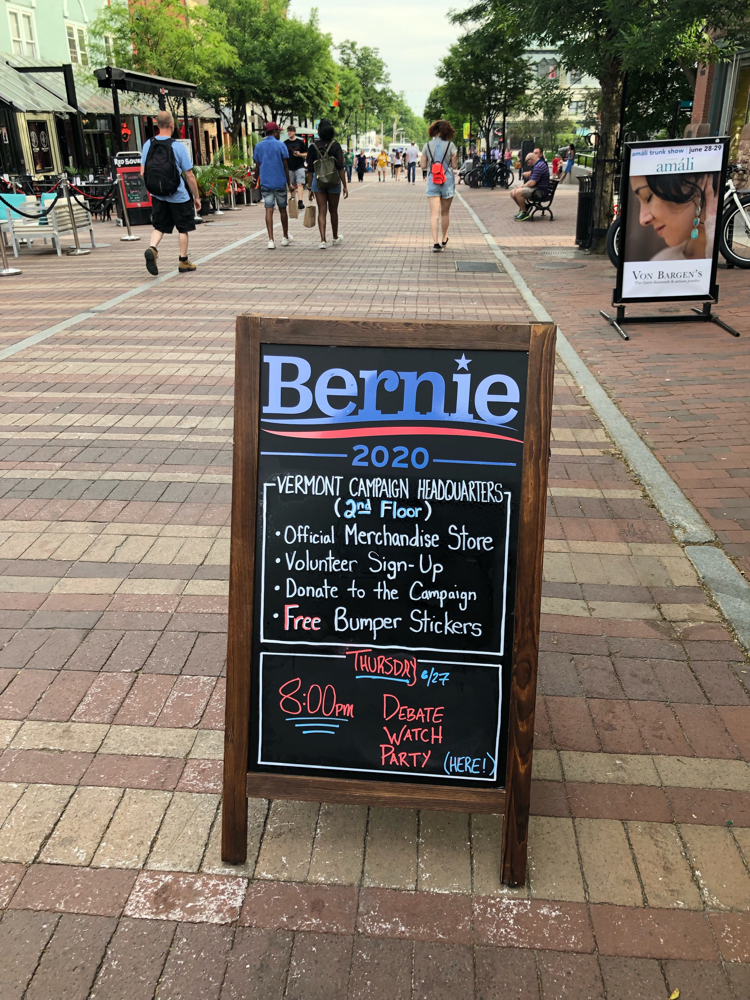 The city is very dog friendly. There were happy pups everywhere!
For dinner we ate outside with our puppy and had "poke" bowls. My daughters enjoyed their rice-filled bowls, but my husband and I didn't enjoy the cold scallops and shrimp in ours.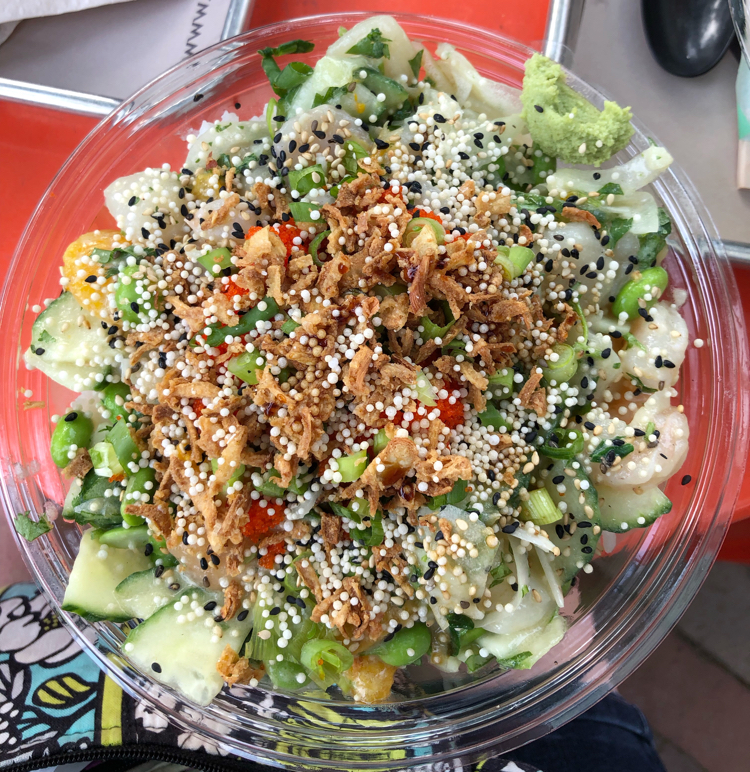 Luckily, we were able to cleanse our pallet with some Ben & Jerry's ice cream. (Ben and Jerry are Vermont natives.)
We walked to the gorgeous Burlington Lake Champlain after dinner. I love this colorful shot of kayaks I took while on our way to the waterfront. I would love to get a kayak someday!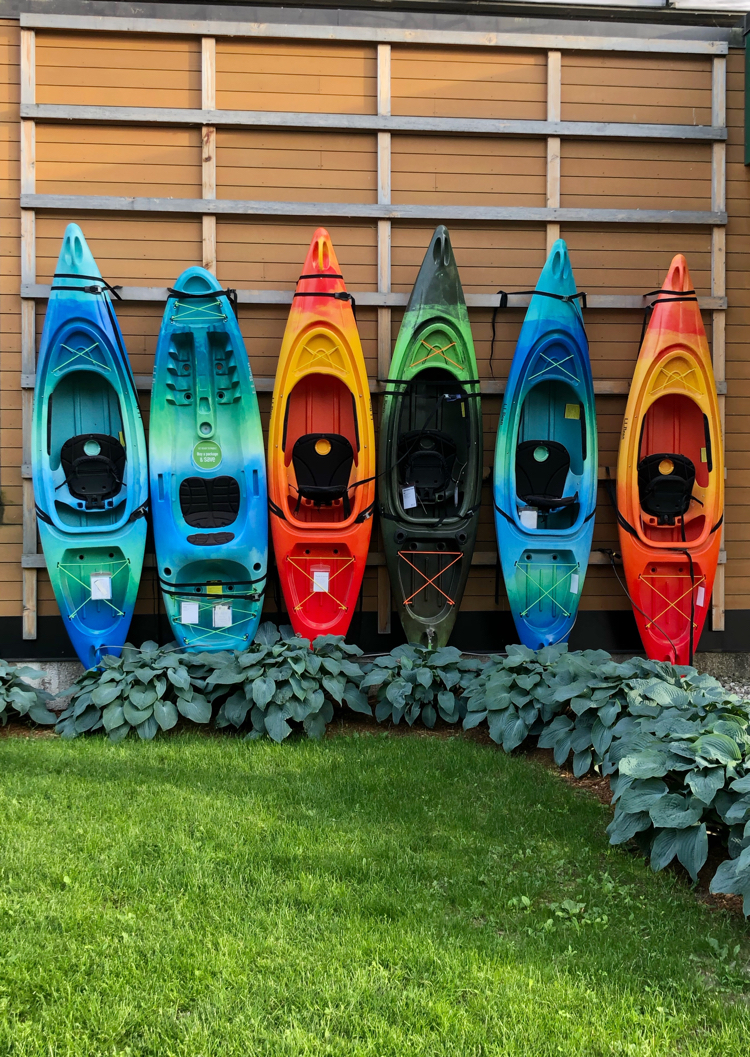 We walked for a while on the boardwalk that borders the lake. Many people (and their dogs) were enjoying the waterfront. There were people taking in the scenery and even people doing yoga. I loved watching the sun set over the lake.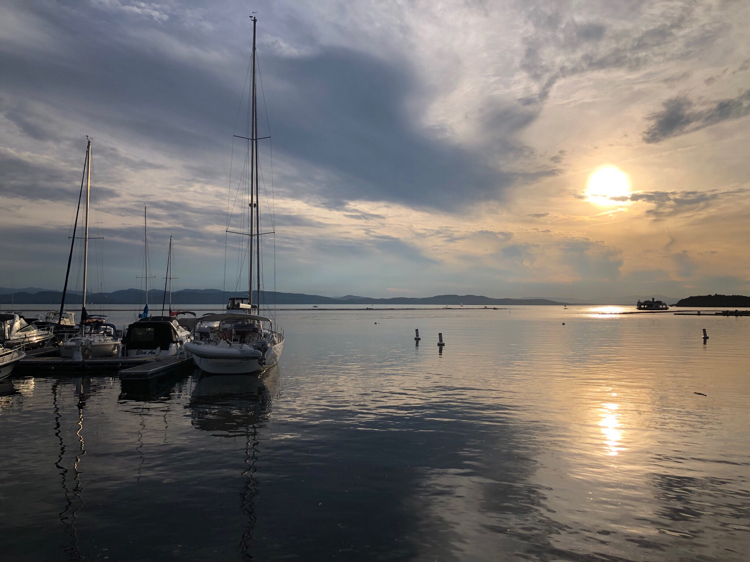 After our tour of Burlington, my family and I headed east to Stowe, Vt.,where we stayed for the rest of the week. I'll be sharing more about our trip to Vermont here on the blog soon!