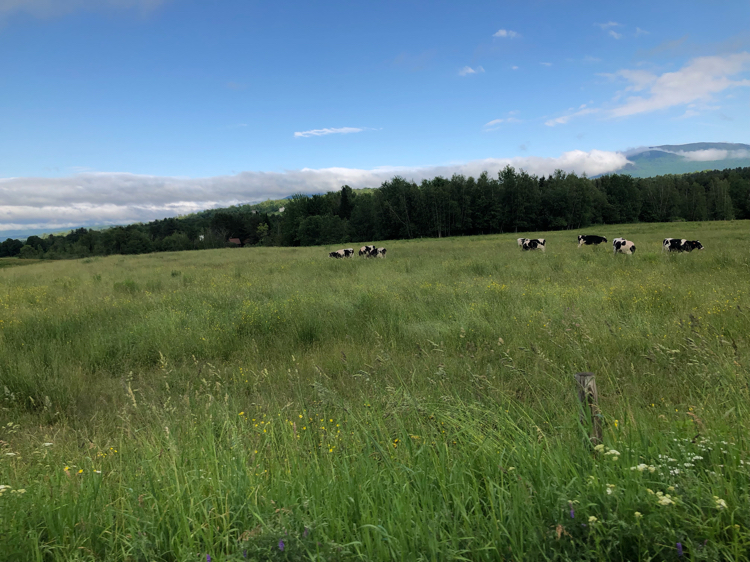 Earlier this week, I wrote about my family's first leg of our summer vacation from New Jersey to Vermont. (The first two days of our trip we drove up to Saratoga Springs, N.Y., and visited the fun lakeside town of Burlington, Vt.) Today I am going to share a bit about the gorgeous resort we stayed at in Stowe, and about our first evening and first full day in Stowe.
After my family spent a beautiful afternoon in Burlington, Vt., we headed east to Stowe, Vt., where we spent the rest of the week.
The Lodge at Spruce Peak in Stowe, Vermont
I booked a beautiful suite at The Lodge at Spruce Peak. We were lucky in that the lodge accidentally double booked our suite. So just before our trip, they let me know that they had upgraded our room (free of charge) from a junior suite to a very spacious one-bedroom suite with kitchen, dining area, washer and dryer, and ensuite bedroom with a king-sized bed.
The below photo shows the living room of our suite. The living room was quite big and included stone floors, a gas fireplace, a TV, a dining table and chairs and a double sofa bed.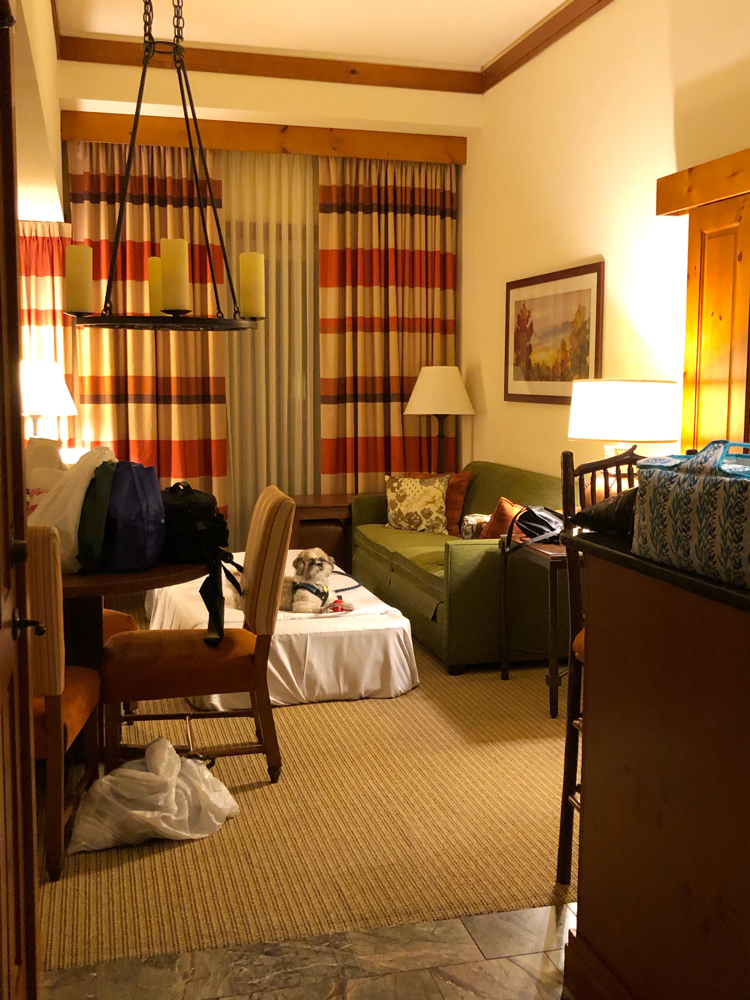 We had requested an air bed so one daughter could sleep on the sofa bed and one on the air bed. We eventually decided to just stick with the double sofa bed. The first night, our puppy spent at least half of the night on the air bed – he claimed it as his.
My husband and I were happy to discover that our suite at the Lodge at Spruce Peak included a comfy king-sized bed.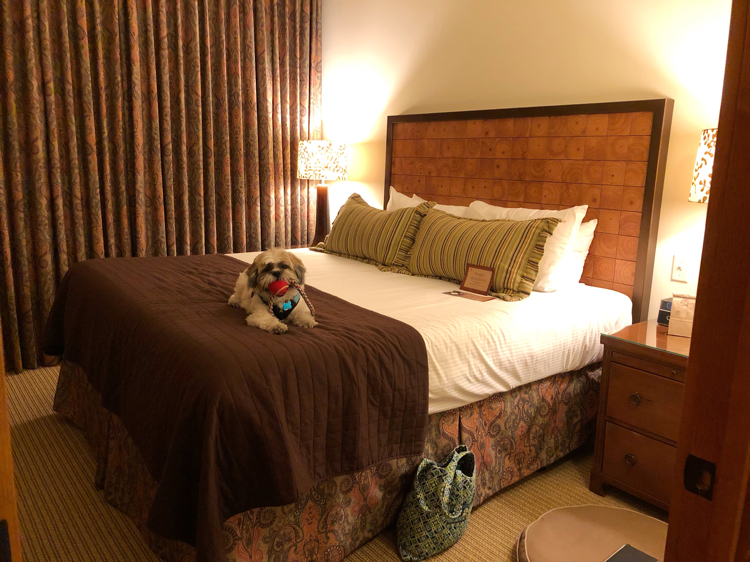 Our puppy spent much of the time in the bed, too. In the below photo he's shown with the bacon-scented dog toy that the resort gifted him. (We found the dog toy, a water/food bowl and a dog bed in the suite upon arriving.)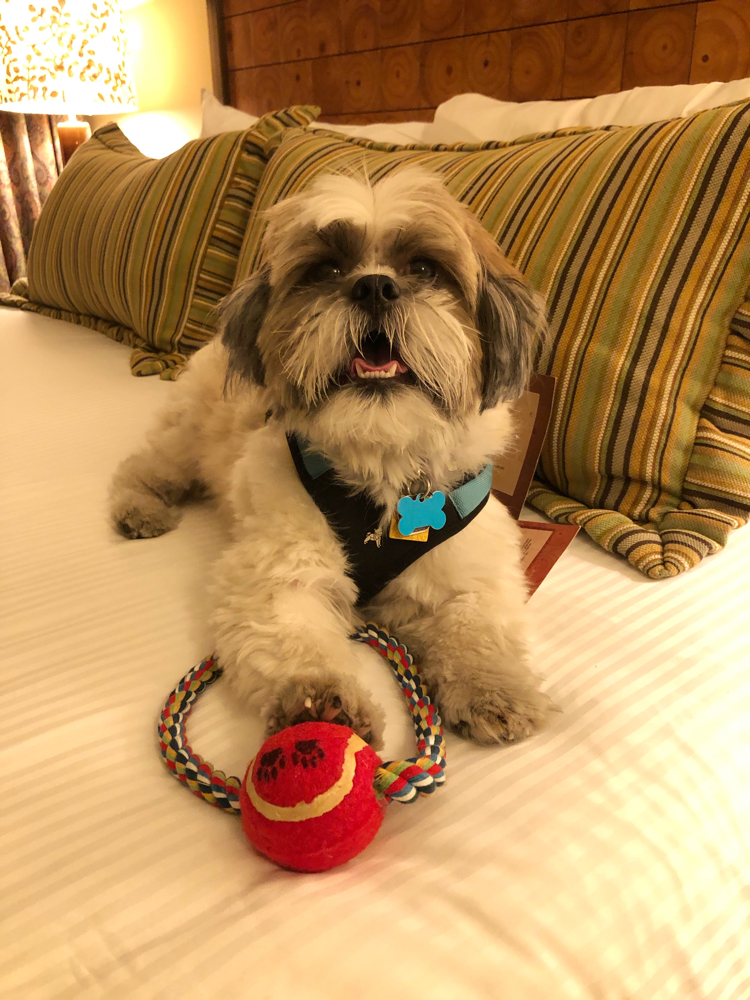 The below photo shows the dog bed and water/food bowl that was provided for our dog during our stay.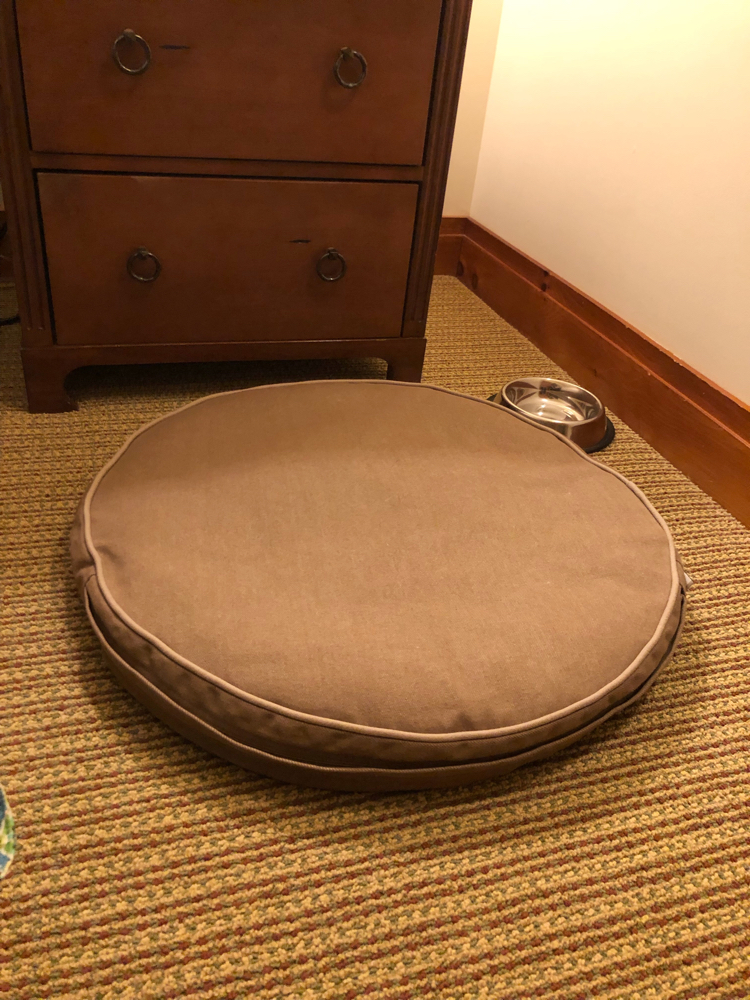 Our suite included an enormous luxury bathroom with a roomy and luxurious shower.
When we arrived at our suite, we discovered that it included a huge balcony (with a table and chair set) that overlooked the resort's beautiful pool area.
The Lodge at Spruce Peak in Stowe, Vt.
Our one-bedroom suite at The Lodge at Spruce Peak included a full kitchen with a refrigerator. The first morning of our stay in Stowe, I enjoyed a relaxing breakfast (of granola cereal and tea) on the spacious balcony of our suite. It was a little rainy that morning, but I still enjoyed the lovely view of the resort's pool from our balcony.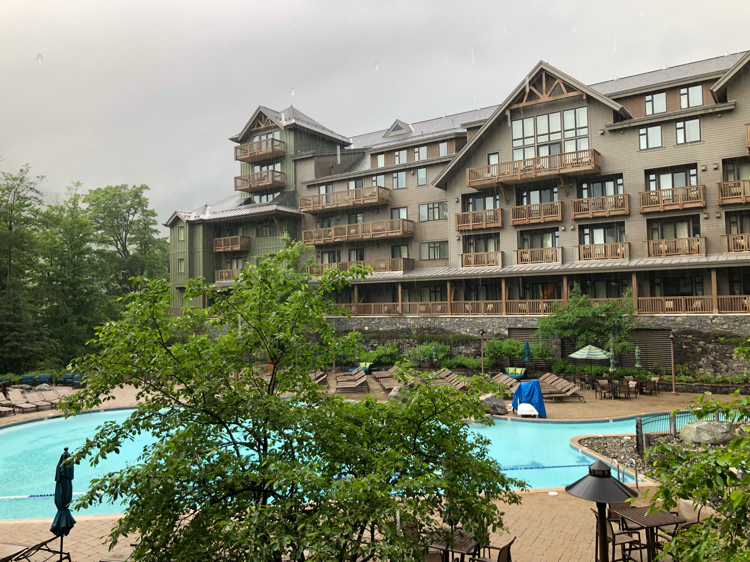 I was bummed about the rain. I wasn't sure what we would do that day, especially since we had our puppy with us.
Ben & Jerry's Factory Tour
My husband suggested that the girls and I take the tour at the local Ben & Jerry 's factory. He said he was happy to snooze in the car with our puppy while we toured the factory. (He did all the driving up to Vermont.)
The factory was only a few minutes from our hotel. We wound up waiting about 20 minutes or so before we could take our tour because of the number of people there.
My daughters and I were disappointed that ice cream wasn't actually being made during our tour. (There were no workers on the factory floor and the machines weren't running.)
It turns out that Ben & Jerry's had given its workers time off for summer vacation during our stay. It was still interesting, though, to see the stainless-steel vats where the ice cream is made. Our tour guide asked that we not take photos of where the ice cream is made.
After the tour, we were given a sample of Americone Dream – my favorite Ben & Jerry flavor. After we tasted the ice cream, my daughters and I headed to the gift shop. I think we enjoyed shopping in the gift shop more than the tour! We picked up some souvenirs, including a Ben & Jerry's T-shirt each for me, my husband and our daughters.
Cabot Farmer's Store in Waterbury, Vt.
After the Ben & Jerry factory tour, my husband, daughters and I visited some shops not far from the Ben & Jerry's factory. Our first stop was the Cabot Farmer's Store in Waterbury Center, Vt., on Route 100.
I am a huge cheese fan, so visiting the Cabot store was my favorite part of the day! The store is truly a cheese-lover's dream!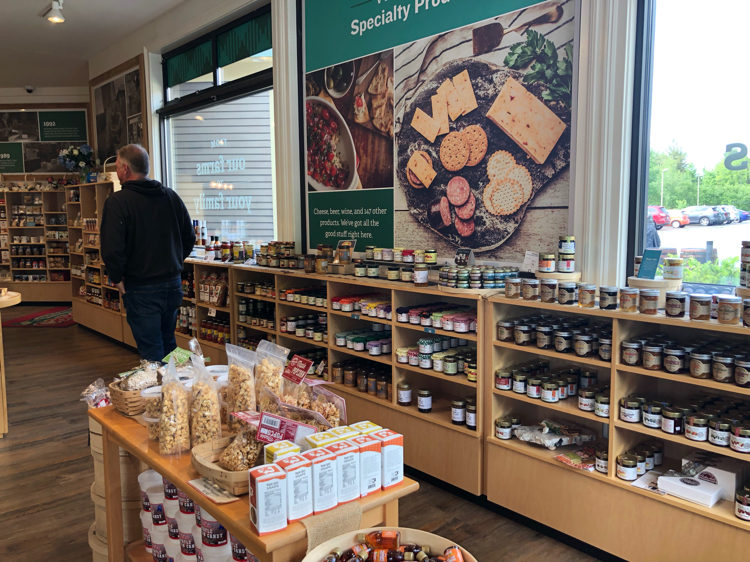 In the center of the store is a huge island topped with covered containers of Cabot cheese samples! I think I sampled about 10 varieties of cheese. If I didn't stop myself, I would have loved to sample them all.
I discovered that Cabot's pepper jack cheese is far better than the brand I've been buying at home. Unfortunately, my local supermarket only carries about 3 of Cabot's cheese varieties, and not the pepper jack cheese. What's really cool is that Cabot's pepper jack cheese is lactose free – one of my daughters and my husband have trouble with digesting lactose.
We bought a few varieties of cheese and some crackers to enjoy later during the week in our hotel room.
There was a chocolate store, and also some other really sweet gift shops, just a few steps from the Cabot Farmer's store. We picked up some chocolate, cute magnets, and some wearable pins and earrings for my daughters in the shops.
At the end of the day, we picked up some delicious hand-tossed pizza from Piecasso in Stowe, Vt., to enjoy in our hotel suite. I loved the colorfully painted cow on Piecasso's front lawn. What started out as a rainy vacation day turned out to be a fun Vermont adventure.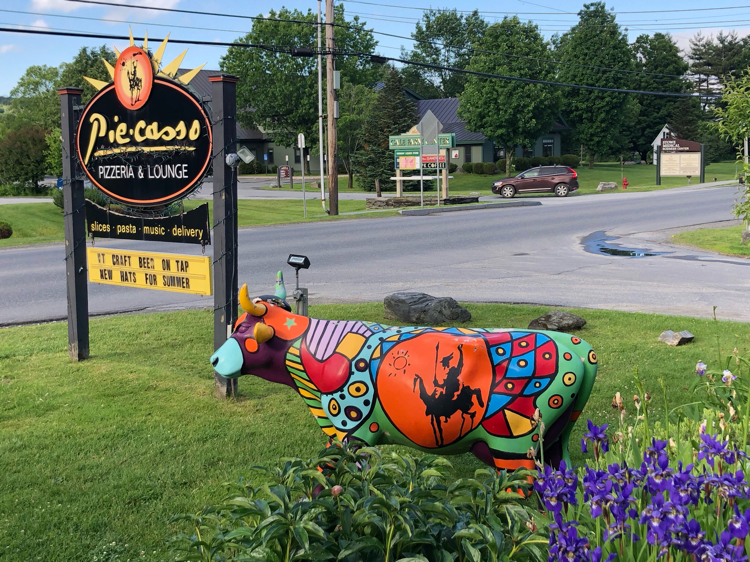 Check back on the blog to see how we spent the rest of our week in the Stowe, Vt. area! (Hint: We hiked some trails, drove up a winding but hugely picturesque mountain road, waded in cool mountain streams and did some more shopping!) You can check out New York and Vermont stops of our trip on the below map:
More Travel on Mom Home Guide
Saratoga Spring, N.Y., and Burlington, Vt.