This post contains Amazon affiliate links.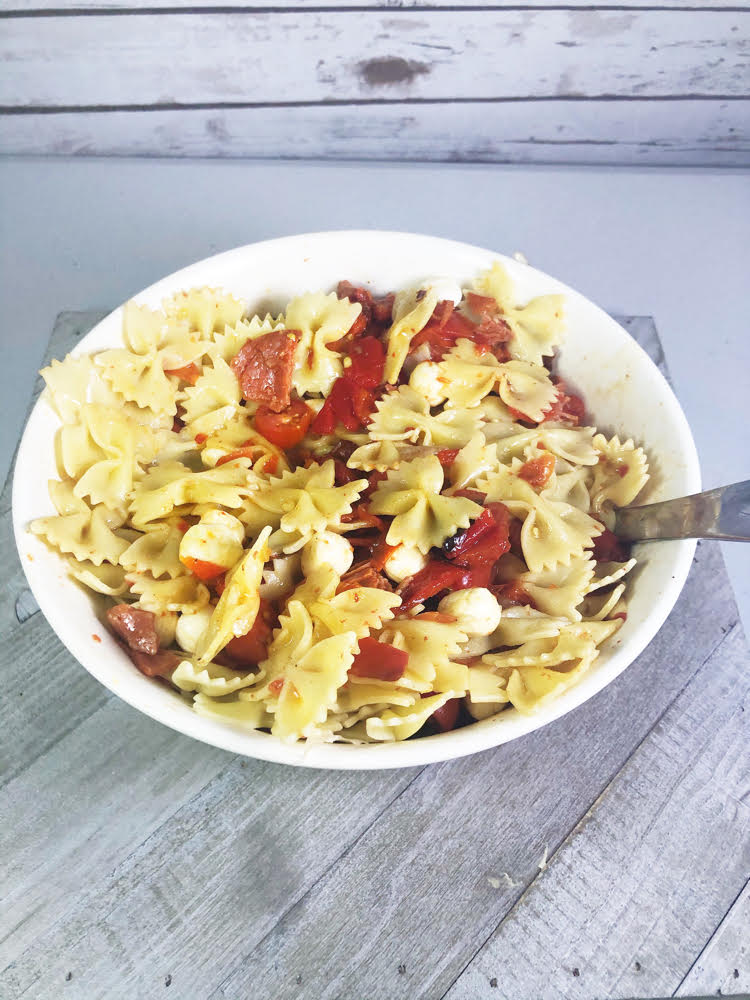 Welcome to Tasty Tuesday, a new feature on Mom Home Guide. On Tuesdays, I am sharing some of my favorite recipes. Today I am sharing pasta salad. I often made pasta salad for my kids when they were small — they loved it. (It was a lunchbox favorite.) Today's recipe is an improvement on our family favorite — this recipe includes freshly roasted red peppers, fresh mozzarella pearls and homemade Italian dressing. This cold pasta salad is an easy and delicious meal to put together when you don't want to expend too much effort in the kitchen! This salad also makes great leftovers for the next day, or to pack for lunch.
Pasta Salad Recipe
This pasta salad is super easy to put together. To start the pasta salad, I washed three red peppers. Red peppers are sweeter (and more ripe than green peppers are), and are especially delicious roasted.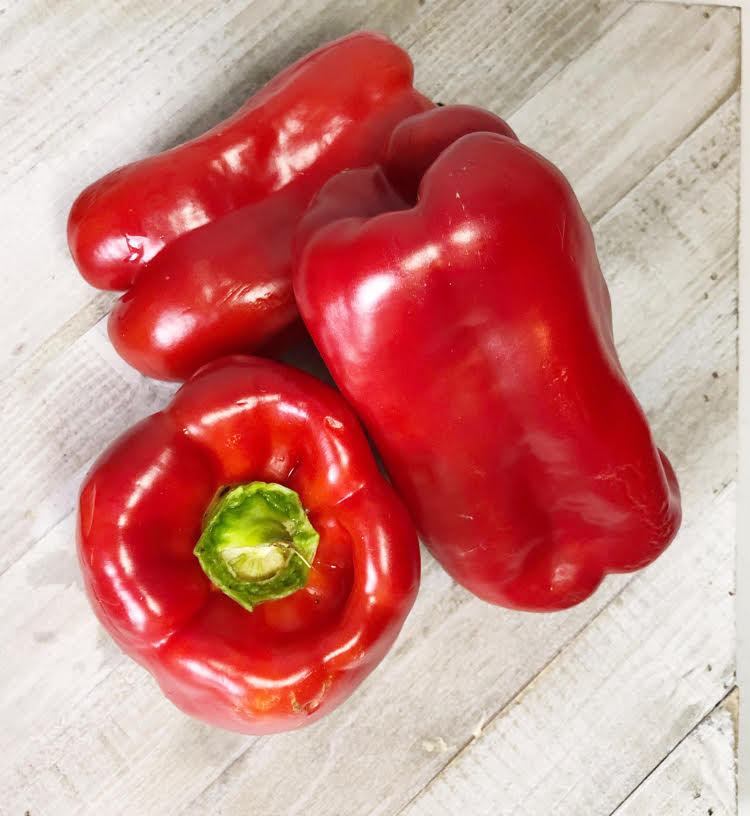 I cut the peppers in half, removed the seeds and placed the peppers cut side down on a baking sheet. (These are the baking sheets I have, which I love.)
I lined the baking sheets with a Silicone Non-Stick Baking Mat
.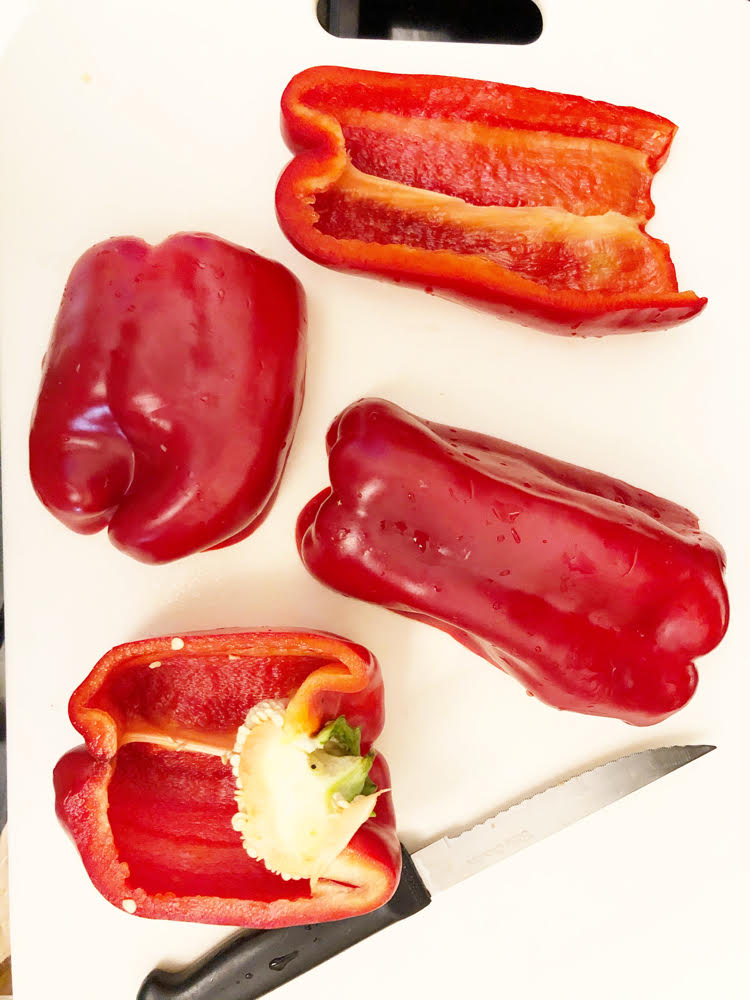 I sprinkled the peppers with salt and pepper and cooked them at 400 degrees Fahrenheit for 20 minutes. The peppers are ready when they are soft and lightly charred.
I then cooked some farfalle pasta in boiling water for 8 minutes and drained the pasta. (I use a Collapsible Silicone Colander
.) Farfalle pasta, also called bowtie or butterfly pasta, were a favorite with my kids when they were small.
Once the peppers were roasted, I took them out of the oven and put them on a cutting board. I cut the roasted red pepper into small approximately 1-inch pieces.
I poured the pasta into one of my favorite serving bowls
. I then added the red pepper, mozzarella pearls, bits of pepperoni (or you could add salami) and halved cherry tomatoes. I poured some homemade Italian dressing on top of the pasta salad. (I made the dressing in a mason jar
.) I tossed the pasta to coat it with the dressing. (See my recipe card at the end of this post for the dressing recipe.)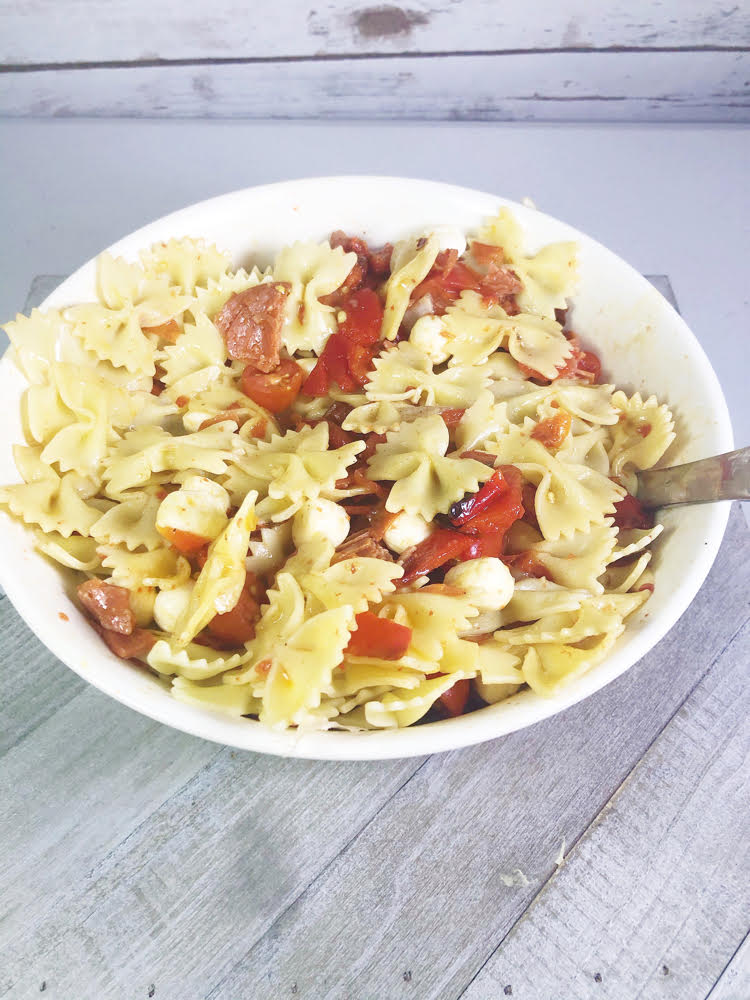 I left my family serve themselves the pasta salad from the serving bowl. Next to the serving bowl I had extra salad dressing, as well as some garlic powder and oregano. (I keep my spices in this handy and cute 12 Magnetic Spice Tin Set.)
Check out my YouTube video and my recipe card below for more details on how to make this delicious but easy pasta salad!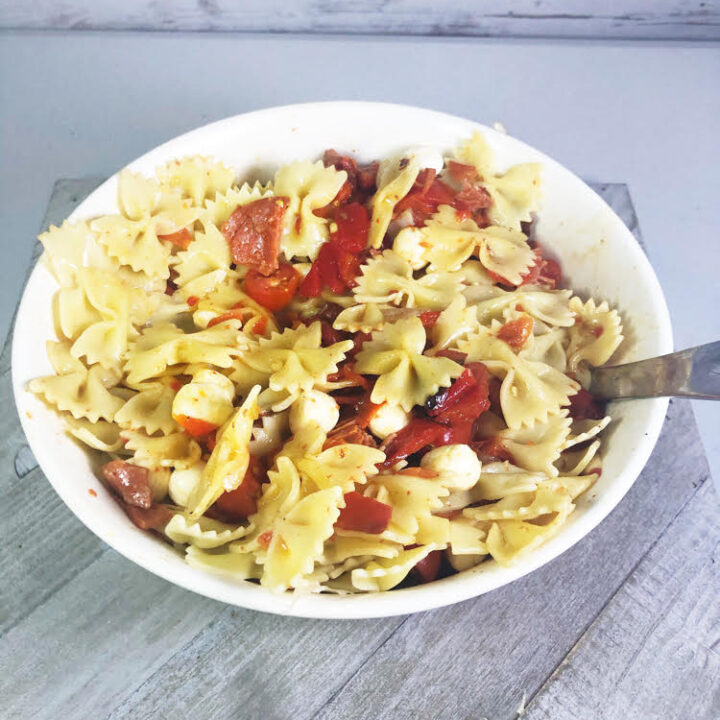 Pasta Salad with Roasted Peppers and Mozzarella
This pasta salad, with homemade roasted peppers, mozzarella, pepperoni and homemade Italian dressing, is quick to put together. It makes a delicious dinnner and the leftovers are delicious.
Ingredients
Pasta:
1 box (16 ounces) farfalle pasta
8 ounces mozzarella pearls
3 red peppers
8 Large Slices Pepperoni
1 Small Container Cherry Tomatoes
Salt
Pepper
Extra Oregano and Garlic Powder (optional, to taste)
Italian Dressing:
3/4 Cup Olive Oil
1/4 Cup White (or Red) Vinegar
1 TSP Oregano
1 TSP Onion Powder
1 TSP Garlic Powder
1/2 TSP Salt
1/2 TSP Pepper
1 TSP Sugar
Instructions
Heat oven to 400 degrees Fahrenheit.
Wash and dry peppers.
Halve peppers and place on a baking sheet covered with a silicone baking mat.
Sprinkle the peppers with salt and pepper.
Drizzle the peppers with a little olive oil.
Cook peppers for 20 minutes, or until they are soft and slightly charred.
Once the peppers are roasted, cut into small, 1-inch pieces.
Wash, drain and halve cherry tomatoes.
Cut pepperoni into small bite-sized pieces.
Add mozzarella pearls, pepperoni, red pepper and tomatoes to pasta.
Season pasta salad with salt and pepper to taste.
Prepare dressing by adding olive oil and vinegar to a mason jar. Add seasonings and sugar and shake.
Pour dressing over pasta salad. Toss pasta salad to coat and then serve.