My kids and I just LOVE popcorn, so we just had to make sure that we celebrate today — National Popcorn Day! In honor of the holiday, Mom Home Guide is sharing four tasty and unique popcorn recipes that you can pop up at home in just minutes. I know my children and I will be sharing a bowl or two of homemade popcorn today … we will just have to figure out which movie to watch together tonight!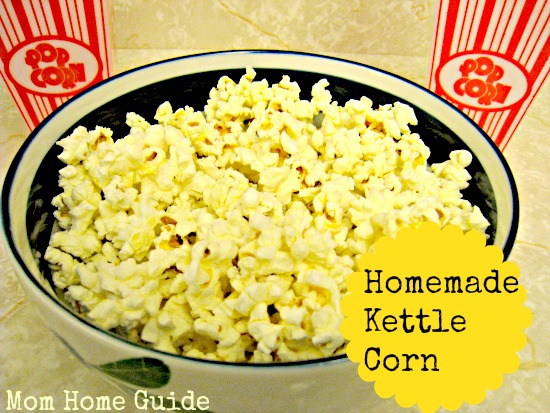 Sweet and Salty Kettle Corn
My daughters and I usually make batches of pre-seasoned kettle corn, but I've learned that making homemade kettle corn is very easy … and yummy! (Thanks to Rachael Ray.) To make kettle corn, all you need to do is to heat 1/4 cup vegetable or corn oil in a pot that comes with a well-fitting lid. (You don't want any of those kernels to escape!)
When the oil gets hot and sizzles, add the popcorn. Sprinkle 1/4 cup sugar on the popcorn kernels and shake the popcorn for about 3 minutes in your pot (with the lid on) until the popping slows down. Pour your popcorn in a bowl, and toss with salt. Easy and yummy!
Some of my blogging friends also have great popcorn recipes, so I thought I'd share them with you!
Popcorn with White Chocolate, Pretzels and Macadamia Nuts
Britni from Play, Party Pin has a unique popcorn recipe that looks just delicious! She mixes popped popcorn with M&Ms, pretzels and macadamia nuts and bakes them for about 8 minutes at 35o degrees. The result looks just heavenly! This recipe uses a snack combo that I just love — sweet and salty! (Just click on the photo or link below to get the recipe.)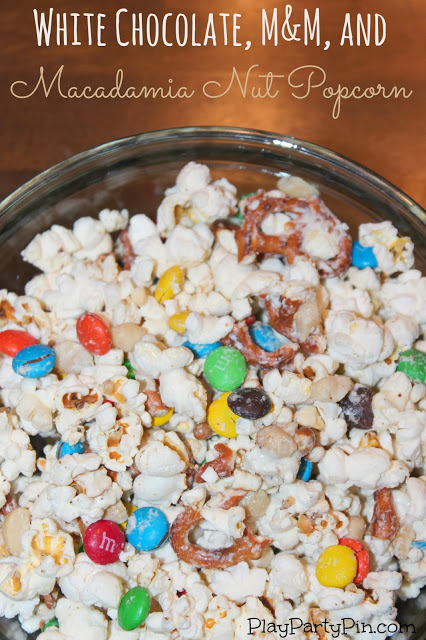 Tropical Jello Candied Popcorn
Annette from Tips from a Typical Mom has a fun tropical candied popcorn recipe that I know my kids would love! The recipe is easy, but looks amazing — she makes her colorful popcorn by mixing popped popcorn with Jello and sweetened condensed milk in a saucepan over medium heat on the stove. I can't believe how pretty her popcorn looks! This popcorn would be perfect for a girls' sleepover party!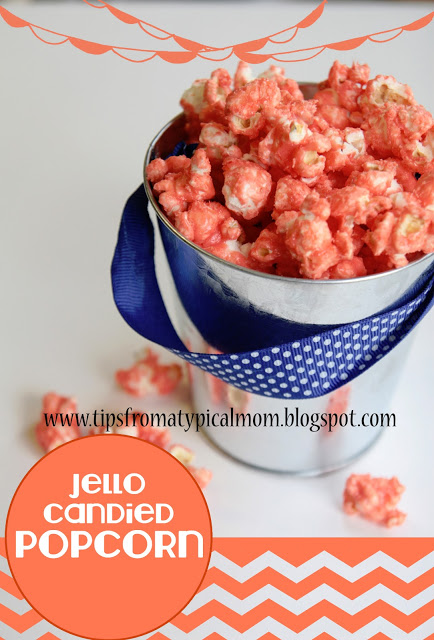 Spicy Sriracha Popcorn
Allyson from Domestic Superhero has a husband who likes his food spicy — just like my husband! So, I might be making this popcorn soon! Allyson mixes popped popcorn with oil, butter … and Sriracha sauce! She says that if the popcorn is too spicy, it can be mixed with regular buttered popcorn. I might have to do that to make it just a little spicy, but not too spicy for me!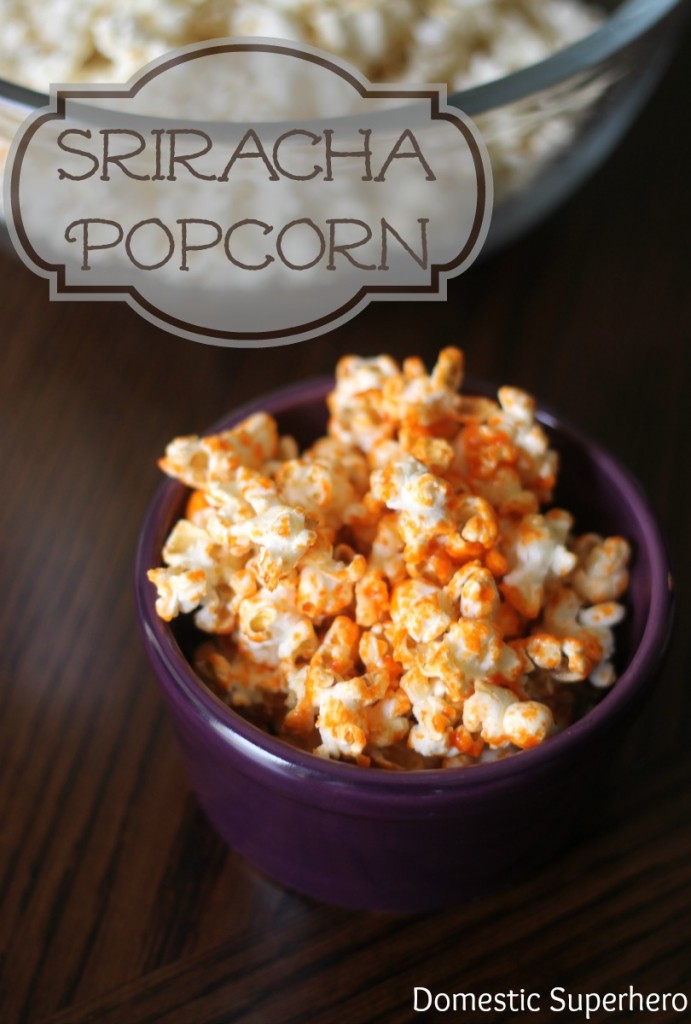 Stovetop Popcorn
Not sure how to make popcorn without resorting to those microwave popcorn bags? Then check out the Stovetop Popcorn Tutorial at Atta Girl Stays — stovetop popcorn is cheaper, tastier amd healthier than any popcorn that comes in a microwaveable bag! Trust me.
Have any great popcorn recipes? Share them in the comments!