RushOrderTees sponsored this post. I received free product in exchange for this post. All opinions expressed in this post are my own.
With Valentine's Day coming up, I've been looking for cute gift ideas for my husband and kids. I recently had the opportunity to give them some Valentine's Day gifts early, thanks to RushOrderTees, based in Philadelphia, NJ. The family-owned custom apparel company recently gave me the opportunity to try out their products, which I used to make a comfy Mom Home Guide sweatshirt for myself and custom T-shirts for my husband, kids and myself. I am very happy with how everything turned out!
Easy Custom-Apparel Design
The first item I designed was a Mom Home Guide sweatshirt for myself, using my website's logo. Designing the hoodie was so easy. I was able to quickly upload my website's logo to the RushOrderTee's design studio. Their studio was easy to use, and I was able to easily design my sweatshirt. My order arrived faster than I expected, and I recently wore the sweatshirt on a nature walk with one of my children, who snapped the below photo for me, and our pup.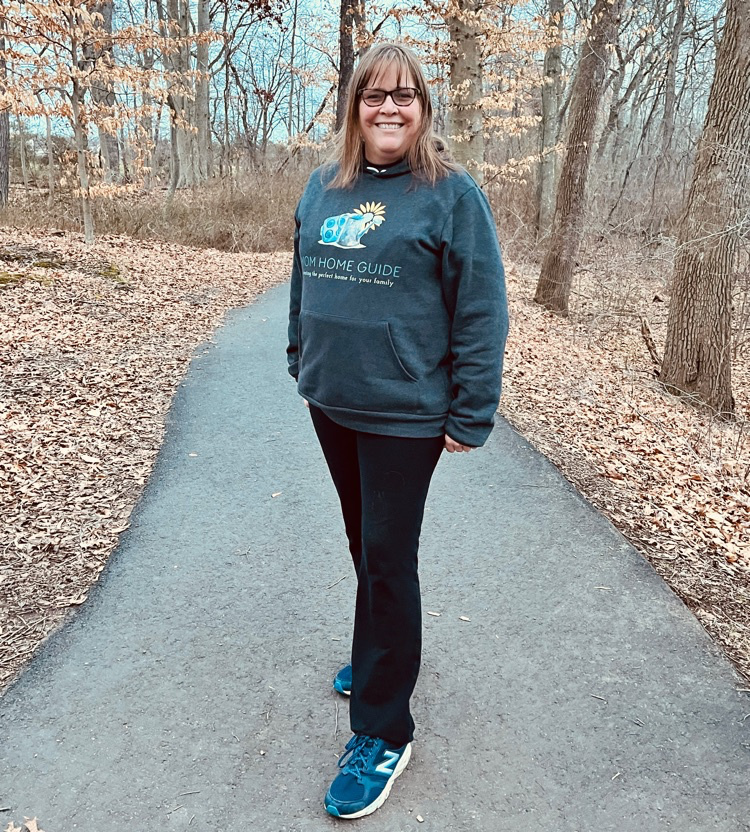 My custom RushOrderTees sweatshirt was perfect for our walk together—it's soft and comfortable and warm enough but not too warm, if you know what I mean. I like that the material of my sweatshirt isn't stiff like some sweatshirts can be. This sweatshirt is a new favorite of mine!
College T-Shirts for the Family
My twins are both now sophomores in college. One goes to Bryn Mawr College, where I attended college, and the other goes to Smith College. Everyone in my family is very proud of their college, so I thought it would be fun to design college T-shirts for us. I was able to design the shirts using fonts and clip art from RushOrderTees' design studio.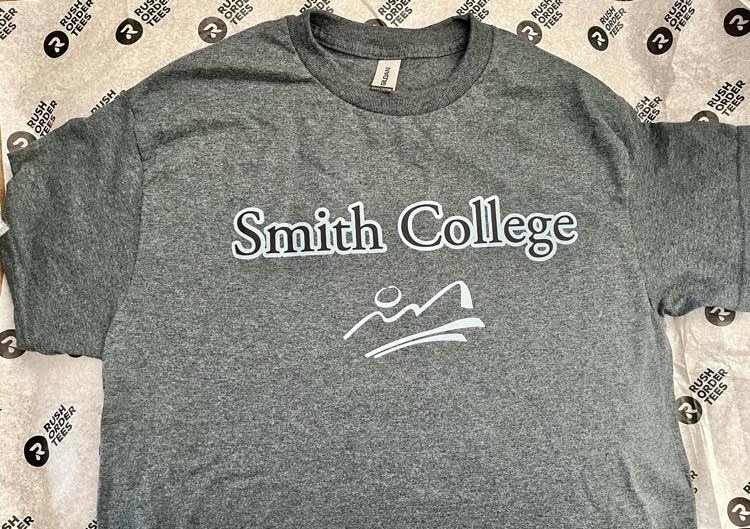 For my twin at Smith College, I designed a shirt with mountain clip art as the background. Smith is in a beautiful location in Massachusetts and has mountains nearby—my daughter loves hiking the beautiful trails just off her college campus.
I used the same design for the two Bryn Mawr College shirts I created. Yellow is one of Bryn Mawr's colors, so I chose it for the font on the shirts. An owl is the school's mascot, so I used a cute image of an owl from RushOrderTee's design studio for the shirt. I like that RushOrderTee's design studio has a feature that lets you outline your lettering. The outline feature against the lettering I used makes the letters on the shirts and sweatshirt stand out more, I think. I really like the way they look.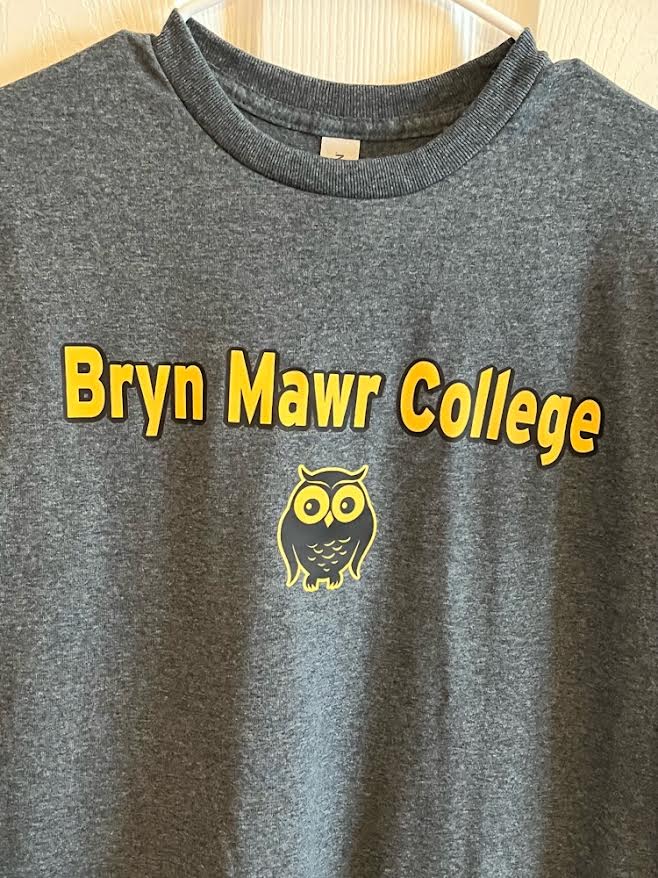 One of the mascots at Haverford College, where my husband attended college, is a black squirrel. So I designed a black squirrel T-shirt for him, also using RushOrderTee's clipart library.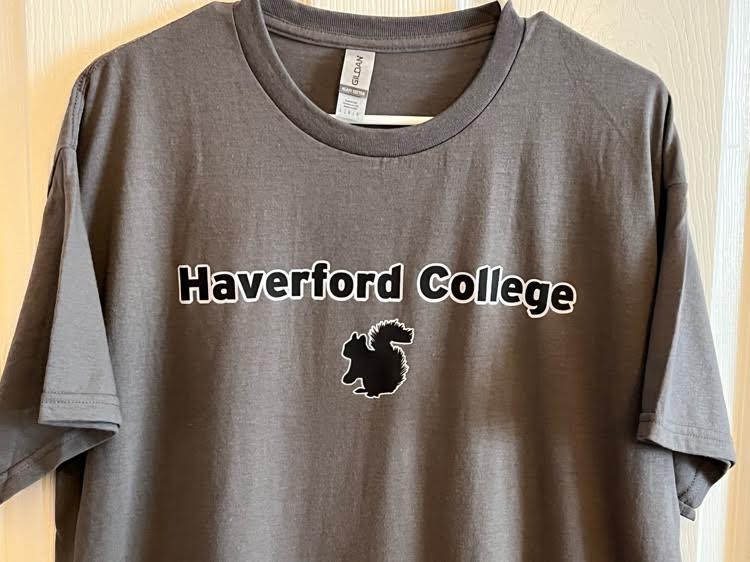 Finally, I made another T-shirt for myself using a sunflower image from the RushOrderTee design studio and my initials. The shirt might be a little silly—I'm not much of a designer, but I still enjoy the shirt. I love sunflowers! I wanted a long-sleeved T-shirt to sleep or work in, and this one is so comfortable!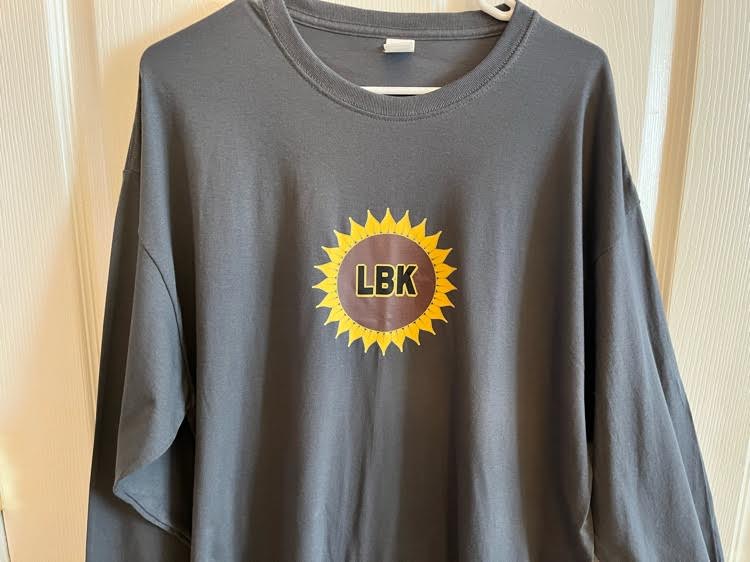 All the items I ordered through RushOrderTees are printed T-shirts, but the company also offers various other promotional items, such as custom bags and team shirts that you can customize. You can even add embroidery if you like, to your items.
RushOrderTees designed a custom Mom Home Guide sweatshirt for me a year ago, so now I am the proud owner of two custom-designed RushOrderTees sweatshirts—lucky me!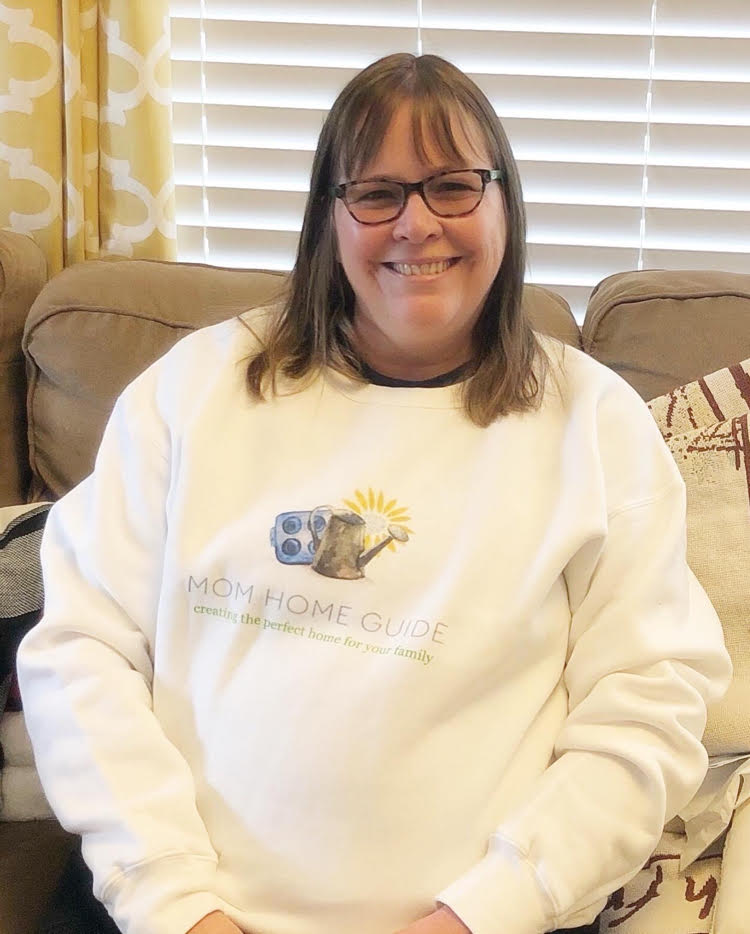 Product Reviews