This post contains Amazon affiliate links.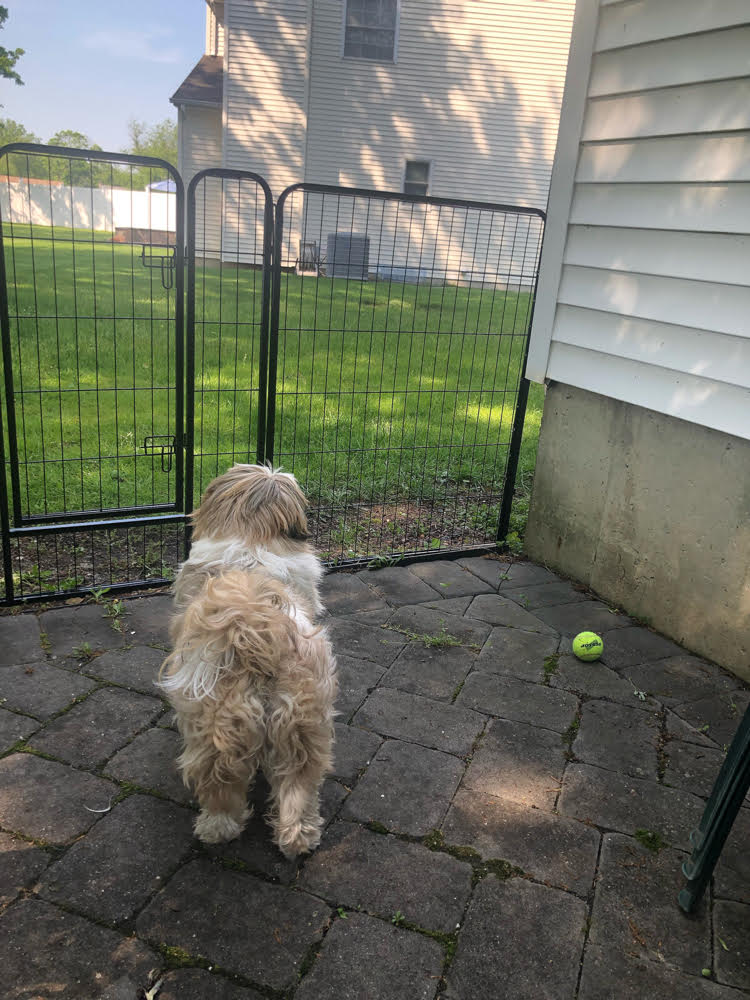 Today I'm sharing a project my husband and I completed this weekend—or, I should say, HE completed! (Here's a BIG shout out of THANKS to my hubby!) I started a new work-from-home job in September, and have been wanting to create an outdoor office of sorts on my patio. The only problem I had is that our yard isn't fenced, and I have a 4-year-old Shih Tzu who wants to be with me basically 24/7. Which is good until he sees a squirrel and wants to go tearing after it! Thus, the need for the fence!
I looked into all sorts of fencing options, including making my own fence with wood and wire, or using various no-dig fencing panels. But most no-dig fencing options are expensive. I was hoping to keep the budget down. So I settled on the Yaheetech Heavy Duty Metal Dog Playpen, which I ordered from Amazon.The Yaheetch fencing (which can be used as a stand-alone dog pen, or as fencing) has a ton of rave reviews on Amazon and isn't expensive.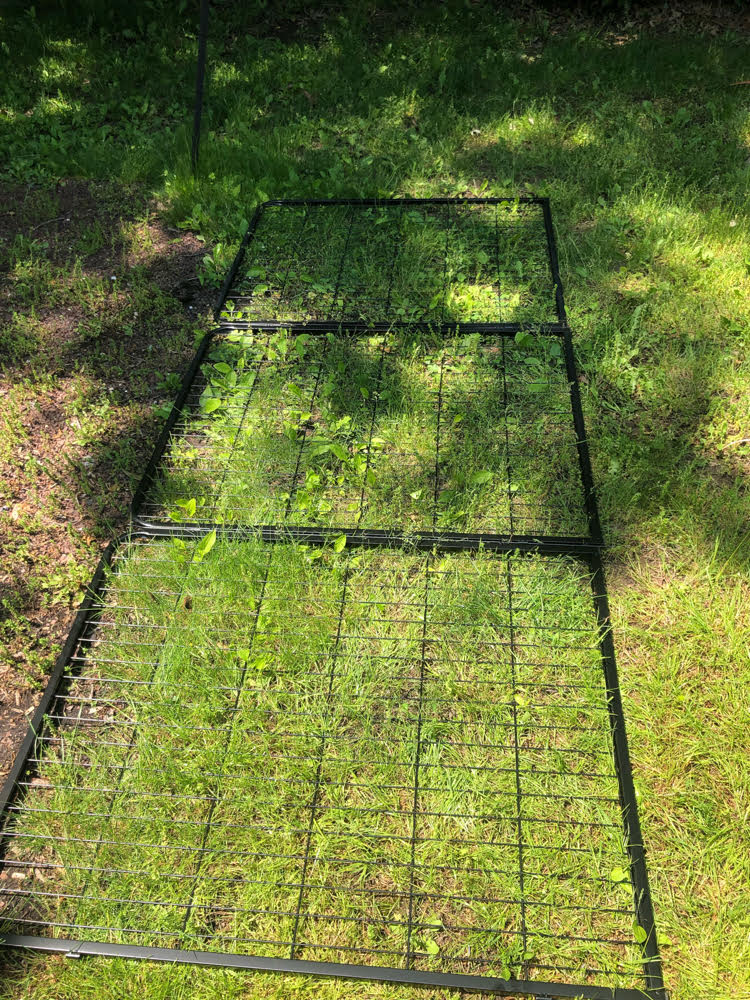 I bought 24 of the Yaheetech 40-inch-high panels, which I knew would be a good choice since they are made out of rust-resistant metal, are highly rated on Amazon, and because many other consumers have happily used the panels as affordable outdoor pet fencing. My purchase cost me just over $577. The panels are lightweight, yet sturdy, and the spacing in the wire grid part of each panel is small enough to keep my pup out of trouble. I knew I could trust Yaheetech, since I have a recliner from Yaheetech that has become a HUGE favorite with my husband and pup—it's their spot!
Yaheetech No-Dig Dog Pen Details
These are the specifics on the Yaheetch fencing I got:
The panels are sold in packs of 8.
Each panel is 39.4″ tall and 31.5 inches wide
The panels can stand upright on their own or can be anchored into the ground with the included stakes.
The panels have a premium weather-hardy black finish
One panel of each 8-panel set is a gate. (So, I received three gates. since I purchased three sets.)
The panels can be set up without tools—my husband only needed a mallet because we anchored our fencing into the ground.
The Yaheetech Heavy Duty Metal Dog Playpen  is available on Amazon.
No-Dig Dog Fencing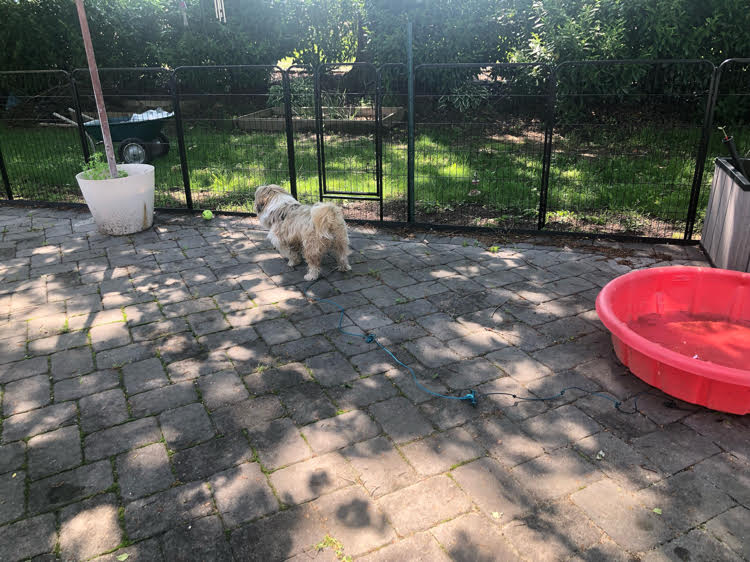 The panels of the Yaheetech Heavy Duty Metal Dog Playpen work very well as an outdoor dog fence. The panels come with very thin metal stakes to connect the panels to each other. The stakes can also be pushed into the ground to secure them. We have hard clay in our yard, so the stakes were a little difficult to get into the ground. My husband had to take over the installation (I had started it), since I couldn't get the stakes into the ground on my own. It took him about 2 hours to put up our fence—it was a very hot day yesterday and we installed about 63 linear feet of fencing (24 panels).
Since we couldn't get the included stakes that deep into the ground, we secured the fencing to a few T-posts that we had on hand too, which my husband drove into the dirt with a mallet. My pup is a little dog and can't just too high, so I think the fencing will be more than enough to keep him from escaping our patio. The fencing would't be enough to enclose a large dog, however. You can see the t-posts we used more clearly in the photo below.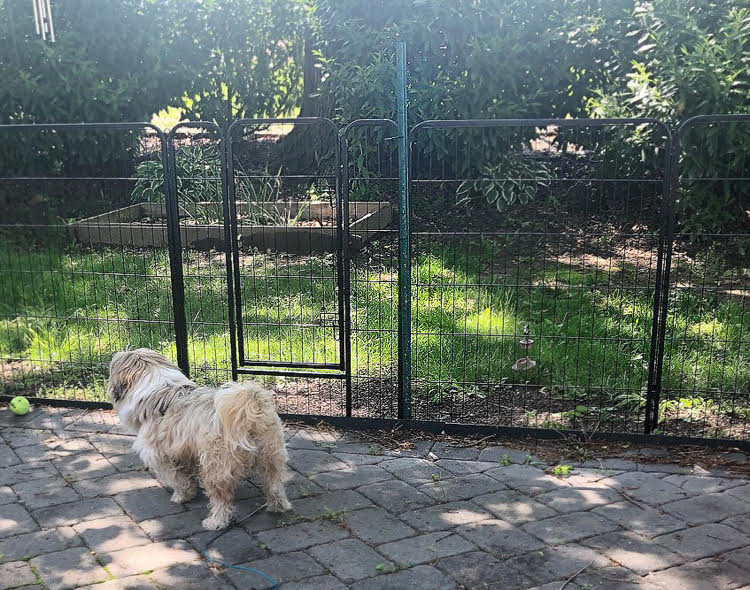 At some point, we might replace the t-posts we used with shorter ones that are closer in height to the Yaheetech panels. If I replace the t-posts, I will most likely spray paint them black.
We only put the fencing up yesterday, but so far, I am happy with it. The only concern I have is that the gate opening doesn't go all the way to the ground, so when you go through the gate, you have to step over the bottom panel. My husband has already tripped on it, since he forgot to step over it.
This problem can be alleviated by purchasing standard metal garden gates and using those instead of the Yaheetech ones. But standard no-dig metal garden gates are wider than the Yaheetech panels, so we would have to reconfigure our fencing if we do replace the gates. We might have to at some point—I just worry about our guests tripping when we have friends and family over.
If I do replace, the gates, I think I will get Vigoro no-dig fence gates for about $38 each from Home Depot. The Vigoro gate is wider than our Yaheetech gates, so I might only put them on the shorter ends of the patio, so we don't have to re-install too much fencing.
I like how the fencing coordinates with our patio. The black fencing goes well with our wrought-iron patio table set. It also goes looks good with our black chaise lounges. You can see that I have added my pup's little plastic pool to the patio, so hopefully he won't get too hot during our work days outside.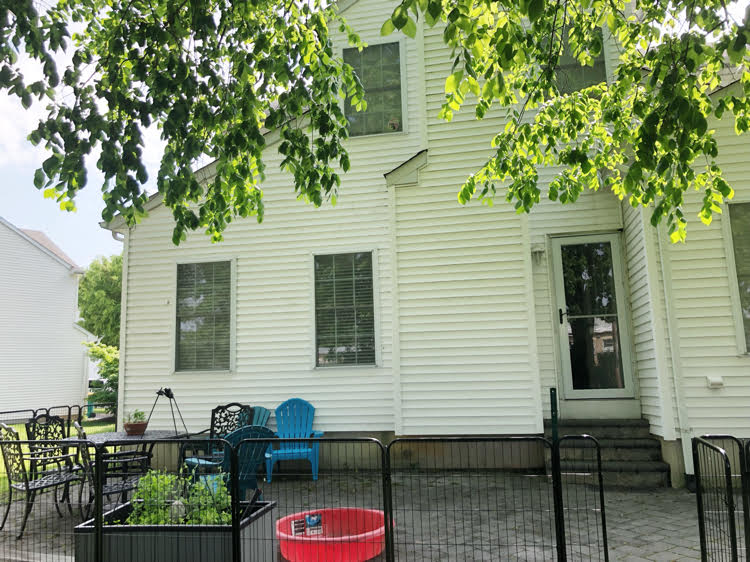 I am planning to spend some time working outdoors this week with my pup. I am looking forward to it!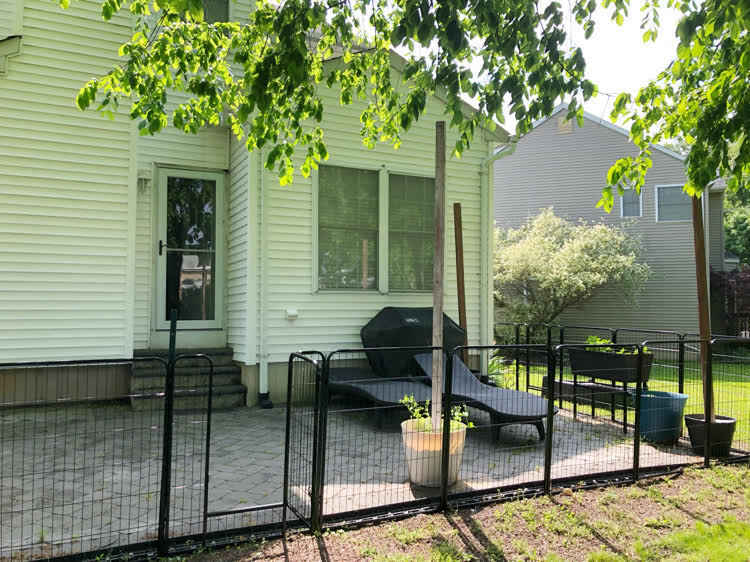 Don't forget, the Yaheetech Heavy Duty Metal Dog Playpen  that I used to enclose my patio is available on Amazon.
I regularly review products on Mom Home Guide—if you are interested in having your product reviewed, email me at Momhomeguide@gmail.com.
You Might Also Like
Recliner Review