The weather was so nice here in New Jersey yesterday, that I just had to get outside and start some springtime gardening!
The first thing I did was prep one of my backyard's raised garden beds to plant some peas. We hadn't planted our peas until yesterday because until then, we've had unseasonably cool weather, so I was afraid to plant them!
To prep the raised garden, I weeded, loosened up the existing soil with a sturdy rake and added a layer of new topsoil from the garden store. When the kids got home, we dug a few 2-inch trenches for the peas, and planted our peas! From some inexpensive wooden shims (the shims basically look like miniature wooden stakes or paint stirrers) that I had lying around, the girls made some really cute garden markers with Sharpie pens.
Later this season, we hope to plant some tomatoes, cucumbers and sunflowers — we've had great luck with sunflowers in past years. My kids just love them!
Summer Flowers
I also had time to get some flowers planted for the summer. Since the back of the yard is shady, I planted some lily of the valley pips (roots) and some bleeding heart pips. Both are said to do well in the shade — I just have to hope that some little critter doesn't dig them up! (I think a rabbit or squirrel tends to get to my bulbs and flowers in the backyard. We've also had a family of groundhogs crash our garden, so it could have been them, too.) In a sunnier backyard spot, I planted some potted daffodils that I got on clearance from the grocery store. They look good for now, but hopefully they will survive and come back next year!
Our Vegetable Garden
Since our veggie garden doesn't look like much yet (since we've only just planted our peas), I'll have to update you later on our garden's progress. But this is what our veggie garden looked like on fairly early on last year.
Now that our peas are planted, we'll be looking to plant other easy-to-grow veggies. If you've had luck with a particular vegetable in your garden, please let me know!
This Post Was Shared At:
You Might Also Like:
Attracting Goldfinches to the Backyard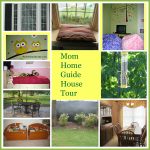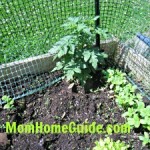 How to Create a Raised Garden Bed