This shop has been compensated by Collective Bias, Inc. and its advertiser. All opinions are mine alone. #CleanRippleStyle #CollectiveBias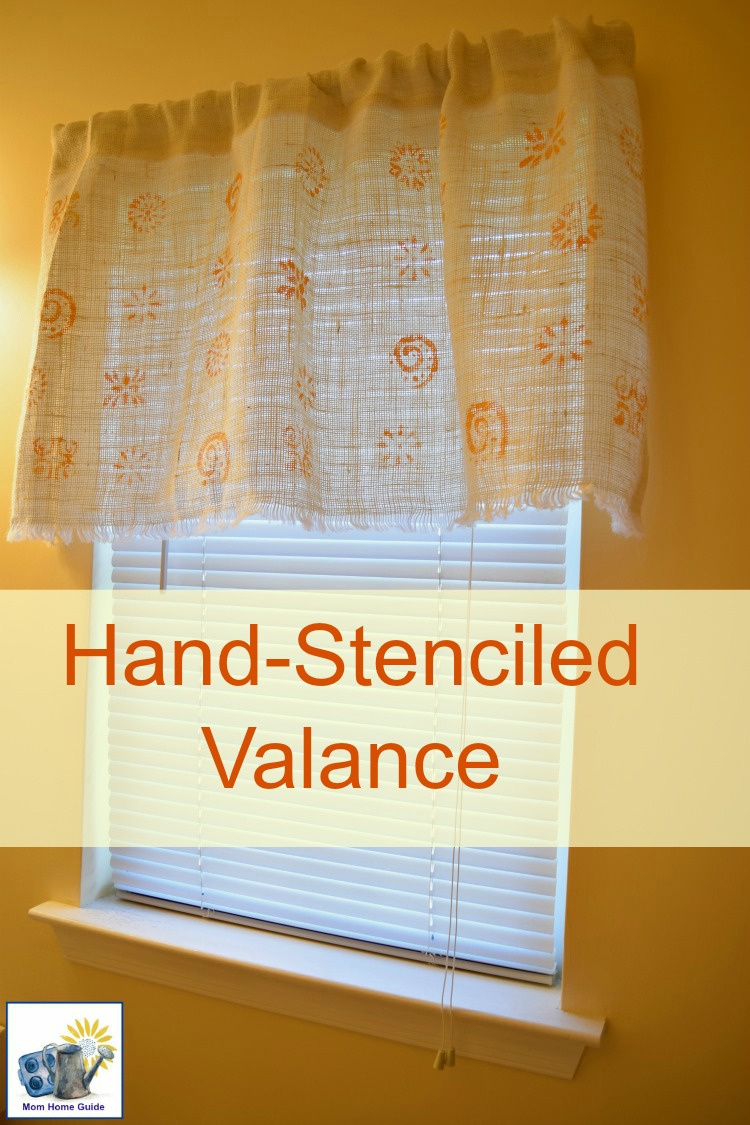 With spring finally here, I've been into spring cleaning and decorating mode! One thing I decided to tackle was updating my home's guest bathroom. To make my home guest ready, I stocked my guest bathroom with needed supplies. I also made a pretty valance for the bathroom window!
When I have guests over, I like to make sure they have everything they need. In the bathroom, I keep a basket of extra toilet paper on hand. No guest wants to ask for an extra roll of toilet paper!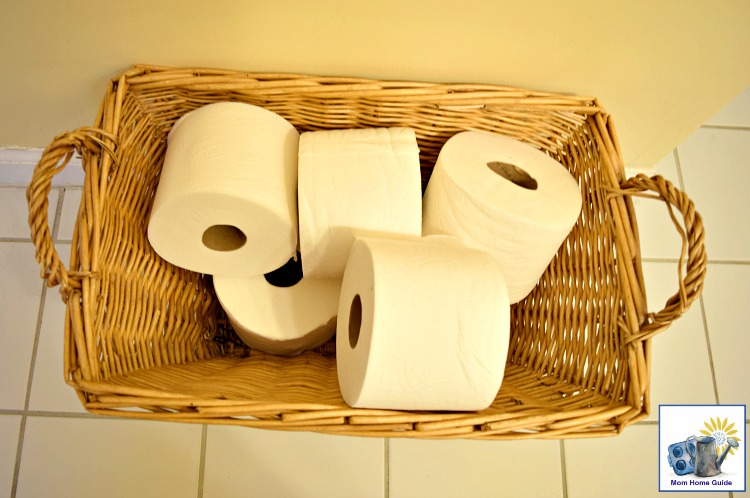 I also stocked the guest bathroom with Cottonelle® Fresh Care* Flushable Cleansing Cloths in the new Member-Voted Design packs exclusive to Sam's Club.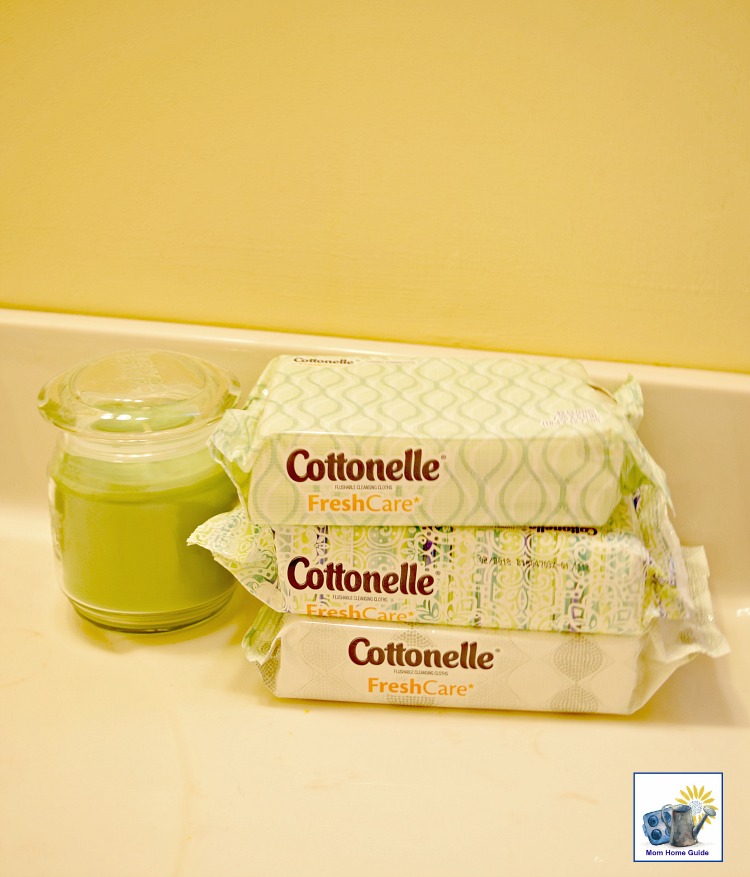 The cleansing cloths packs, with a resealable top, are pretty enough to leave out for guests. The cleansing cloths are also flushable, alcohol-free and sewer and septic safe. Cottonelle also offers a OneTouch* dispensing tub for the cleansing cloths.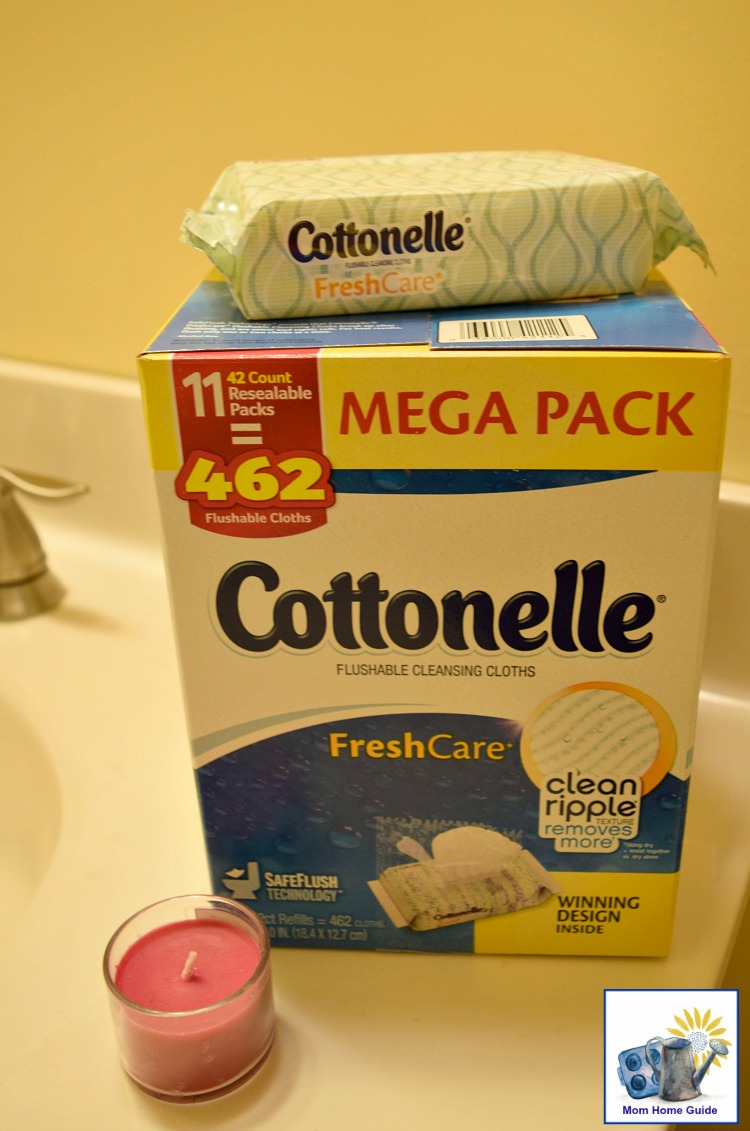 To spruce up my bath, I added a pretty vase of faux flowers to the counter. I think flowers can make any space look nice!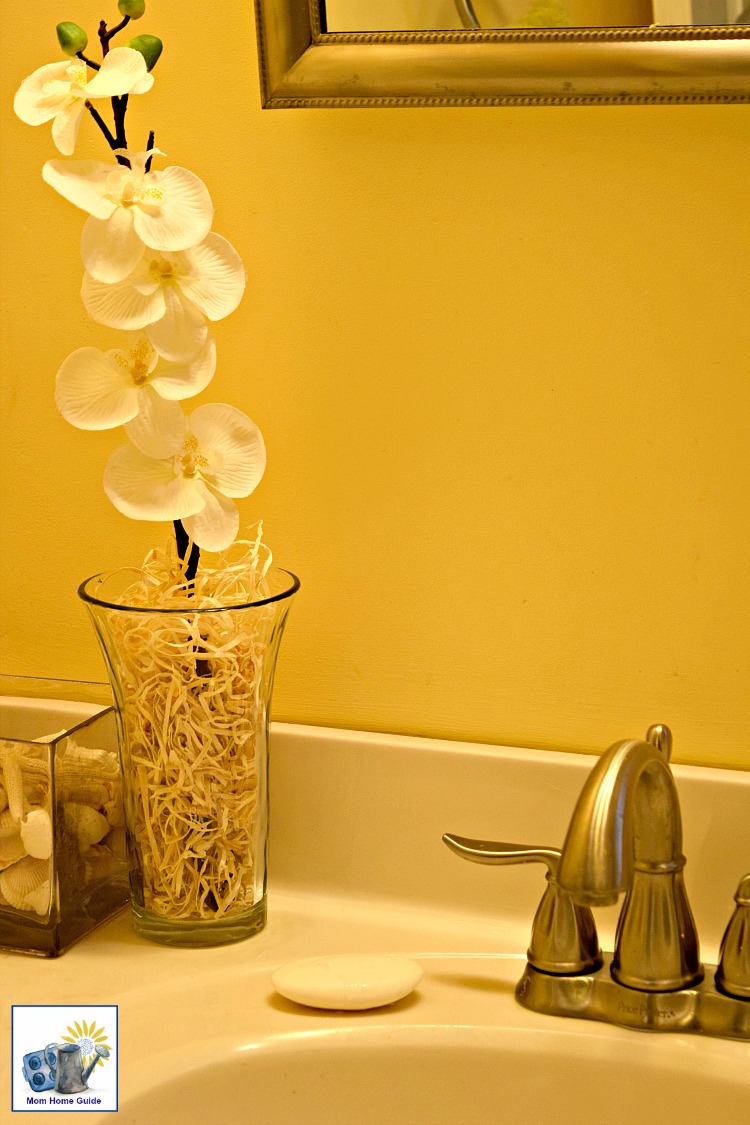 DIY Burlap Valance
I enjoy making DIY curtains and valances for my home. Making handmade window drapery is really quite simple! (Check out the DIY spring panel curtains I recently made for my home's living room!) The DIY stenciled valance that I made for my home's guest bath had been up for quite some time. So, I figured it was time for a change! Plus, I like working with burlap — I recently made a burlap table runner for my kitchen table. The below photo shows the valance that used to hang in my home's guest bathroom.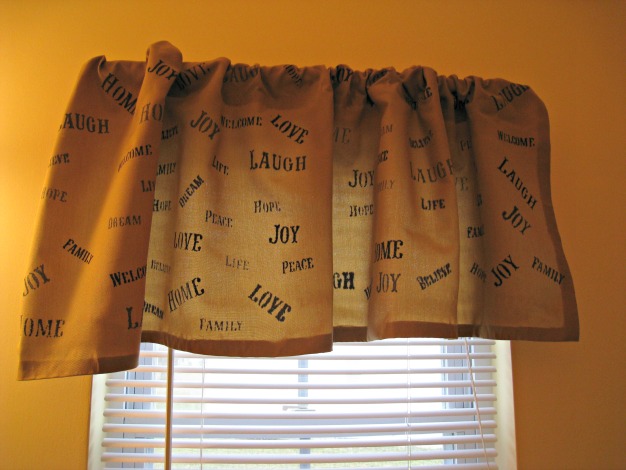 DIY Stenciled Burlap Curtain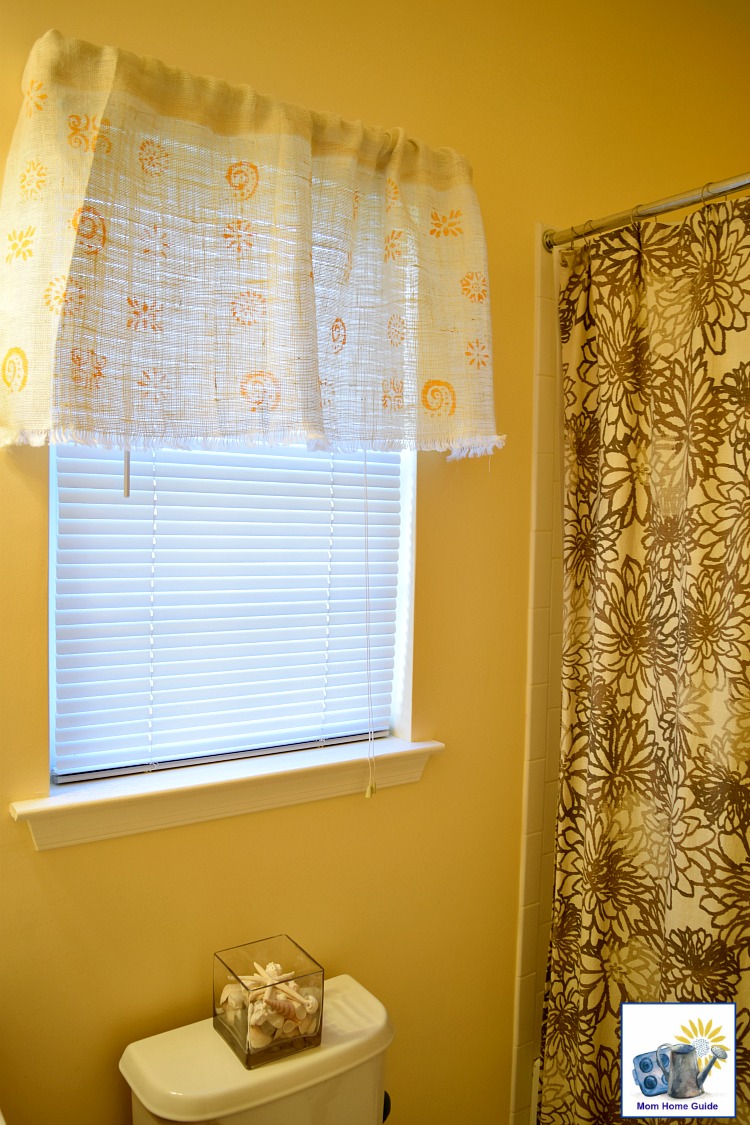 To make my new bathroom valance, I simply used some materials I already had on hand. This is what I used to make my valance:
Materials
Burlap (that was wider than my window, so I could hem the sides and bunch the curtain a bit)
Stencils
Fabric paint
Paint brush
Sewing machine (and thread)
Stenciled Burlap Valance Tutorial
I stenciled my length of burlap first to make a pattern for the valance. I used my long farmhouse-style kitchen table as a work surface — I simply covered the table with newspaper and laid the burlap down on top. I then got to work stenciling!
I really like how the stenciled burlap looks!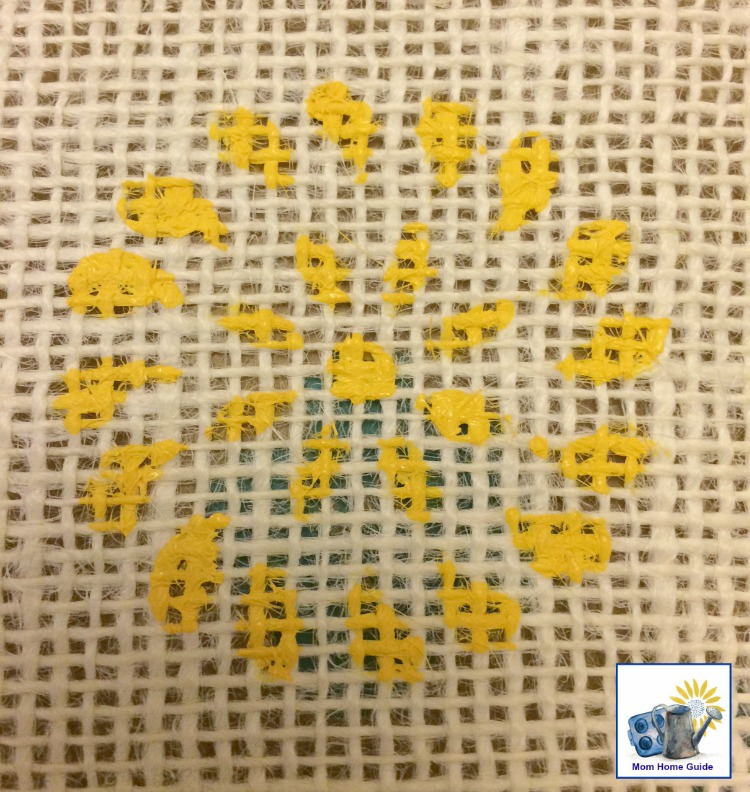 Once I got my fabric stenciled, it was time to get sewing!
I first folded and pinned down the short sides of the fabric about 2 inches and sewed them down. I then folded and pinned each side down about two inches again and sewed it.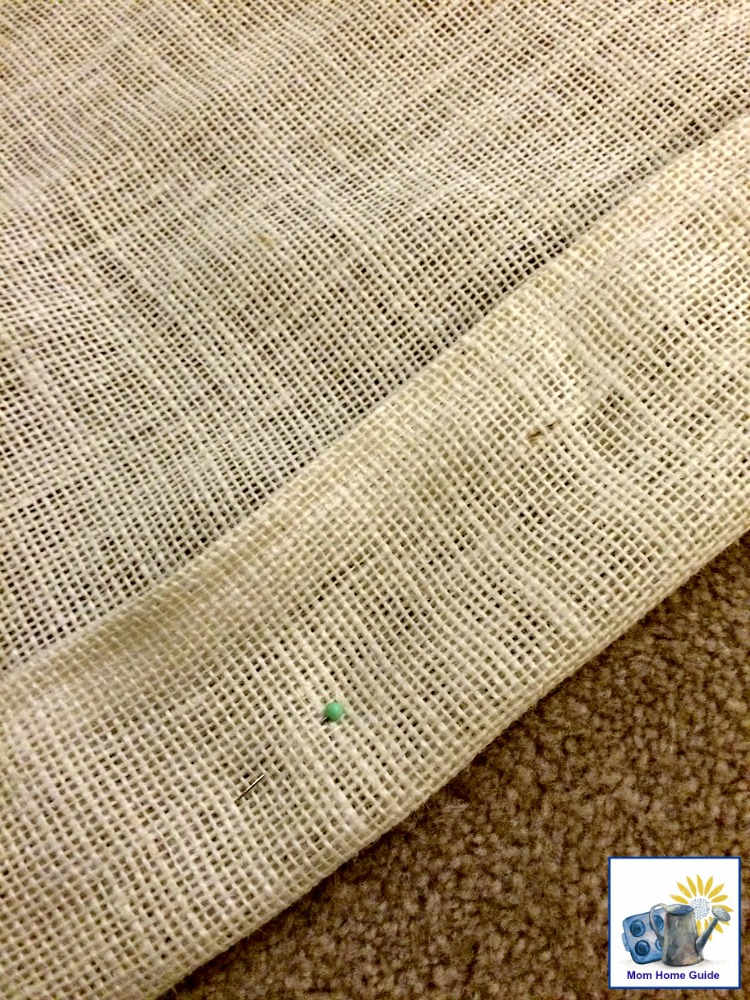 This step gives my valance finished edges.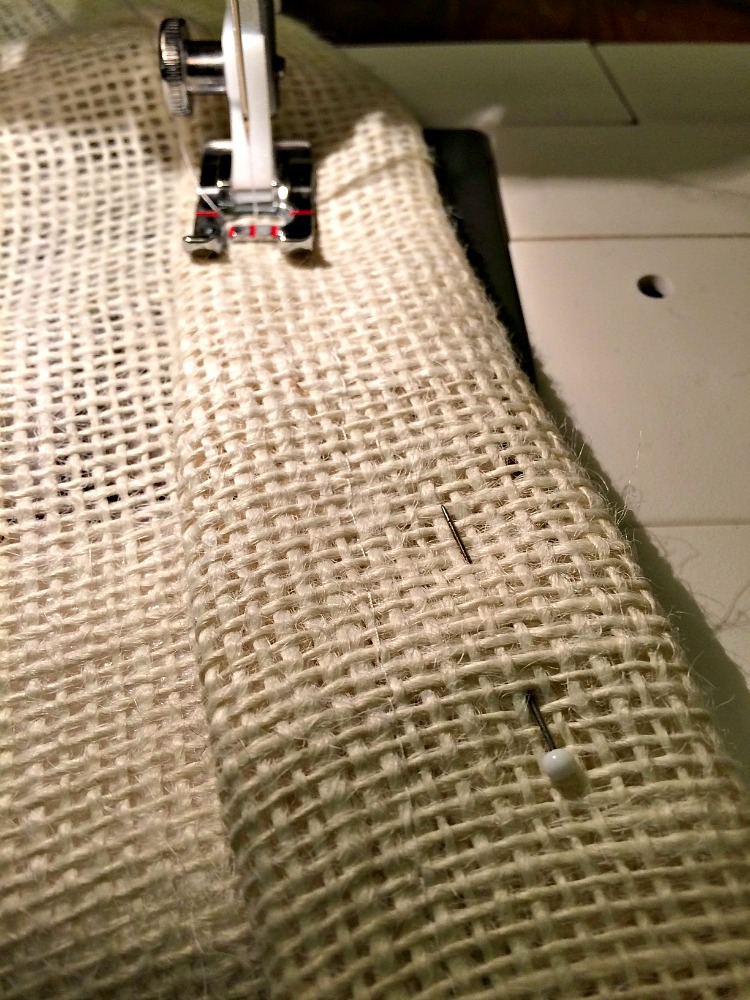 I then folded and pinned the top of my valance down about 1/2 inch and sewed it to create a finished edge. I then folded the top down again about four inches and sewed it, so I would have a pocket for the curtain rod.
I left the bottom edge of my curtain unfinished. It was already frayed a little bit, and I just love the look of frayed burlap! So, I pulled a few extra strings of the burlap along the bottom edge of the curtain to make the fringed edge longer.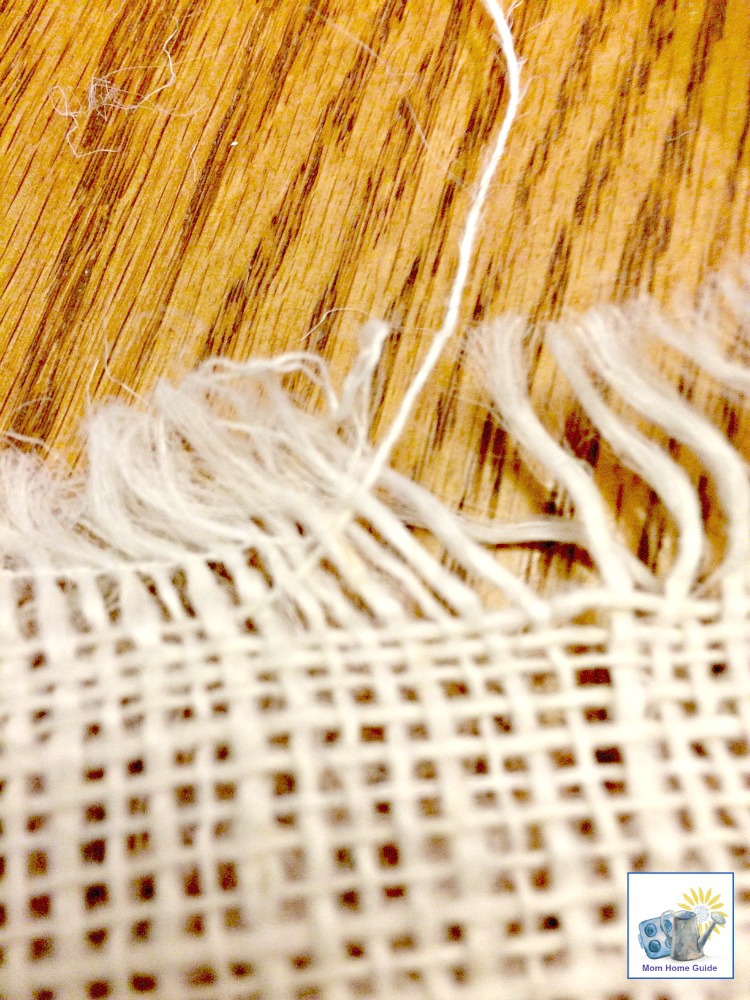 Once the bottom edge of my handmade burlap valance was finished, all that was left to do was hang my new burlap valance! The new bathroom valance lets in the sunlight and is perfect for spring!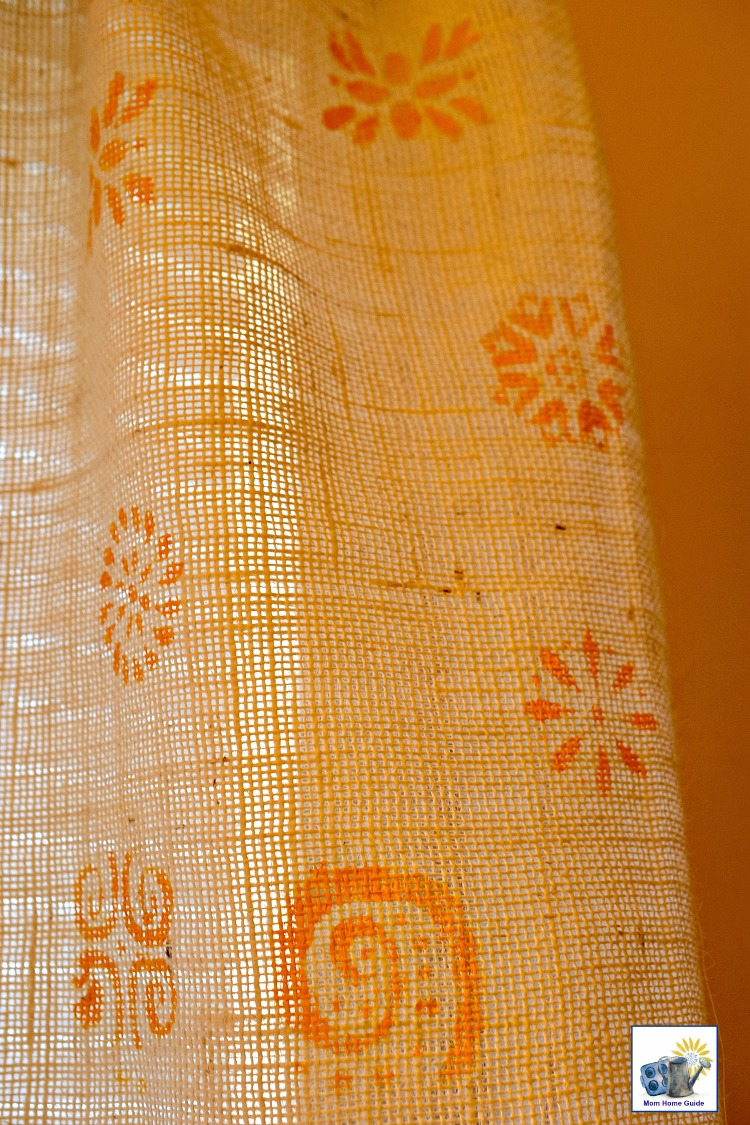 My New Sam's Club Membership
I am a new Sam's Club member, and I have been enjoying my membership. Everything I need is easy to find at Sam's Club, and I am loving the savings I can get there. I found the Cottonelle® Fresh Care* Flushable Cleansing Cloths toward the back of the store where the bathroom products are sold.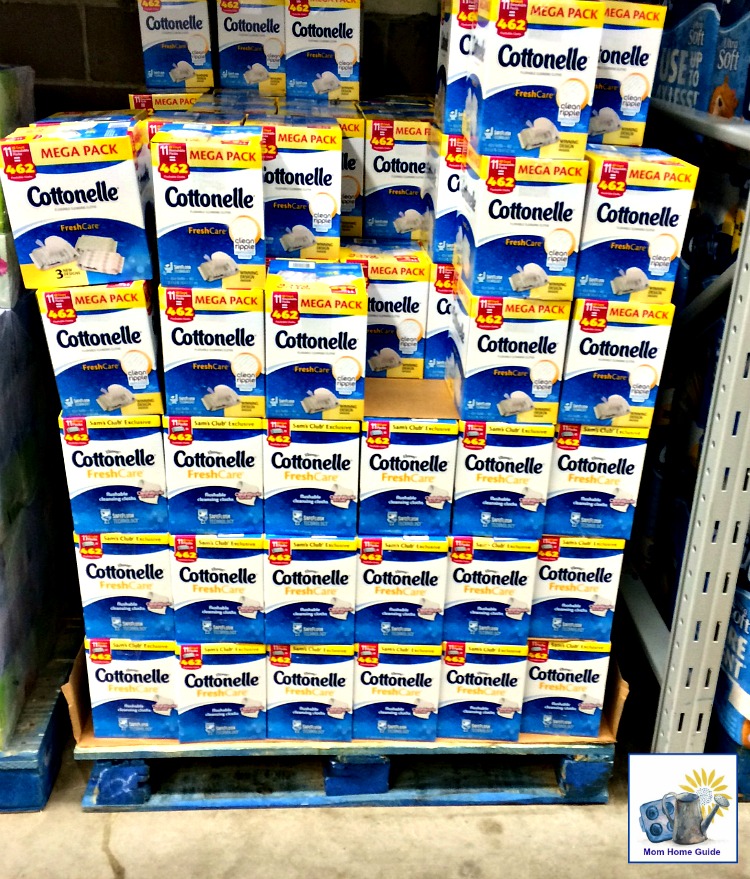 As a new member, I've been meaning to try Sam's Club Pick-Up Service. I can order what I need to from Sam's Club online, and have it ready for me for pick-up at the store! I like anything that can save me time! The Sam's Club Subscription Service can also make my life easier. I can subscribe to products I regularly use, set a schedule for how often I want them shipped, and have the products shipped straight to my home! That's convenient!
I might be hosting a few get-togethers at my house this month, so I will be checking out the party trays at Sam's Club soon!
How do you make your guest bathroom ready for guests? Please share in the comments!
This project was shared at the
Pin Junkie Pin Party