This post contains affiliate links.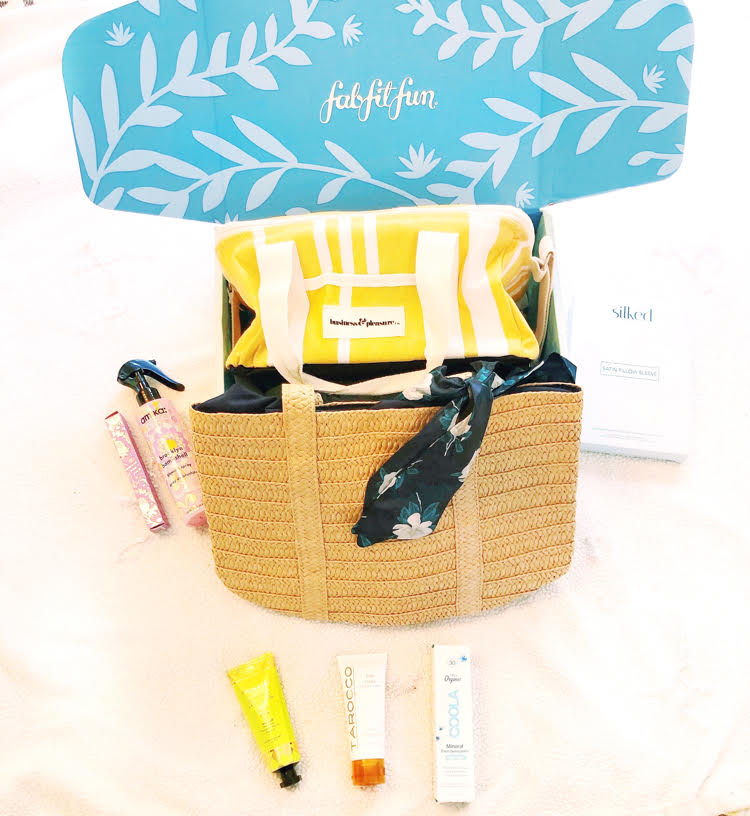 I recently received my summer FabFitFun box in the mail. The box is a little something I have been doing for myself. It's a nice surprise that arrives on my doorstep 4 times a year. I especially anticipated the box this month. With everything that's been going on of late, and having been shut-in inside for the past 2 months, it's nice to receive some light-hearted fun stuff in the mail!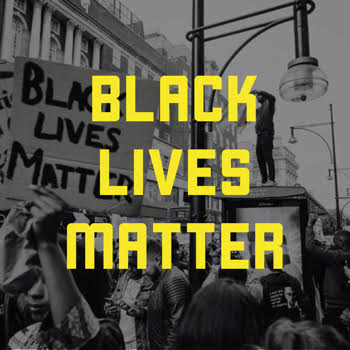 The FabFitFun subscription box is a curated subscription box. You can order either by the season (Summer, Fall, Winter, Spring) for $49.99 a box, or you can subscribe to the entire year for $179.99. When you subscribe for the entire year, you get some perks like being able to choose some of the items you receive in your box.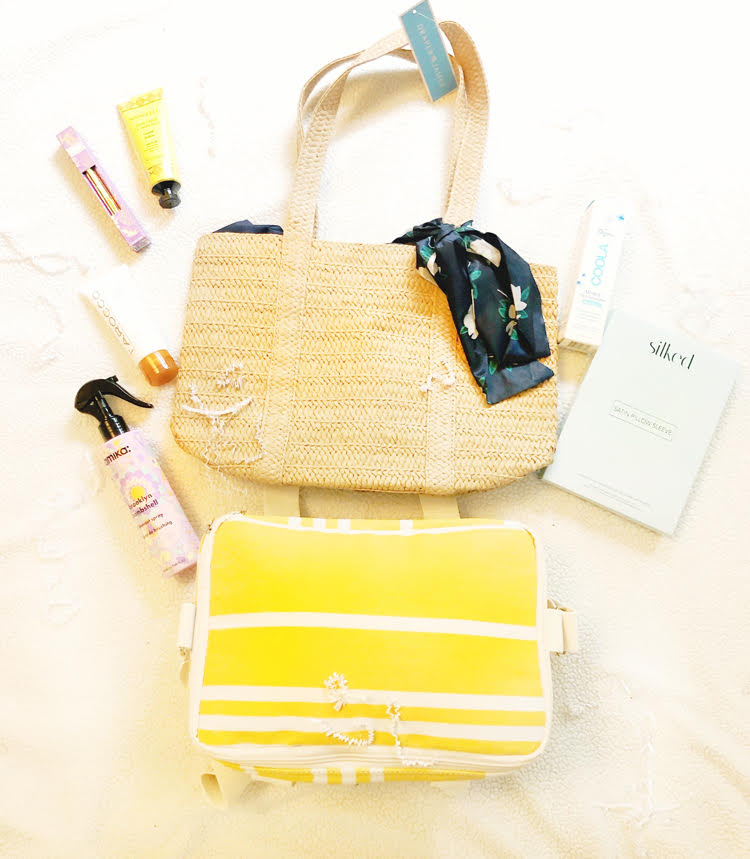 With a FabFitFun subscription box, you get to try out the latest in beauty, fashion, fitness and even home items at discounted prices.
If you use my referral link, you can get 20% off your first FabFitFun box!
Summer 2020 FabFitFun Box
I really like the items in the 2020 FabFitFun box – the box contains items that are especially suited for summer.
Draper James Straw Bag With Floral Scarf ($75 Value)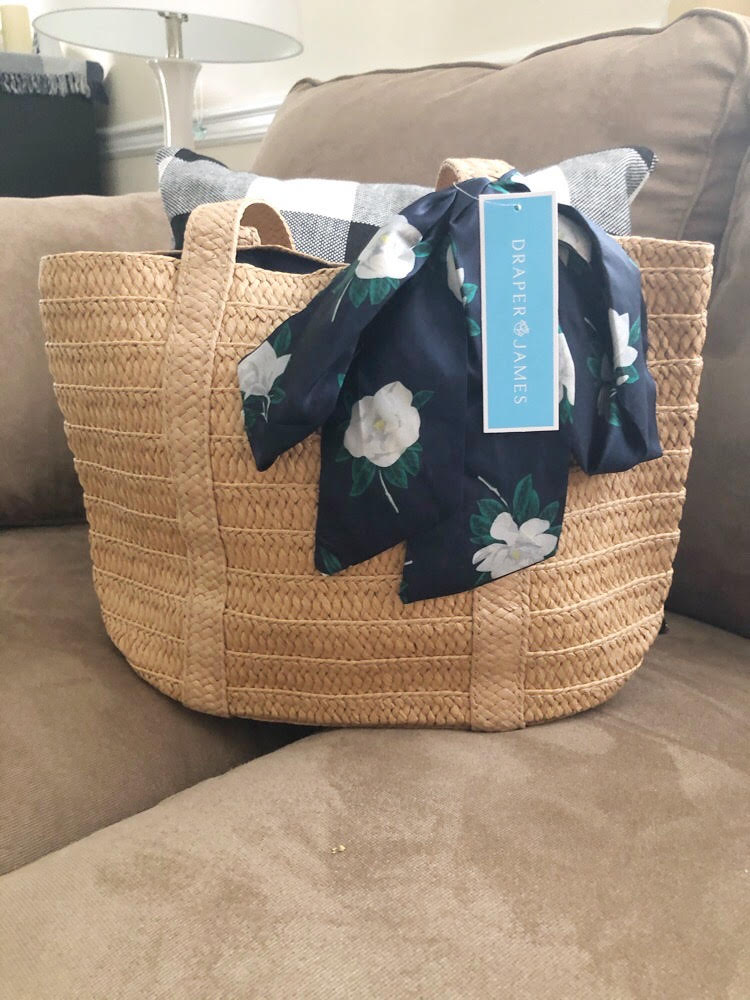 One of my favorite items in the summer FabFitFun box is the woven Draper James Straw Bag with Floral Scarf. The bag is large – 15.5″ W x 10″ H x 1.25″ D – and will be great for toting whatever I need to the beach or other outings this summer. This tote has a snap top to secure items within the bag, as well as a zippered pocket inside. If I like, I can untie the scarf to wear instead.
Business and Pleasure Co.™ Cooler Bag ($59 Value)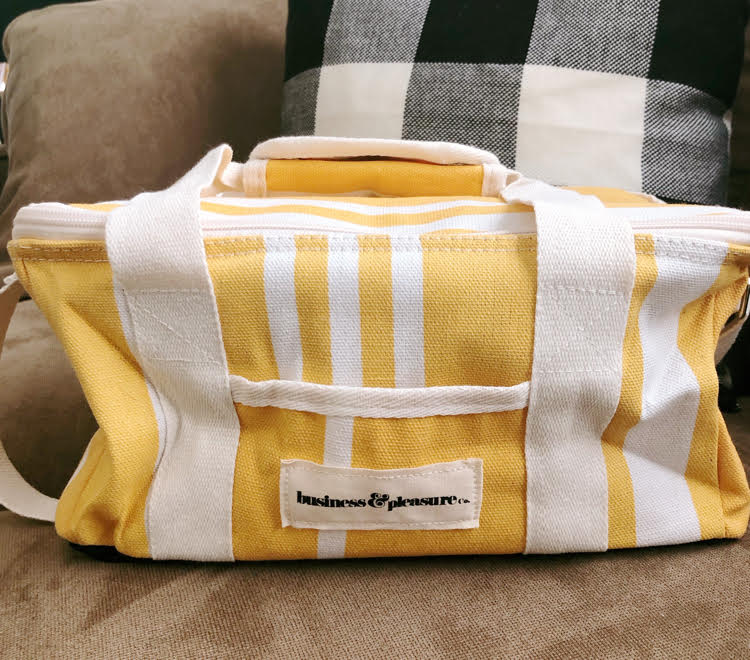 My second favorite item that arrived in my summer FabFitFun box is the Business and Pleasure Co.™ Cooler Bag. This cotton bag has an insulated interior, cotton handles and a cotton shoulder strap.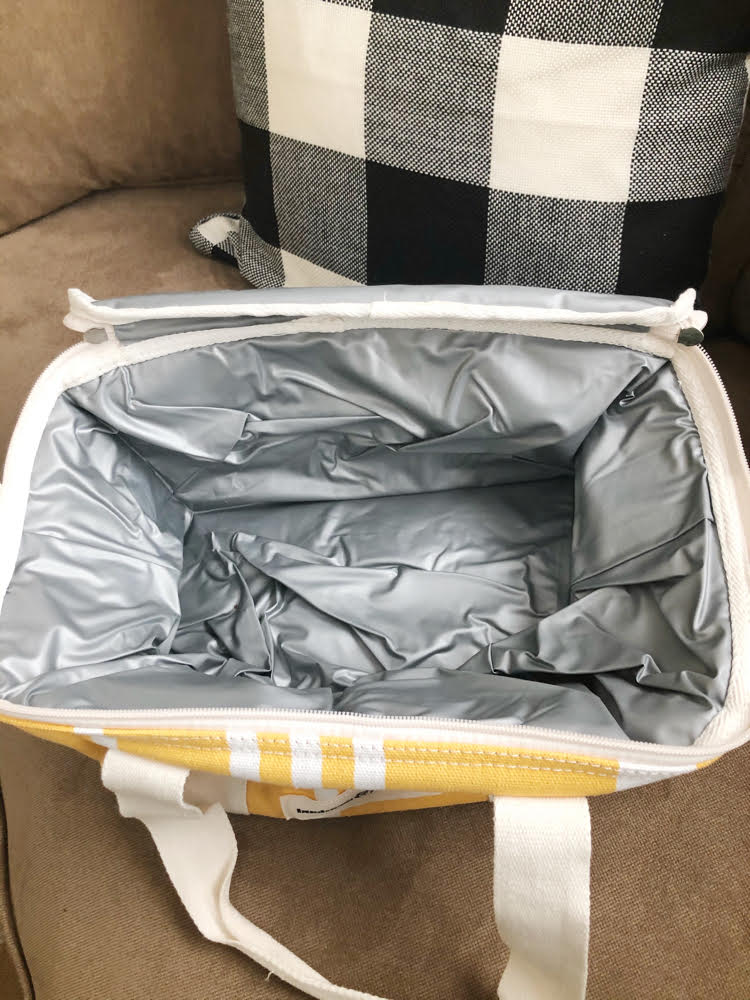 The bag measures 12.5" Lx 8.5" W x 8" H and holds 3.68 Gallons. I am hoping to use it for fun outings and picnics with my family this summer. It's big enough to hold sandwiches, or fruit cubes and perhaps some bottled ice tea or water.
Silked Satin Pillow Sleeve ($29.50 Value)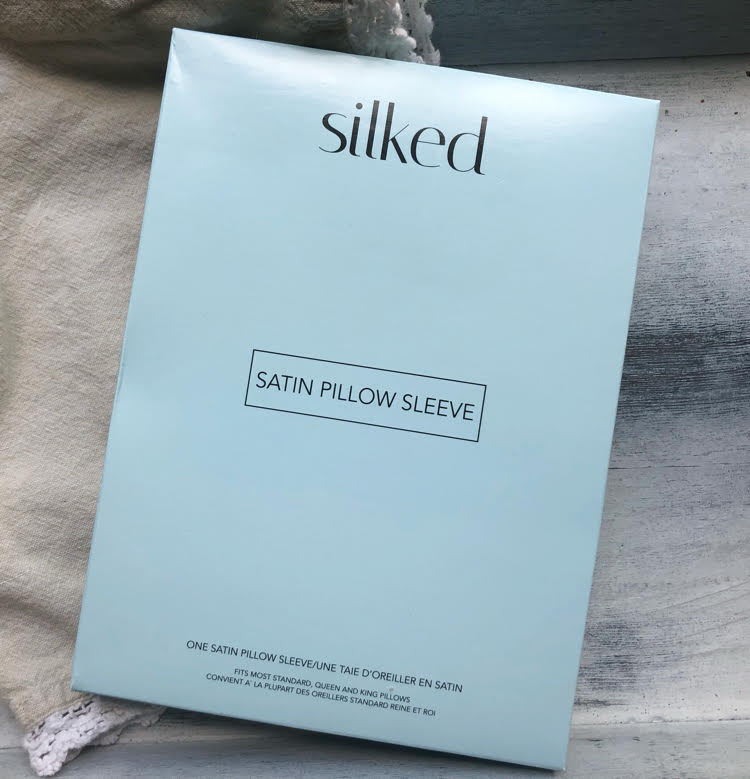 I like to sleep on my stomach, so I look forward to using the Silked Satin Pillow Sleeve. This grey satin charmeuse pillow case is designed to retain moisture in one's skin and hair. The pillowcase feels extra soft, too!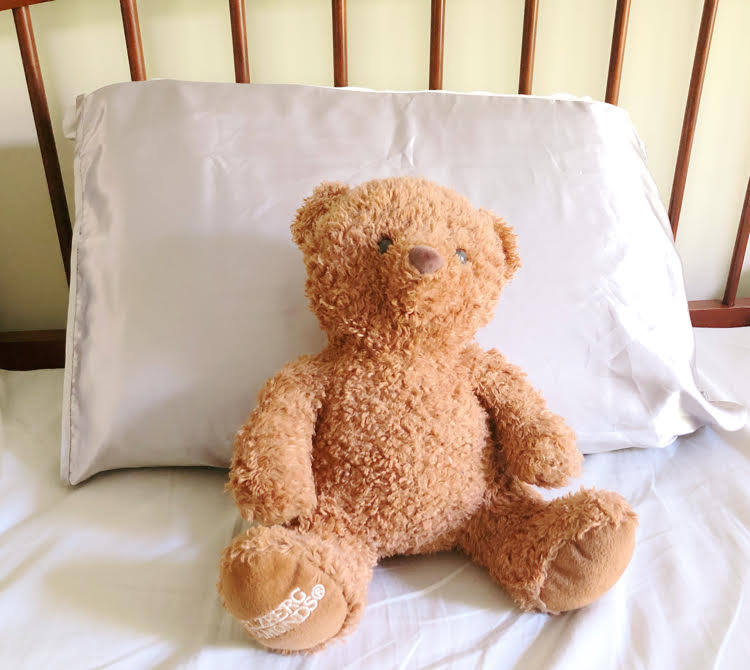 The sleeve is open on both ends so it can fit any size pillow – even my super thick memory foam pillow. It also has an anti-slip back to stay in place on the bed at night.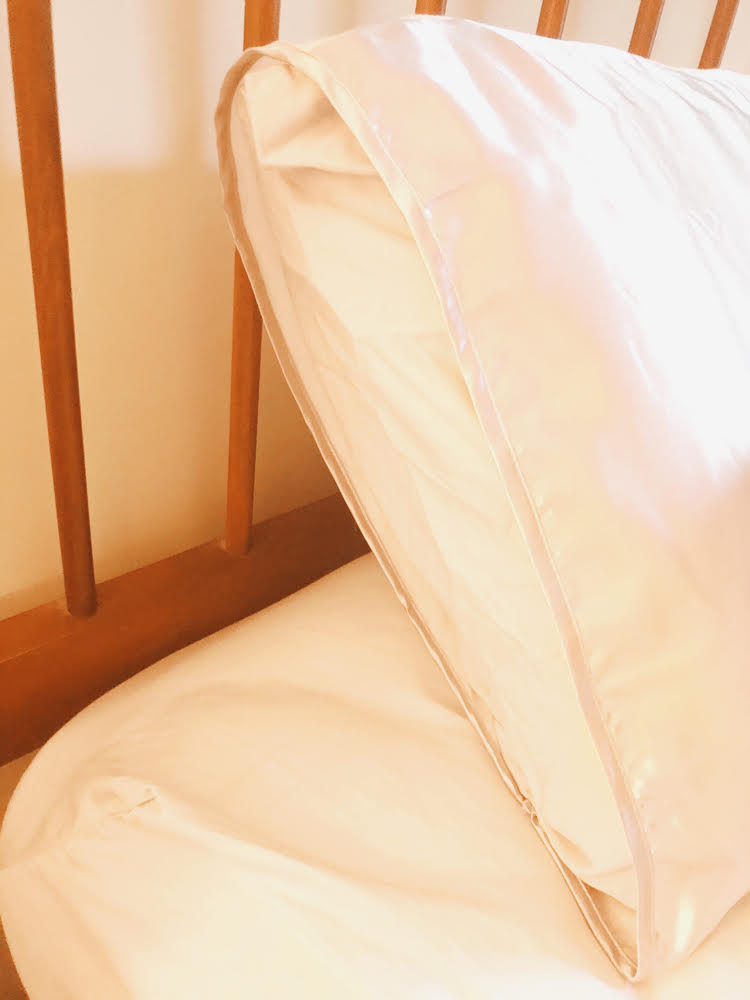 The pillowcase sleeve goes perfectly with my new cooling memory foam Therapedic® Polar Nights™pillow and my 100% cotton gray sheets.
Cali Cosmetics Foot Cream & Spongellé Coconut Verbena Hand Cream ($24 value & $18)
I love the scent of the coconut verbena hand cream – plus it's so creamy. I am hoping I can use it, as it contains argan and nut oils that I tend to be allergic to. The Cali Cosmetics Foot cream has healing antioxidants and moisturizing properties from blood oranges and olive oil. Both of these products should be helpful in getting both my bands and feet ready for summer.
Amika Brooklyn Bombshell Blowout Spray ($25)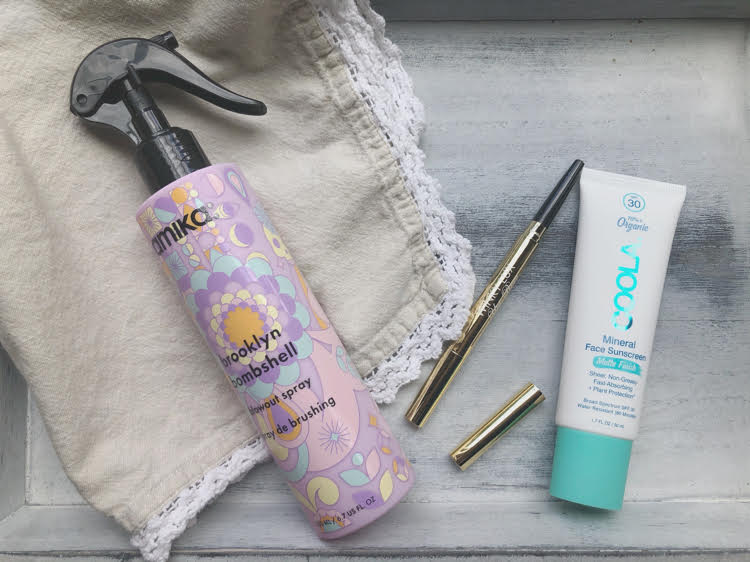 The Amika Brooklyn Bombshell Blowout Spray is a great product for me. I have vertically challenged, very flat, fine hair. Most products show up and build up too easily on my hair. But this lightweight formula adds much needed volume and texture to my hair! This product might be a new part of my morning routine.
COOLA® Mineral Face Organic Matte Finish Sunscreen Lotion SPF 30 ($36)
This light face sunscreen contains buriti oil and prickly pear extract to fight free radicals and nourish skin. Since I am allergic to pear, I will be gifting this sunscreen to my daughters. I like that this sunscreen is 70%+ certified organic ingredients, has a lightweight formula and is Oxybenzone-free.
Winky Lux Uni-Brow Universal Eyebrow Pencil ($16)
I haven't found a brow pencil I really liked until this one. I like it's smooth texture and how it glides on, making it easy it is to apply. It also works for my light hair color. (My hair is sort of light brown with blond highlights.)
My Review – Great Box!
In all, I liked this box – even though I'm not sure if I'll be able to use all the products in my FabFitFun box because of my skin sensitivities. I'll most likely gift the items I can't use to my daughters.
But even if I can't find a use for the products (and I know I will) cover the cost of this summer FabFitFun box.
If you decide to try FabFitFun, use my referral link to get 20% off your first FabFitFun box!