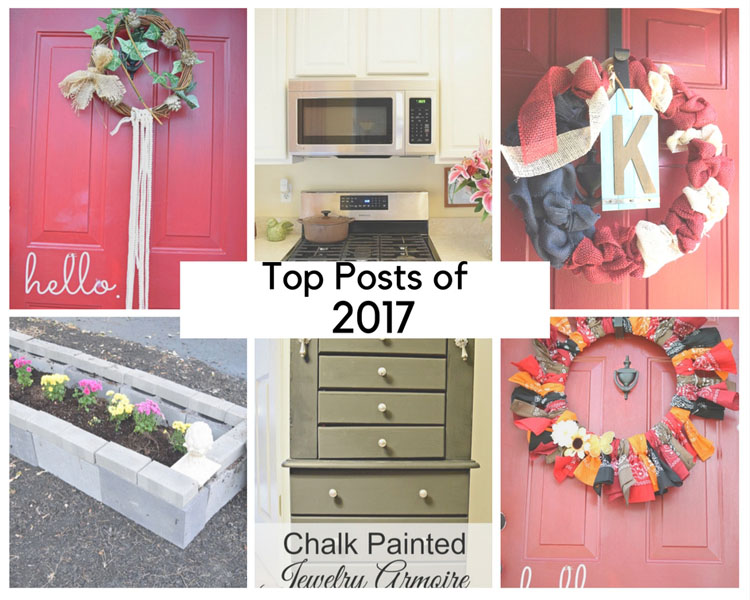 Happy Wednesday, everyone! This week is just flying by!
I hope your New Year is off to a good start! I have been planning my projects for the new year and have been trying to tackle some of my New Year's Resolutions. (If you follow me on Instagram, you might have noticed that I have been focusing lately on eating healthier and exercising. I am hoping to stay dedicated and see some progress on those fronts this year!
So before I dive head first into new projects for 2018, I thought I would share my most-read/liked projects from 2017!
Lace and Ivy Boho Wreath
I made my lace and icy boho wreath in November. This wreath was one of the most inexpensive and simplest wreaths I've made this year. (I made a wreath a month as part of a 12 Months of Wreaths challenge I participated in with blogging friend, Carrie of Curly Crafty Mom.) I love the natural beauty and simplicity of this wreath, which now hangs in my home's living room.

White Painted Kitchen Cabinets
Painting the oak cabinets in my home's kitchen was my biggest project in 2017. It's also a project I still need to complete! As it turns out, I was diagnosed with early stage breast cancer in June, so I dropped many of my projects. Now that my treatment has concluded, I hope to get back to this project. I only have about 4 cabinet doors left to paint. I love the clean new look to my home's kitchen! Stop by my white painted cabinets reveal post to see my before and after photos and to see the products I used for this marvelous transformation.

Patriotic Red, White & Blue Bubble Wreath
I love decorating my home's front door for the holidays. For Memorial Day last year, I created an easy burlap bubble wreath to celebrate the holiday, and I loved how it turned out! Burlap bubble wreaths are quite easy to make and don't cost much, so they are perfect for people like me who like to switch out their wreaths often! Check out my Patriotic Red, White & Blue Bubble Wreath for instructions on how to make this burlap bubble wreath.

Concrete Block Raised Garden Bed
This past fall, I created a quick raised fall garden bed with some concrete blocks that I had on hand. I really liked the area because it allowed me to plant in a garden bed that usually has hard, not-so-good soil. I filled the concrete block raised garden bed with rich garden soil and planted mums for some beautiful fall color. My new DIY garden bed added a nice boost of color to my home's front yard. This spring I will be replacing the concrete bed with a beautiful new raised garden bed by Keter. I will have to repurpose the concrete blocks!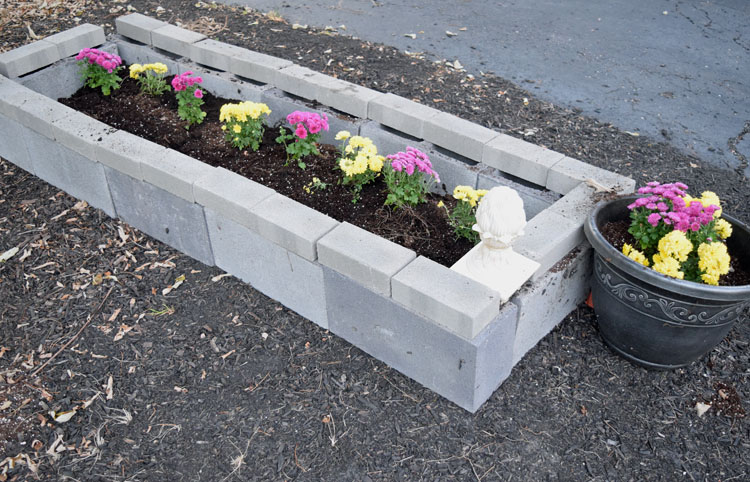 Chalk Painted Jewelry Armoire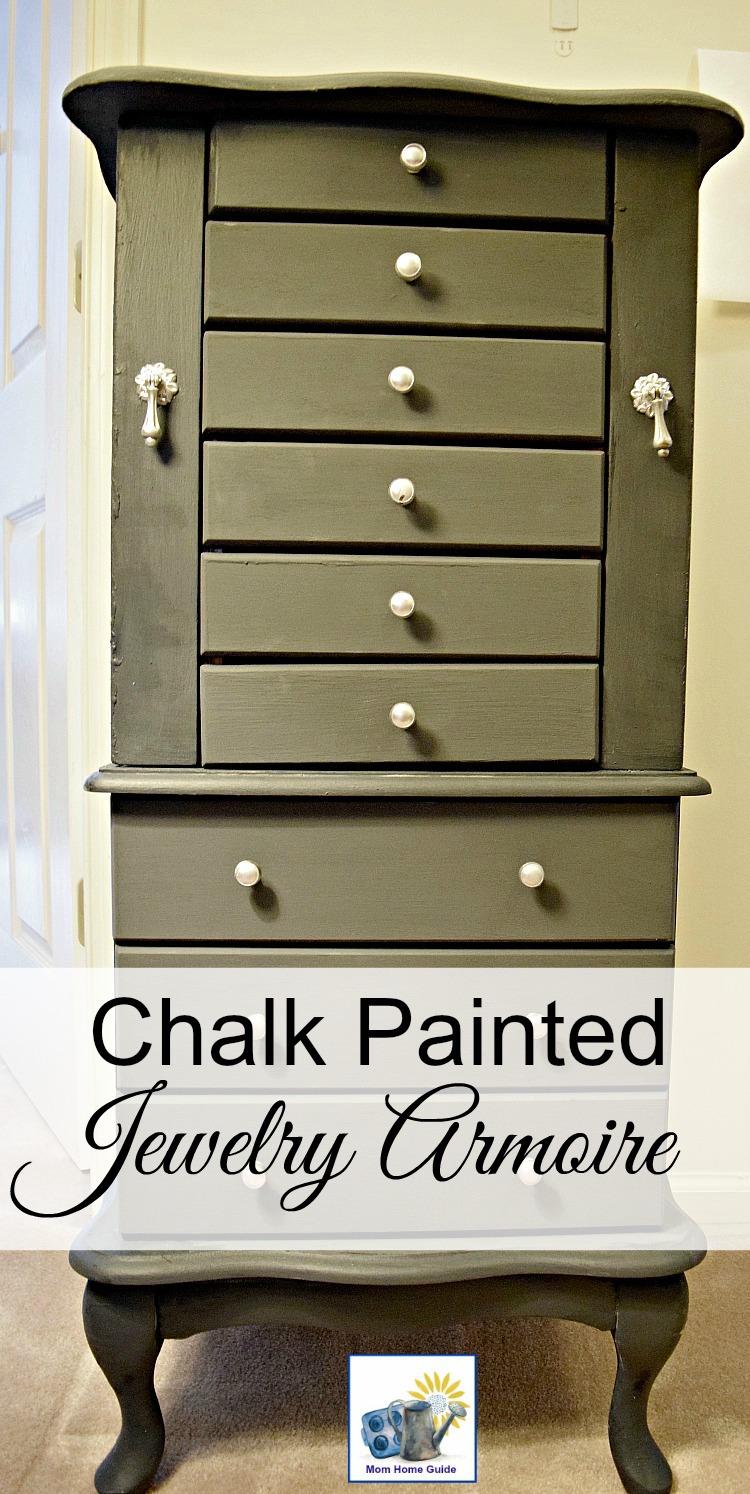 I actually painted my chalk painted jewelry armoire in 2016, but that project remained one of my top projects in 2017. It happens to be one of my favorite projects, too! Several years ago I received a standing oak jewelry armoire that used to belong to my grandmother ("Nana"). The armoire has special meaning to me. The armoire wasn't very pretty, though, so I kept it in my master bedroom's walk-in closet. (You really have to check out my chalk painting tutorial to see what the chest looked like before!) But since giving the jewelry chest a new coat of chalk paint, I display it prominently in my home's upstairs hallway. I love the jewelry chest's new look!
Colorful Bandana Wreath
In the fall I made a quick and easy colorful bandana wreath for my home's front door. This super easy DIY wreath only took me minutes to put together, but it has become one of my favorites! The wreath now hangs in my home's family room, and I enjoy its vibrant colors daily.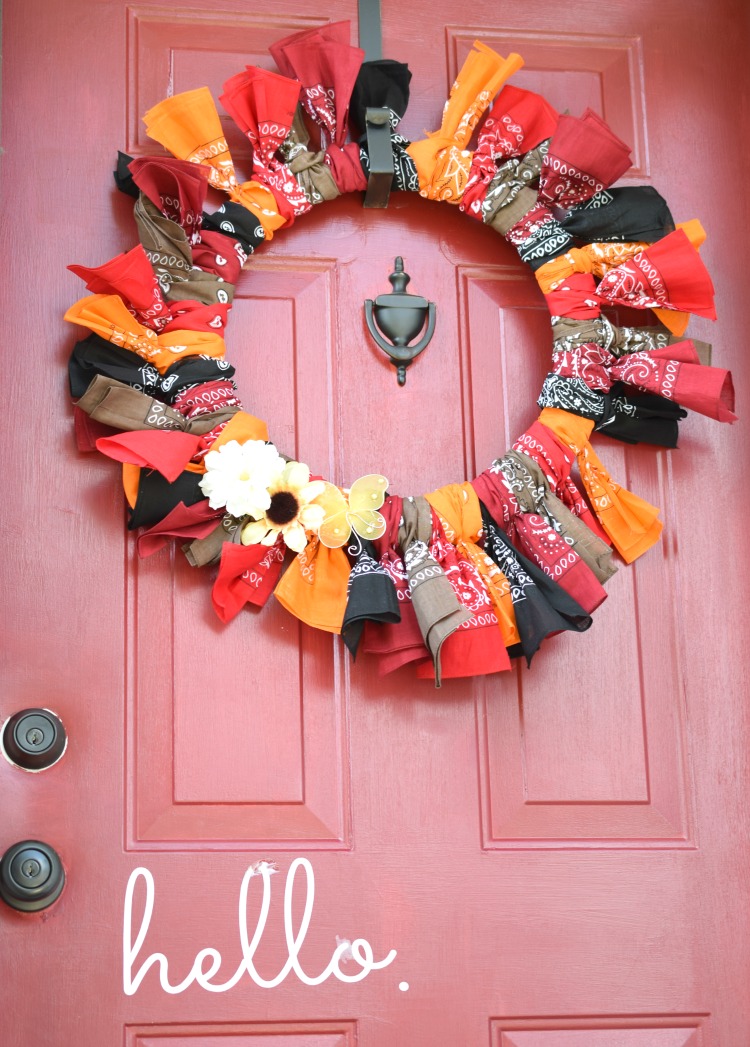 I hope you enjoyed this look back at the most popular posts of 2017 on Mom Home Guide!