This post was sponsored by Topgolf of Mount Laurel, NJ. My family and I received a free visit to Topgolf in exchange for my honest review.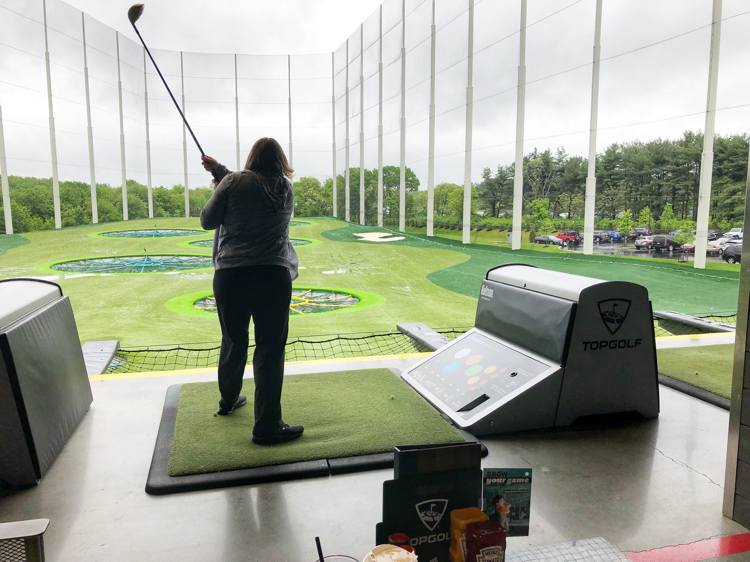 My family and I aren't golfers, but we had an awesome time golfing this past Sunday at TopGolf in Mount, Laurel, NJ. Topgolf is a top-notch entertainment center for all ages that has locations across the U.S.
The concept of Topgolf is really a lot of fun — when you play at Topgolf, your family or party is assigned a hitting bay, much like you get a lane when going to a bowling alley. You pay for the bay by the hour, not per person, and up to six people can play at a time in a bay. Bays are $30 (as low as $5 per person), $40 or $50 an hour, depending on the time of day you play.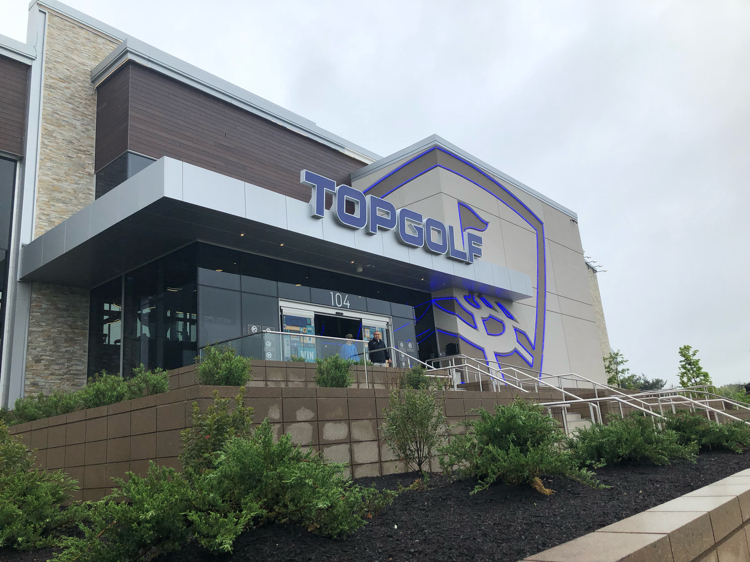 The new and modern Topgolf Mount Laurel entertainment complex features a series of targets in a large outfield into which you can hit microchipped golf balls. The gaming system in your bay keeps track of if you hit the targets, where you hit the targets, and how far you hit your golf balls. It's a nice view!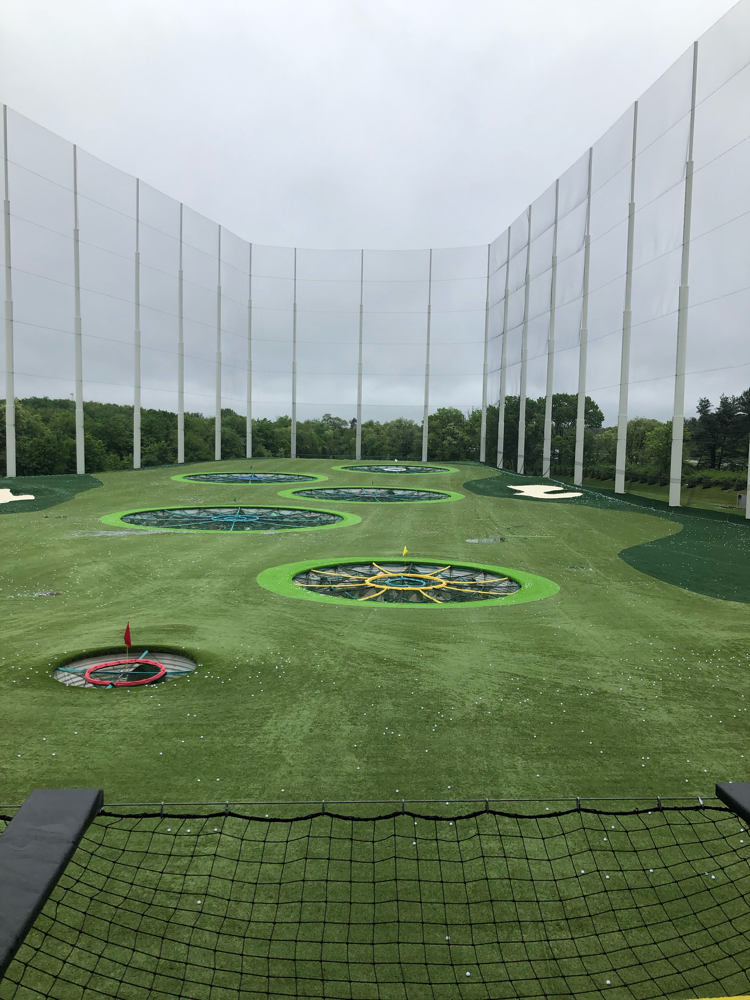 Fun for Everyone at Topgolf
As my daughters and I are complete golf newbies, we focused on hitting golf balls into a yellow Target that was 50 yards away. We were pleasantly surprised that we could consistently hit at least the outer reaches of the Target. Later in the game, my daughters aimed for a green target that was 90 yards away. I got so focused on aiming for the yellow target that I forgot to give the green target a try! lol
My husband, on the other hand, was aiming to get his golf balls to cover the most distance possible. In our bay was a collection of various drivers and irons that we could use for our shots. (Some of the more serious golfers golfing at Topgolf that day opted to bring their own gear, I noticed.)
There are several game options in your bay's console. In our game, we chose how many chances each player got at a time by simply tapping on each player's name on a control screen in our bay. We decided that each player would hit three balls in succession before submitting to the next player's turn.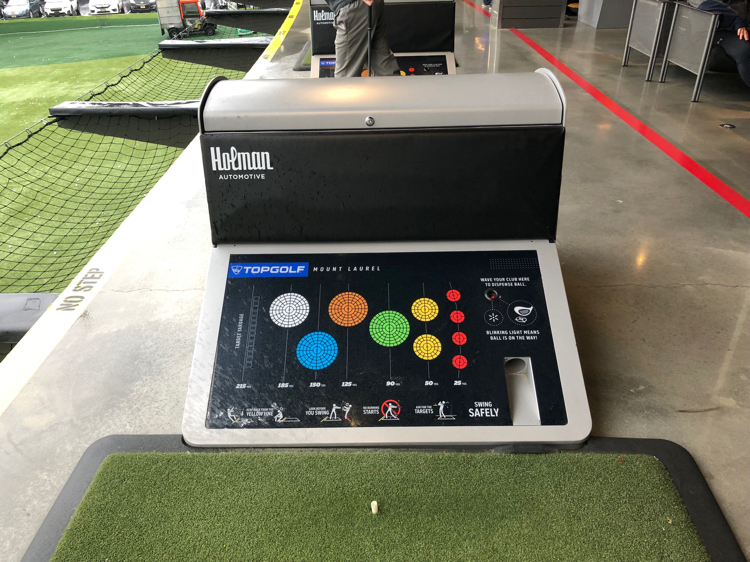 At first, I wasn't sure how much fun my kids and I would have. We've been to a driving range once before and didn't have that much fun. But the format of the Topgolf game made the experience so much more fun for us. We also had the advantage that our bay was on the second of three floors of golf bays. (When we golfed at a regular driving range, my daughters and I had trouble getting any height to our golf balls.)
Golfing in Luxury
I really liked the golfing bay that my family and I received. It had a central position over the golfing targets and was on the second floor. (There are also bays on the first and third floors.) I think being a floor above the targets was helpful. My daughters and I were able to get some lift to our shots. Our bay also had a really comfy couch that we sat on, with a coffee-style table that we put our food and drinks on. (Some of the other bays had high tables with bar-height stools instead of a sofa.)
The bays are covered and have heating that guests can set to their preference. It was a rainy day on Sunday, so we were glad that the covered bays kept us out of the rain and the heat kept us warm!
My family and I wound up playing for three hours at Topgolf — I honestly could have played there all day, I enjoyed it so much! I think we will definitely be returning – Topgolf definitely provides a fun family afternoon!
Topgolf's Tasty Food Options
Topgolf has an extensive and delicious menu, so my family took advantage of all the great food they have! They have drinks (alcoholic and non alcoholic), appetizers and main dishes. My family and I got sodas and lemonades and opted to share 5 different appetizers/dishes. They were all great!
My favorite dish was a Farmhouse Flatbread that we shared. The flatbread features a cauliflower crust, roasted garlic oil, five-cheese blend, sautéed mushrooms, heirloom tomatoes, shaved red onion, parmesan, green onions, herbed ricotta, baby arugula and a lemon basil vinaigrette. It was fantastic!
My family and I also loved the Ahi Tuna Avocado toast. The toast features tuna, seeded bread, miso dressing, crispy quinoa, diced oranges, cilantro and sesame seeds. It's so delicious!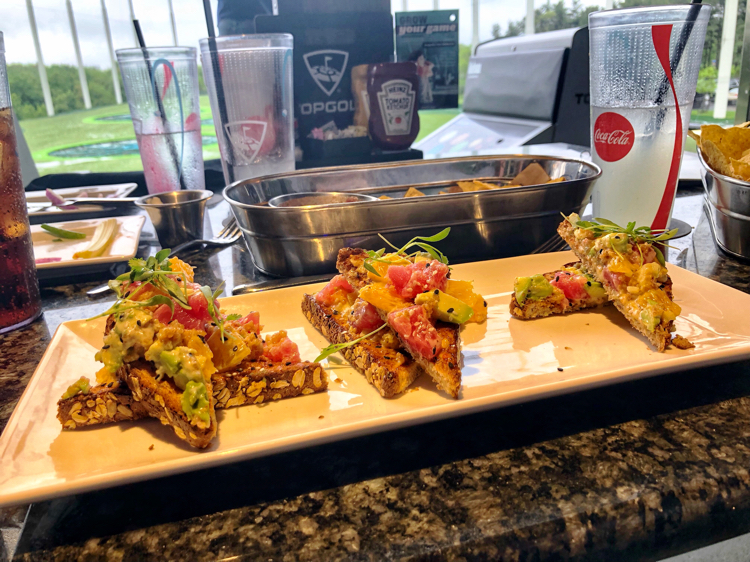 My husband, daughters and I love guacamole, so of course we had to order the Guac and Chips!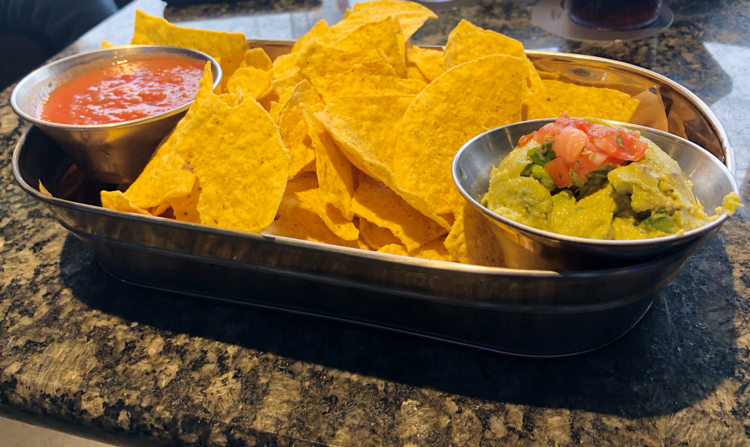 We also love queso, so we ordered the Craft Beer Queso. The queso comes with some salsa and chips. My daughters might have liked the queso without the craft beer taste but we all still enjoyed it.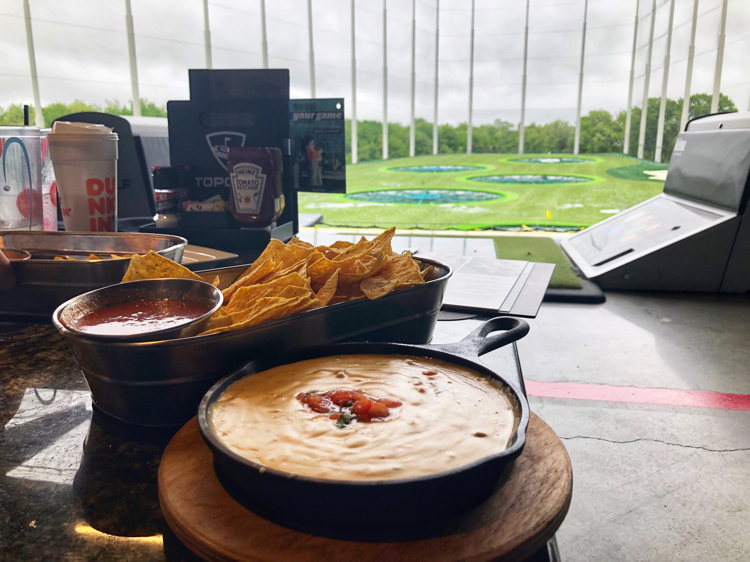 Finally, we ordered the Crispy Cheese Curds & Jalapeños. My friend, Carrie of Curly Crafty Mom, has mentioned cheese curds a few times, so I had to try them! I've never tried them before! The dish features crispy white cheddar cheese curds, fried jalapeño and ranch and Thai chili honey dipping sauces.I especially liked the friend jalapeño! My daughters and I agree that the cheese curds tasted much like mozzarella sticks.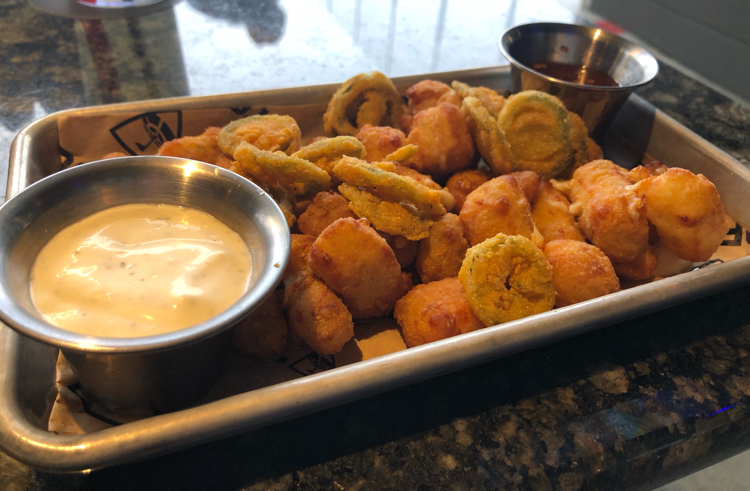 Save on Topgolf
If you are interested in giving Topgolf a try, they have several great promotions going on now and this summer.
Through May 21, Topgolf Mount Laurel is hosting half price Tuesdays, where all of the hourly bay rates are half off.
Through the summer, there is $15 gameplay Monday – Friday from 9 a.m. – 12 p.m . During that period, Topgolf offers unlimited gameplay for $15 per person.
Summer Academies
Topgolf Mount Laurel also has Summer Academies in the summer for children ages 6-12.
The academy is offered Monday-Friday from 9 a.m. until noon for $199 a week. Child drop off is from 8:30 a.m. – 9 a.m. The academy begins at 9 a.m., and lunch is served from 11-11:30 a.m. Pickup is from 12-12:15 p.m.
During the academy, children will learn golf basics like chipping, putting and full swing, as well as rules and etiquette of the game. There will be also Topgolf gifts and a certificate of completion for each child. Registration for Topgolf Academy is available online. It sounds like a lot of fun!