This post contains Amazon affiliate links. I received a AUVON pill organizer in exchange for my review.
Happy Friday, everyone! Here's hoping everyone has a fun-filled Memorial Day weekend! To kick off the weekend, I am sharing some of my recent favorite Amazon finds. I do a lot of shopping on Amazon, and I am always finding great products to share with my readers!
(If you have a product you'd like reviewed on Mom Home Guide, reach out to me at momhomeguide@gmail.com)
AUVON Pill Organizer (My Newest Amazon Find)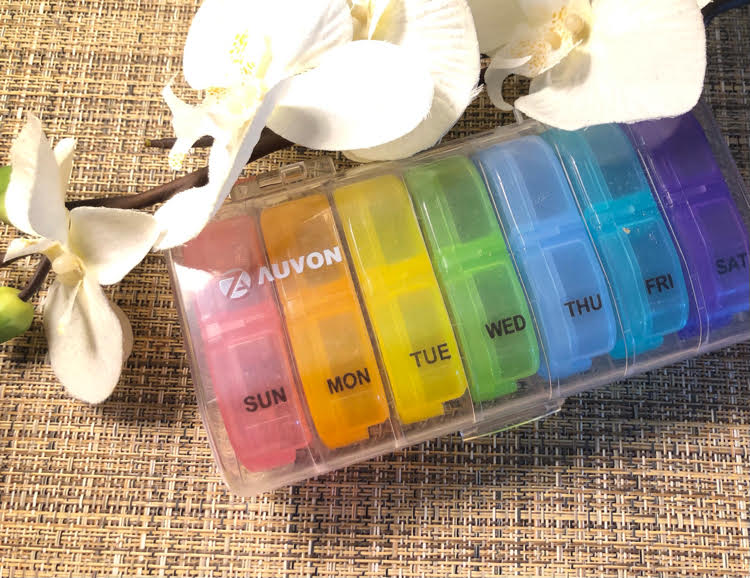 I recently had an unexpected hospital stay. Because of that stay, I now have an additional pill that I need to take daily, at least for a while. I also take vitamin supplements every day. It can be difficult keeping track of everything! So it was quite handy that I received my newest Amazon find, the AUVON Pill Box 2 Times a Day, Weekly Pill Organizer with AM PM and 7 Daily Pockets to review.
This AUVON pill organizer is exactly what I needed! I like that the AUVON case contains separate mini containers for each day. If I am out for the day and need to take my pills with me, I can just pop that day's pocket container in my purse. I also like that this daily pill organizer from Amazon is bright, colorful and happy!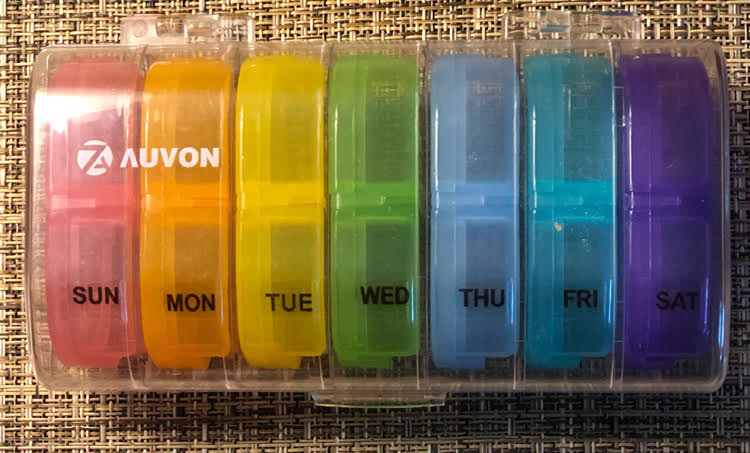 Each day's pill container also has separate marked day and night sections in which I can organize pills. That's very handy for when I have some pills I need to take at night (like an antihistamine), and others that should be taken in the morning.
I like that the bigger, clear plastic case that holds each colorful daily pill container is fairly large, at almost 6 inches long. I am quite adept at misplacing things. This bright and colorful pill container is much easier to spot that the smaller, gray pill organizer I had been using. I now keep this colorful pill container on my nightstand so I know exactly where it is.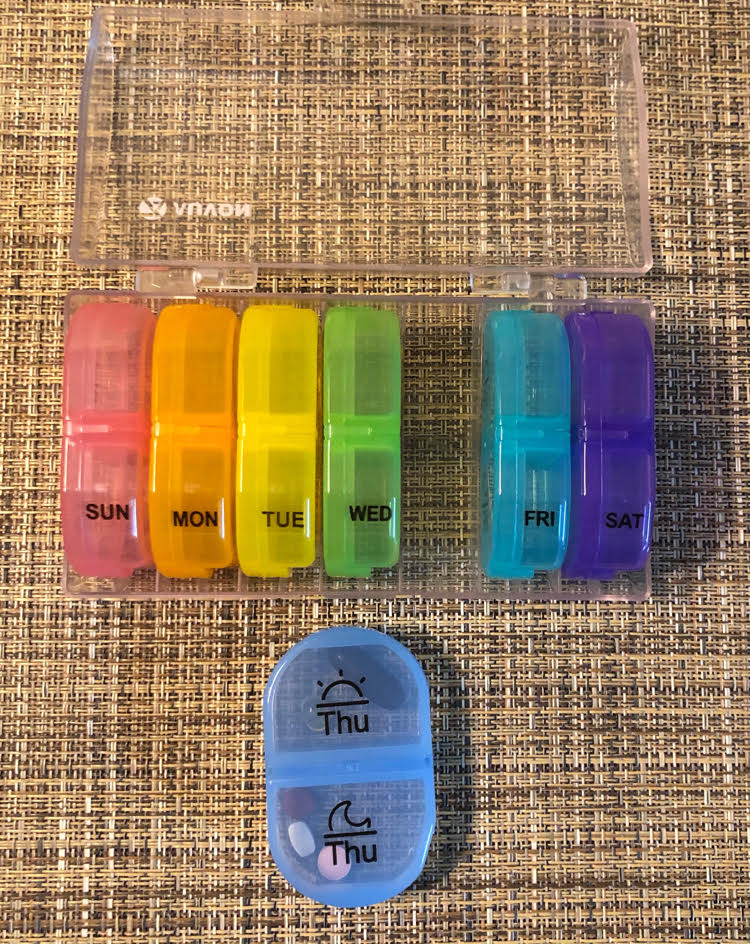 Each day in my pill organizer has a different color, which also helps in keeping track of my supplements and pills.
I also like that with this pill organizer, I can plan out my medicine and vitamin supplements out a week in advance. Having everything set for the week in my pill organizer makes life easier!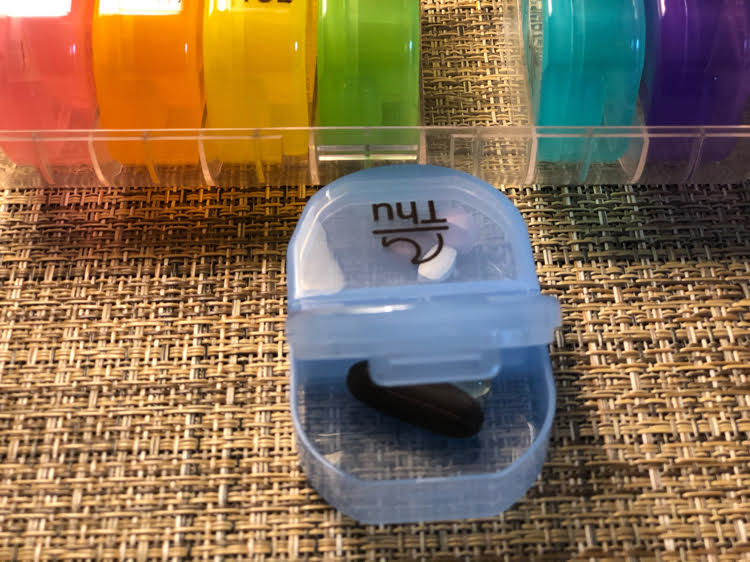 The containers are made out of food grade material and are BPA free, so I don't have any worries using my new organizer.
The daily pill containers are easy to open, yet are quite secure when closed. I like this, since I have a small Shih Tzu pup.
I used to worry with my other pill containers that they would accidentally open and let a pill fall to the ground. That would be unsafe for my pup!
I like that the larger container for my new pill organizer and the smaller, daily pill containers that come with it close quite securely and aren't likely to accidentally open. This feature should be handy when traveling.
Apple Watch, Protective Case and Band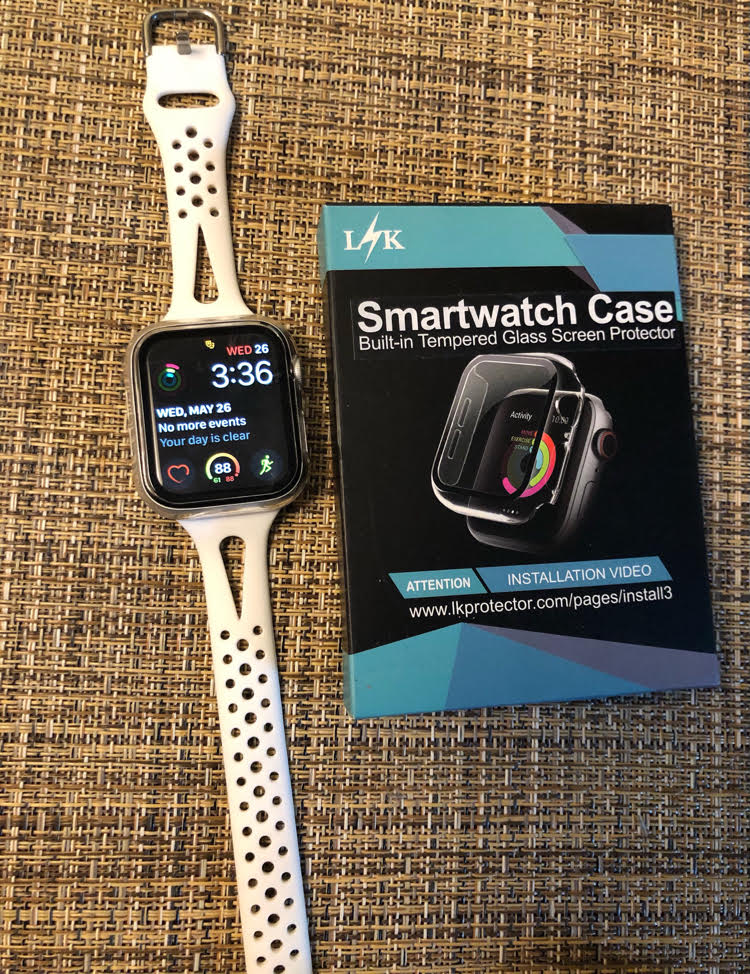 For Mother's Day, my husband and twin daughters gifted me with an Apple Watch Series 6. I love it!
I like that the watch works beautifully with my iPhone and my Mac laptop. I have been using the Apple watch to track my appointments and measure everything from my workouts, to my heart rate to how much sleep I have been (or not) getting.
A big plus is that my Apple Watch opens my Mac laptop for me, so I don't have to always type in my password to use my laptop. (The thumbprint feature never works for me.)
I want to avoid scratching the face of my new Apple Watch, so I purchased 2 Tempered Glass Screen Protectors ($9.99) for the watch.
The hard plastic screen protectors are easy to put on and remove from my watch. My screen protectors are clear, but they are available with various colored rims, too.
With one of the my 2 new screen protectors on my Apple watch, I don't have to worry when I am working on my crafts or any of my projects around the house. (Like my recent bathroom DIYS.) I can be a messy crafter and DIYer!
I also got a Bandiction Silicone Apple Watch Band for my new Apple Watch Series 6. I have quite sensitive skin, and the thick silicone watch band that comes with the Apple Watch Series 6 was starting to bother my wrist. (I have quite sensitive skin!) I like to wear my Apple Watch while on walks with my pup (so I can track our walks), so it's nice to have a more open watch band on hot and humid days.
My new slimmer Apple Watch band has lots of openings in the band, allowing air to pass through so my skin can breathe. That means I can enjoy wearing my Apple Watch for more hours of the day.
You Might Also Like