It was a rainy this past weekend here in New Jersey, so what better time to whip up a gooey and satisfying chocolate chip mug cake? This mug cake recipe is just about as easy to make as those store-bought mug cake mixes, but tastes so much better! I'm sharing my recipe today as part of the monthly Taste Creations blog hop – we get together to share our recipes the first Monday of every month! Scroll to the bottom of this post to see my friends' amazing recipes!
Easy Chocolate Chip Mug Cake Recipe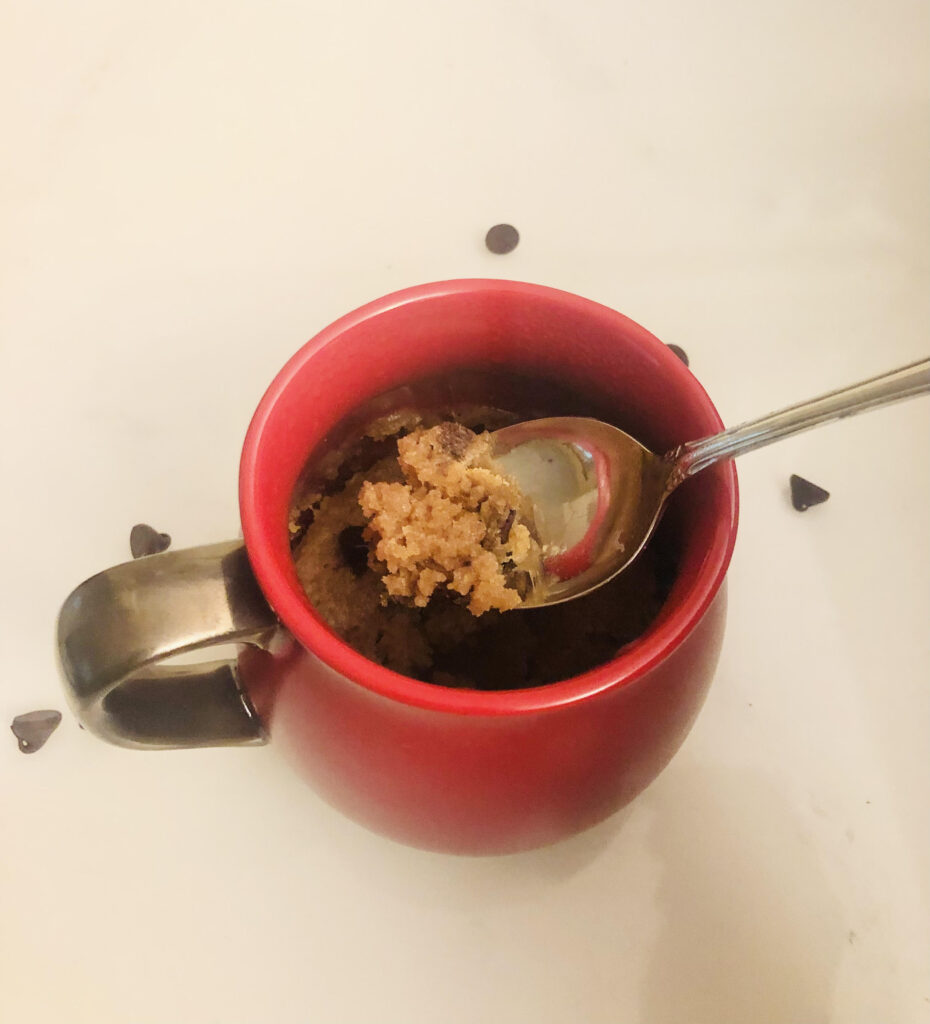 My daughters and I love mug cakes, so I have a few boxes of store-bought mixes in our pantry. But I always am disappointed when I cook up one of those—they always seem to taste almost good, but not quite that tasty to me. So this past weekend I decided to try making a quick mug cake from scratch. I found a quick and easy eggless recipe from Bake It With Love, and it didn't disappoint! My mug cake tasted like a warm, just-baked chocolate chip cookies, and only took me about 3-4 minutes to make!
Ingredients
? ¼ cup all-purpose flour
? 2 tablespoon light brown sugar (packed)
? ¼ teaspoon baking powder
? 1 pinch salt
? 3 tablespoon milk
? 3 tablespoon butter (melted)
? ½ teaspoon vanilla extract
? 2 tablespoon chocolate chips (milk chocolate or semi-sweet chocolate morsels)
Instructions
Whisk together your dry ingredients either directly in your mug, or in a small bowl: ¼ cup all-purpose flour, 2 tablespoons light brown sugar, ¼ teaspoon baking powder, 1 pinch salt
Stir in the liquid ingredients (3 tablespoon milk, 3 tablespoons butter, ½ teaspoon vanilla extract) and mix until smooth, then gently stir in the 2 tablespoons of chocolate chips. Pour the batter into a mug if needed.
Microwave on high for 1-2 minutes. Continue heating in 30 second increments if necessary, until the cake is puffy, set, and springs back to the touch.
Allow your cooked microwave mug cake to sit in the microwave for 1 minute before eating. Just get yourself a spoon, and you are all set!
Check out my friends' decadent chocolate recipes!
Chocolate Explostion Cupcake – Tikkido
Chocolate Almond Bark – Breads and Sweets
Mocha Vietnamese Coffee – Our Good Life
Check out these recipes