This post contains Amazon affiliate links.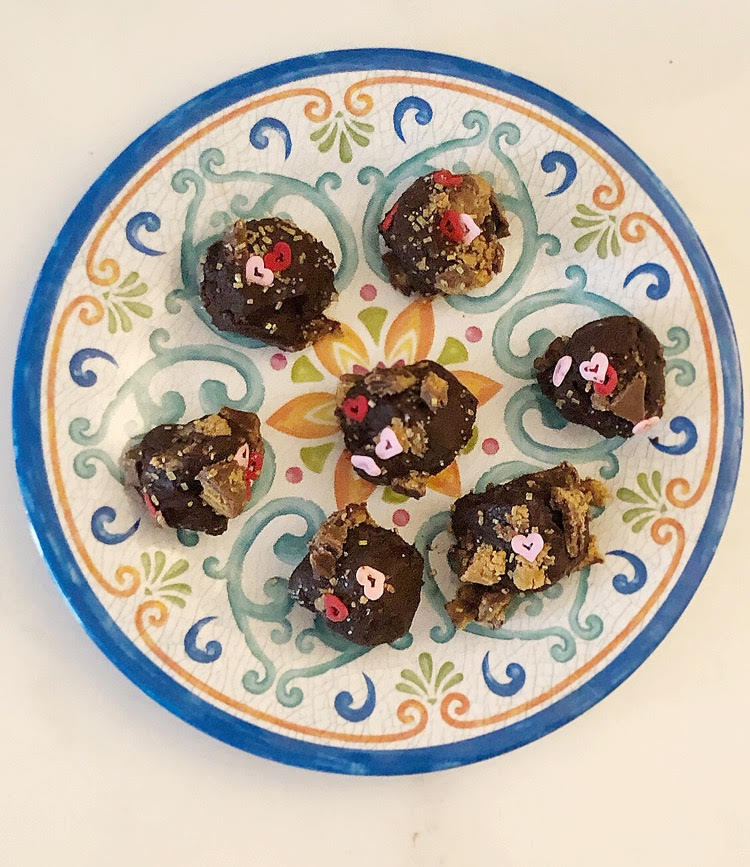 Happy May, everyone! Today my blogging friends and are getting together for the Taste Creations Blog Hop, in which we are sharing our recipes for chocolate truffles! We all have our own yummy take on this decadent, delicious dessert. Scroll to the bottom of this post to get all the recipes! Be sure to return the first Monday of every month to get more Taste Creations recipes.
This will be the first Mother's Day that I won't be spending the day with my wonderful and sweet twins — they will both be finishing up their first year at college, one at Bryn Mawr College, and one at Smith. So I'll need a little pick me up this holiday, and chocolate often does the trick! I adore dark chocolate and peanut butter cups, so I decided to make dark chocolate peanut butter cup truffles. These truffles are rolled in chopped peanut butter cups and sprinkles, are super easy to make, and require only a few ingredients.
Dark Chocolate Peanut Butter Cup Truffles Recipe
Ingredients
3 large dark chocolate Hershey Dark Chocolate Bars, chopped
3 tablespoons unsalted butter
1/3 cup heavy cream
1 teaspoon vanilla extract
Toppings: Chopped Reese's Peanut Butter Cups, sprinkles (optional)
Instructions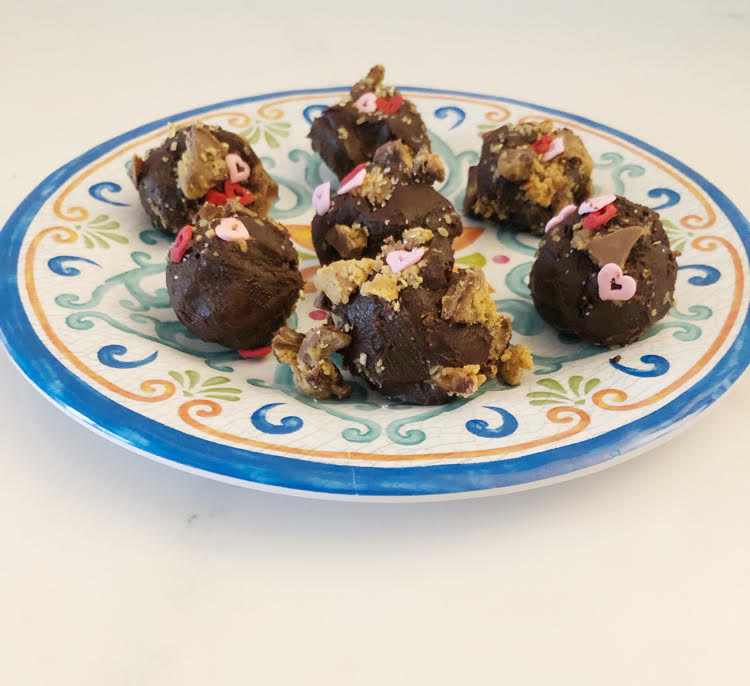 Combine chocolate, butter and heavy cream. Carefully melt the chocolate, cream, and butter together. I did this by filling a small sauce pan with a small amount of water and fitting a stainless-steel mixing bowl over it, so the bowl wasn't touching the water. When the water was boiling, I added the chocolate, cream, and butter to the mixing bowl and mixed it with a spatula until the butter and chocolate were melted, and everything was mixed together.
Once everything is mixed together, turn off the heat and stir in the vanilla.
Pour the chocolate mixture into a shallow casserole dish and let it cool to room temperature.
Cover the casserole dish with plastic wrap and refrigerate the chocolate for about 2 hours. Be careful not to refrigerate the chocolate for more than two hours, as it will be harder to work with, and you may have to let it sit at room temperature for a few minutes before the chocolate becomes soft enough to work with.
Use a spoon or a small melon baller to form the chocolate into small balls. I only had a spoon, so I had to roll the chocolate a little in my hands, which was messy. I would like to invest in a melon baller for next time. Keep working until you have used all the chocolate.
If you like, roll your chocolate balls in the coating of your choice. I rolled mine in chopped peanut butter cups and sprinkles. Refrigerate the truffles until they are ready to serve. Enjoy!
Check Out My Friends' Delicious Chocolate Truffle Recipes
Chocolate Truffles – Our Good Life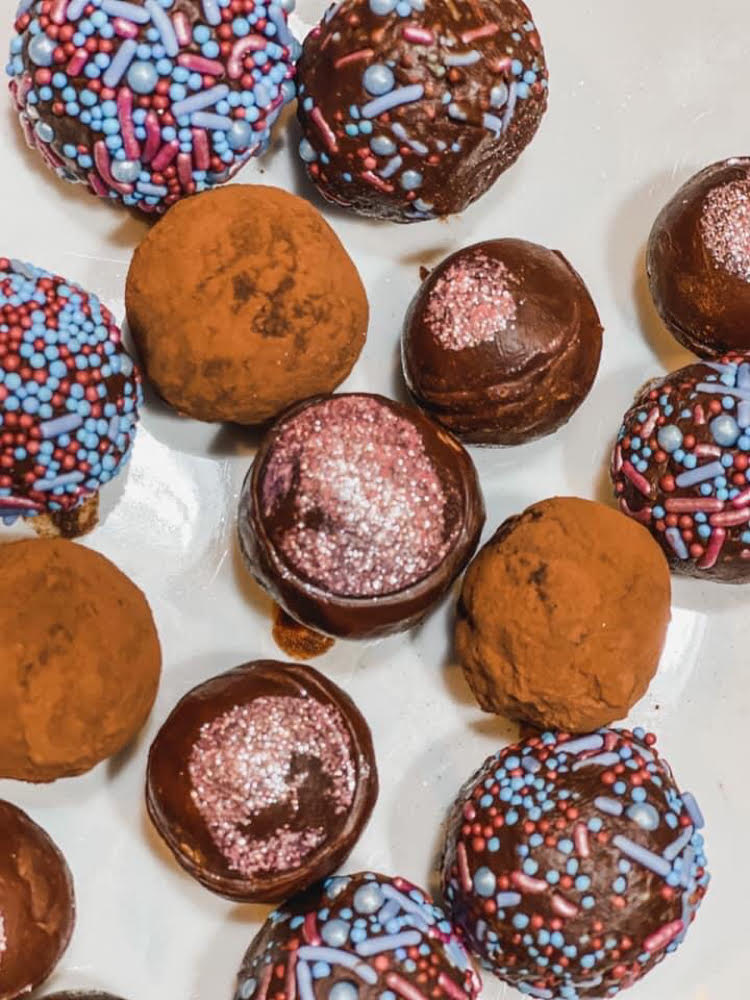 Coconut White Chocolate Truffles – Breads and Sweets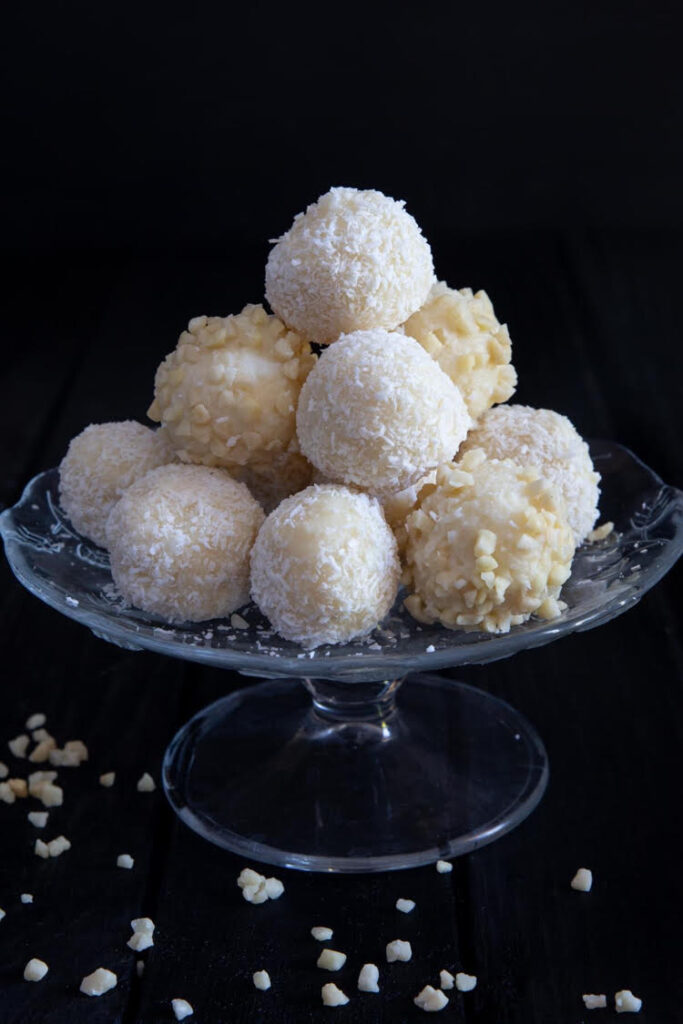 You Might Also Like