This post contains Amazon Affiliate links. They cost you nothing and help to fund this blog. (The affiliate links lead to kitchen and sewing products that would be suitable for this project.)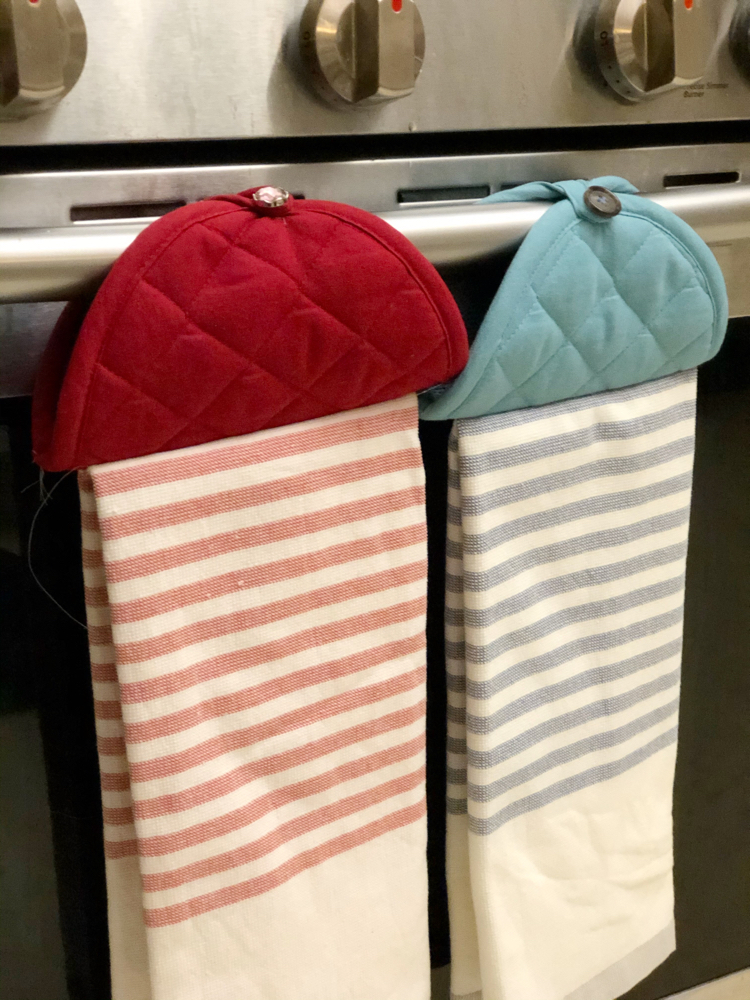 I am so excited that spring is on its way! We only have about one month to go until springtime! In anticipation of spring, my friends and I are sharing spring craft ideas for today's Pinterest Challenge, hosted by Erlene of My Pinterventures. For my craft, I'm sharing a simple hack/sewing project. This simple hanging kitchen towel sewing project will help keep dish and kitchen towels from falling onto the floor.
Dish towels that end up on the floor are a big pet peeve of mine!
After you check out my hanging kitchen towel tutorial, please see my friends' tutorials below! The purpose of this blog hop is to encourage our readers not just to pin ideas on Pinterest, but to tackle the projects we aspire to!
TO JOIN NEXT MONTH'S #PINTERESTCHALLENGE, CLICK HERE TO SIGN-UP: March Pinterest Challenge
Hanging Kitchen Towel and Dish Towel Pot Holder Hack
When I do dishes and clean the kitchen, I sometimes use a lot of paper towels. I wash my hands a lot while cooking and when cleaning – I don't like the messy hands!
It's helpful to have a towel or two around – it is such a bummer when my clean towel falls on the floor! It seems my towels always find their way to the floor, causing me to grab a new one or a paper towel instead.
I was super excited when I saw this simple hack for hanging a kitchen towel from an oven door handle or on a towel rod. For this project, you just need a kitchen towel, a button and a pot holder!
Hopefully, with my new hanging kitchen towels, I'll go through fewer paper towels when spring cleaning!
Easy Hanging Kitchen Towel Pot How To
To create a hanging kitchen towel, I simply stitched a pot holder to a regular dish towel. When a button is added, the loop of the pot holder can be buttoned to secure the kitchen towel on a towel rod or oven handle.
I used a sewing machine to stitch my pot holders to my kitchen towels. The sewing is so minimal, you could hand stitch them together without much work. I used a needle and thread to sew the buttons on. This project took only about 20 minutes or less.
Hanging Kitchen Towels Supplies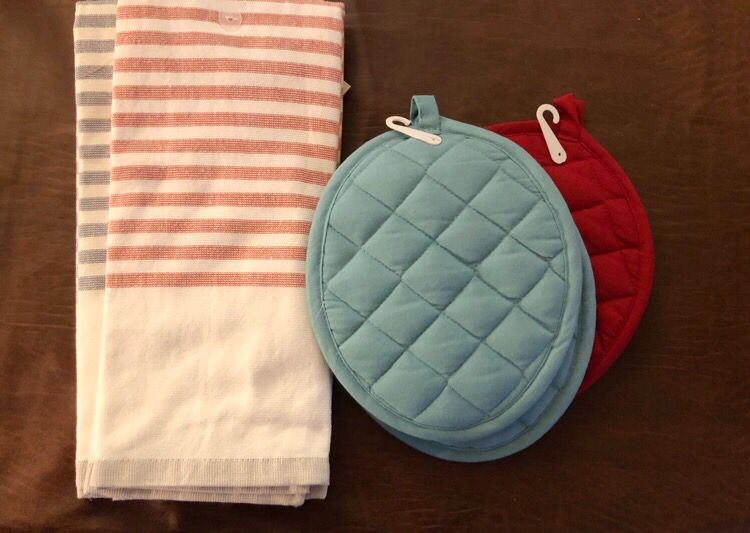 Pot Holder
(I used a quilted pot holder in a coordinating color. The pot holders I used are oval shaped, but a rectangular pot holder would work, too.)
Farmhouse-style
Kitchen Towel
or dish towel (mine are cotton with a striped pattern)
Button
(I used a flat button on one and a shank button — where the back is raised — on the other. I found the shank button more difficult to sew on. I've never used this type of button before — but it easier to button the shank button since it's raised.) Make sure the button you choose fits snugly in the pot holder's loop.
Straight Pins
Sewing Machine
(or needle and thread)
Needle and Thread
in coordinating color.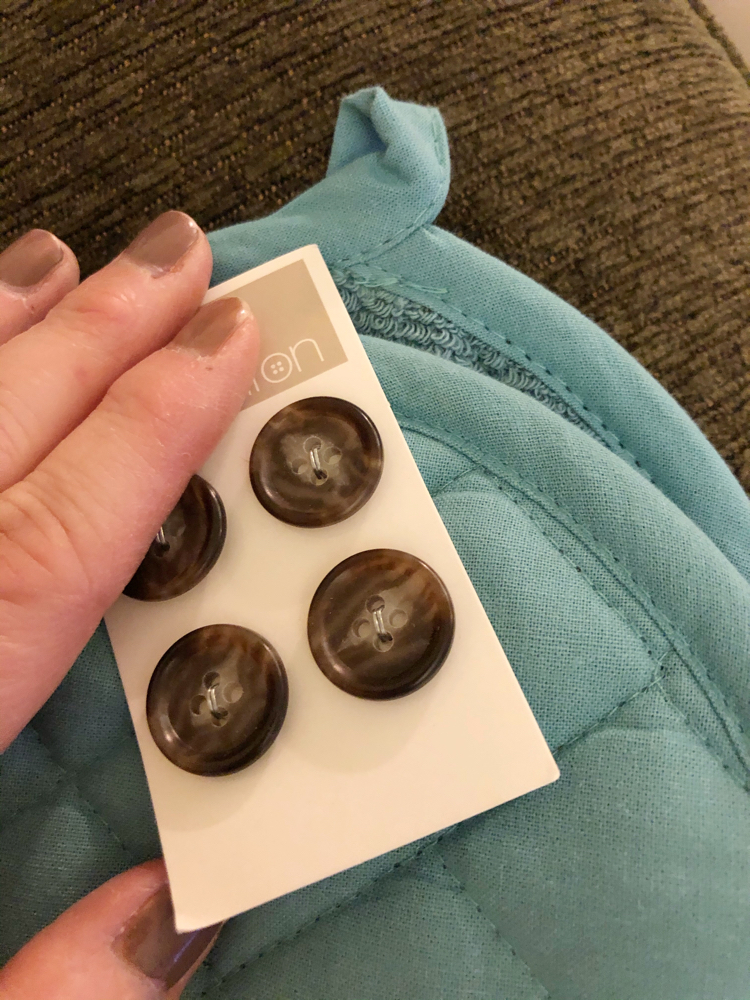 Hanging Kitchen Towels Instructions
1 – Fold the towel in thirds so it is about the same width as the pot holder.
2 – Fold the dish towel in half (top to bottom) firmly to create a crease.
3 – Fold the pot holder in half (top to bottom) to create a crease.
4- Place the pot holder on top of the towel, right sides to together Line up the two creases. Make sure that the pot holder is centered from side to side of the dish towel.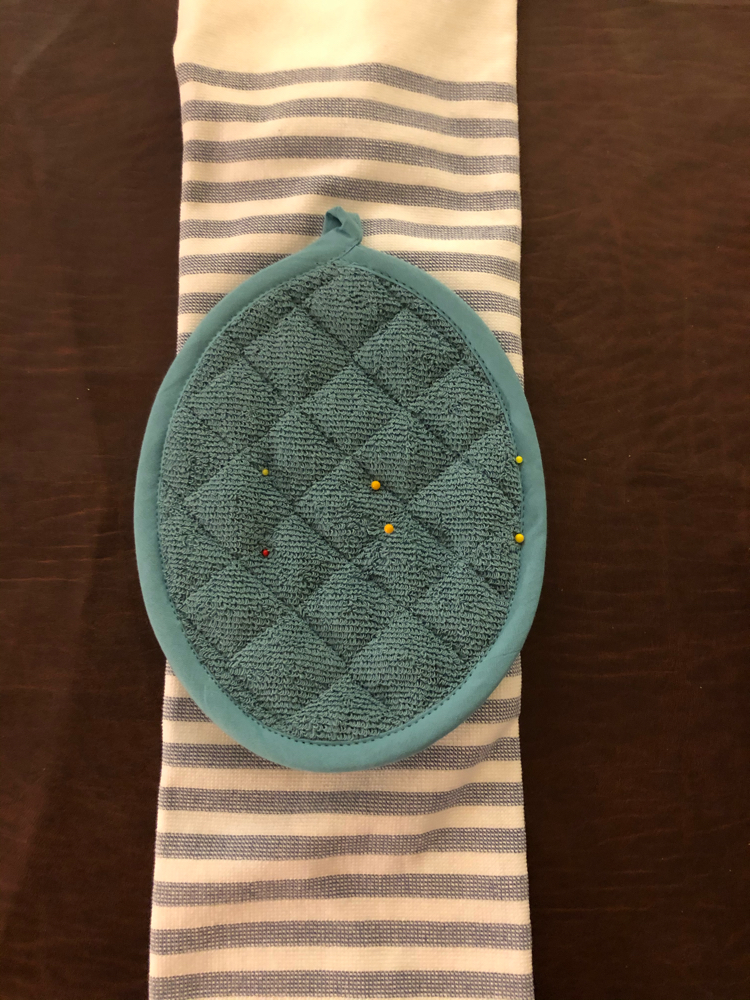 5 – Pin the pot holder in place. (I placed my pins above and below the crease.)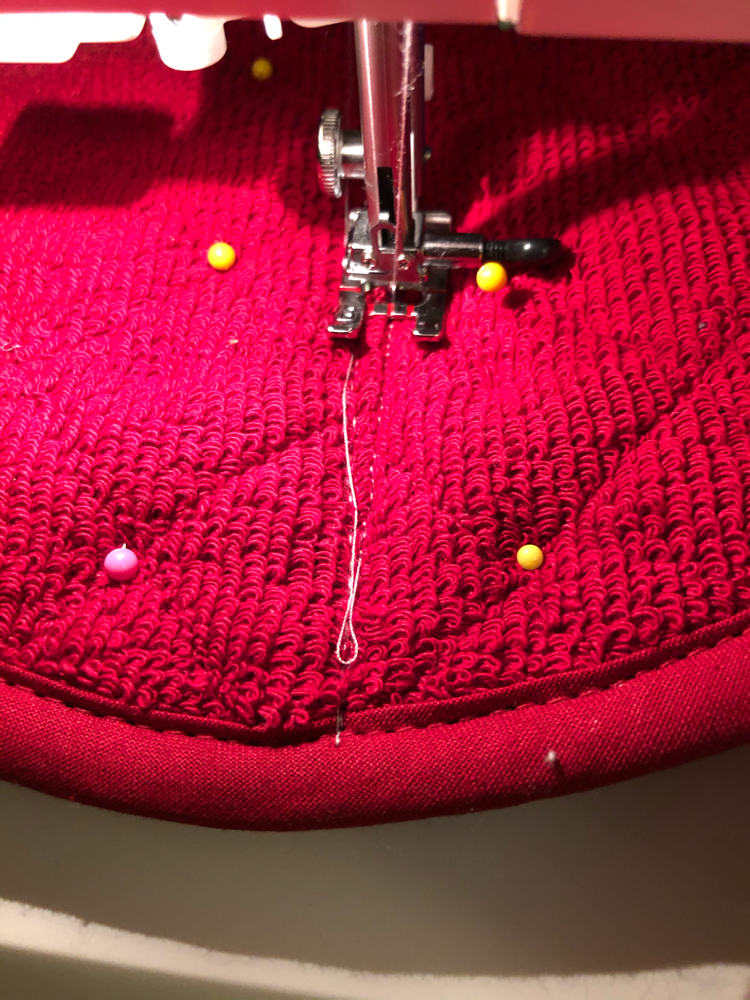 With a needle and thread or a sewing machine, sew along the crease. (I sewed along the crease and then backstitched along the crease to firmly attach the two together.)
7 – Lift up the ends of the pot holder and fold in half, allowing the back of the towel to fall behind.
8 – Sew a button on the side of the pot holder that doesn't have the pot holder loop. Use the loop to button your towel (and hang it from a towel holder or oven handle).

9 – Hang your dish towel.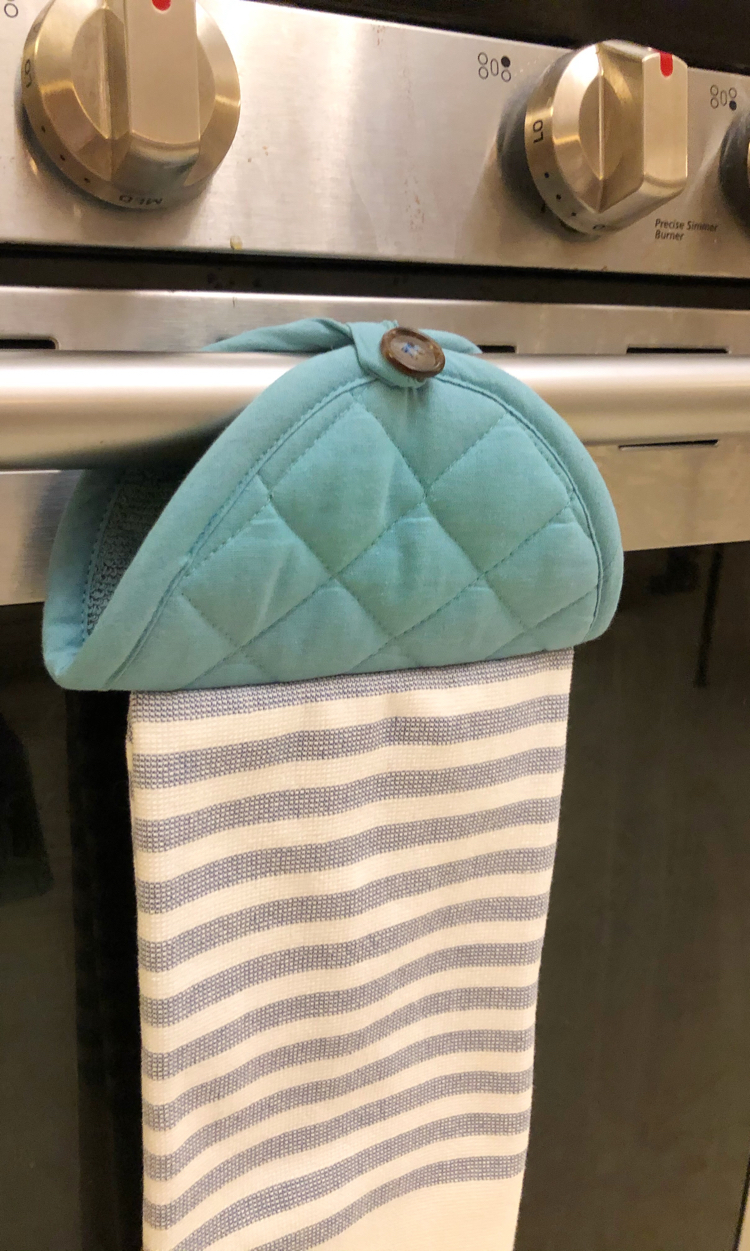 Don't forget to pin this easy project for later!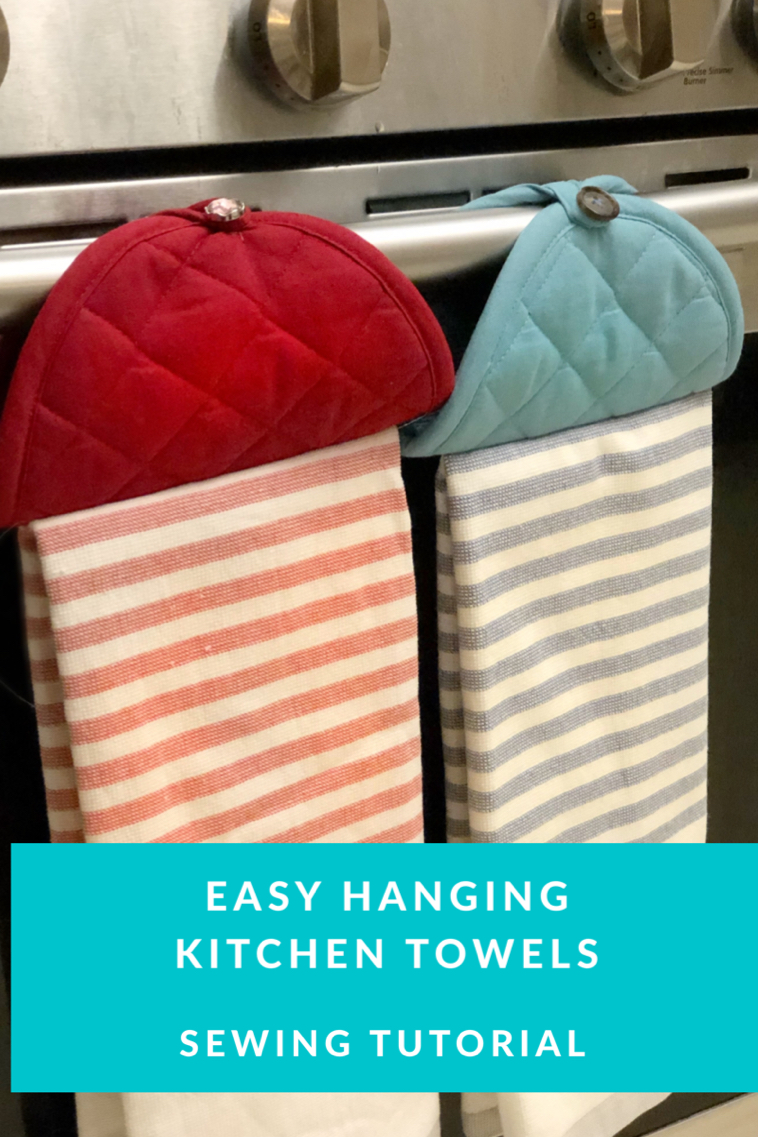 For more Pinterest inspired projects from this month's Pinterest Challenge hosts, check out the links below!

My Pinterventures • Domestic Deadline • Across the Boulevard
Cookies Coffee and Crafts • Farm Girl Reformed • Slices of Life
Decorate and More with Tip • Mom Home Guide • Purple Hues and Me
Intelligent Domestications • Sew Crafty Crochet • Life Beyond Kitchen
Modern on Monticello • Sum of their Stories
Love My Little Cottage • EyeLoveKnots
Create with Cynthia • This Autoimmune Life

Now, let's see what the other hosts have created!
You are invited to the Inlinkz link party!
Check Out My Other Easy Tutorials!
Gluing & Framing a Jigsaw Puzzle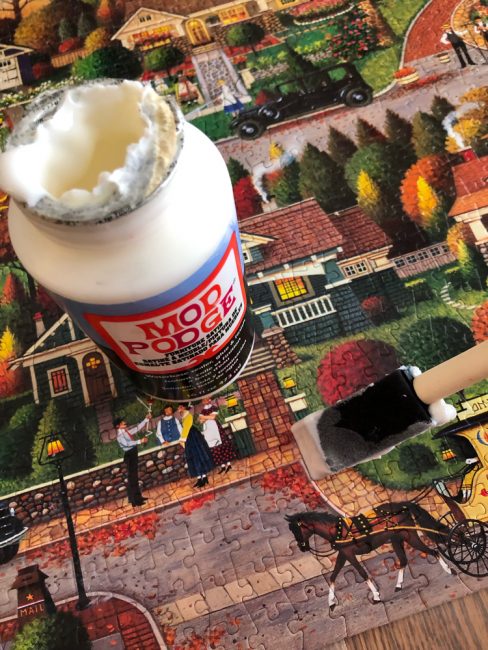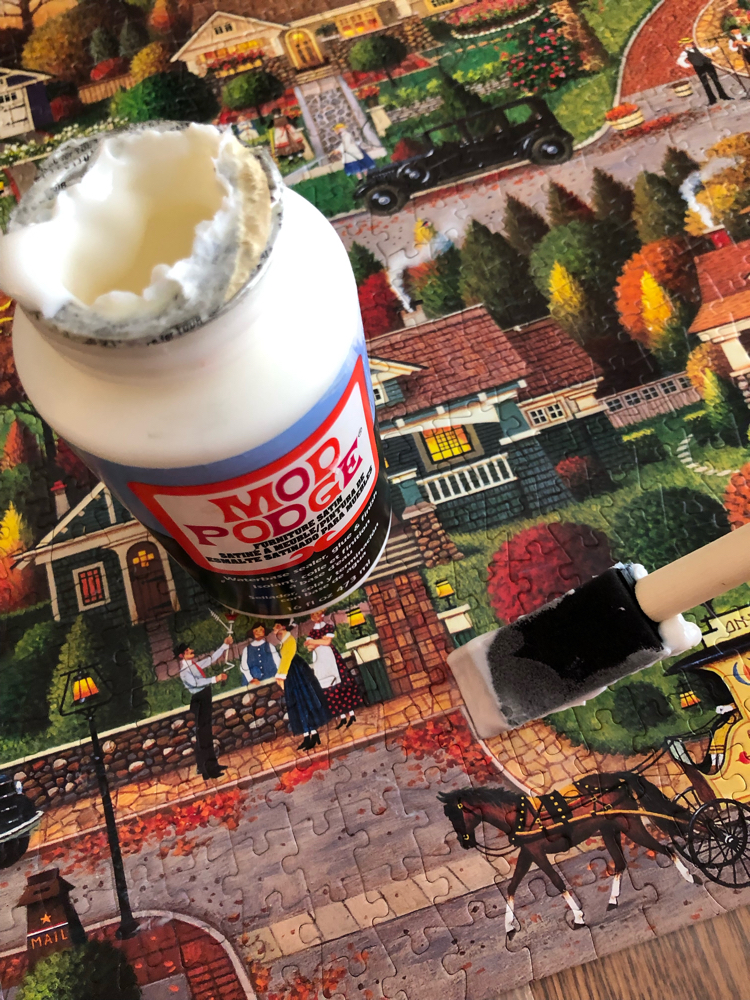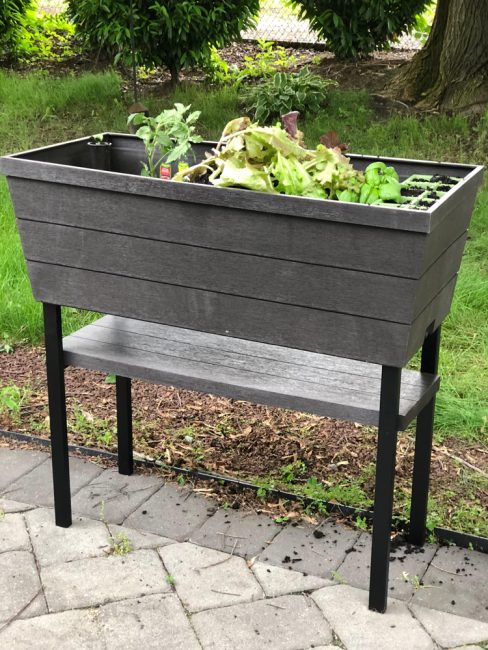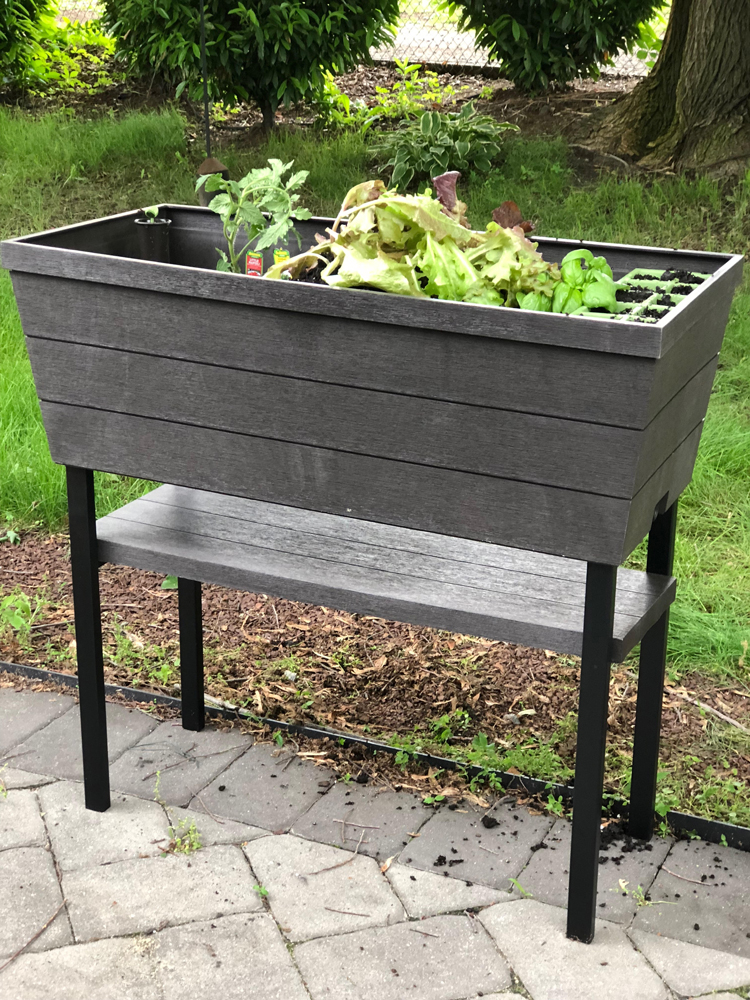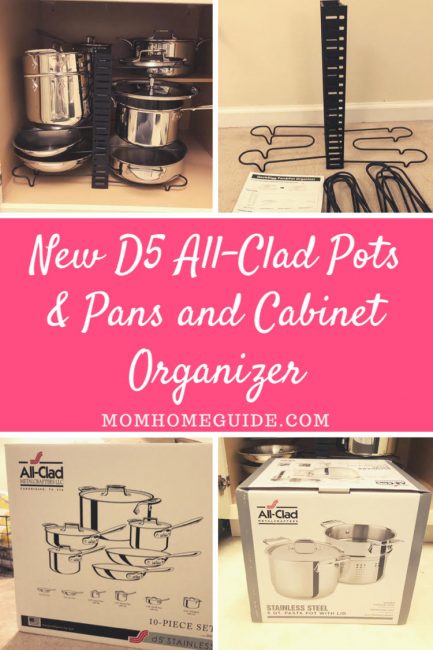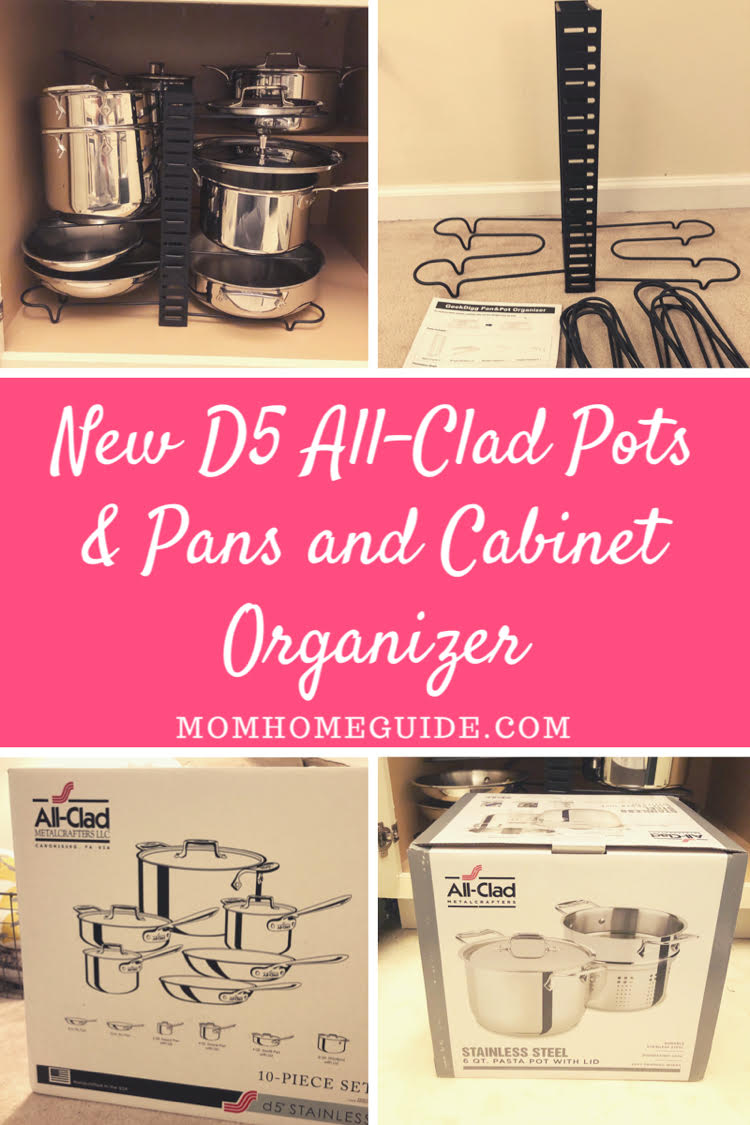 Adding Quick & Easy Attic Flooring for Extra Storage