This post contains affiliate links and I will be compensated if you make a purchase after clicking on my links.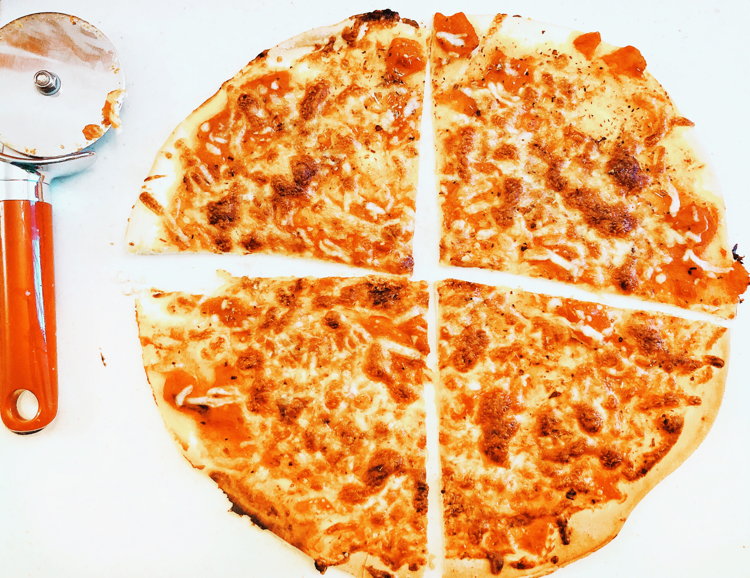 It's been several weeks now that my family and I have been staying home together. One thing I've been doing to help keep morale up is by cooking new treats for my family. One Friday, I made homemade pizzas, complete with fresh pizza dough! I was surprised at how simple it was to make the pizzas and loved how INSANELY DELICIOUS homemade pizza is! I made pizza again for my family the past two Fridays!
I am sharing my recipe for homemade pizzas and homemade bread machine pizza dough as part of the Taste Creations Blog Hop. My blogging friends and I get together the first Monday of every month to share new recipes together. Today we will be sharing recipes for COMFORT FOODS!
Be sure to scroll down below to see my friends' recipes!
Homemade Pizza Recipe
I made my homemade pizzas with my ZOJIRUSHI compact bread machine. My bread machine makes a 1 lb. ball of dough (or loaf of bread). I was able to make two pizzas from each batch of freshly made dough. I got my recipe for my bread machine pizza dough from BreadWorld.com. I chose this bread machine pizza dough recipe because it is a 1 lb. recipe that fits in my mini bread maker. (There is also a 1.5 lb. recipe for larger machines.)
(If you don't have a bread machine, don't worry! Try this non-bread machine pizza dough recipe by my friend, Rosemary of An Italian in My Kitchen.)
The total time it takes to make a pizza (or two) depends on the length of your bread machine's dough cycle. It takes only about 15-25 minutes to bake the pizzas with this recipe! With this recipe, I was able to make two pizzas — I get four large slices from each pizza. (My family can polish off three of the pizzas, so I make two batches of the dough for our pizza nights.)
I made plain pizzas for one daughter. For my husband and other daughter, I made sausage pizzas and pepperoni ones. If my husband goes out shopping sometime soon (I haven't been going out to the stores lately), I should ask him to pick up mushrooms for my daughters' vegetarian pizzas.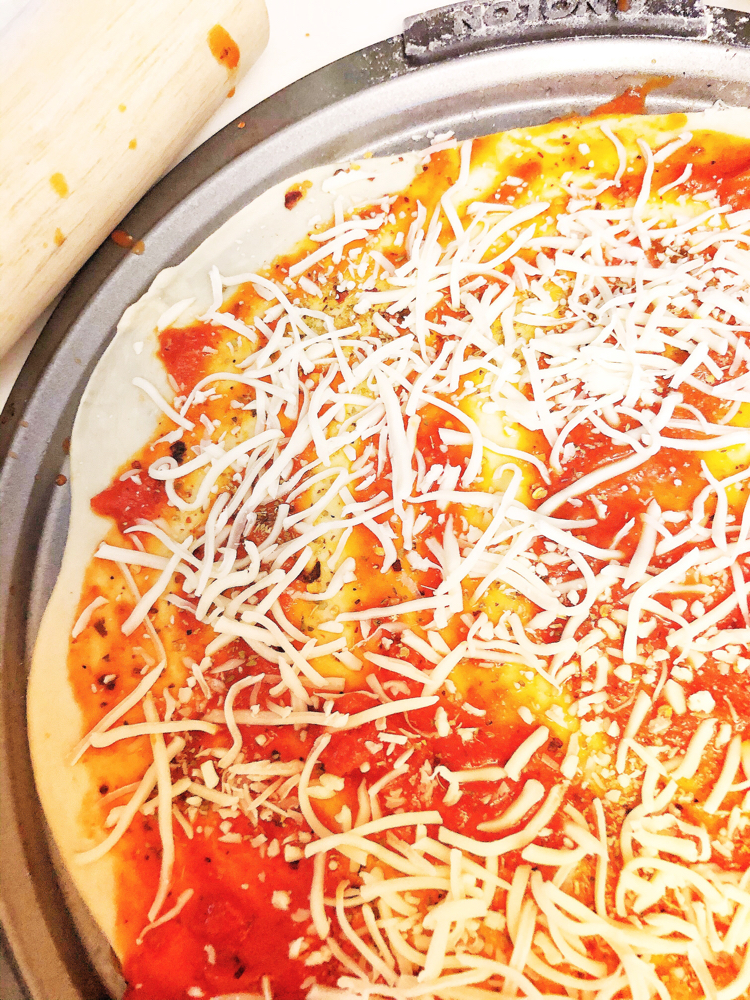 I'm so glad I have discovered how easy it is to make pizza at home!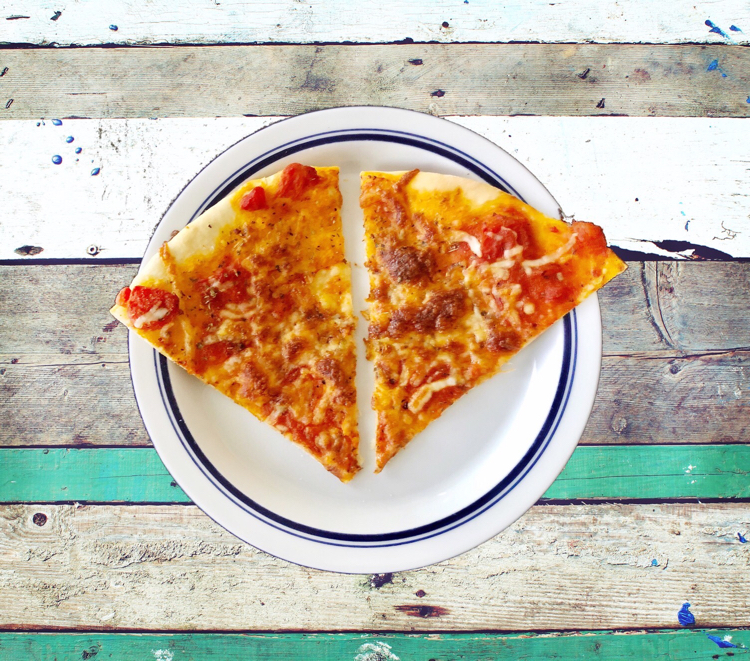 Homemade pizza has become a new Friday night tradition for my family.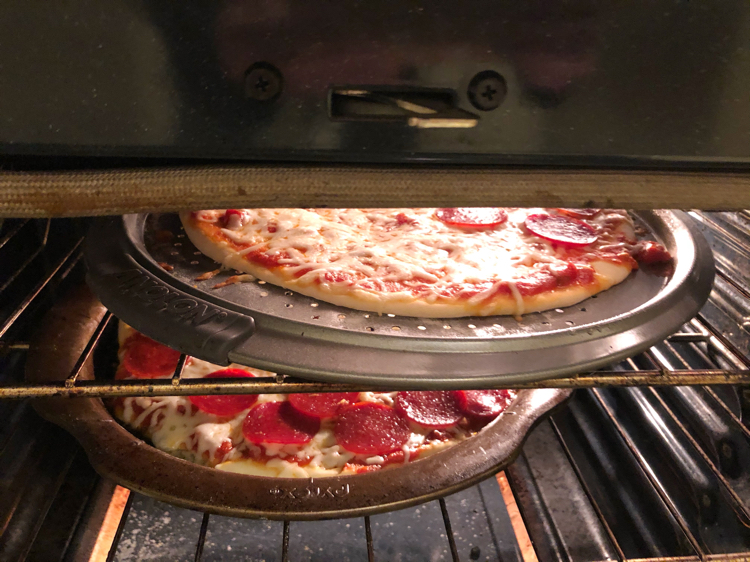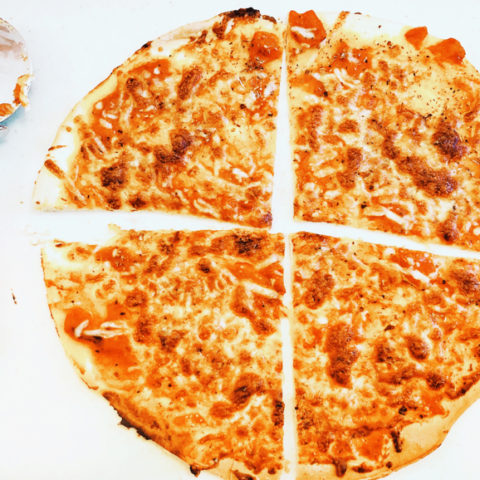 Bread Machine Pizza Recipe
Make a pizza at home in minutes with this easy bread machine pizza recipe.
Ingredients
1 LB. RECIPE
2/3 cup water
4 teaspoons olive OR vegetable oil
1/2 teaspoon salt
2 cups bread flour
1-1/2 teaspoons Bread Machine Yeast
OR RapidRise Yeast
1 tablespoon cornmeal (optional)
1-1/2-POUND RECIPE
1 cup water
2 tablespoons olive OR vegetable oil
3/4 teaspoon salt
3 cups bread flour
2 teaspoons Fleischmann's® Bread Machine Yeast
OR Fleischmann's® RapidRise Yeast
1 tablespoon cornmeal
Instructions
Add water, oil, salt, bread flour and yeast to bread machine pan in the order suggested by manufacturer.

Select dough/manual cycle. When cycle is complete, remove dough from machine to a lightly floured surface. If necessary, knead in enough flour to make dough easy to handle.

For each pizza, grease pan and sprinkle with cornmeal. (I have been making my pizzas without the cornmeal.)

Roll out dough and place on pan or pat dough in pan.

Top each pizza with 1/2 to 3/4 cup sauce, 1/2 to 3/4 pound cooked meat or 3 1/2 to 5 ounces pepperoni, 1/2 to 1 cup sliced or chopped onion or green bell pepper and/or other vegetable, and 1 to 1 1/2 cups shredded cheese.

Bake at 425 degrees F for 15 to 25 minutes or until done - pizza is done when edges of crust are golden and cheese is bubbly. Makes 1 or 2 pizzas depending on desired thickness of crust and pizza size. (I have been getting two pizzas out of each batch of dough.)

Notes
I have been baking my pizzas on non-stick pans placed on the top two rungs of my oven. I found that when cooked on a bottom rung, the pizza got too crispy. In my oven, the pizzas are perfect at 15 minutes.
Check out my friends' comfort food recipes!