Thanks to Theme Night Wines for sponsoring this post. I received free bottles of wine and other products in exchange for my honest review.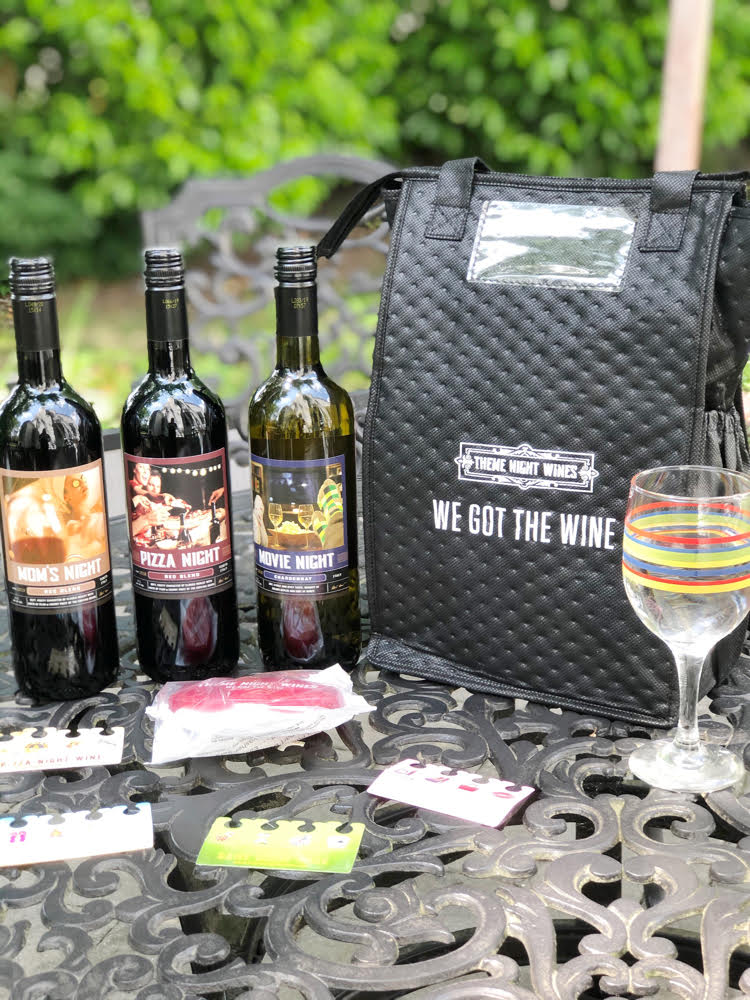 I recently received a fun wine kit from Theme Night Wines. Being shut in at home these past three months, good food and drink is what helps keep me going! (Besides my fantastic husband, daughters and puppy, of course!) I really have been enjoying the wines and love the concept behind Theme Night Wines.
Founded by owner Mario Asaro, Theme Night Wines is a delicious collection of wines made in the Valpolicella wine-making region of Italy.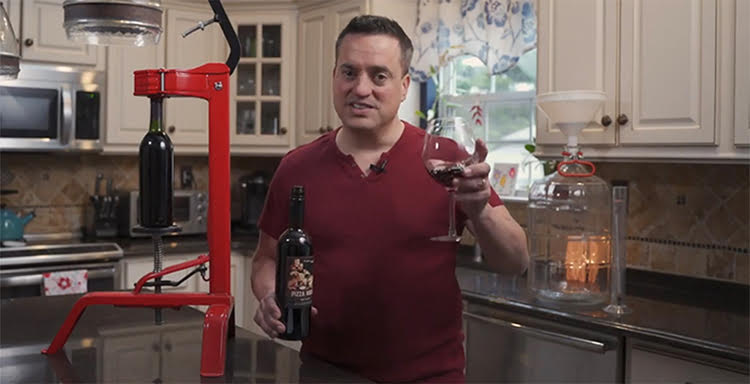 The wines are available in stores across the United States (visit the Theme Night Wines website for locations), and will be available for purchase on their website this month. The wines usually retail between $10 and $12.
My wines came in a lovely kit that included an insulated cooler bag that held all 3 wines that I received, a pizza cutter and three sets of themed plastic wine glass tabs/identifiers. I received a bottle of Pizza Night, Mom's Night and Movie Night wines.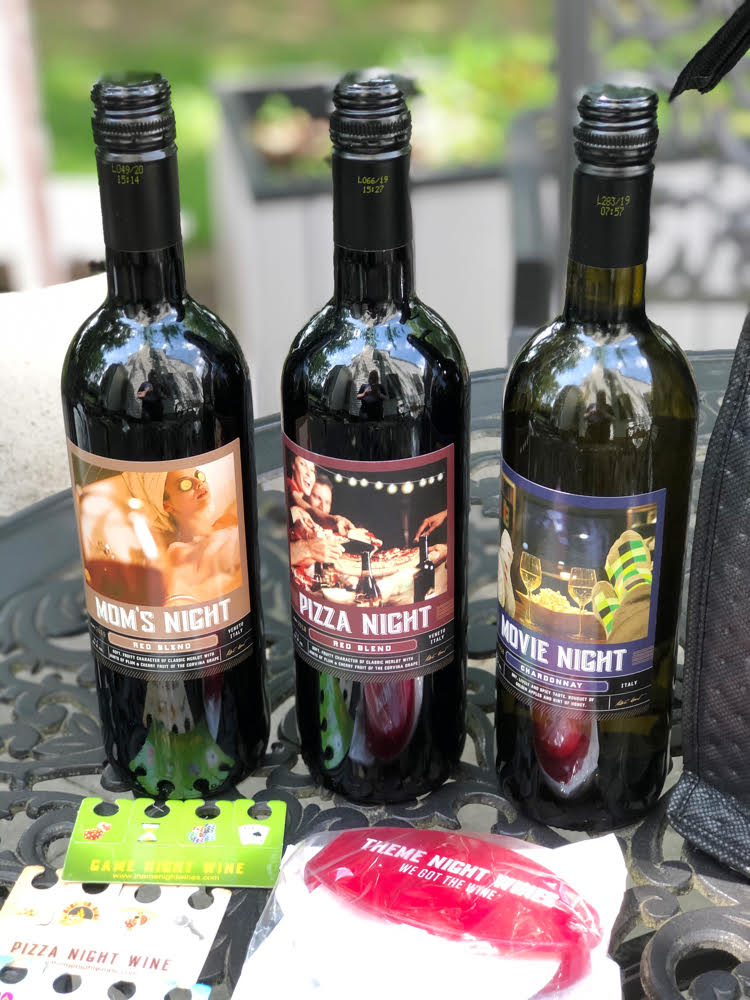 Theme Night Wines owner Asaro says kits like mine will soon be available with either 2 or 4 bottles of wines. I think a lot of people would be happy to receive one of these!
Wine Gift Ideas
In fact, if you visit Theme Night Wine's website, they have photos of several smart wine-themed gift ideas. I love the Pizza Night gift basket, as I have been making a lot of homemade pizza lately.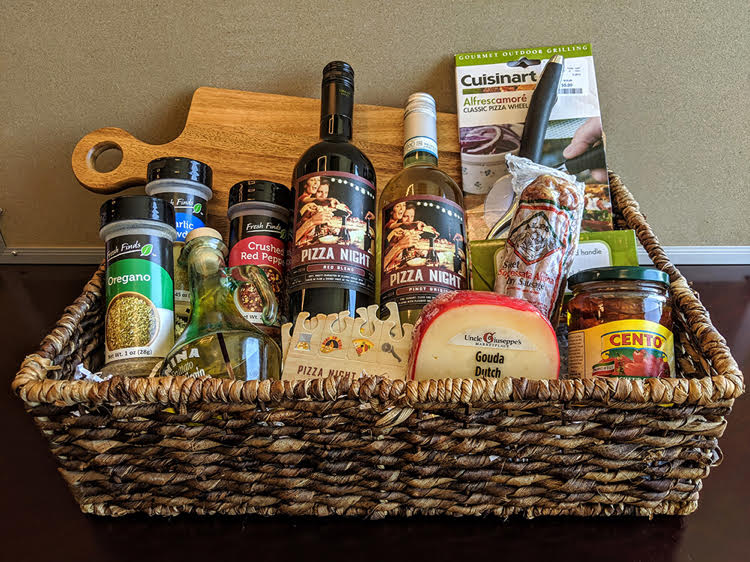 Wines for Celebrations & Get-Togethers
These themed bottles of wine are designed to be a perfect match for your get-togethers and celebrations and make thoughtful gifts. I think they would also be good host gifts — e.g., you can bring along a bottle of "Movie Night" when you join friends for a night of movies on a big screen in the backyard this summer.
Pizza Night is Theme Night Wines' most popular wine and is my favorite. This smooth red wine blend is similar to the homemade wine Asaro used to make before he launched his business, he said.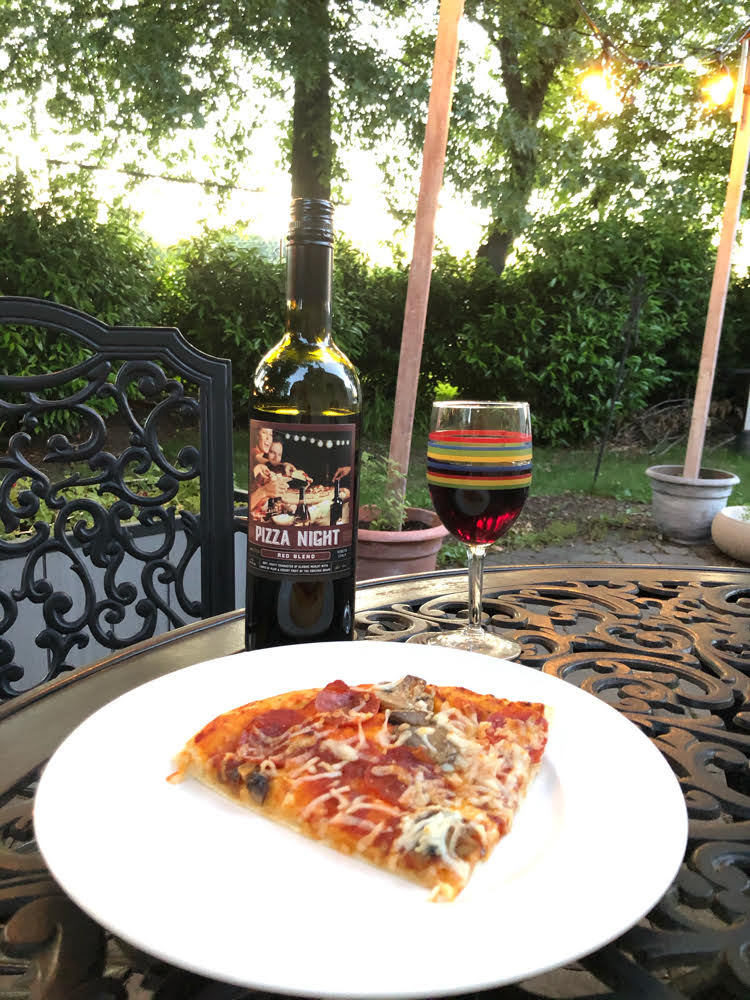 The red blend Pizza Night is a "classic Merlot with hints of plum and cherry fruit of the Corvina grape," according to the Theme Night Wines' website.
There is also a Pizza Night pinot grigio, which was not in my wine kit — I will have to give it a try sometime! (I love pinot grigio.)
I opened my bottle of Pizza Night on one of my family's pizza nights. Since we have been sheltering at home, I've learned how to make homemade pizza and make it at least once a week. My family loves it! The Pizza Night red wine went perfectly with my homemade pizza, which I topped with pepperoni and mushrooms. (Check out my homemade pizza recipe here.)
I also enjoyed my bottle of "Mom's Night," which is also a red blend. To me, the Mom's Night blend has perhaps a more sophisticated, stronger flavor, which I also liked. (But I like the smooth, easy to drink taste of Pizza Night best.)
I paired my bottle of Mom's Night with some quesadillas and homemade guacamole. They taste great together! (You can get my guacamole recipe here.)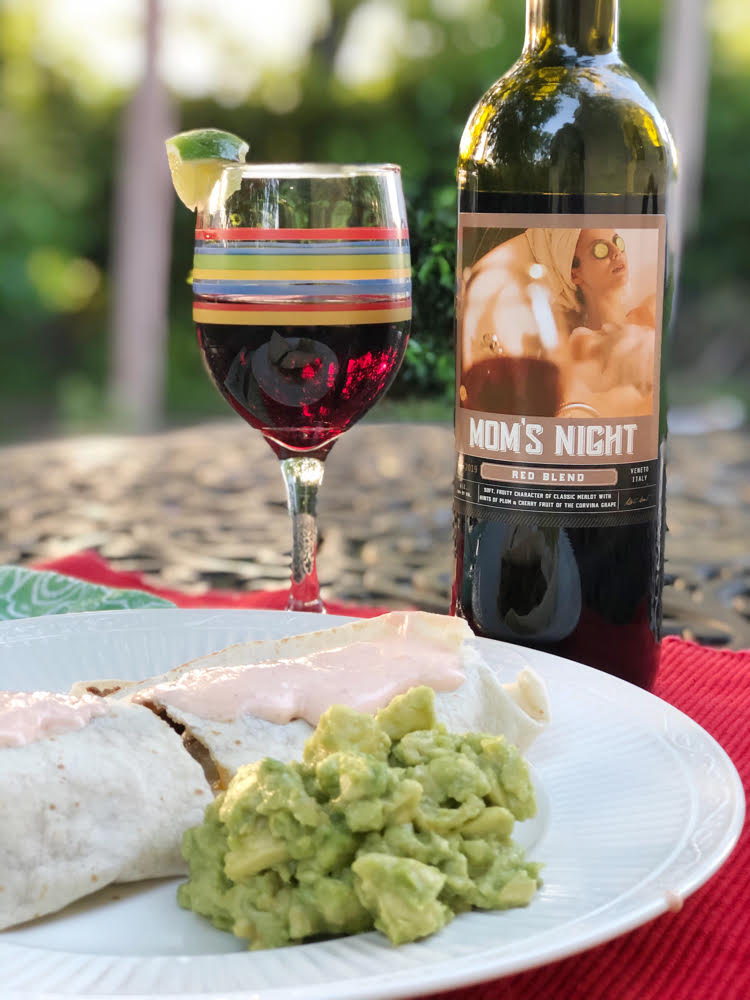 Low Sulfite Wines
A big plus with the Theme Night Wines for me is that I am able to enjoy them with no wine side effects! For the past several years I have limited my exposure to wine because my face tends to flush and burn when I drink wine. I have been told that it's likely that the sulfites in the wine has been causing the face flushing reaction in me. But I have enjoyed several glasses of the Mom's Night and Pizza Night red wine blends, and so far, I have had zero allergic reactions to the wine! I am quite happy – I actually do love wine!
This might be because Theme Night Wines don't have a lot of sulfites in them, Asaro told me. Good to know!
I have yet to try my Movie Night bottle of wine – I think tonight might be a good night to break it out! Movie Night is a chardonnay that is said to go well with buttery popcorn – which I love!
Theme Night Wines is releasing a few more wine varieties soon – Framily Night, and Fright Night for Halloween. Fright Night is a red blend, while Fright Night is a pinot noir. Framily Night is designed for gatherings with friends who are like family, Asaro says. My family has friends like that! 🙂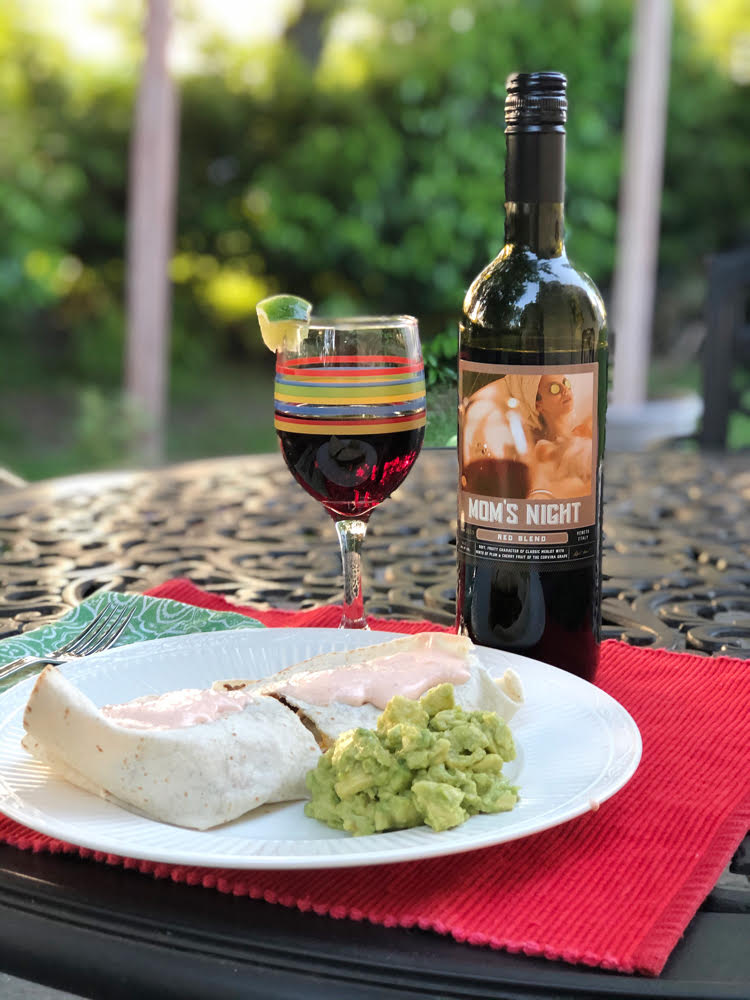 Want to learn more about Theme Night Wines' collection of wine? Check them out on Instagram, Facebook and YouTube.
Check Out These Posts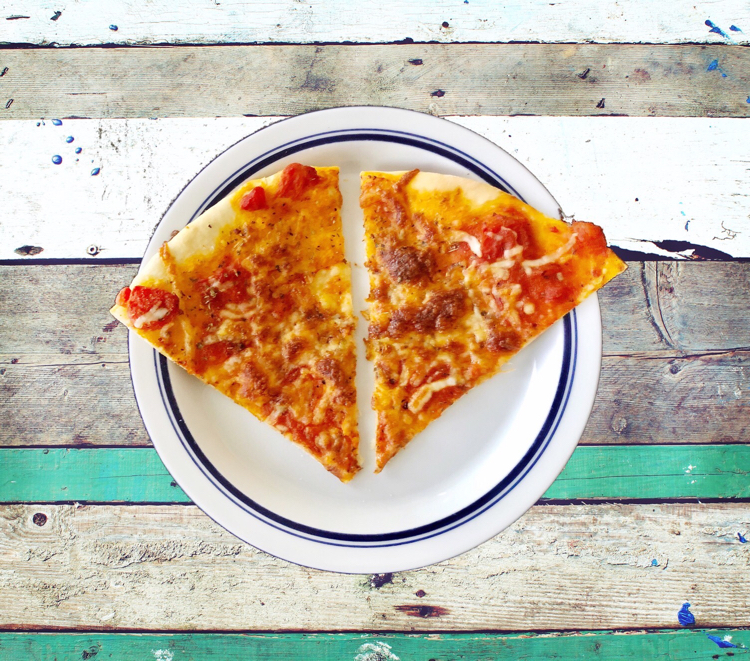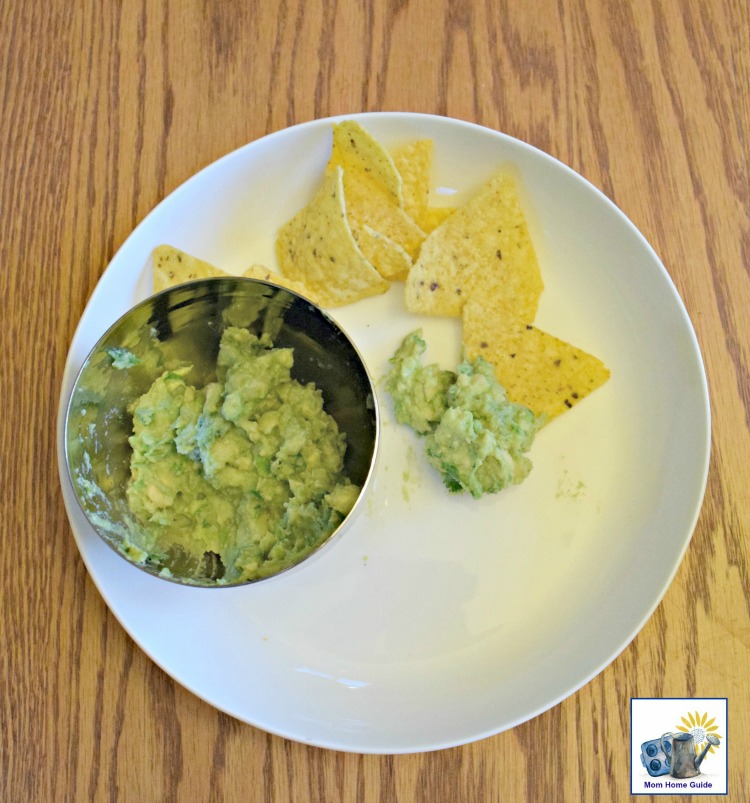 DIY Spray Painted Corn Hole Set