It's been 8 weeks since my family and I have been at home quarantined together. We've been hanging in there and finding ways to keep busy. My husband and daughters do homework and schoolwork from the kitchen table every day, and I work on my projects for the blog. We have been finding ways to have fun at home in quarantine when our work is done!
My Latest Read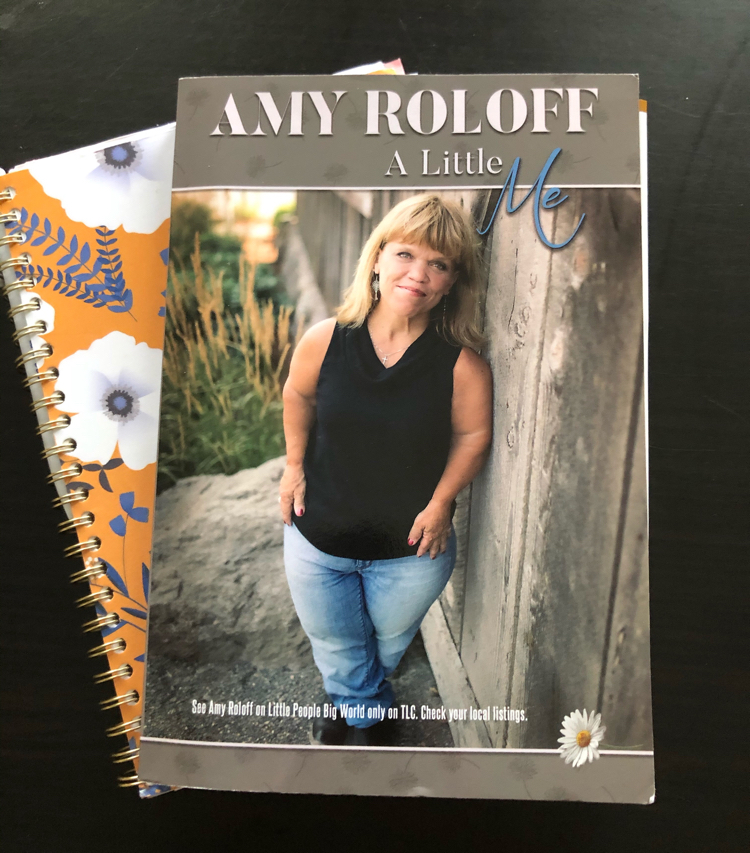 Over the weekend I read the latest book by Amy Roloff, "A Little Me"
Amy Roloff and her family are on the reality TV show, "Little People, Big World" on TLC. My daughters and I are big fans of the show! Amy, her ex-husband Matt, son Zachary and two grandchildren have dwarfism.
The book is part self-help book and part biography. In part of the book, Roloff shares her struggles growing up as a dwarf in Michigan. She relates how as a shy kid, she just wanted to fit in. But she felt held back by her dwarfism, which made her stick out as the only dwarf student in her school. She also had to deal with the stares and the harsh criticisms from fellow classmates. She was even followed home by a boy who yelled cruel and scary things at her during her mile walk from home from school.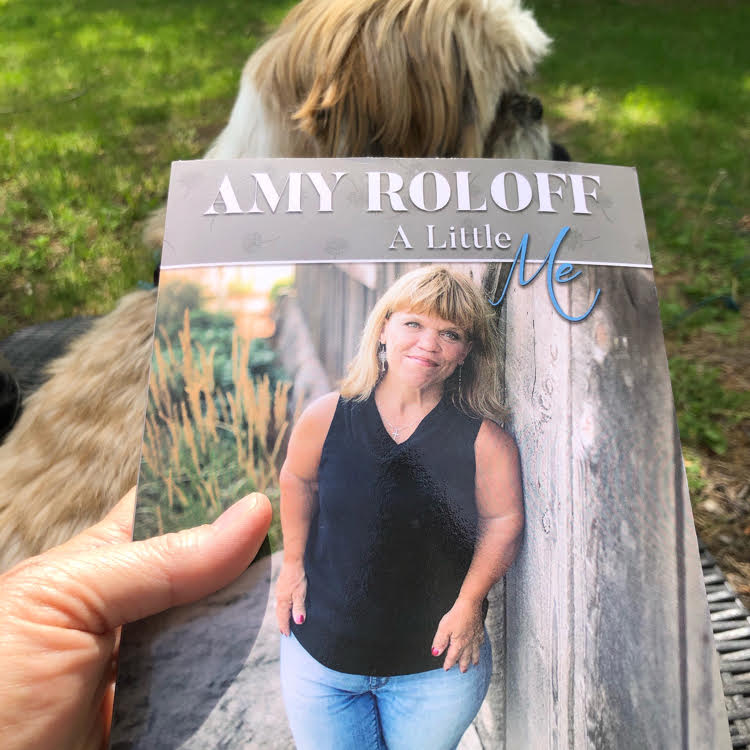 In her book, Amy shares how she worked to overcome both physical and emotional obstacles and build her self-confidence. At the end of each chapter she shares encouragements that you can use to help you surmount the obstacles in your own life. I love her attitude – she is always counseling herself to accept herself as she is and not have a "poor me" attitude. Plus, despite her hardships, she reaches out to be the best she can be for her family and others.
I really connect to Amy Roloff as a mom – in her book she reveals how being a mom is a driving force in her life – she gave her all to raising her kids on the family farm she shared with her now ex-husband in Oregon.
I had a little trouble reading this book at first. The first part of the book (which covers her life up through college) could have been edited better — it seemed a little repetitive and slow going. But once I hit the second part of the book, I breezed through it, as I didn't want to put it down. (It took me from Friday night to Sunday morning to finish the book.)
As a fan of Amy Roloff and her reality TV show, I was really quite interested in reading the details about her current life in her book.
The second half of the book covers Amy Roloff's life on the farm and her life today. As an empty nester, she was suddenly on her own when her husband filed for divorce. (He developed a relationship with a woman they had hired to manage their farm.) She found herself living alone (save for her pup) in a big, empty farmhouse that was once filled with her family.
As a mom who will be an empty nester very soon, I was interested in reading this portion of the book. It's interesting to see how she navigated this difficult portion of her life and made a new life for herself. She is now happily engaged and is the grandmother to three children! It's so nice to see how she turned her life around from the uncertainties of divorce to being happily engaged and enjoying life's moments with her children and grandchildren. She is even launching a new business, Amy Roloff's Little Kitchen.
I recommend this book to anyone who is a fan of "Little People, Big World" , as well as moms about to be empty nesters and anyone looking for an encouraging, uplifting story. I love reading biographies like these and learning from others' experiences.
Finishing Up Projects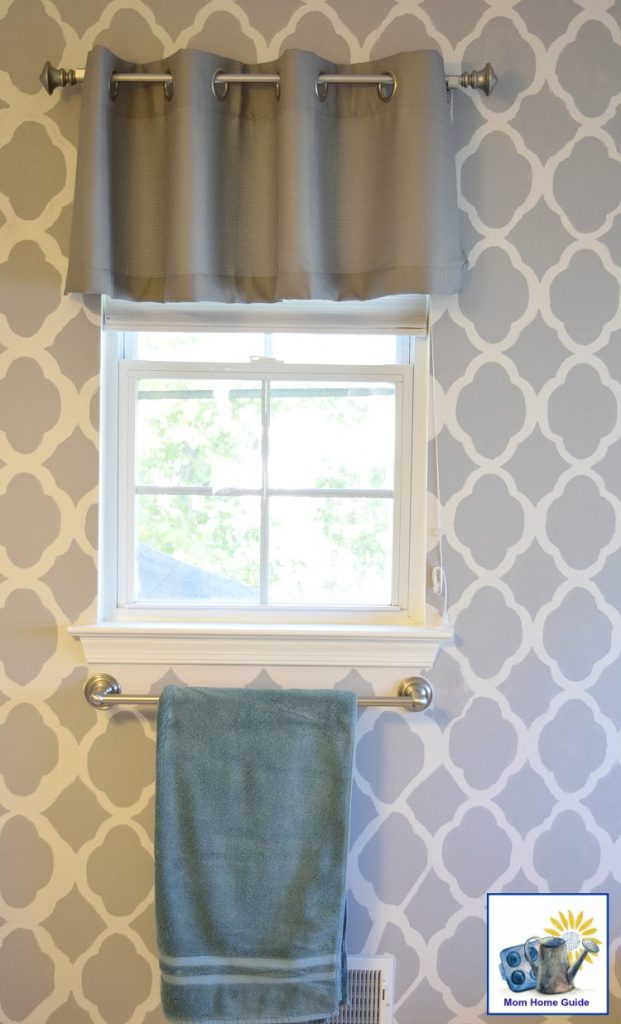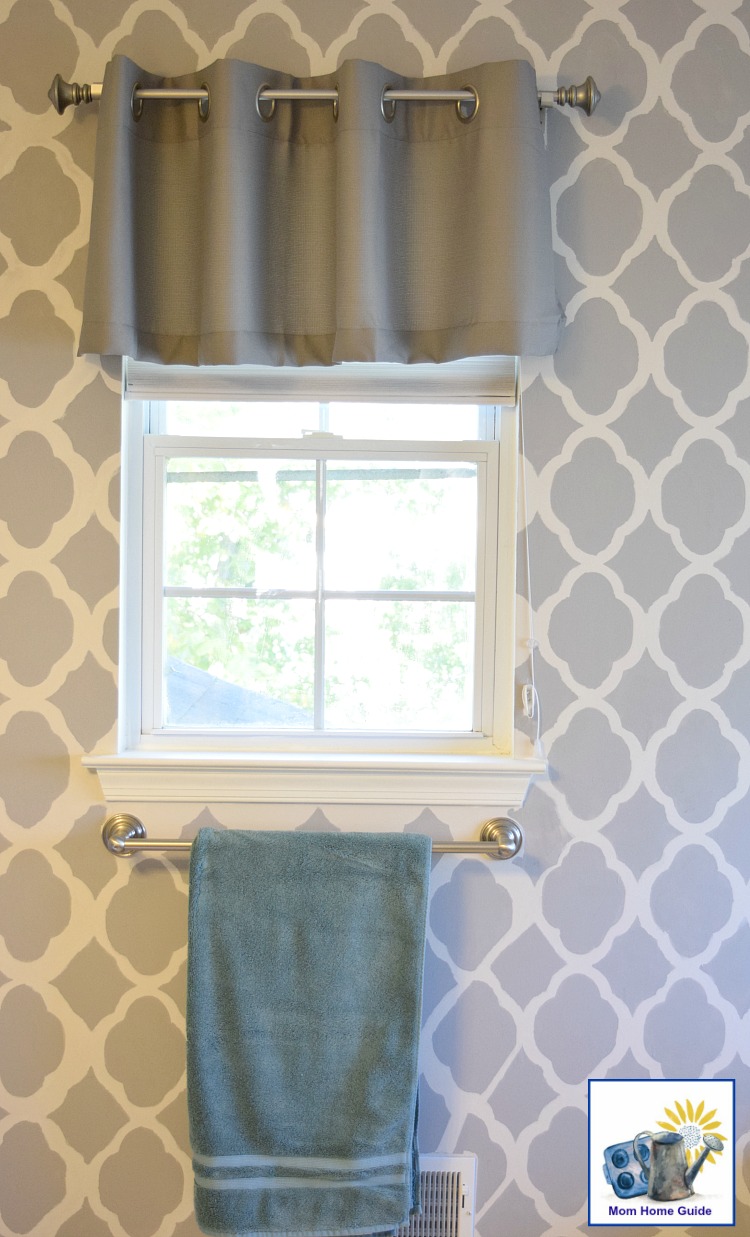 Now that I have more time at home, I am finishing up some projects – like the stenciled wall in my home's master bathroom.
I had mostly finished the stenciled wall more than 3 years ago (!) but never got around to the finishing touches! I used the Rabat Allover Stencil from Cutting Edge Stencils and never got around to finishing up the bits where the ceiling meets the wall and where the feature wall meets other walls. Crazy, huh! So this week, I've been finishing that up.
I have been wondering if there is a way to add a gloss to the wall. I used a very flat paint on the wall when I was stenciling. I would like to add a little bit of sheen to the design. If you have any suggestions, let me know!
I have also finally finished my kitchen cabinet project! I started the project a long while ago – but never finished painting about 4 doors. (I got sidelined by my breast cancer diagnosis. After my recovery, the project got put on hold when we adopted a Shih Tzu puppy!
I also needed to add on some cabinet knobs. I finally finished that project up during the start of our quarantine time!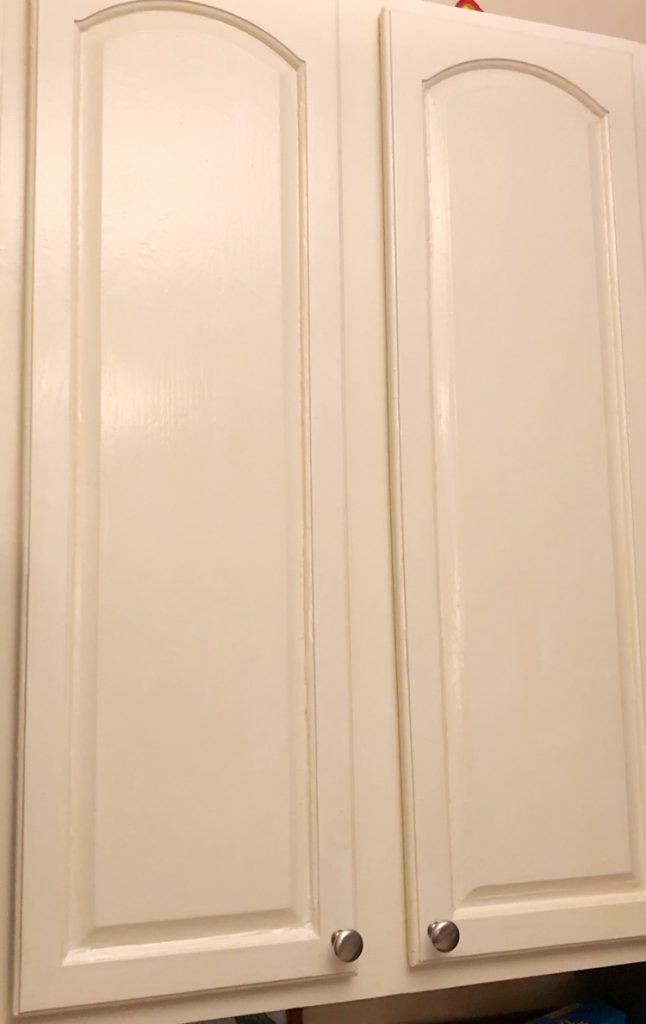 Starting New Projects
I hope to start some new projects, too. My daughters and I have been playing cornhole together some afternoons. (Our puppy likes to play, too, by stealing the bean bags.)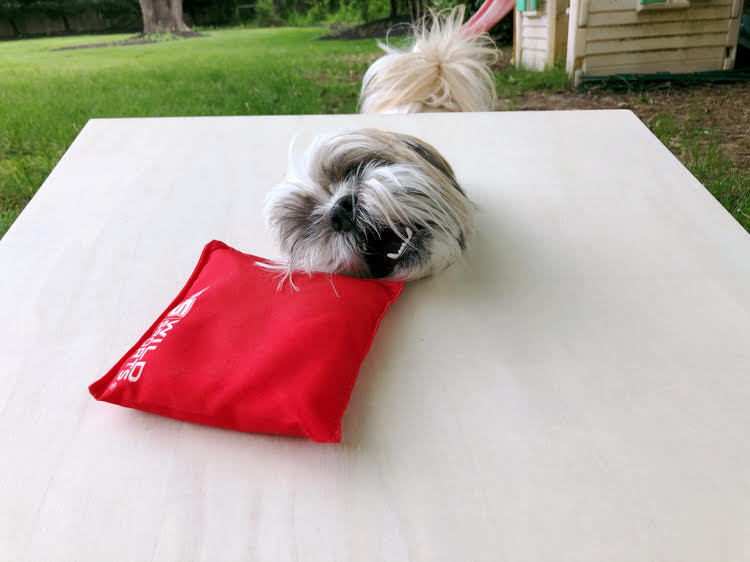 My husband gave me a cornhole set one Christmas. I was so happy! (I have been wanting one for years.) The cornhole set has been a good distraction now that we are all stuck at home!
I would like to stain and paint the set. I have some Thompson's Waterseal Waterproofing Stain left over from my easy garden bench project. I think the stain would look great on my corn hole set, too.
I found a great tutorial on how to customize cornhole boards by Uncommon Designs. I'm thinking of staining my boards acorn brown and adding yellow stripes to one board and green stripes to the other.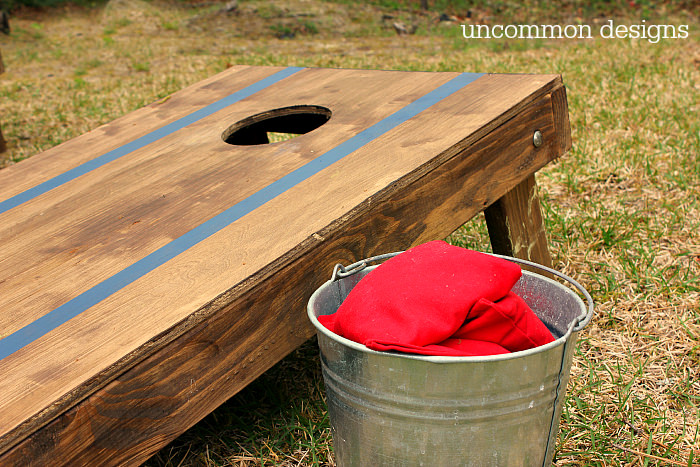 Happy Anniversary!
This week my husband and I are celebrating our 25th anniversary. We were going to do something special to celebrate the day – but we are stuck at home! So, hopefully we will plan a trip or something for later. In the meantime, we will celebrate with some good takeout food!
I made this cute DIY gift tag to give to my husband with a small gift I ordered for him – I made a canvas print of one of our recent photos of us together.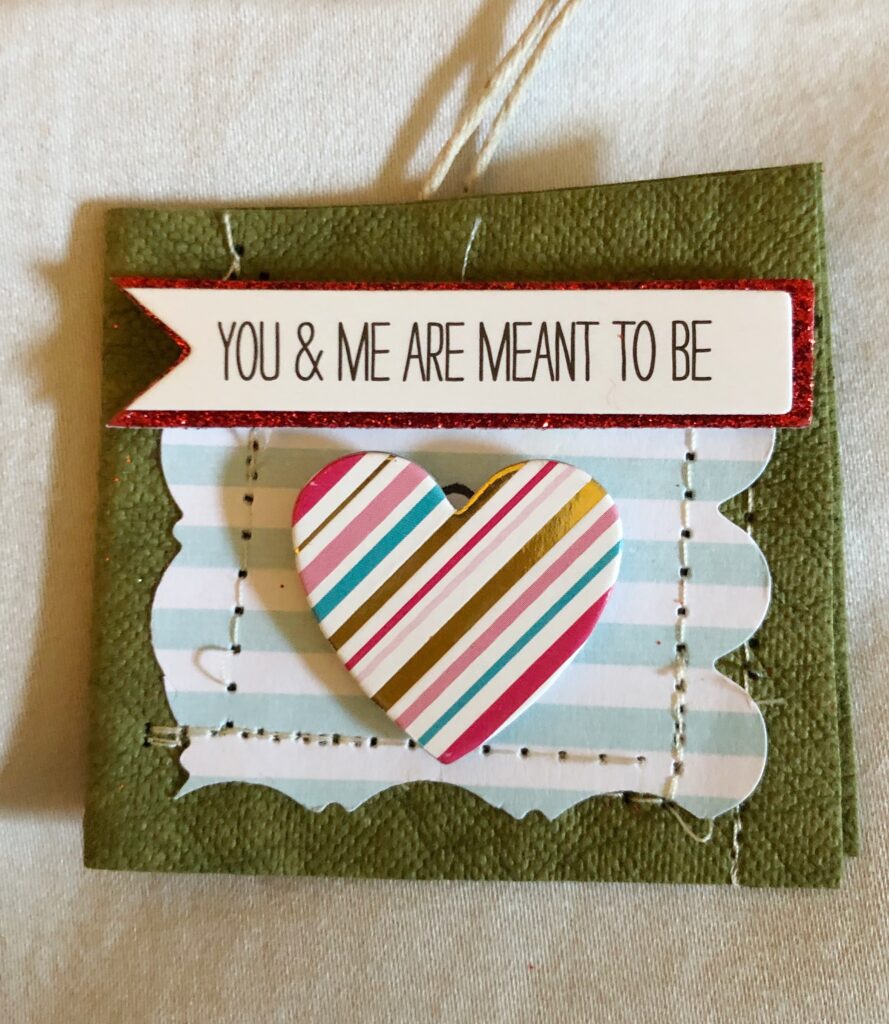 How have you been spending your time at home? Please share in the comments!