This post contains Amazon affiliate links.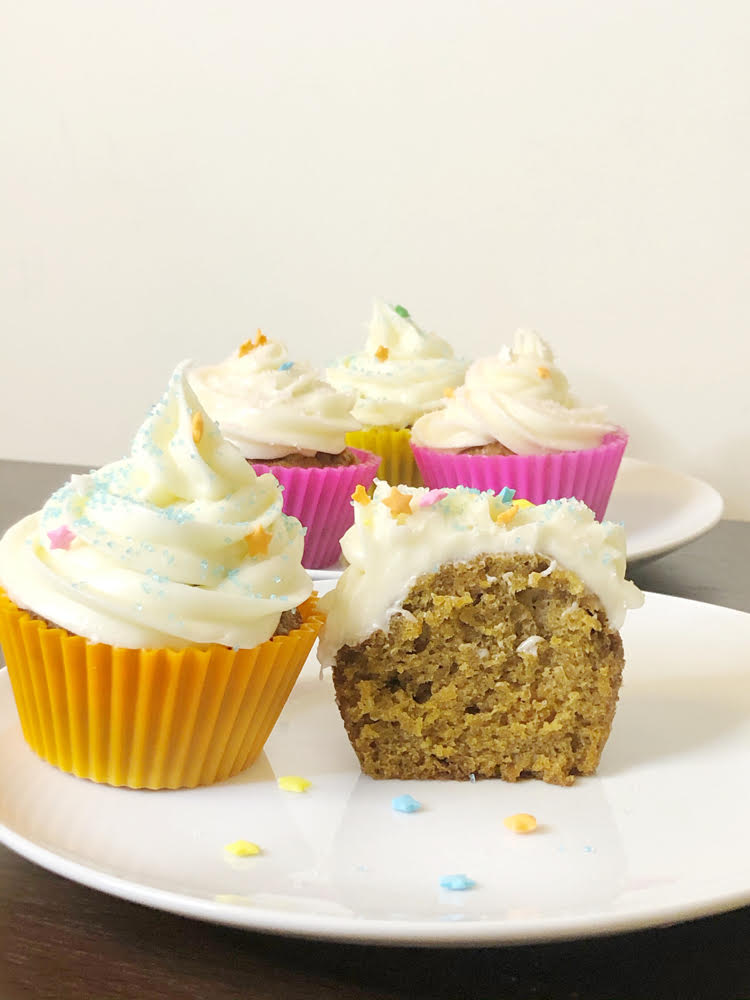 Welcome to the Taste Creations blog hop! Once a month my blogging friends and I get together and share recipes along a particular theme. Today we are sharing spring desserts! My daughters and husband like carrot cake, so I decided to make some fun and easy spring carrot cupcakes! They are topped with a delicious cream cheese frosting that is easy and quick to whip together. Fun!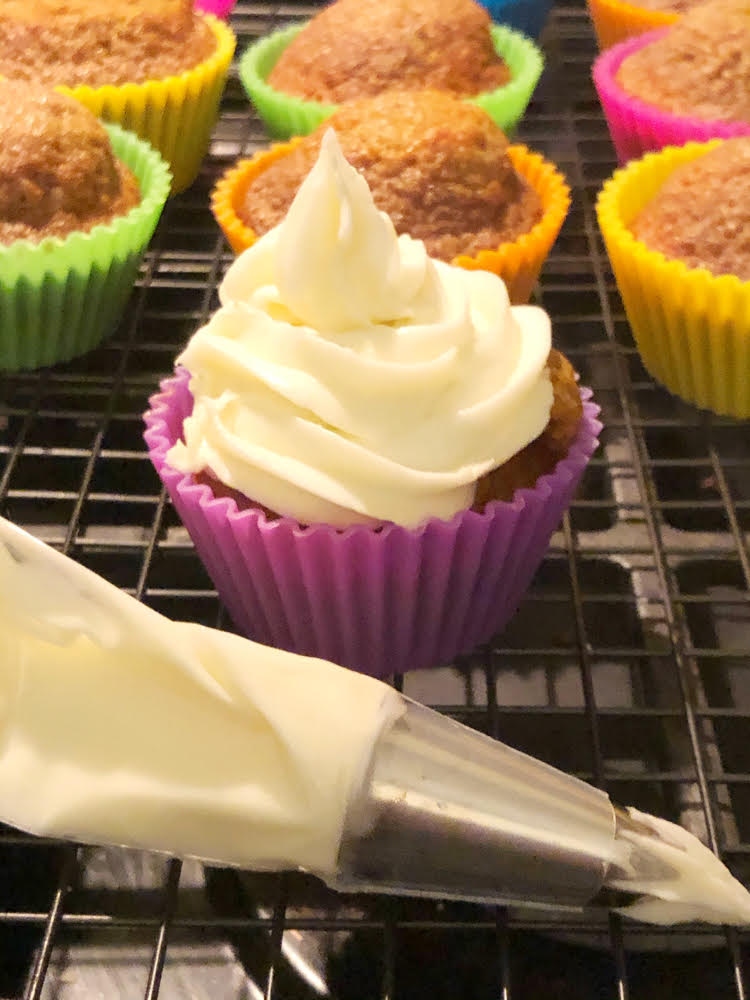 These cupcakes came out moist and delicious and are filled with grated carrots and are flavored with nutmeg.
I tend to prefer making cupcakes over a big cake. Cupcakes are easier to store (they fit in the refrigerator easily), and they come in single-size portions!
Make sure you scroll to the end of this post for a collection of delicious spring desserts from me and my blogging friends!
Carrot Cupcake Recipe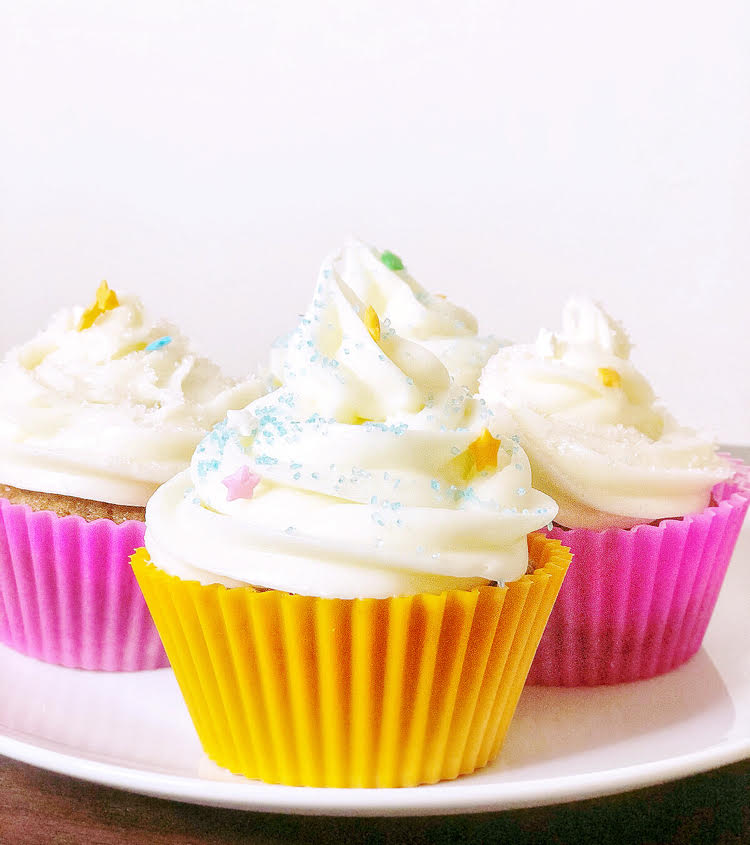 For this recipe, you might want to use a food processor to grate your carrots. I used a hand food grater to grate my carrots, and it took a while!
I got this carrot cupcake recipe from Sugar Spun Run. In her post, she has suggestions on how to best use a food processor to grate the carrots if you want to go that route.
Tools
In this list are items I used to make these cupcakes. When baking my cupcakes, I used nonstick cupcake tins and reusable silicone cupcake liners. It makes everything so much easier!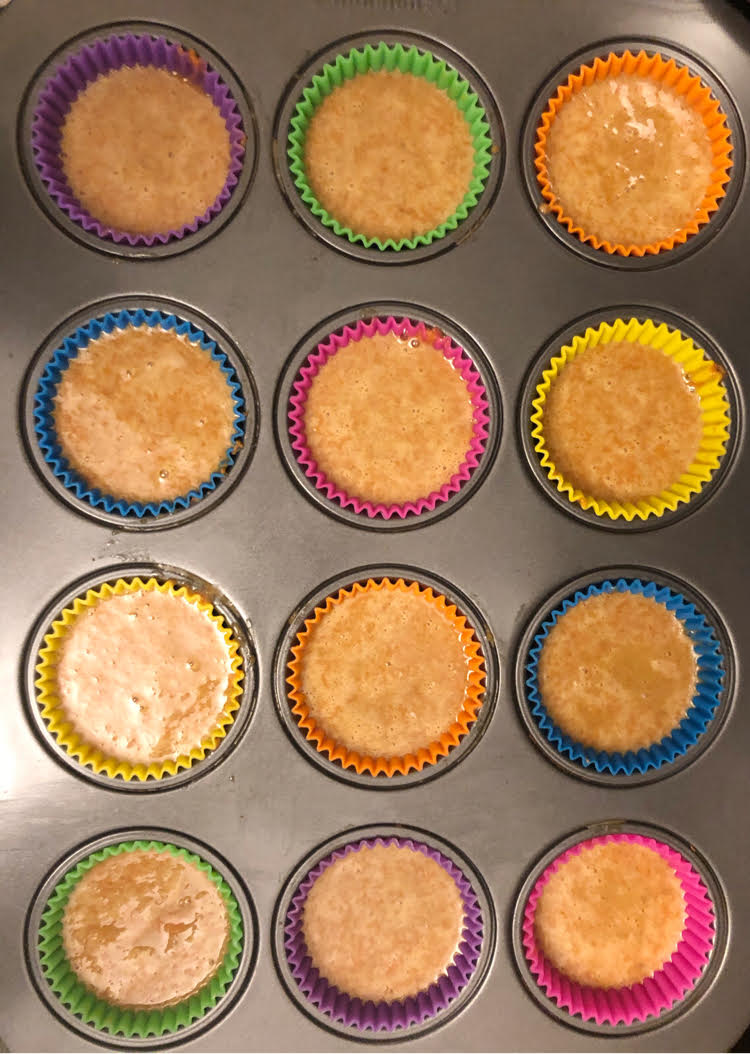 I also used icing tips and icing bags. They disposable piping bags are inexpensive, but work quite well for frosting cupcakes. I used to just use plastic food storage bags to pipe icing, but never had much luck with them. Using a bag designed for frosting is much simpler!
Muffin/Cupcake Liners (I used AmazonBasics Reusable Silicone, Non-Stick Baking Cups Liners)
Cupcakes with Cream Cheese Icing Recipes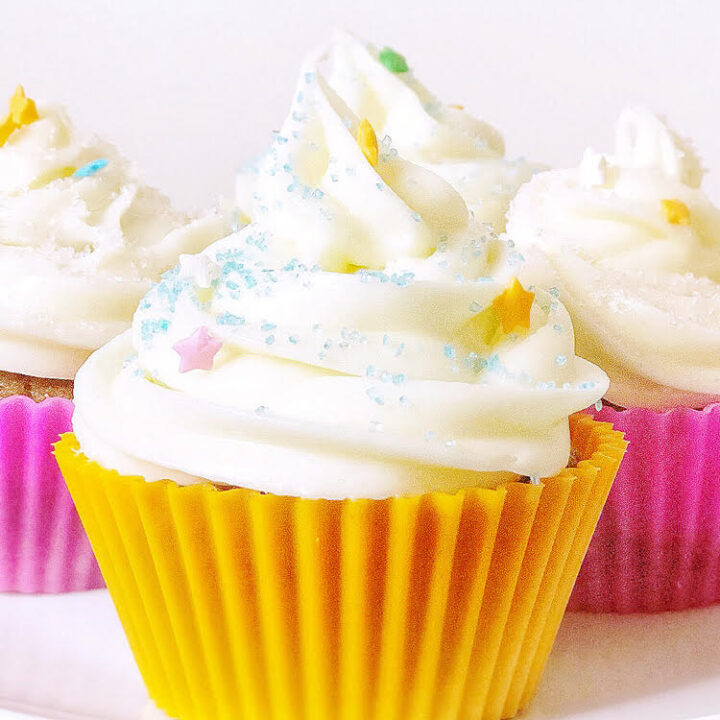 Carrot Cupcakes
Additional Time:
30 minutes
Total Time:
1 hour
15 minutes
These delicious carrot cupcakes have a dash of nutmeg and are topped with cream cheese frosting.
Ingredients
1 ¼ cups all-purpose flour
½ cup granulated sugar
½ cup light brown sugar packed
¾ teaspoon baking soda
½ teaspoon baking powder
½ teaspoon salt
1 teaspoon cinnamon
¼ teaspoon nutmeg
¾ cups canola oil
2 large eggs room temperature
1 ½ teaspoons vanilla extract
2 tablespoons milk
1 ½ cups grated carrots
1 batch Cream Cheese Frosting
Instructions
Preheat oven to 350F and line a 12-count muffin pans with cupcake liners. (I used reusable silicone ones.)
In the bowl of a stand mixer, whisk together flour, sugars, baking powder, baking soda, salt, cinnamon and nutmeg.
Stir in canola oil. Add eggs, one at a time, pausing to scrape down sides of the bowl after each addition. Beat until well-combined.
Stir in vanilla extract and milk.
Add carrots and stir until combined.
Evenly divide batter into cupcake liners, filling each ⅔-¾ of the way full. Transfer to oven and bake at 350F for 20 minutes or until a toothpick inserted in the center comes out clean or with moist crumbs.
Allow to cool completely before decorating with cream cheese frosting.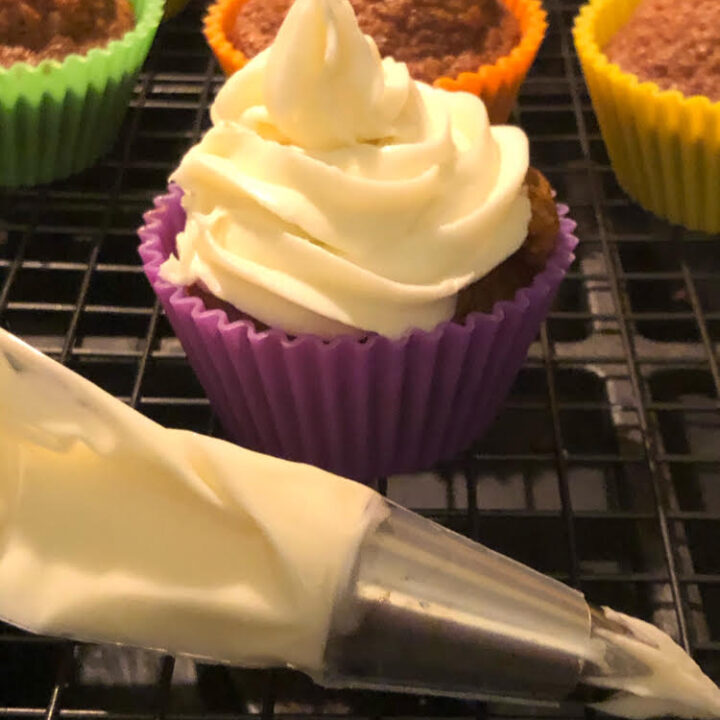 Cream Cheese Frosting
Yield:
Frosting for 12 Cupcakes
This cream cheese frosting is perfect for carrot cake and cupcakes!
Ingredients
½ cup (1 stick) unsalted butter, softened
8 oz cream cheese softened (brick-style, not spreadable)
1 teaspoon vanilla extract
¼ teaspoon salt
4 cups powdered sugar
Instructions
Combine butter and cream cheese in the bowl of a stand mixer (or you can use an electric mixer) and beat until creamy, well-combined and lump-free.
Add vanilla extract and salt and stir well to combine.
With the mixer on low, gradually add powdered sugar until completely combined.
Use the icing to frost completely cooled cake or cupcakes.
Check Out My Friends' Spring Recipes!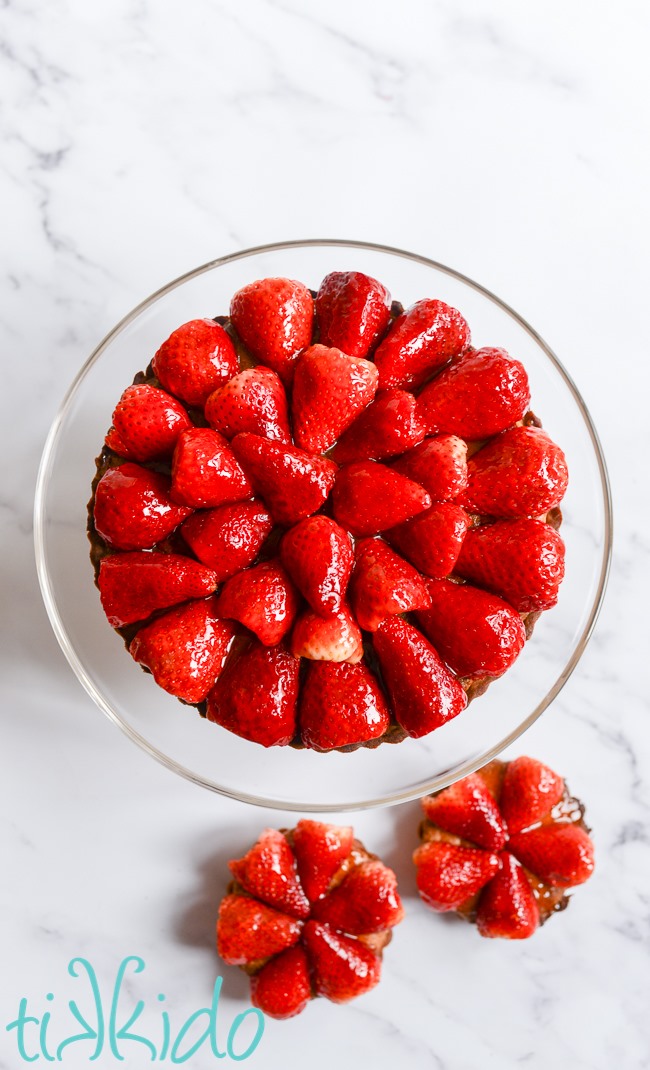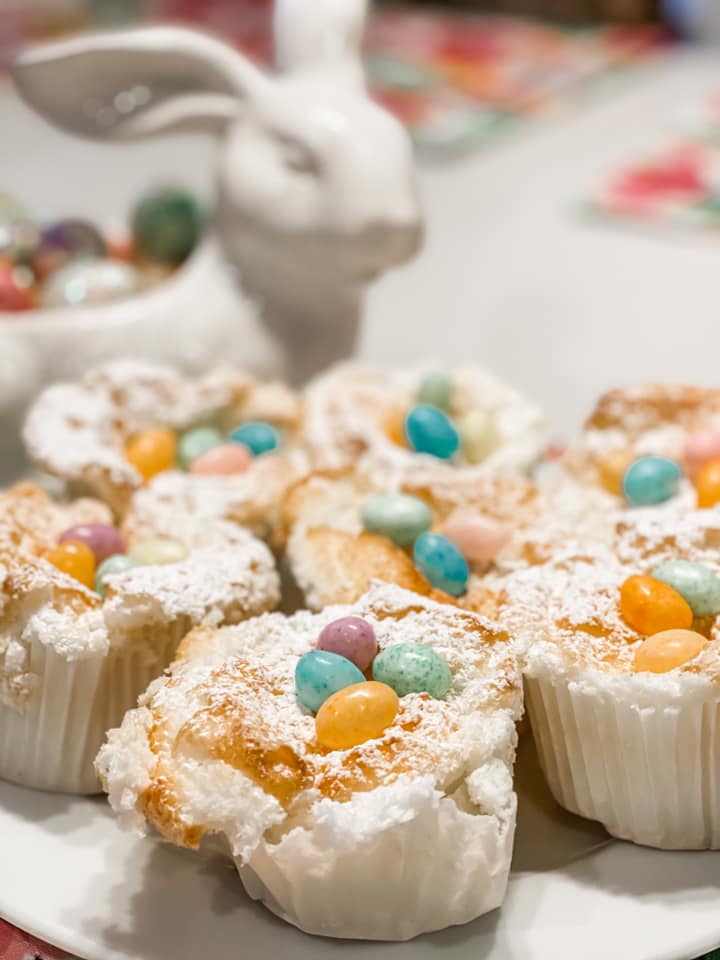 Click on the Link Below for More Easter Desserts!
You Might Like These Recipes