Thanks to Card My Yard Millstone for partnering with Mom Home Guide for this post.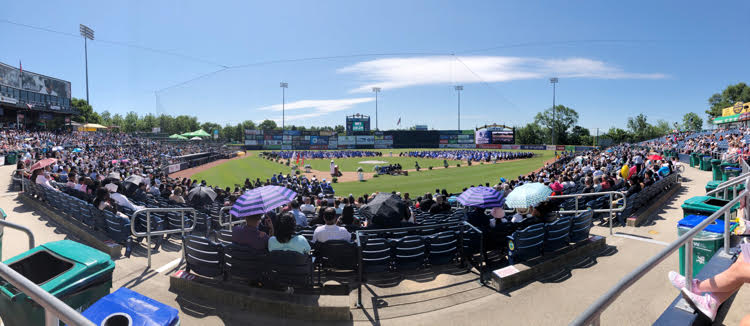 Yesterday my twins graduated from high school! I can't believe how quickly time has flown! Surprisingly, I didn't cry at their graduation ceremony yesterday. But I admit that I did cry the night before!
I happened to drive by my kids' high school Tuesday evening and got weepy. I realized that I will no longer be driving my twins to school! Even though I thought I didn't like driving them to school at about 7 am whenever they missed the school bus, I did enjoy those times together in the car. I've treasured all the little and big moments throughout my kids' school years!
Going Big with Card My Yard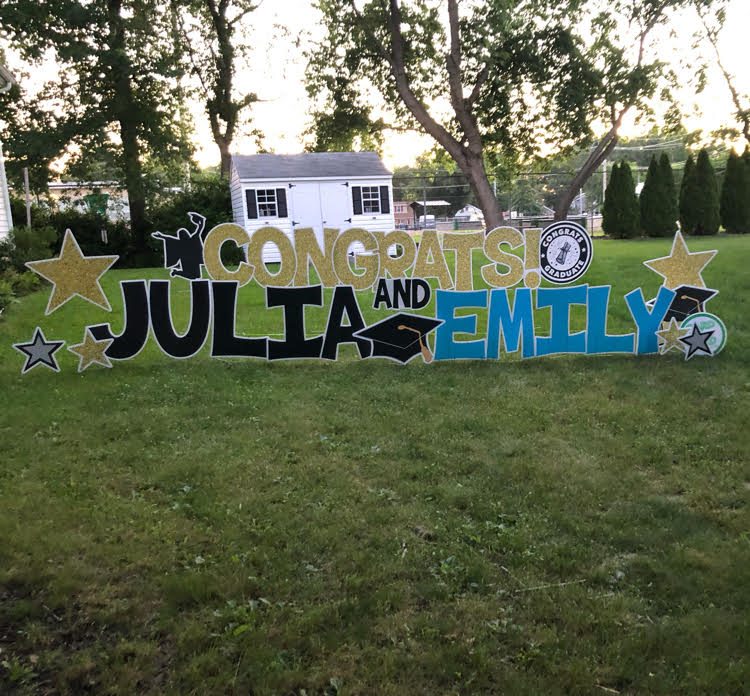 These past 15 months have been rough for my kids, since they have been doing their school remote the whole time!
I wanted to do something special for them to show them how proud of them I am.
I noticed Card My Yard Millstone on Instagram and on Facebook. I love Card my Yard's bright and fun graphics and the large jumbo print sentiments that can be displayed on a lawn!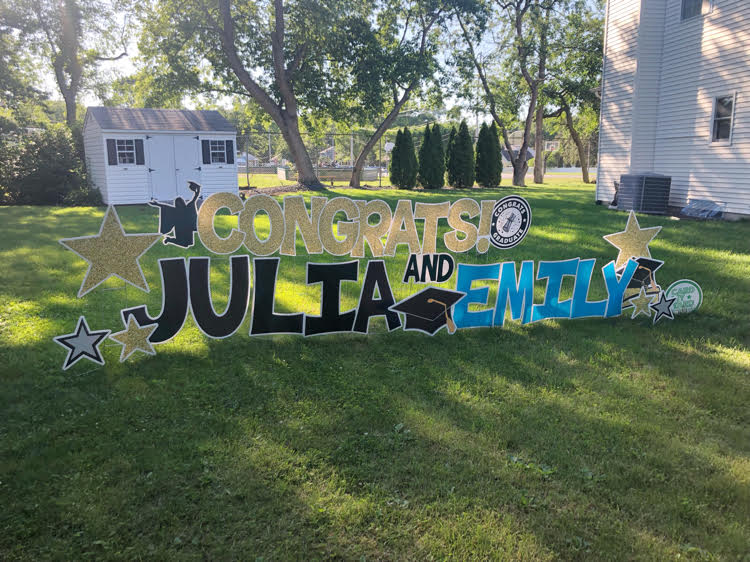 I knew that a congrats graduation lawn display from Card My Yard would be a perfect way to show my kids how much I love them and how proud I am of all their achievements!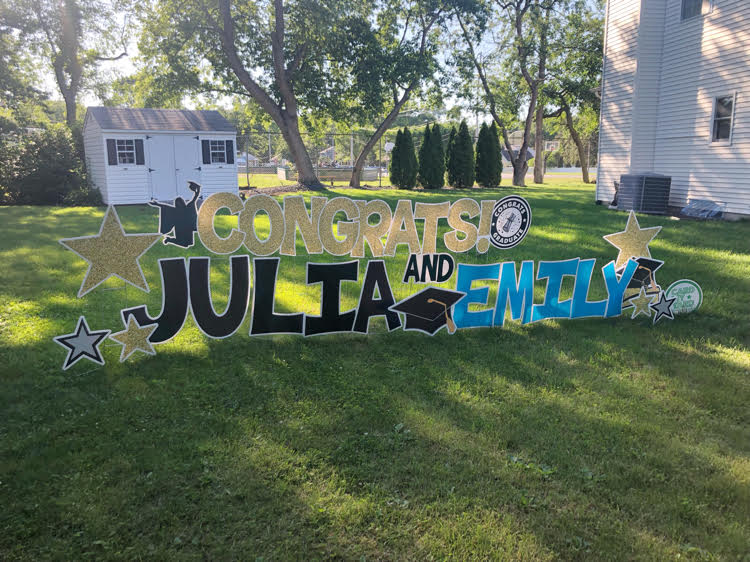 Despite all the difficulties that the pandemic has thrown their way and how it has disrupted their school life, my twins managed to get into two excellent colleges (Smith College and Bryn Mawr College) and excelled in everything they did! So I reached out to Card My Yard Millstone to plan a big surprise for them!
Card My Yard Millstone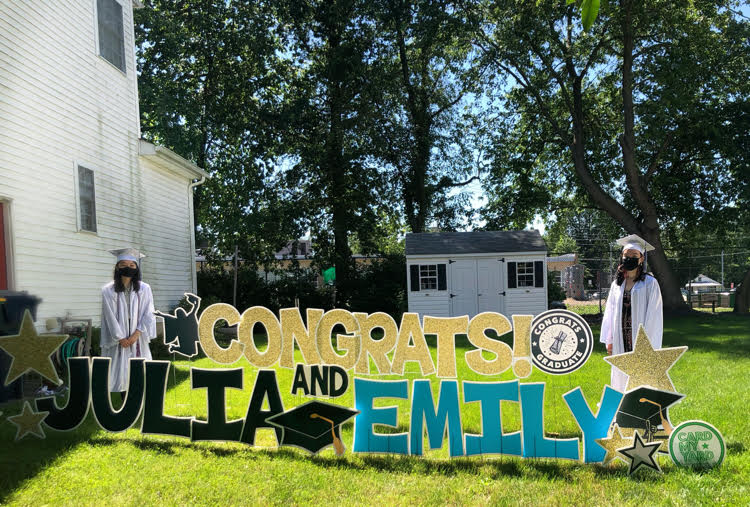 Card My Yard Millstone is owned by moms Rachel and Jennifer, who know how important graduation celebrations and other milestones are to parents like me! I worked with Jennifer to plan a huge Card My Yard graduation display for my twins.
Jennifer helped me to choose some fun graduation graphics (graduation caps, a graduate, a "Congrats Graduate" mini sign, and two sets of stars) for my twins' graduation lawn display.
I told Jennifer that I like the stylish gold lettering that I saw on some of the Card My Yard displays that I saw on Card My Yard Millstone's Instagram page, so we chose a big, gold glittery "congrats" for my teens' card. We decided to have one of my teen's name in black, and the other in blue.
I really like the way our huge Card My Yard turned out! Jennifer came over the night before graduation to set up the graduation yard display, so the graduation yard display was up and ready on our lawn for graduation day.
My family and I left early Wednesday morning for the graduation ceremony, so we took photos of my teens with their big graduation Card my Yard display after the graduation ceremony. It was fun to have a beautiful and fun prop for my kids' graduation photos!
I think Card My Yard would be an awesome way to celebrate a lot of family milestones – Father's Day, birthdays, a bridal shower or engagement, wedding day, birth of a baby, etc.
I've bookmarked Card My Yard on my computer for future celebrations! If you check out Card My Yard Millstone's page, you see there are lots of choices you can make for a yard display – different colors for the fonts, all sorts of graphics, and fun emojis, too.
Ordering my Card My Yard graduation lawn display was easy, too. I just filled out an online form on the Card My Yard Millstone's page with my choices for the graduation lawn display, and Jennifer phoned me later to confirm my choices.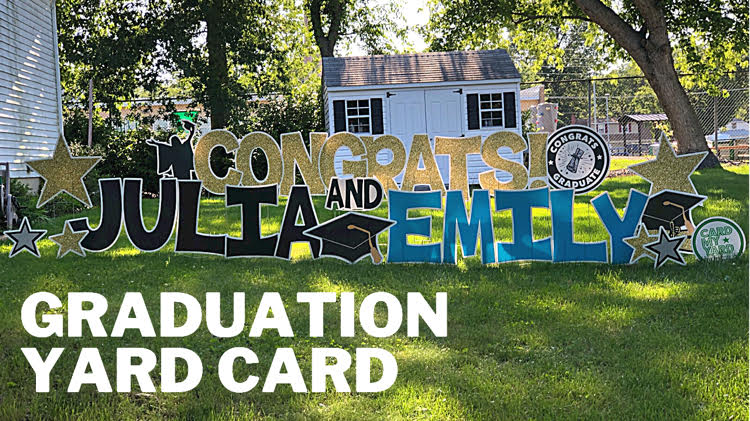 Card My Yard came to pick up the Card My Yard display the evening of graduation day. (The display is a rental.)
I didn't have to worry about taking the display apart myself. The setup and removal was all done for me!
The Card My Yard display is quite sturdy and is said to stand up to light wind and rain. Luckily we had great weather for graduation day, so we didn't have to test that out!
Our Card My Yard really helped to make my twins' graduation day extra special! Thanks, Card My Yard Millstone!
For More Info
Card My Yard Milstone =Website
Card My Yard Millstone Instagram
You Might Also Like