This post contains Amazon affiliate links.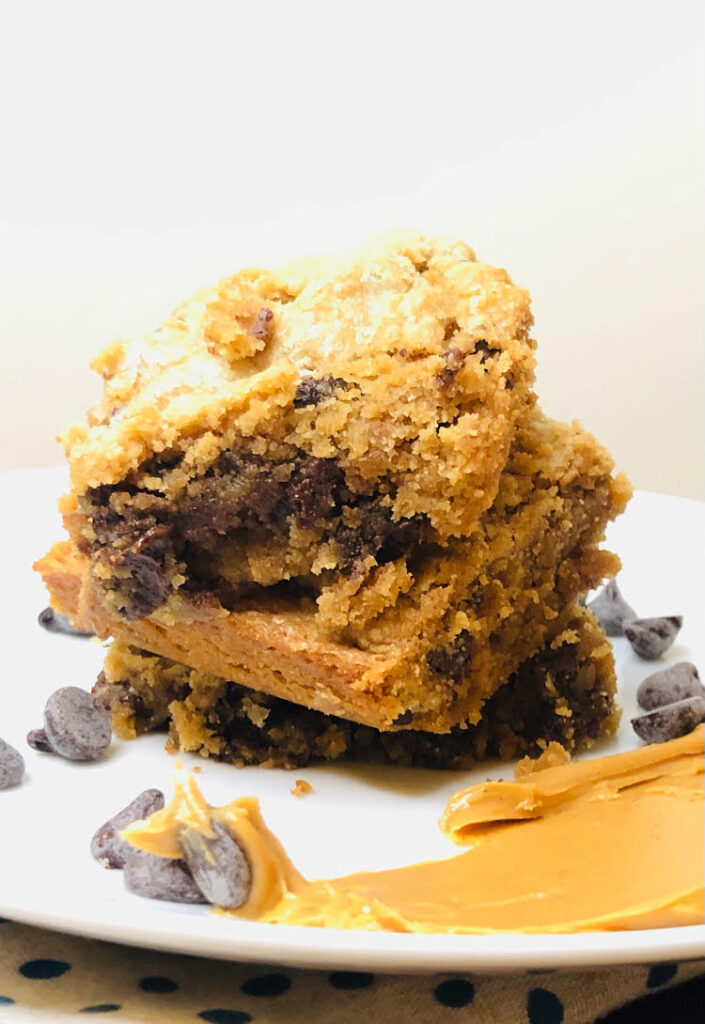 Happy National Peanut Butter Lovers Day! To celebrate this fun holiday, my blogging friends and I are getting together to share recipes that include peanut butter!
My friends and I in the Taste Creations blog hop group get together the first Monday of every month to share recipes together.
Today snuck up on me. I didn't realize that March 1 is today! So I had to come up with a recipe yesterday with items I already had on hand. This recipes requires very few ingredients and things that you are likely to already have in your pantry and refrigerator. You can make these whenever the mood hits! From start to finish, this recipe takes about 30 minutes.
This recipe is very similar to the sea salt chocolate chip cookie bars that are a favorite in my family. My daughters smelled these peanut butter chocolate chip cookie bars while I was baking them, and came downstairs to investigate! They were happy with what they found!
Peanut Butter Chocolate Chip Cookie Bar Ingredients
You need just 8 ingredients for this recipe. You need 1 measure of each of these ingredients, except the peanut butter, which is 1/3 cup, and the baking powder, which is 1/4 teaspoon. It's easy to remember!
1/3 Cup Peanut Butter (it's best not to use all natural, since it separates)
1 Cup Semisweet Chocolate Chips
1 Cup Light Brown Sugar, Packed
1 Egg
1 Stick Butter, Melted
1 Teaspoon Vanilla Extract
1 Cup All-Purpose Flour
1/4 Teaspoon Baking Powder
Peanut Butter Chocolate Chip Cookie Bar Recipe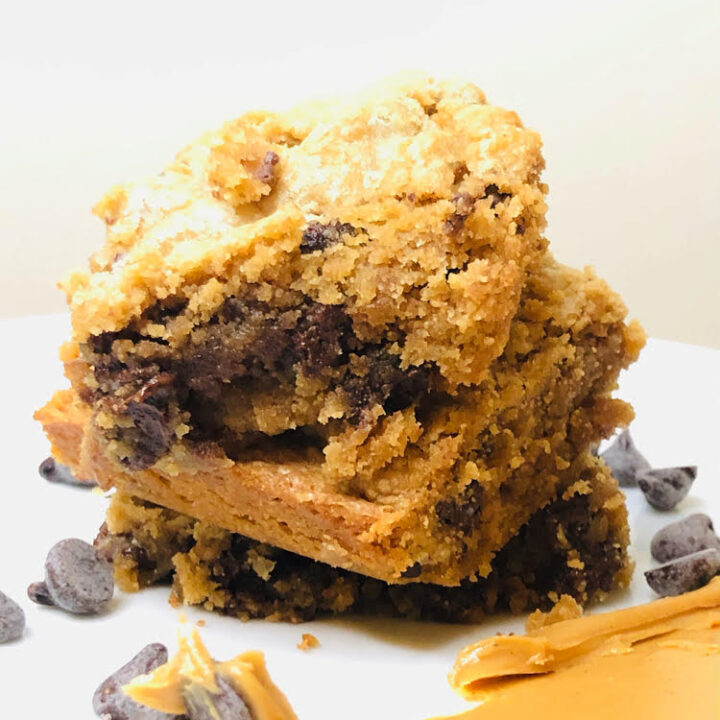 Peanut Butter Chocolate Chip Bars
These peanut butter chocolate chip bars are easy to bake and are extra delicious!
Ingredients
1/2 cup unsalted butter (1 stick), melted
1/3 cup peanut butter (I used Skippy)
1 large egg
1 cup light brown sugar, packed
1 teaspoon vanilla extract
1 teaspoon baking powder
1 cup all-purpose flour
1 cup semi-sweet chocolate chips
Instructions
Preheat oven to 350F. Grease an 8-by-8-inch baking dish with butter. Set aside.
In a large, microwave-safe bowl, melt the butter (about 1 minute on high power).
Wait a few minutes before adding the egg so you don't scramble it. Add the peanut butter, egg, brown sugar, vanilla and whisk until smooth.
Add the flour, baking powder and stir until just combined.
Stir in 1 cup chocolate chips.
Pour batter out into the prepared pan. Smooth the top lightly with a spatula.
Bake for about 20 to 25 minutes, or until done. A toothpick inserted in the center should come out clean. Let the bars cool in the pan before slicing and serving.
Check Out My Friend's Peanut Butter recipes!
Click the Link Below to See More Peanut Butter Recipes
You Might Also Like