This post contains Amazon affiliate links for your shopping convenience.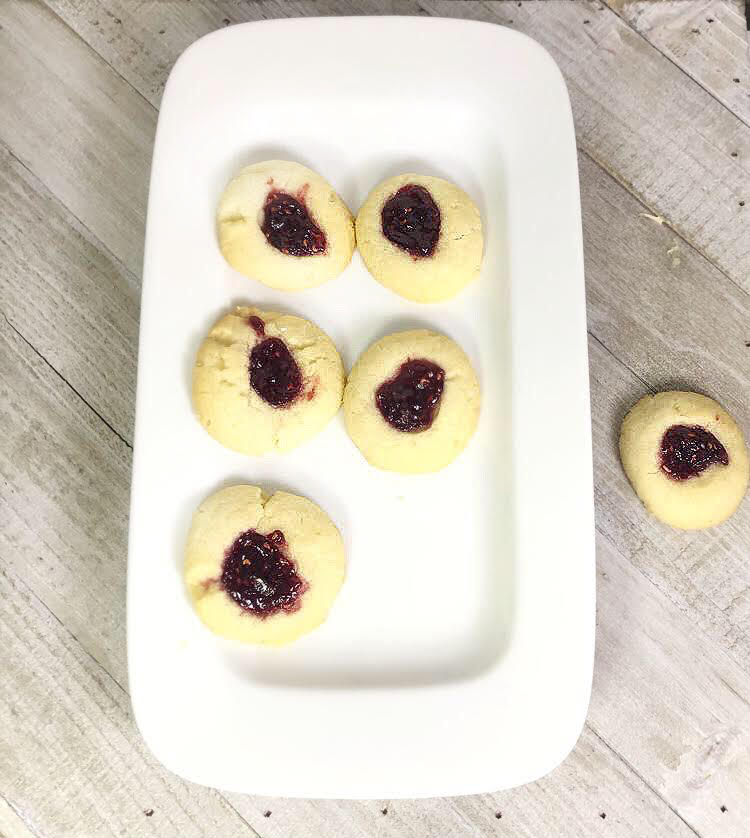 Last Tuesday, I shared my family's easy and delicious chocolate chip cookies recipe as part of my new weekly feature, Tasty Tuesday. Today I am back with another extra yummy (and easy) cookie recipe — raspberry thumbprint shortbread cookies!
My raspberry shortbread cookies have a delicious shortbread base with a dollop of raspberry jam as their centers. My family loves them!
These cookies are not difficult to make – you can mix up the dough for these cookies in a food processor or in a stand mixer. After that, all you do is make small balls of dough, place them on a cookie sheet, leave your thumbprint in the middle and fill them with jelly or jam!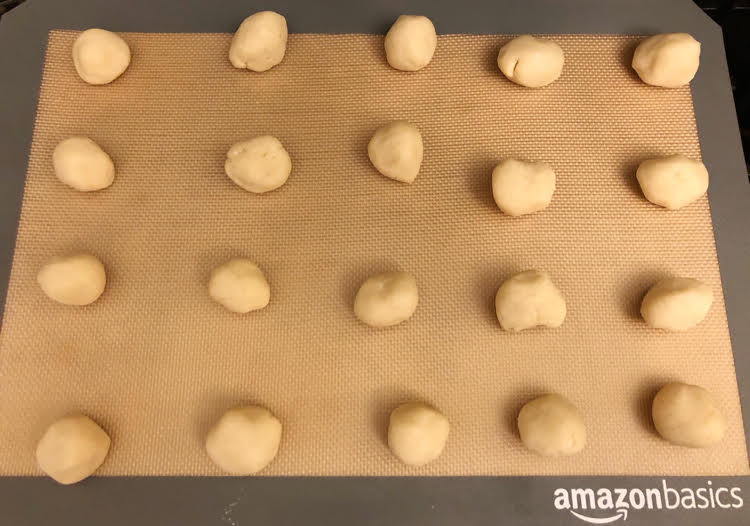 The only "hard" part of this recipe might be that they need to be chilled for a few minutes before popping them in the oven. As someone whose fridge is always full, it was a little difficult to make room for my pans of cookies!
But after that, my cookies baked up quickly, and were delicious! My family was happy to eat at least some of these cookies as soon as they came out of the oven.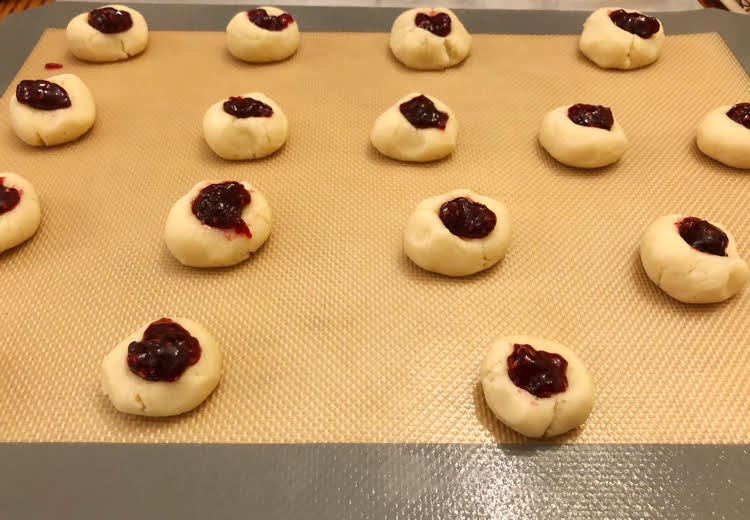 If you are looking for an easy but delicious cookie recipe, give this recipe a try. All you need for these cookies is a handful of ingredients: butter, flour, sugar, salt – and raspberry jam (or jelly)! These cookies couldn't be simpler – or yummier!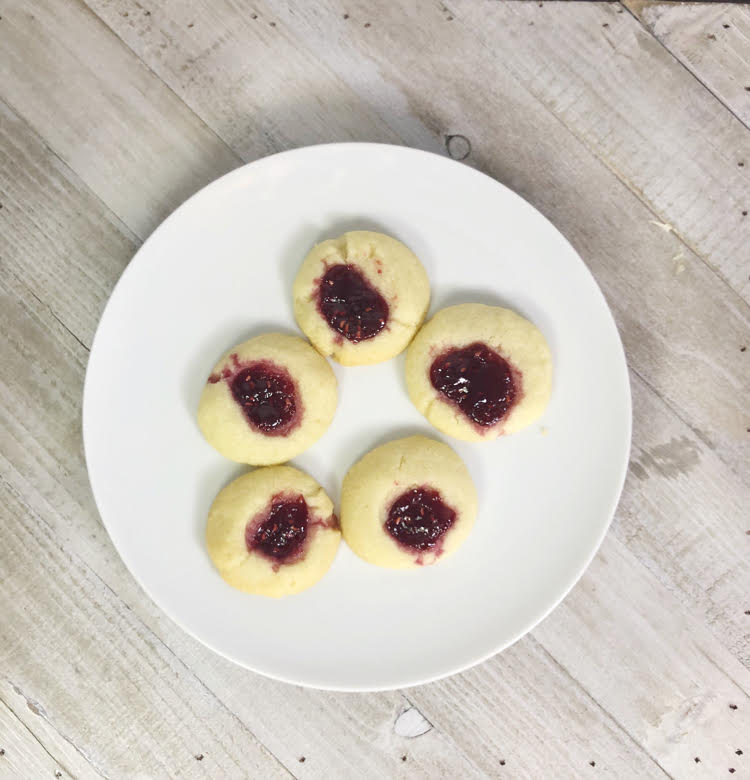 Recommended Products
KitchenAid Stand Mixer
Measuring Cups & Spoons
Baking Sheets
Silicone Baking Mats
Baking Cooling Racks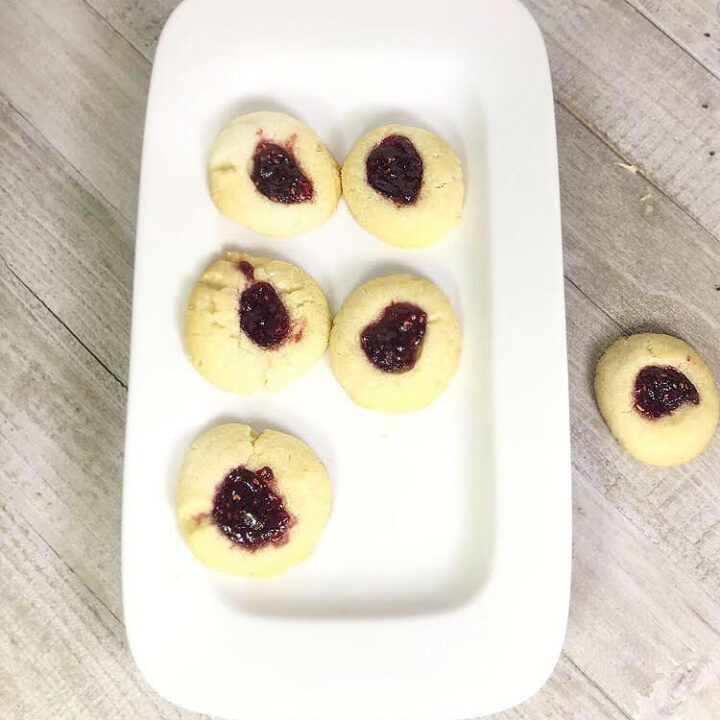 Raspberry Thumbprint Shortbread Cookies
These cookies are easy to make from just a handful of ingredients and have a yummy jam center.
Ingredients
2 cups all-purpose flour
2/3 cups granulated sugar
¾ teaspoon salt
2 sticks cold unsalted butter, cut into 1-inch chunks
Raspberry jam
Instructions
Preheat oven to 350 degrees Fahrenheit.
MIx flour and salt.
In the bowl of a stand mixer fitted with the paddle attachment, cream cold butter and sugar together. Add in the flour and salt mixture, and mix until the dough is well combined.
Shape dough into 1-inch balls and place on baking sheets. (I used two baking sheets covered with silicone baking mats.) Leave some space for the cookies to expand while they bake.
Use a finger to make a thumbprint in the center of each cookie. If you get cracks around the edges of your cookies from your thumbprints, smooth them with your finger. Place about 1/4 teaspoon of raspberry jelly or jam in the center of each cookie.
Chill your cookies (on the baking sheet) in the refrigerator for 20 minutes, or 10 minutes in the freezer.
Bake the cookies in the oven for 14-18 minutes.
Once baked, let the cookies cool for a few minutes on the baking sheet. Then move them to wire baking racks to cool further.