This post contains Amazon links—if you make a purchase, I'll earn a small commission that helps to support this blog. Thanks! 🙂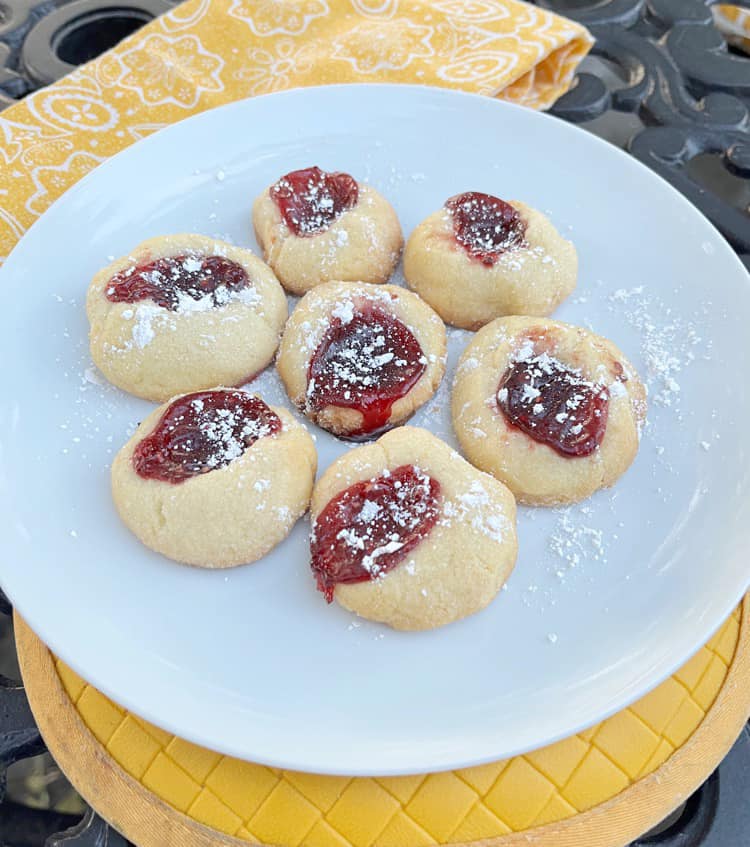 Welcome to the Taste Creations Blog Hop! On the first Monday of every month, my blogging friends—Terri of Our Good Life, Nikki from Tikkido, and Rosemary from Breads and Sweets—and I get together to share recipes. Today we are sharing cookie recipes! I'm sharing a recipe for raspberry thumbprint shortbread cookies. The original recipe is from Live Well Bake Often, but I got to know this recipe because one of my twins, Julia, made an adapted version of it this summer. But instead of using the apricot or strawberry jam the recipe calls for, Julia used raspberry jam, which is my favorite! Julia likes to bake and is quite good at it!
I love these cookies—they provide the buttery deliciousness of a shortbread cookie plus the sweetness of jam. YUM! Plus, the recipe only requires seven ingredients and is super easy to make. I hope to make a few batches of these cookies this fall and send them to my kids while they are at college. (SNIFF -I will miss them! Having them home over the summer was so nice!)
Remember to check out the links to my friends' cookie recipes at the bottom of this post!
Raspberry Thumbprint Shortbread Cookies
(Recipe adapted from Live Well Bake Often)
Tools
KitchenAid Stand Mixer or other mixer
Ingredients
1 cup unsalted butter softened
2/3 cup granulated sugar plus 3 tablespoons for rolling the cookies
2 large egg yolks room temperature
1 teaspoon pure vanilla extract
1/4 teaspoon salt
2 and 1/3 cups all-purpose flour spooned and leveled
1/2 cup raspberryberry jam (or whatever flavor you prefer)
Instructions
Preheat oven to 350°F . Grease baking sheets. (I used the paper from my butter sticks.) Or line two large baking sheets with parchment paper or silicone baking mats and set aside.
In the bowl of a stand mixer fitted with the paddle attachment, or in a large mixing bowl using a handheld mixer, cream together the butter and sugar for 1-2 minutes or until well combined. Mix in the eggs yolks, vanilla extract, and salt until fully combined, then mix in the flour. The mixture will be a little crumbly at first but it will come together as you continue mixing it.
Using a one-tablespoon cookie scoop or measuring tablespoon, measure out the cookie dough, roll into balls, roll each one in granulated sugar (optional), then place on the prepared baking sheets.
Use your thumb (or the handle of a large wooden spoon) to press an indentation into each ball of cookie dough. Spoon 1/2 teaspoon of jam into the indentation in each one.
Bake at 350°F for 12-14 minutes or until the cookies are set and the bottoms are lightly browned. Remove from the oven and cool on the baking sheet for 10 minutes, then carefully transfer the cookies to a wire rack to cool completely.
More Cookie Recipes
Cottage Cheese Chocolate Chip Cookies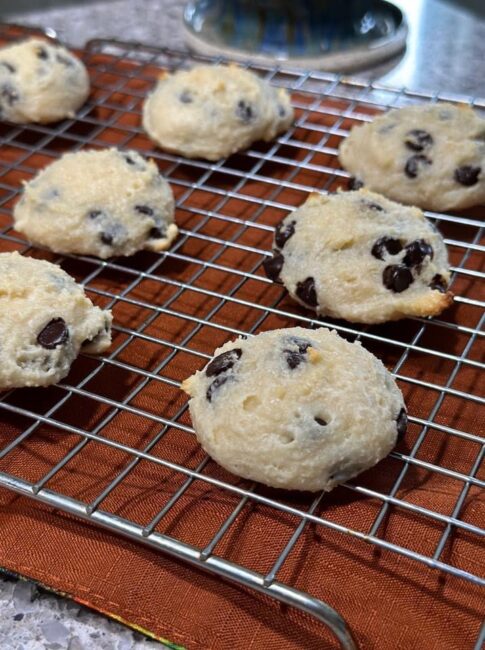 Snickerdoodle Blondie Bar Cookies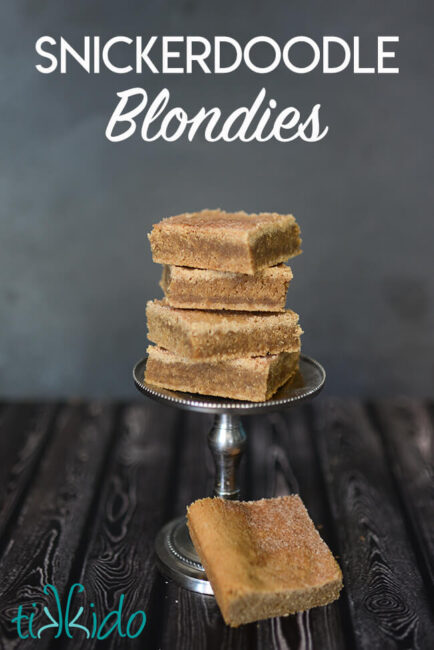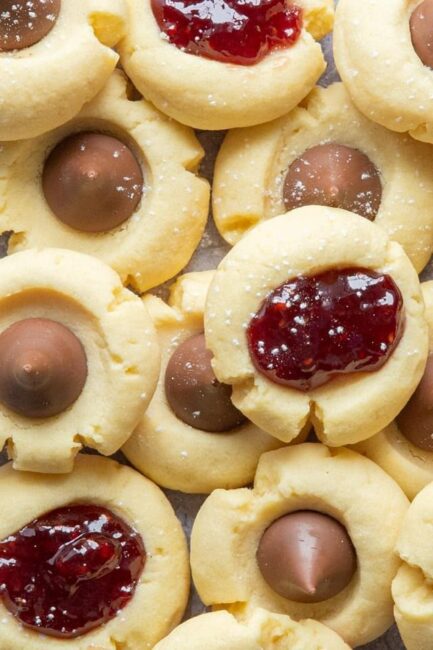 You Might Also Like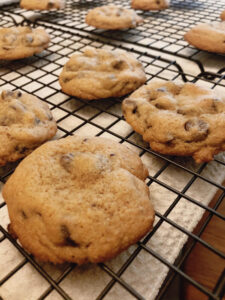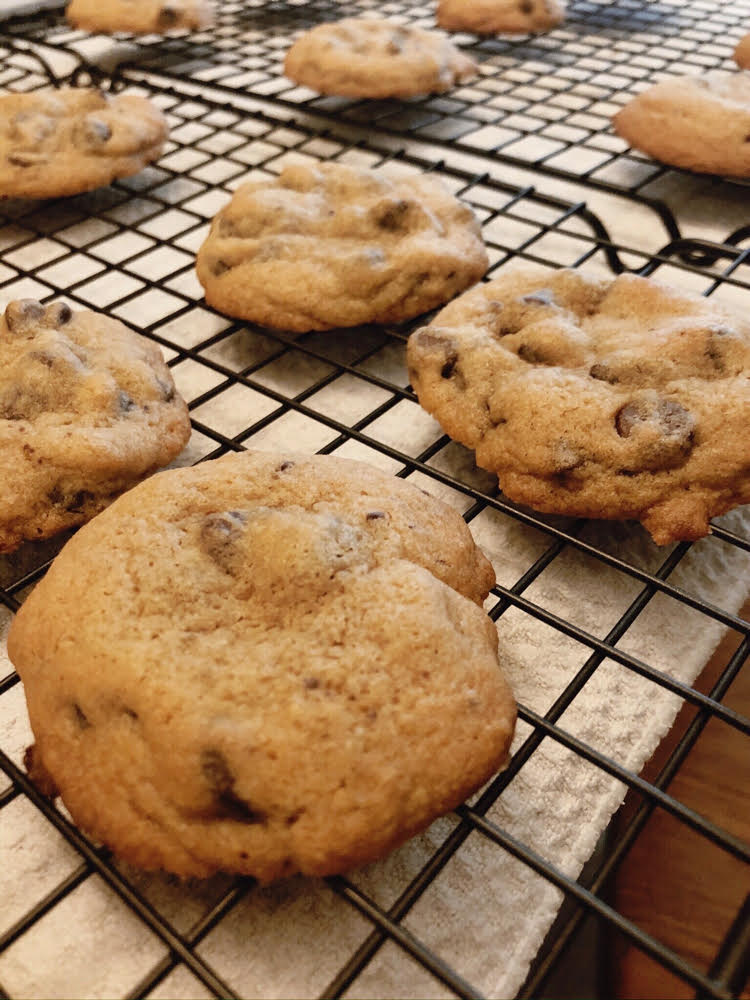 Peanut Butter Chocolate Chip Bars