This post contains Amazon affiliate links.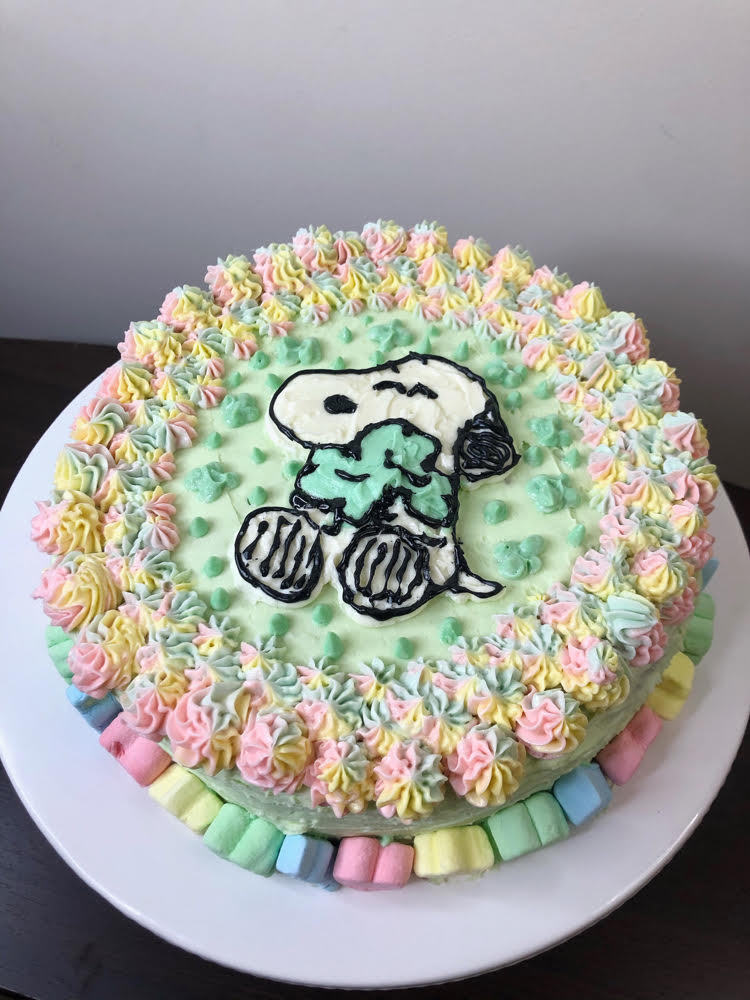 Welcome to the Taste Creations blog hop! On the first Monday of every month, my blogging friends and I get together to share recipes—today we are sharing "green" recipes in honor of St. Patrick's Day! I'm sharing something very special—a shamrock matcha cake that my sweet daughter made from scratch and decorated herself. She even put one of my favorite Peanuts cartoon characters—Snoopy—on top of the cake! I think her decorations and cake are so delicious and amazing!
St. Patrick's Day Cake
My daughters love matcha. In case you don't know what matcha is, it's a finely ground powder of green tea leaves. You can make tea with it, but you can also use it to flavor other things—like this cake! The matcha flavor in this cake is light. I think even someone not used to matcha would love this cake. A plus is that the matcha powder gives the cake a lovely light green color – which is perfect for St. Patrick's Day! (My daughter used food coloring to give the buttercream icing a green hue too.)
My daughter loves baking and decorating cakes. She also once made a gorgeous pink KitKat sweetheart cake for Valentine's Day! I don't knew where she got her cake-decorating skills from—it's not from me!
Cake Ingredients
(Recipe from Real Simple)
Cake:
2 3/4 cups all purpose flour, spooned and leveled
3 teapoons baking powder
1/4 teaspoon salt
2 1/2 tablespoons matcha powder
1 cup butter, room temperature
1 1/3 cups granulated sugar
4 eggs
2 teaspoons pure vanilla extract
1 cup milk
Buttercream Ingredients
(Recipe adapted from My Baking Addiction)
3 sticks unsalted butter, softened
Tiny pinch of fine sea salt
1 ½ pounds (24 ounces) powdered sugar, sifted
1 tablespoon vanilla extract
2-3 tablespoons heavy cream or milk
Food Coloring
Lucky Charms Marshmallows (for lining the bottom layer of the cake)
Baking Tools
Cake Directions
Heat the oven to 350°F. Butter two 8-inch round cake pans or line the bottom of each pan with a round of parchment paper.
Combine the flour, baking powder, salt and matcha powder in a medium bowl. Using an electric mixer, beat the butter in a separate large bowl until soft. Add the sugar and continue mixing until light and fluffy, 2-3 minutes. Add the eggs one at a time, mixing to combine. Stir in the vanilla. Add the matcha mixture and the milk in increments, alternating between them. Stir until just combined. Divide the batter evenly between the two prepared cake pans.
Bake cakes for 25-30 minutes, until a toothpick inserted in the center comes out clean. Let the cakes rest for 15 minutes, then remove them from the pans and transfer them to a wire rack to cool completely before frosting. My daughter used a sharp knife to cut off the rounded tops of the cakes to make them flat before icing.
Icing Directions
In the bowl of a stand mixer fitted with the paddle attachment, beat the butter on medium-high speed for 6-7 minutes.
With the mixer on low speed, slowly add in the salt and powdered sugar, and continue beating until the sugar is fully incorporated.
Add in vanilla and cream or milk and mix on low speed until incorporated.
Turn the mixer back up to medium-high speed and beat the buttercream for an additional 6-7 minutes.
If the buttercream is too thick, add in a bit of milk, one teaspoon at a time until you reach the desired consistency.
My daughter separated the icing into mini batches and used food coloring to get the desired colors. She used a green buttercream icing for the main part of the cake.
For directions on how to frost a layer cake, check out this YouTube video.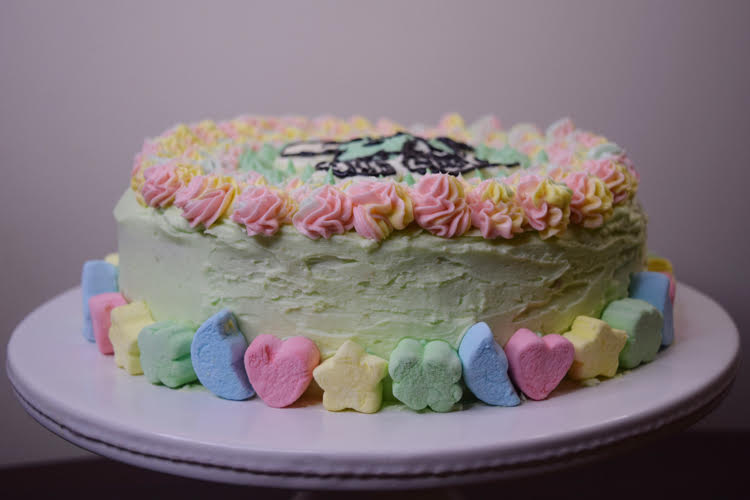 To make the rainbow buttercream, my daughter used icing and food coloring to create a few different buttercream colors. (She split the buttercream into small batches.)
My daughter then added the various colored icing in separated vertical rows to the piping bag. That way, when she piped the decorations onto the cake, she got a beautiful swirl of colors. Very nice!
Check out this YouTube video to see the technique my daughter used to make her rainbow buttercream icing.
To create the cute Snoopy and shamrock on top of the cake, my daughter piped the icings in the various shapes she needed onto the cake.
She used a knife and sometimes a spoon to smooth out her piped designs.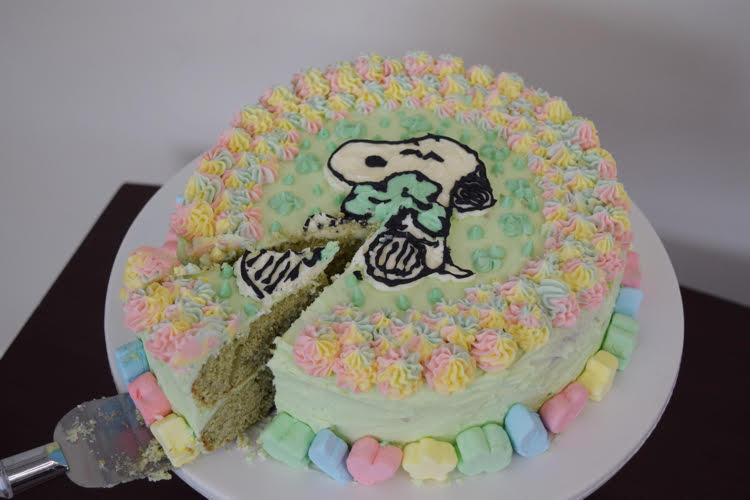 For extra fun, my daughter lined the bottom layer of the cake with Lucky Charms marshmallows.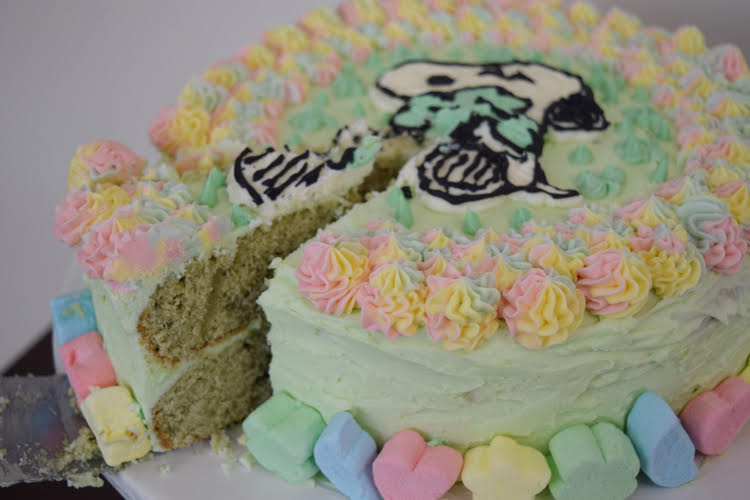 I am so amazed at how beautifully this cake turned out!
Pin This Recipe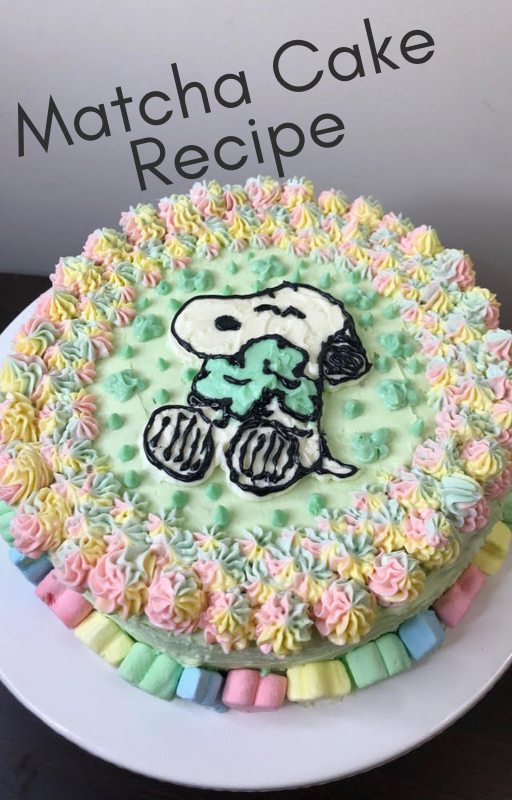 Check Out My Friends' St. Patrick's Day Recipes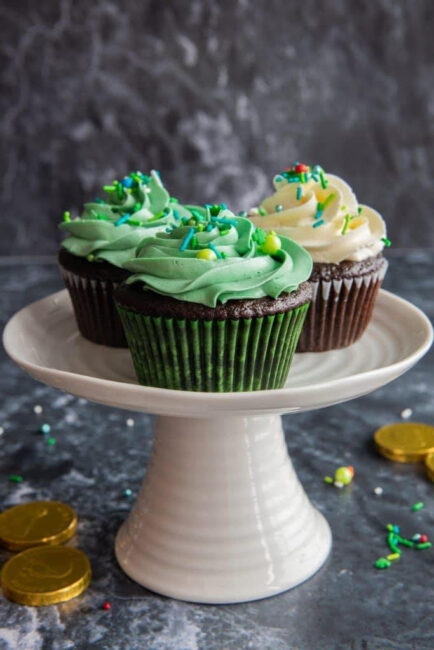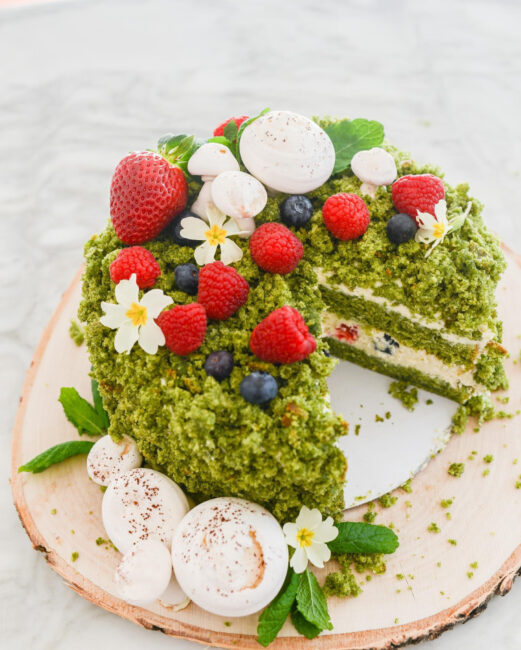 You Might Also Like