I received Americana Decor Chalky Finish paint in exchange for my review. This post contains Amazon affiliate links. If you click on an affiliate link and make a purchase, I earn a small commission that helps me to run this blog – thanks!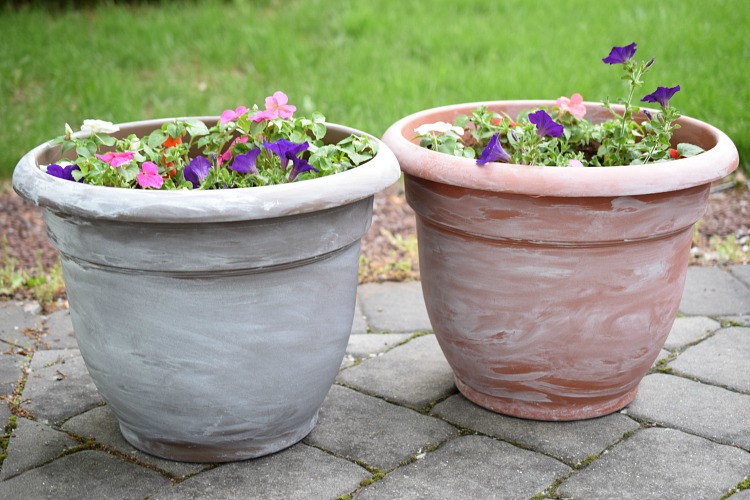 I am so happy that gardening season is here! Carrie of Curly Crafty Mom and I are both sharing new posts for our summer gardening series! I'm showing how I white-washed inexpensive plastic pots for my backyard patio, and Carrie is sharing her newly decorated front porch for summer. Read on to the bottom of this post to see Carrie's fun project!
DIY White Washed Pots
It makes me happy to play in the dirt and plant flowers! I've been researching how to add flowers to my home's backyard patio. I finally found a simple way on Pinterest to add pretty but inexpensive pots to my patio, so I got to work earlier this week.
My inspiration is Cami at the blog, Tibits, who shared how to white-wash real terra cotta pots. I love how this easy technique mimics the look of aged real terra cotta pots. I just happened to have white chalk paint on hand, so I decided to try this project.
White washing is basically a technique where you apply a thinned out paint to a surface. This technique allows some of the original surface to show through. White paint is often used, but you could use other colors, too, for just as pretty an effect.
The pots I picked up are faux (plastic) terra pots, but the technique works well on both real and faux terra cotta pots.
Materials
Terra Cotta Pots
(real or faux plastic ones both work)
Chalk Paint
(I used Americana Decor Chalky Finish paint in Everlasting)
Foam Paint Brush Set
Paper Towels
Water
How to Chalk Paint Terra Cotta Pots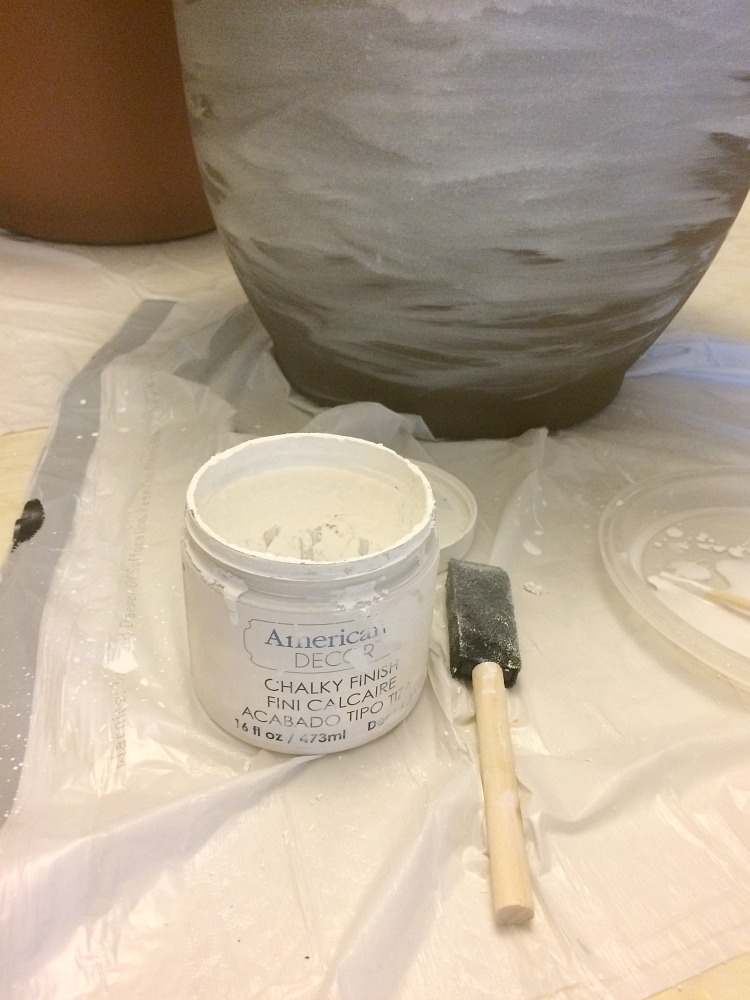 It was raining the day I picked to paint my pots, so I spread some kitchen garbage bags out on the kitchen floor to create a painting area. (I found that Kitchen Trash Bags
can be great mini tarps. I always have them on hand, and even if I get paint on them, I can re-use them for the kitchen trash!)
This is what the plastic faux terra cotta pots looked like before I painted them.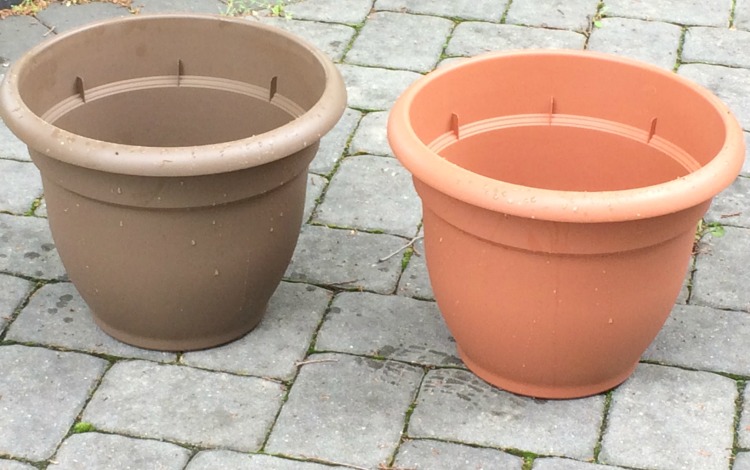 To create my white wash, I simply mixed some white chalk paint with water to get a watery consistency. I applied the white wash to my pots with a foam brush. After I applied the white wash to the pots with my brush, I smeared the paint with a paper towel to give the wash a uniform, faded appearance.
White washing the pots only took a few minutes — I think the chalk painted pots look great on my gray paver patio.
I only tried this with white chalk paint, but I think all colors of the rainbow would be just as beautiful using this technique. Check out this tutorial from Brooke of All Things Thrifty shows how to use the white wash technique with a pretty blue green color.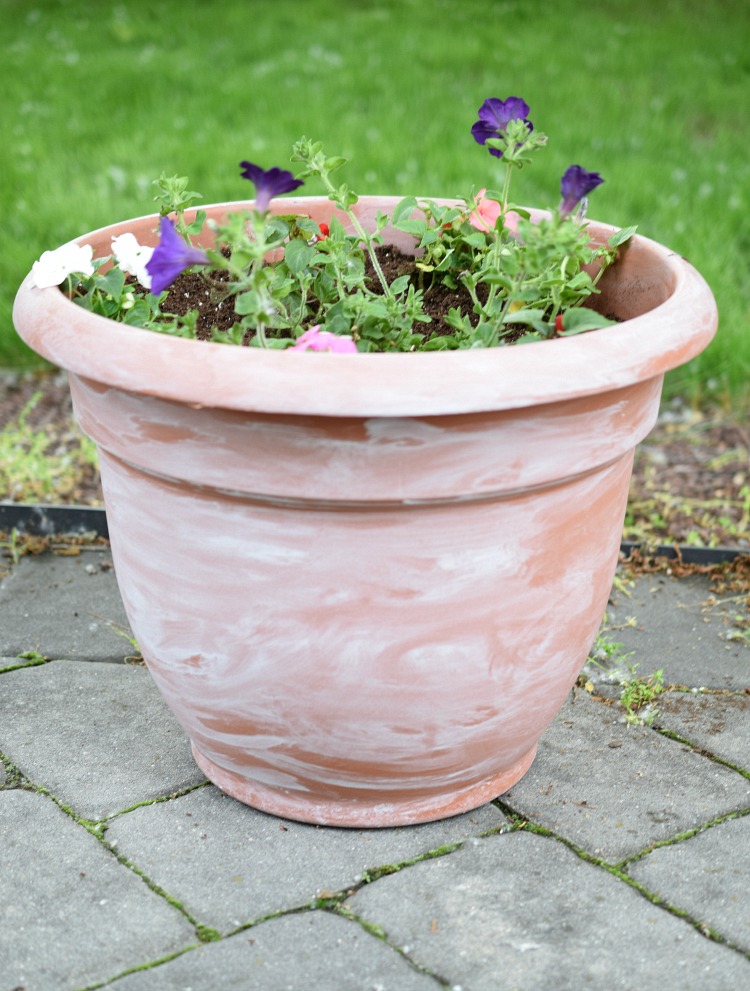 The below photo shows how the gray plastic pot turned out.

Annual Flowers for a Shady Patio
You might have noticed in the above photos that there is moss growing in between the pavers of my western-facing paver patio. That moss drives me nuts and I'm always scraping it out! The moss is a sure sign that while my patio is at times sunny, it also gets some shade.
Because the patio is shaded at times, I chose hardy annual flowers for my white washed flower planters that can take some shade — petunias (Proven Winners Supertunia Royal Velvet) and impatiens. I planted the annual flowers in a good potting soil mix.
I am looking forward to seeing how my potted annual flowers will look in a few weeks!
My friend Carrie at Curly Crafty Mom is also sharing a post about an updated summer outdoor space. (Her adorable front porch.) Stop by to see her post!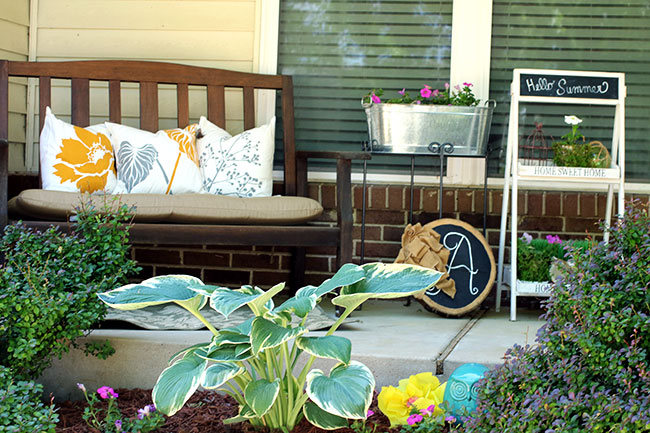 Other Projects You Might Like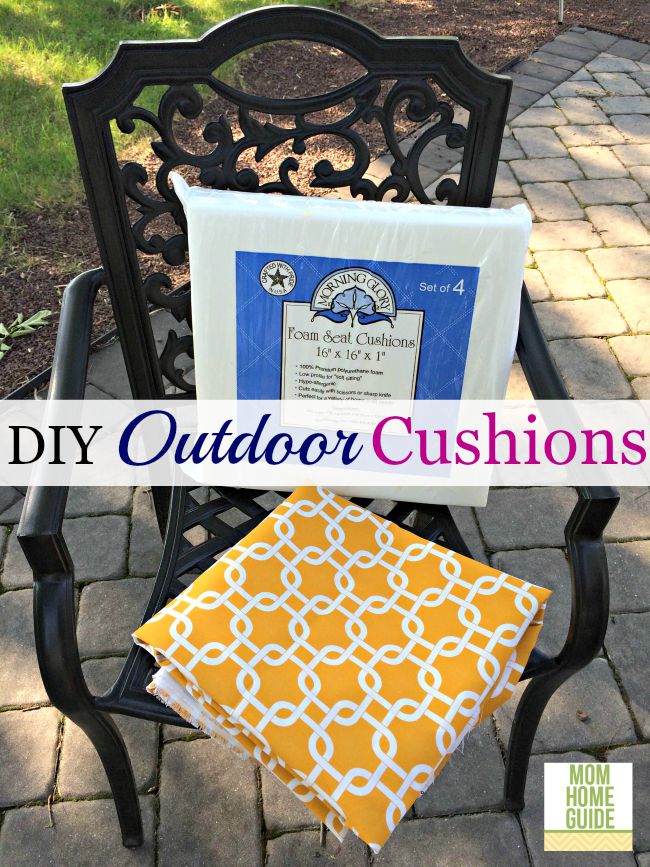 Readying a Patio for Summer (Plus Water Feature)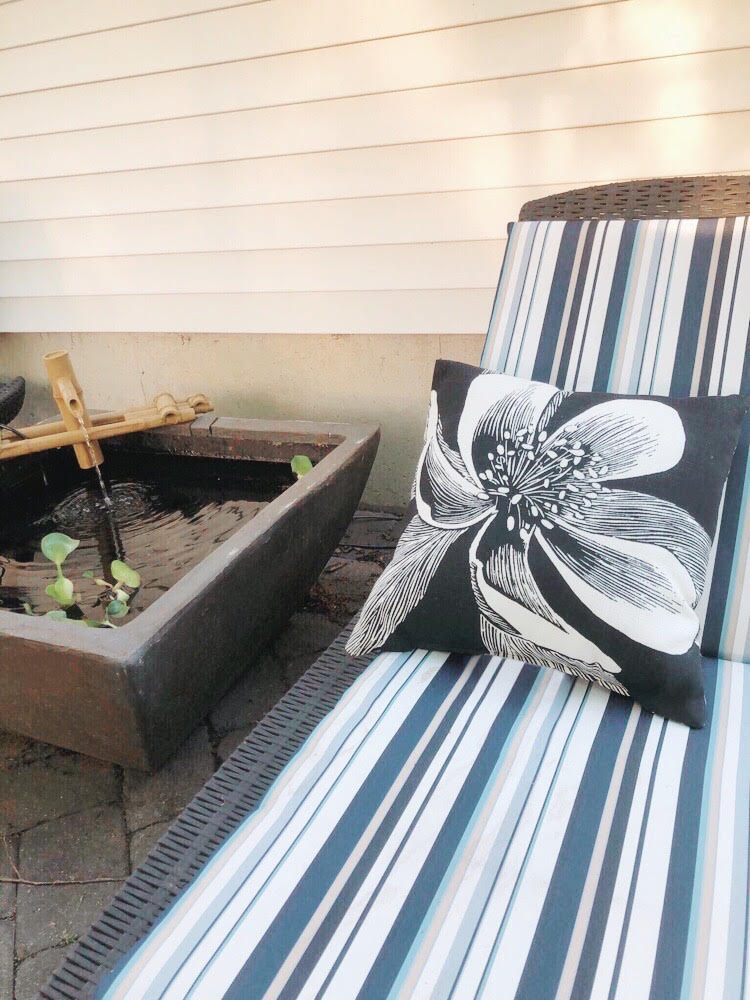 DIY Wind Chime with Beads & Bells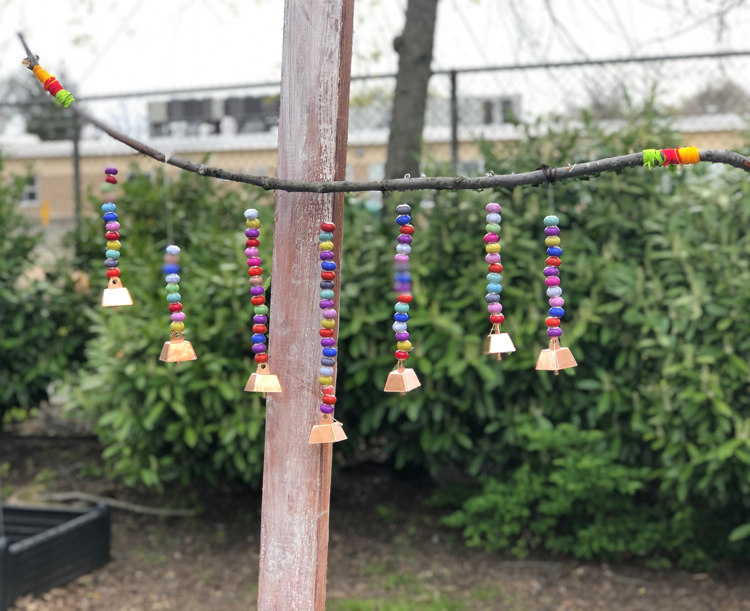 DIY String Light Planter Posts