Happy 2014, everyone! I can't believe that 2013 is over! Last year was a busy one here at Mom Home Guide. So, before launching my new projects for 2014, I am going to share the best of what I accomplished in 2013! Here is my 2013 Mom Home Guide Year in Review.
Burlap Crafts
Burlap was popular in 2013, so like many crafters, I jumped onto the burlap bandwagon in 2013. It was fun! Two of my favorite burlap crafts I completed was my stenciled no-sew burlap valance for my home's downstairs powder room, and my no-sew fringed burlap table runner. Both projects were problem solvers, as I was having a hard time finding a valance that I liked for my home's downstairs bathroom. My very large farmhouse-style kitchen table is hard to fit with tablecloths and table runners, so the burlap table runner that I made works just perfectly! (Check out the links below for these projects' tutorials.)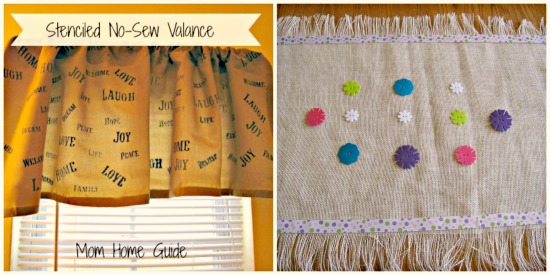 Stenciled Burlap Curtain and Burlap Table Runner
Wine Storage and Tags
I love getting together with friends, so last year, I completed two projects that make entertaining just a little bit easier. I created simple wine-glass tags so my friends can tell whose drink is whose, and I installed an inexpensive wine glass rack

underneath a kitchen cabinet to provide storage for my wine glasses … and my margarita glasses! (Click the links below to get the info on these projects.)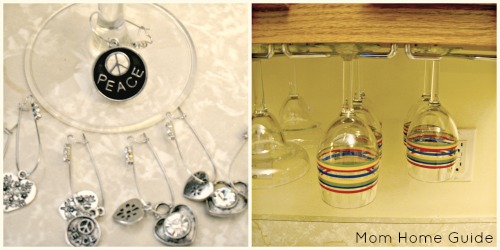 Crafty Wine Glass Tags and Wine Glass Rack
Home Organization
I worked hard to get my home and all its stuff under control … organizing my house is a never-ending job! I organized my children's bedroom, my kitchen and my kids' basement playspace. (Check out the links below to read more about these projects.)
A Year Full of Organization
Tween Decor
My kids officially became tweens in 2013, so I updated their bathroom by switching out the kid decor and swapping in more sophisticated tween wall art, decals, etc. My daughters love their new tween bathroom! I also created a fun hangout /study / media space for them by painting an accent wall and adding a fun mural and some chalkboard paint. I outfitted the room with a TV (an old one, but I hope to update it with a flat screen TV at some point) and two beanbag chairs. It's a great space for my kids to read or play games/surf the Internet on their mobile devices.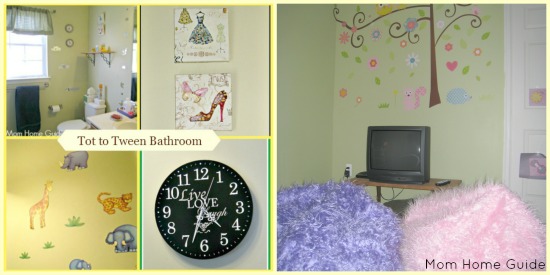 New Tween Bathroom and Tween Study / Media Space
Gardening and Landscaping
I love spending time outdoors, so I worked hard to improve my home's outdoor spaces in 2013. Among my top projects were staining the backyard shed's ramp and adding some shed landscaping, creating a pretty DIY flower tower for my home's backyard patio and planting a sunny perennial garden that included my favorites — mammoth sunflowers!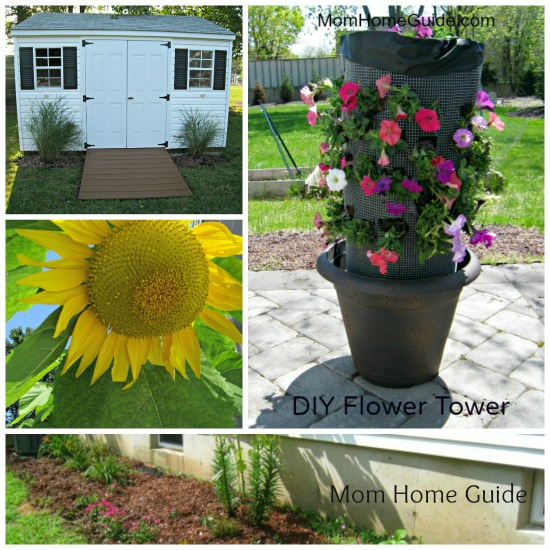 Landscaping a Backyard Shed, August Garden Tour with Mammoth Sunflowers and DIY Flower Tower
Join the Fun!
Whew! I got a lot done in 2013! I have so much to do, though — my daughters may get their own rooms, I plan to furnish my home's living room, and I hope to turn my home's unfinished basement into a useable living space. So, keep in touch — there will be lots of fun projects and recipes ahead! You can follow the fun on Facebook, Twitter, Bloglovin, and by subscribing to Mom Home Guide's emails. Happy 2014!
This Post Was Shared At