This post contains Amazon affiliate links. These links cost you nothing, but may earn a small commission that helps fund this blog. Thanks!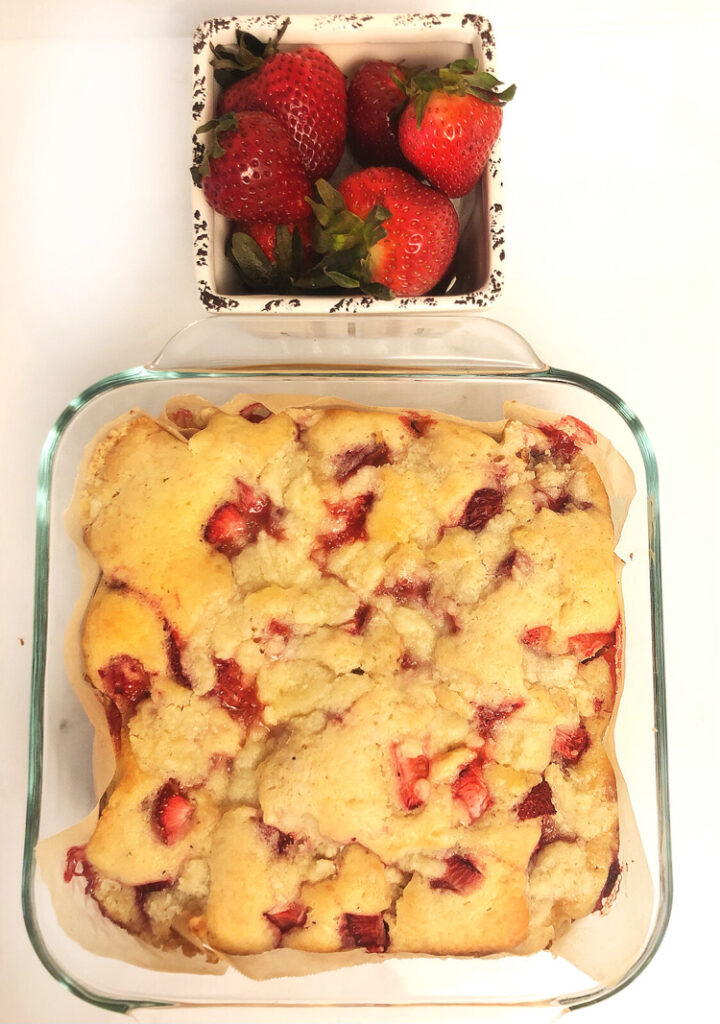 My family and I have an easy fresh strawberry coffee cake recipe that I have been baking for years. My twin teens love the recipe so much that they even requested it for their 18th birthday this year! I recently tweaked the recipe a little to make my fresh strawberry coffee cake even easier and more delicious!
I am sharing the recipe as part of the Taste Creations Blog Hop. The first Monday my blogging friends and I get together to share recipes along a certain theme or ingredient — this month we are all sharing berry recipes! Be sure to scroll to the bottom of this post to see my friends' delicious berry recipes!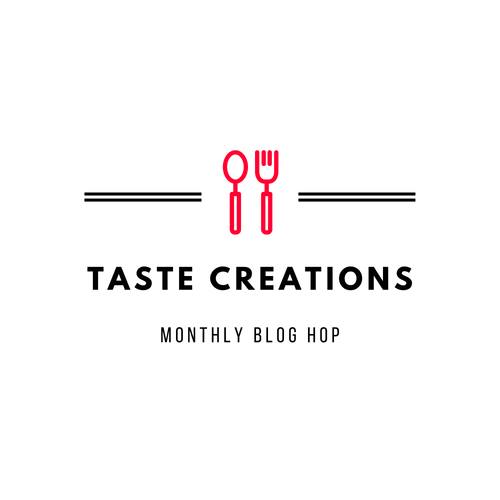 If you love strawberries, you will adore my new and improved fresh strawberry coffee cake recipe! My new recipe includes strawberries in the batter AND in the topping! The buttery crumb topping on this version of my strawberry cake tastes just as good as my standard version, but it includes a lot less butter.
Tools You May Need
Fresh Strawberry Coffee Cake Recipe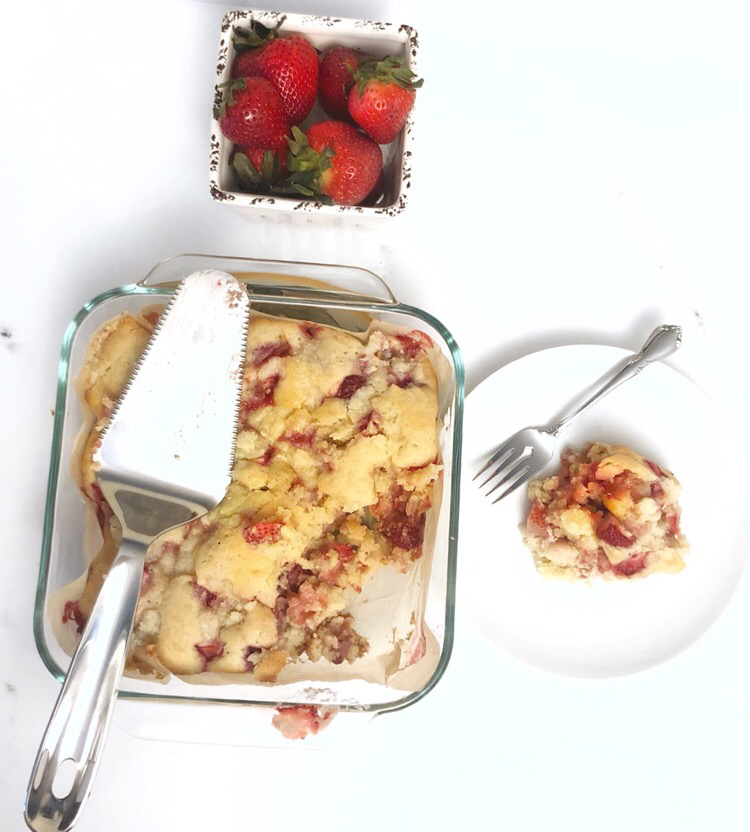 This strawberry coffee cake include two cups of fresh strawberries and is topped with a buttery sugar streusel topping.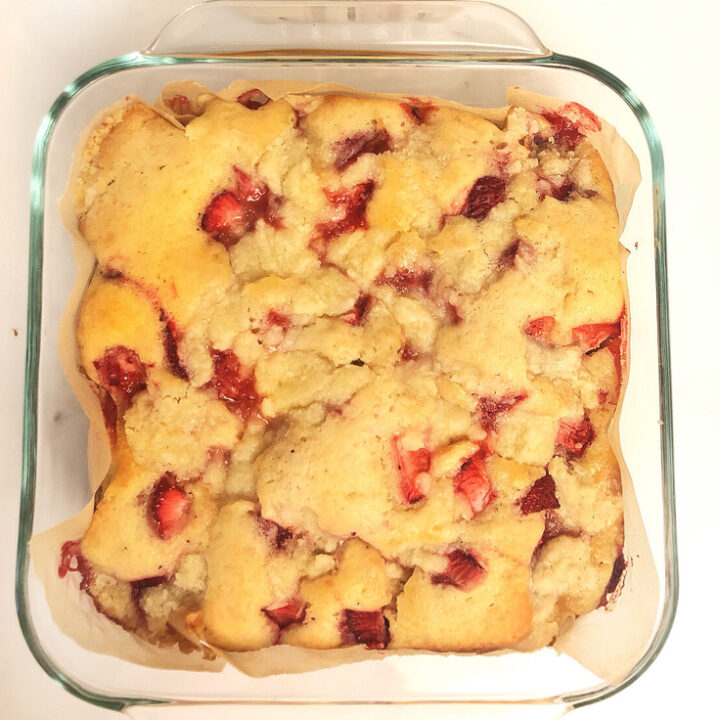 Fresh Strawberry Coffee Cake
Cook Time:
40 minutes
35 seconds
Total Time:
55 minutes
35 seconds
This light and moist fresh strawberry cake includes 2 cups of strawberries and is topped with a buttery crumb topping.
Ingredients
CAKE
¼ cup unsalted butter softened
¾ cup granulated sugar
1 large egg
1 teaspoon vanilla extract
1½ cups all-purpose flour
2 teaspoon baking powder
½ teaspoon salt
½ cup buttermilk
(if you don't have buttermilk, you can add about a tablespoon of fresh lemon juice - I squeezed some from a lemon - or add 1 tablespoon of white vinegar to milk - I used 2%. Stir and let sit for about 5 minutes before adding to your recipe.)
1 cup fresh strawberries, quartered
TOPPING
1/2 Cup Sugar
1/2 Cup Flour
3 Tablespoons salted butter, melted
1 Cup Fresh Strawberries, sliced
Instructions
Preheat oven to 350℉.
Line a 9x9 baking dish with parchment paper.
Using an electric mixer, cream the butter and sugar together.
Add the egg and vanilla to the butter and sugar mixture and beat until well combined.
Combine the flour, baking soda and salt together in a separate bowl. (I just use a spoon to mix it.)
With your mixer on, slowly beat in the flour mixture and the buttermilk, adding in a little of the buttermilk, then the milk, and repeat, until everything is combined.
Using a silicone spatula, gently fold in the quartered strawberries.
Line your 9x9 baking dish with parchment paper. (I used a glass baking dish.)
Pour the batter into the 9x9 baking dish.
Evenly top the batter with the sliced strawberries.
Melt 3 tablespoons of butter in a large bowl. (i heated the butter up for about 25 seconds in the microwave to melt it.)
Add 1/2 cup sugar and 1/2 cup flour to the bowl and mix until combined. (I mix it by hand with a spoon.)
Spoon the sugar/butter/flour mixture over the batter in the baking dish.
Place the baking dish in the oven. Bake its contents about 35-40 minutes until the crumb topping is lightly browned and until an inserted toothpick comes out clean.
Once you make this strawberry coffee cake recipe, your friends and family will request it!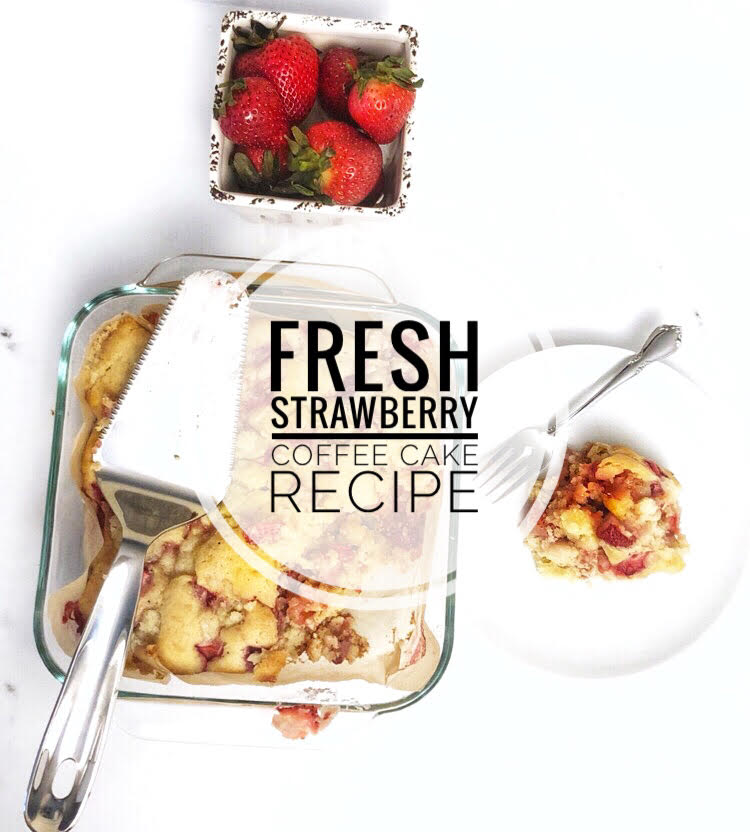 I mentioned earlier in this post that my teens requested this cake as their birthday cake this year. I shared this recipe with a good friend of mine, and her husband asked for this cake on his birthday this year, too. It's that good!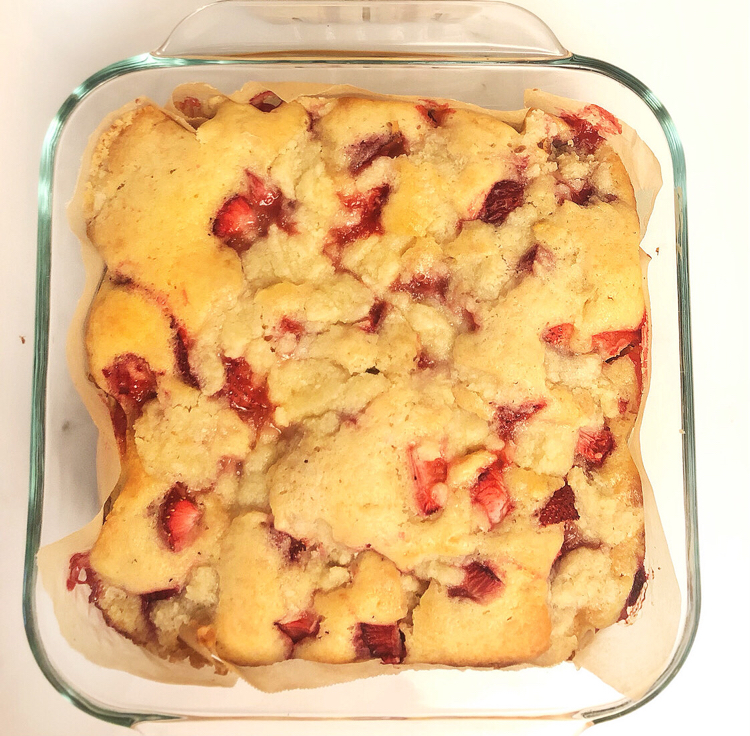 Fresh Berry Recipes
Be sure to check out my friends' berry recipes!
Strawberry Cheesecake Popsicles — Tikkido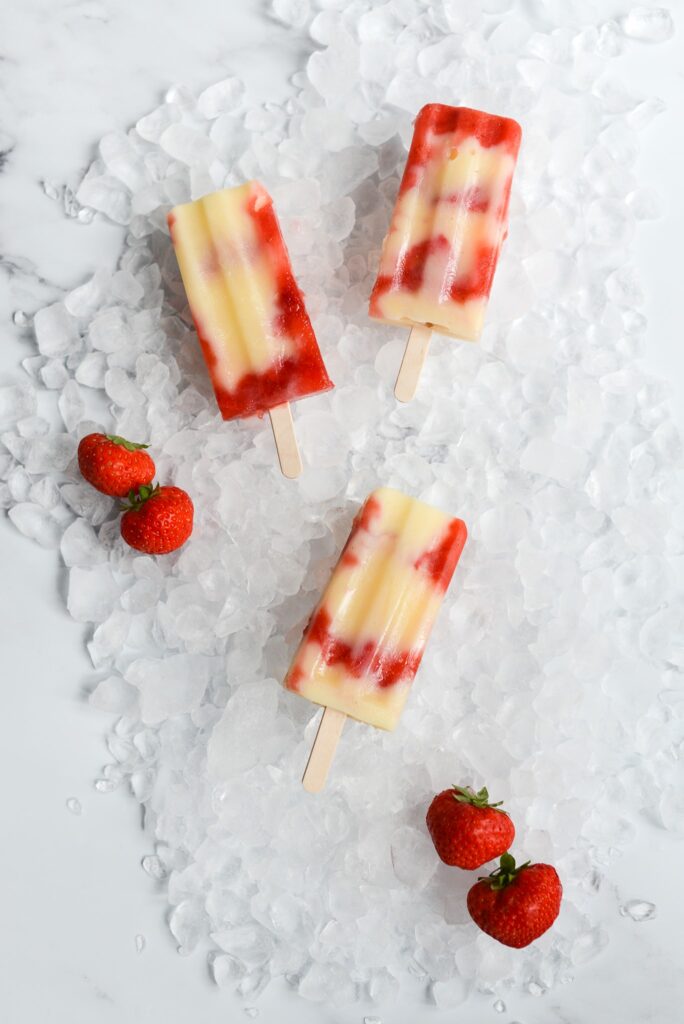 Pin This for Later!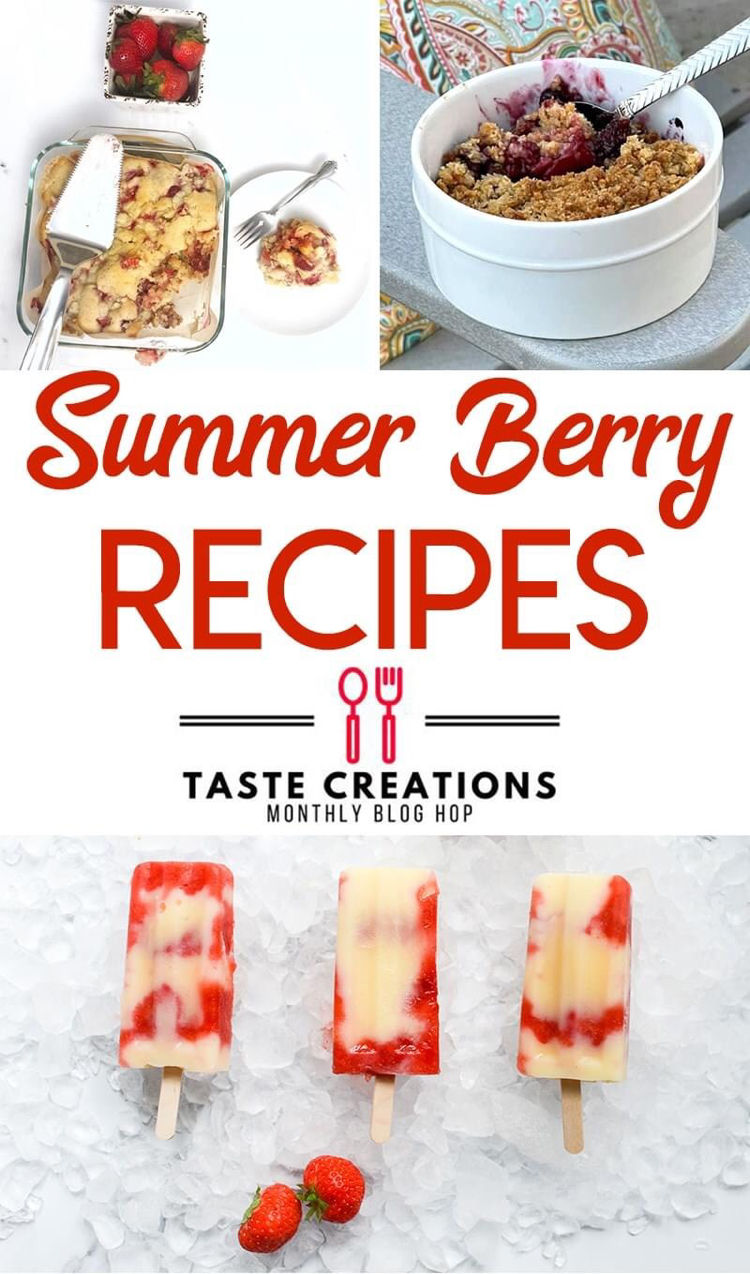 More Delicious Recipes