This post contains Amazon affiliate links.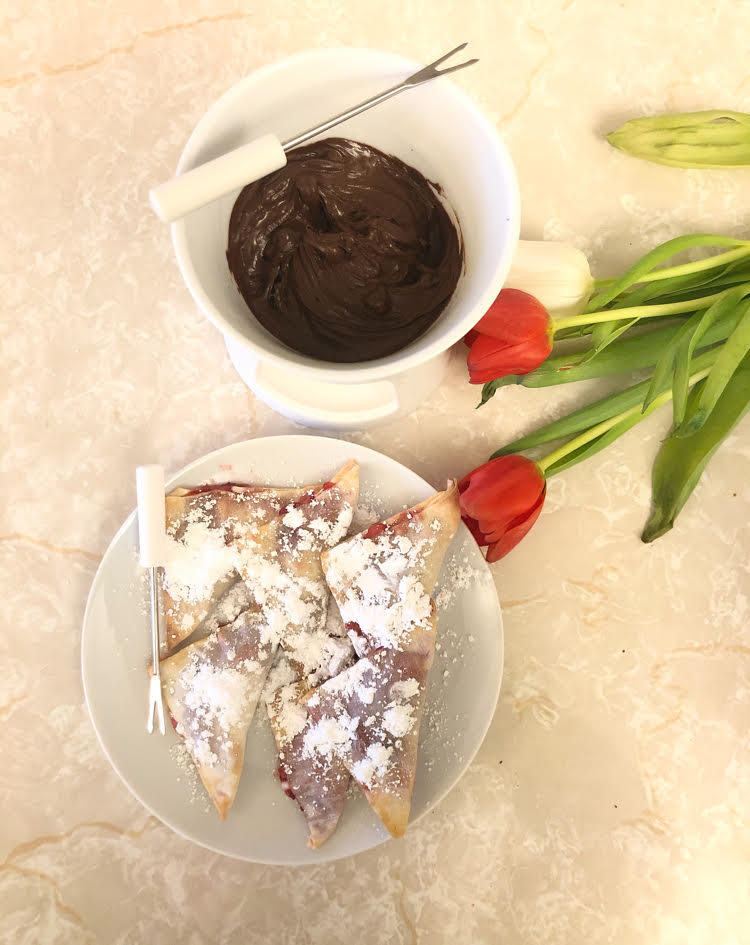 I love making treats for my family, especially as we spend more time at home together in recent months. I recently received some Twin Dragon Asian Won Ton Wrappers. I've been wanting to use my air fryer more. So I came up with a recipe to make in my air fryer – Air Fried Strawberries and Cream Cheese Fondue Wontons. I also recently came across my fondue set, so I thought some air fried strawberries and cream cheese wontons dipped in chocolate fondue would be a wonderful Valentine's Day treat!
I am sharing my recipe today as part of this month's Pinterest Challenge blog hop. Each month my blogging friends and I complete a project or recipe that we've pinned on Pinterest. Today we are sharing Valentine's Day desserts.
My inspiration for today's recipe came from this pin on Pinterest. I am also sharing this recipe as my weekly Tasty Tuesday feature, in which I share some of my favorite recipes.
I made my air fried strawberries and cream cheese wontons with Twin Dragon Won Ton Wrappers. These wrappers are certified vegan, non GMO and low sodium. They are easy to use and can be boiled, steamed or fried.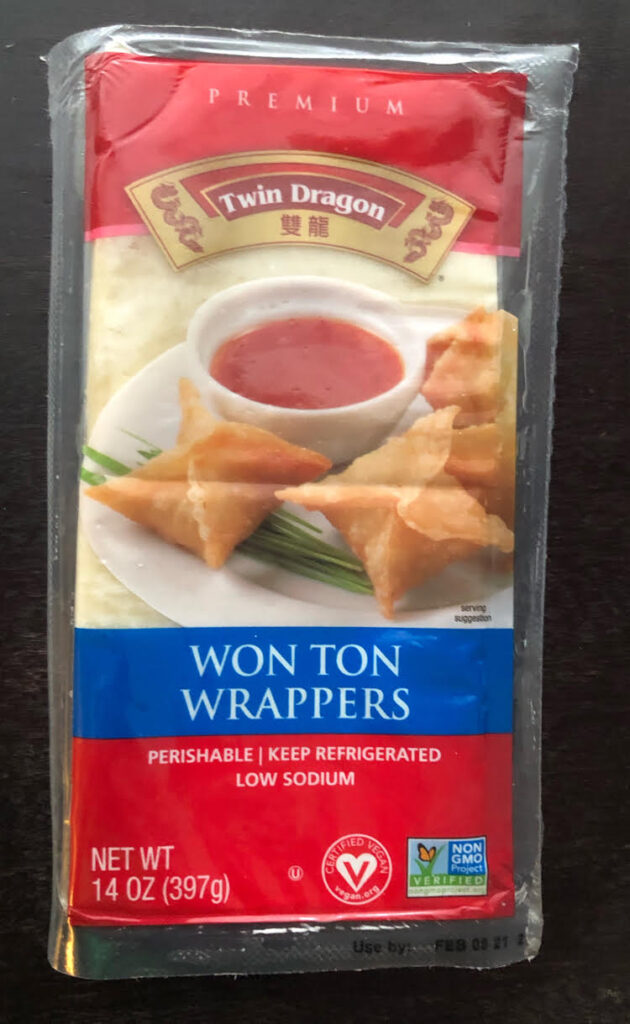 I was excited to use the Twin Dragon Won Ton Wrappers. It turns out that last week for my birthday, my daughters gave me a pretty blue dumpling maker
set. I've been looking forward to using it! I used one of my dumpling makers to help me crimp and seal my dumplings closed. It was quite easy and fun!
My medium-sized dumpling crimper was perfect for sealing my Twin Dragon Asian Won Ton Wrappers. You can easily seal these wrappers without using a dumpling crimper, too. It was just more fun to use my new dumpling set!
I used my Midea Air Fryer to make my Air Fried Strawberries and Cream Cheese Fondue Wontons. I made my wontons in about three batches, and it only took about 15 minutes total. (I cooked each batch for 5 minutes each.) I am always happy to find new ways to use my air fryer!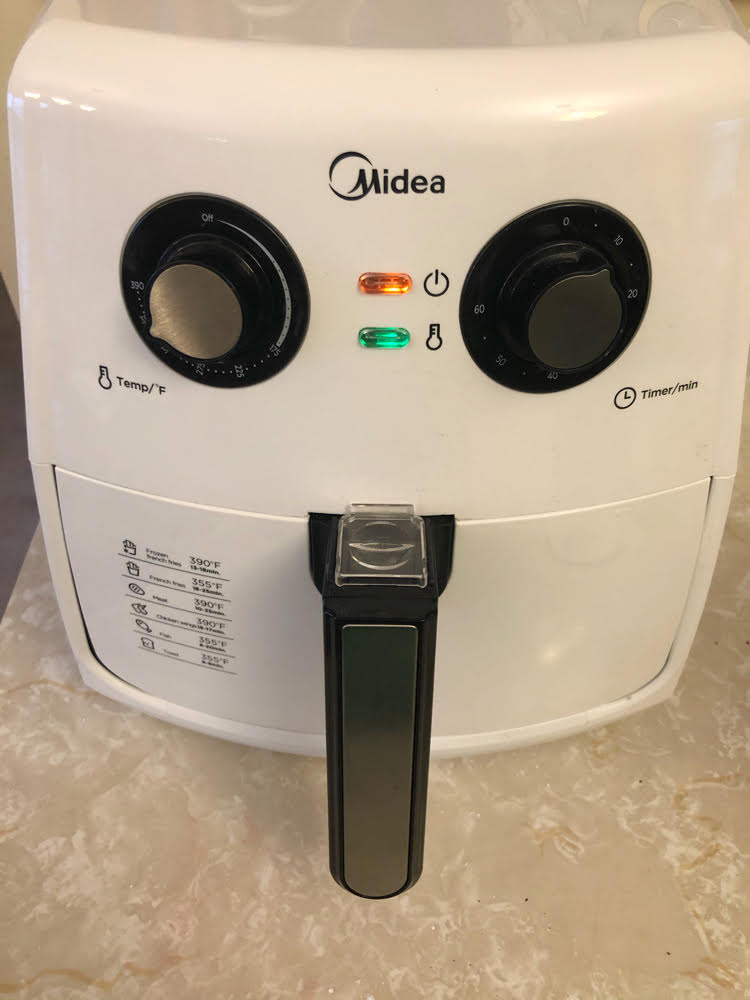 Air Fried Strawberries and Cream Cheese Fondue Wontons Ingredients
16 Twin Dragon Won Ton Wrappers
2 Cups Strawberries (I used frozen, but fresh ones would work, too.)
4 ounces Cream Cheese
4 Tablespoons Powdered Sugar (If you don't have powdered sugar, you can substitute regular granulated sugar.)
Extra Powdered Sugar for Dusting
Approximately 1 Cup Water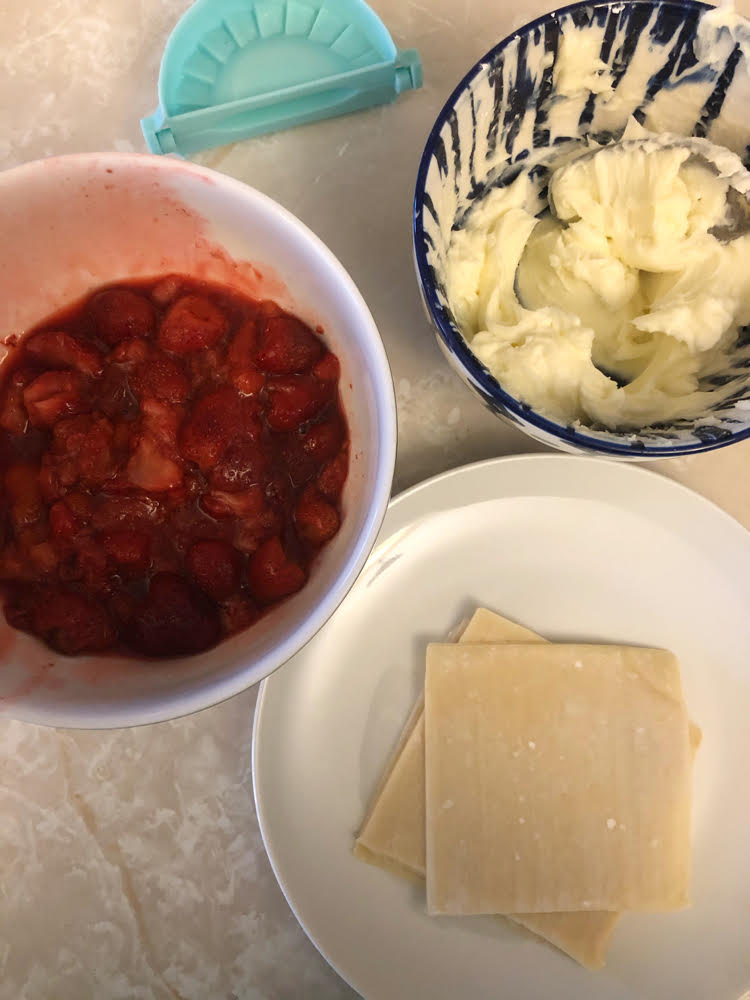 For the Fondue:
1 Cup Semisweet Chocolate Chips
2-4 Tablespoons Milk
Tools
Fondue Set
Air Fried Strawberries and Cream Cheese Fondue Wontons Instructions
Making these delicious dessert wontons is so easy! To create them, I first hand mixed (with a spoon) 4 ounces (half a package) of room temperature cream cheese with 4 tablespoons of powdered sugar.
I microwaved 2 cups of whole frozen strawberries until they were warm and not frozen. I then put the strawberries into a strainer and strained out the extra liquid. I used a knife to cut the strawberries into small pieces.
I used one of my dumpling makers to assemble my dessert won tons. To make a wonton, I put a wonton wrapper in the dumpling maker.
I then put about a tablespoon of sweetened cream cheese in the center of a wonton wrapper. I then topped each dollop of cream cheese with a small amount of strawberries. I dipped a clean finger in a bowl of water and used my finger to wet the edges of the wonton wrapper.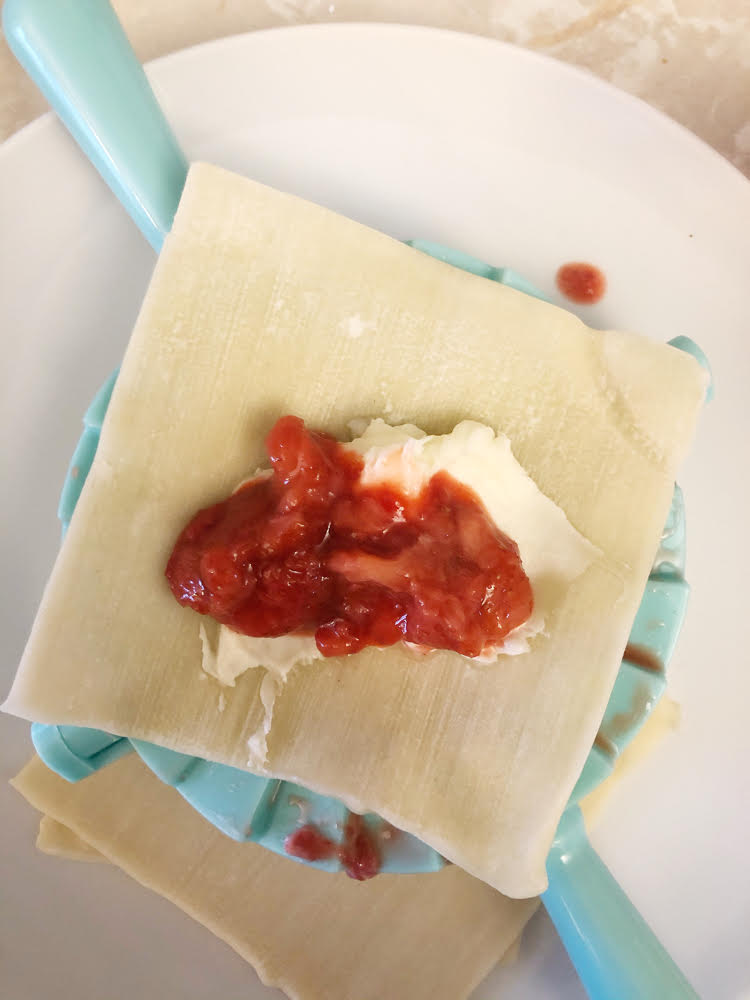 I then folded the dumpling maker closed to seal and crimp each dumpling closed. A little bit of the strawberries might run out of the dumplings when you are crimping them closed, but that's OK. I wiped the edges of each dumpling on occasion. That way, my dumplings had a cleaner look after crimping them.
Once my dumplings were assembled, I rubbed a small amount of olive oil onto the bottom of my air fryer basket. I preheated my air fryer to 350 degrees Fahrenheit. I air fried six wontons at a time, making sure to have a small space between each wonton.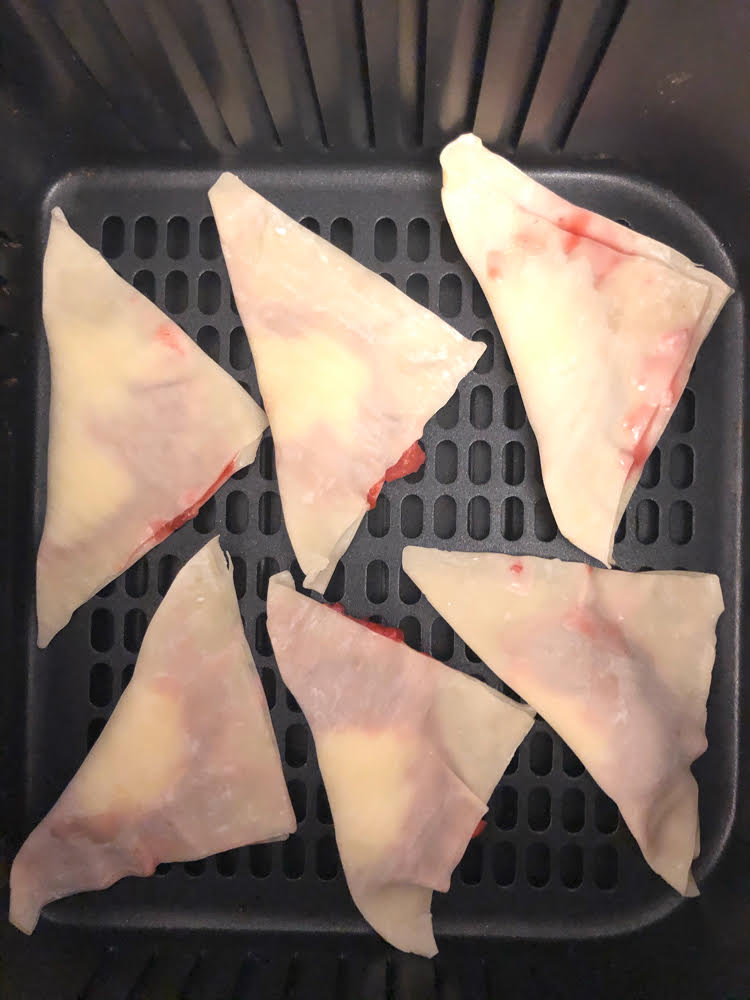 While the last batch of wontons was air frying, I prepared the chocolate chips for the fondue. I simply microwaved a cup of chocolate chips in the microwave in the bowl of my fondue set for about 40 seconds until they were soft.
I stirred the chocolate chips to further melt the chocolate once it was out of the microwave. I added a tablespoon of milk at a time until I had the consistency I wanted for the fondue. (The chocolate should be like liquid, but not too thin. You want it to be able to coat the wontons when you dip the wontons into the chocolate.)
I lit a small candle under the fondue bowl to keep the chocolate warm. I set out the wontons and the fondue with skewers on our coffee table in my home's family room to enjoy.
I have always loved fondue. (When I was a kid, I thought it was called "Fun to Do.") My husband got me my cute Fondue Set as a gift a few years ago.
I especially love chocolate fondue – the bowl of my fondue set says "Simply Chocolate" on it.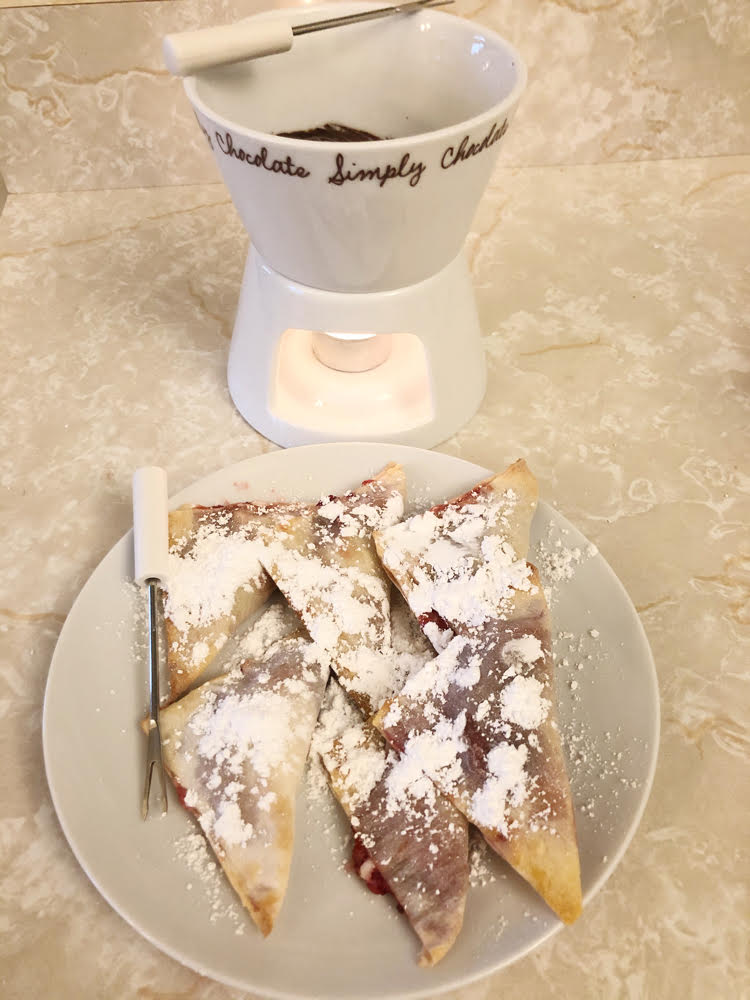 My family really enjoyed these air fried strawberry and cream cheese air fried wontons!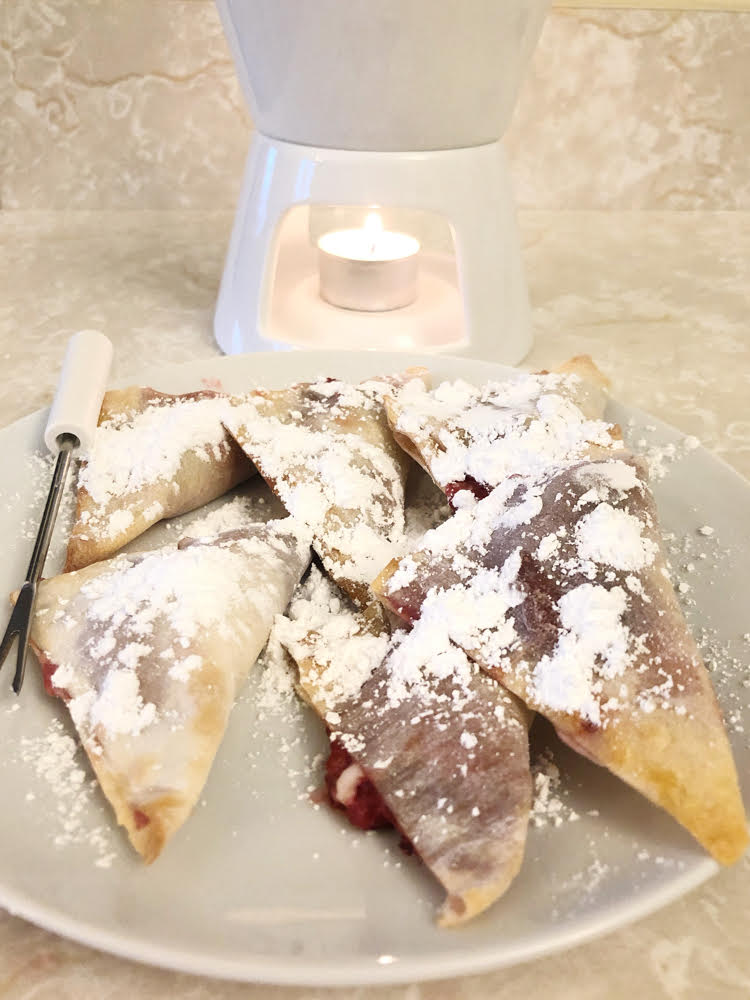 These air fried strawberry cream cheese wontons fondue recipe is perfect for Valentine's Day, but it's also a fun game day treat, too!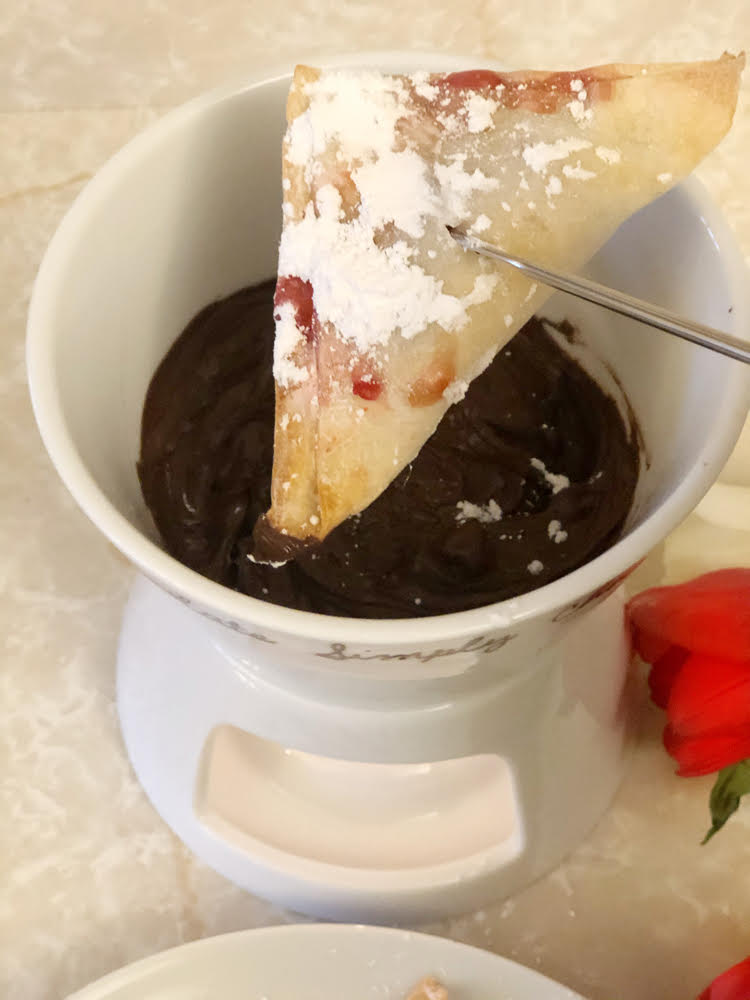 Check Out My Friends' Valentine's Day Dessert Recipes
For more Pinterest inspired projects from this month's Pinterest Challenge hosts, check out the links below.
My Pinterventures • Mom Home Guide
Our Good Life • Farm Girl Reformed • Slices of Life
Purple Hues and Me • Our Sutton Place • My Family Thyme
Little Vintage Cottage • Life Beyond Kitchen
You Might Also Like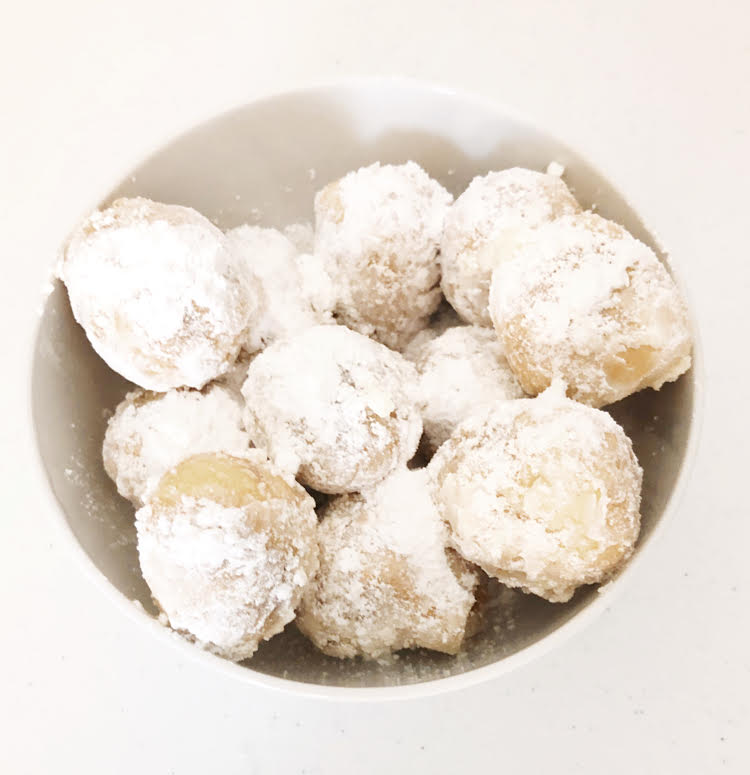 Sea Salt Chocolate Chip Cookie Bars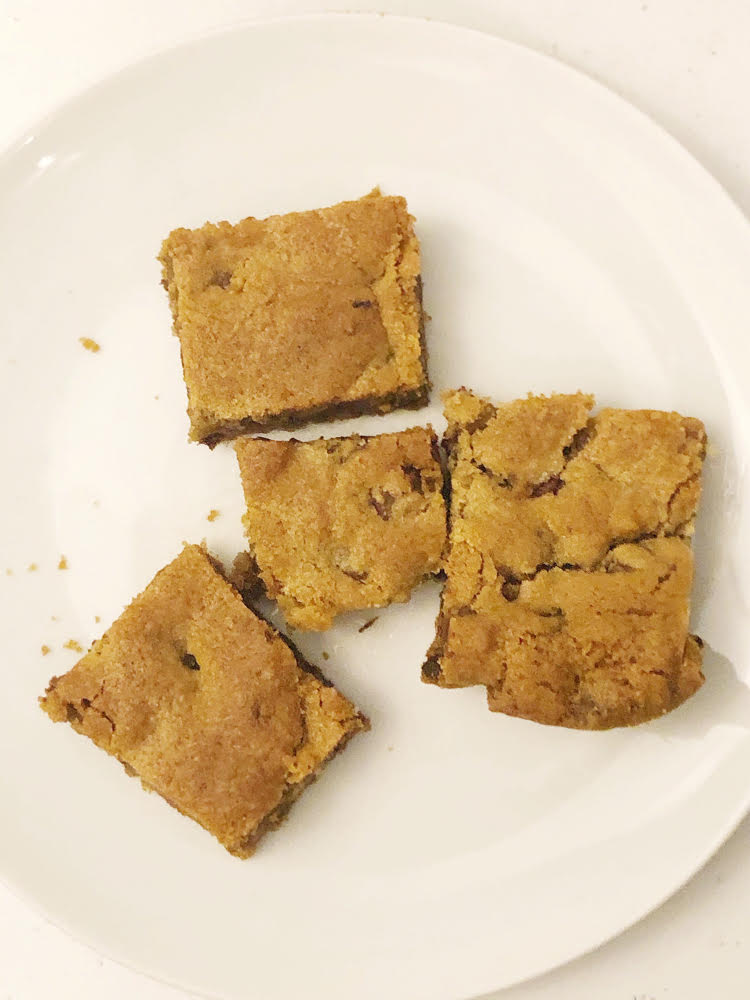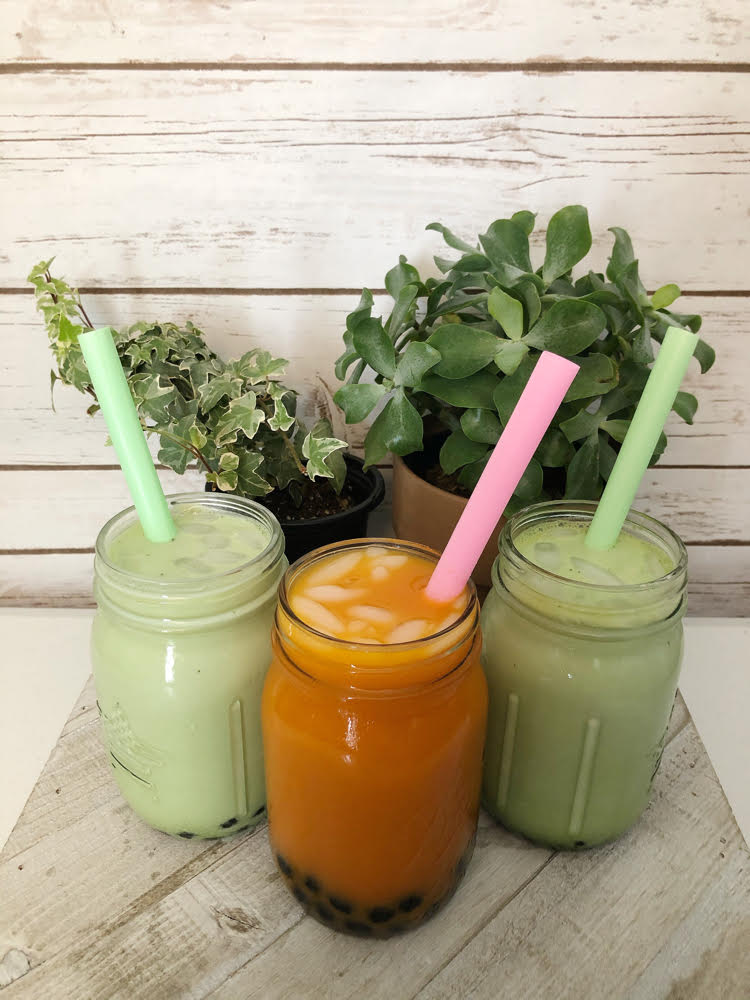 Charcuterie Board & Snack Tray