This post contains Amazon affiliate links.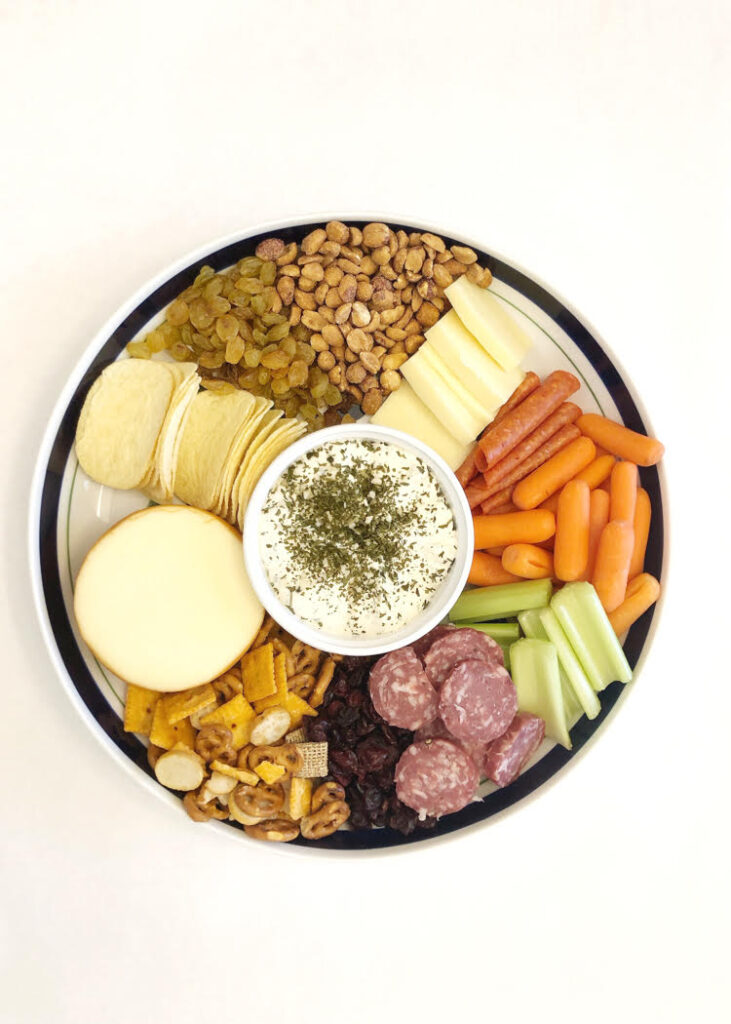 Welcome to Tasty Tuesday, a new feature on Mom Home Guide. On Tuesdays, I am sharing some of my favorite recipes. Today I am featuring a fall charcuterie board and snack tray. This charcuterie board is perfect for when you are hosting a small get together, or for an afternoon of movies at home with the family. My family and I enjoyed this charcuterie board one day recently while watching movies together.
You might be wondering: What is a charcuterie board? Charcuterie is word that refers to cold cooked or delicatessen meats, but a charcuterie board can include many types of foods. That's part of the fun! (And you can even leave out the meat if you are vegetarian.) Charcuterie boards often include salamis, cheeses, veggies, olives, nuts, snack foods and dried or fresh fruit. For my charcuterie board, I tried to add some fall-hued veggies and snacks.
Charcuterie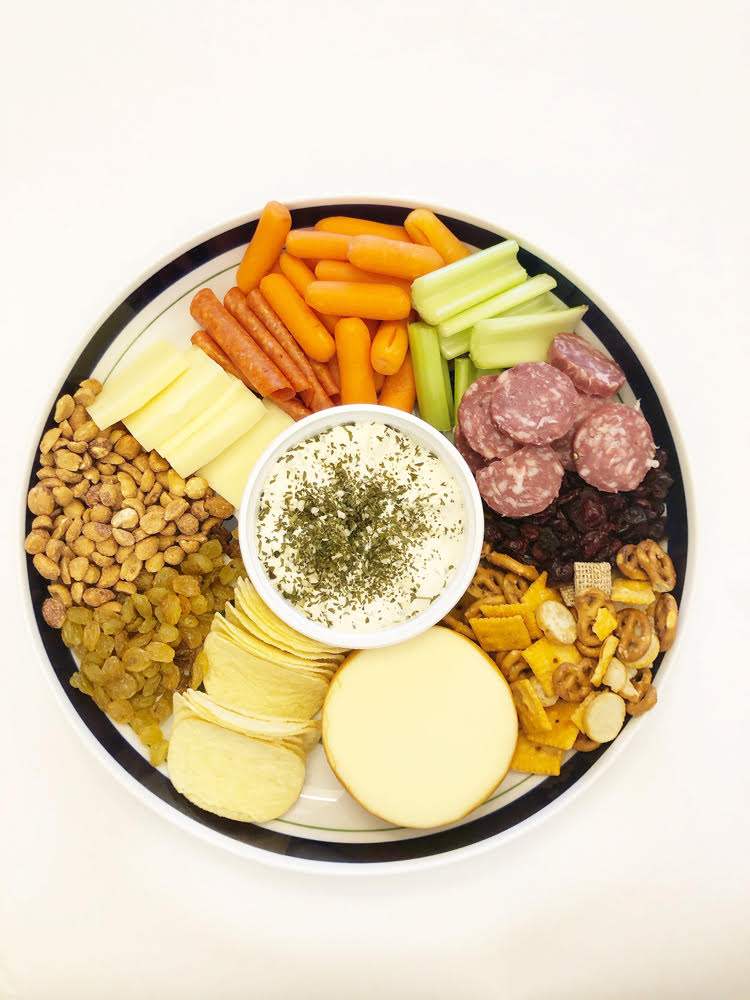 For the charcuterie or meat portion of my fall charcuterie board or snack tray, I added a hard salami and slices of soppresatta, a cured dry Italian sausage. My husband is most fond of the meat selections of any charcuterie board. Other meats that I sometimes add to our charcuterie boards are prosciutto (an Italian dry cured ham) and Genoa salami (a cured sausage).
Cheeses
A variety of cheeses is often a main attraction on charcuterie boards. I'm fine with that! I adore cheeses of all kinds.
When I put a charcuterie board together, I like to include a few different types of cheeses.
I often like to include a soft cheese spread like Alouette Garlic & Herbs Soft Cheese Spread. I adore that cheese spread! This creamy cheese spread has a blend of garlic and dried herbs, and is perfect over some crackers. I used Alouette Cheese, which is made in Lancaster, PA, for this snack tray.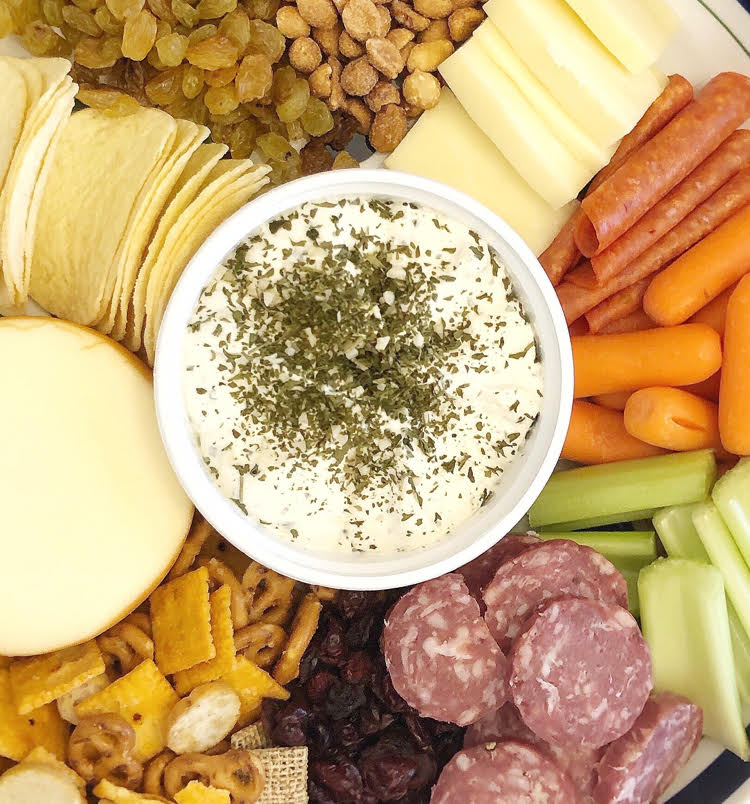 I also adore Boursin spreadable cheese, which is made in France. It's very similar to Alouette Cheese but more expensive generally.
I also like to add hard cheeses to a charcuterie board. Some of my favorite hard cheese are Cabot's cheddar cheeses and pepper jack cheese, which is actually a semi-hard cheese. (Check out my post about when we visited Cabot Farmer's Store in Vermont – that was heaven for me!) The store had so many cheeses out for tasting. Since that visit, I always search out the Cabot cheese in my grocery store!
To this board I added slices of sharp cheddar cheese and a round of smoked Gouda cheese – which my husband loves. A Dutch cheese from the Netherlands, Gouda is a mild semi-hard cheese that's quite popular.
I love cheddar cheese. Cheddar cheese is a semi-hard cheese originally from England. It can be sharp or mild. Cheddar is said to be the most popular cheese in the world.
Fruits & Vegetables
I like to balance the meats and cheeses on a charcuterie board with fresh vegetables. On this board I included some baby carrots. celery sticks, raisins and dried cranberries.
Other good options would be slices of grapes, strawberries, blueberries, raspberries, cucumber, apple or pear slices, or orange slices.
Snack Items
To our snack board, I added a Cheez-It snack mix (one of my daughters loves Cheez-Its.) I also add Planter's Honey Roasted Peanuts, which is one of my all-time favorite snacks. It is the perfect sweet and salty snack!
We also added some Pringles potato chips, which is another favorite of my family.
Plating Your Charcuterie or Cheese Board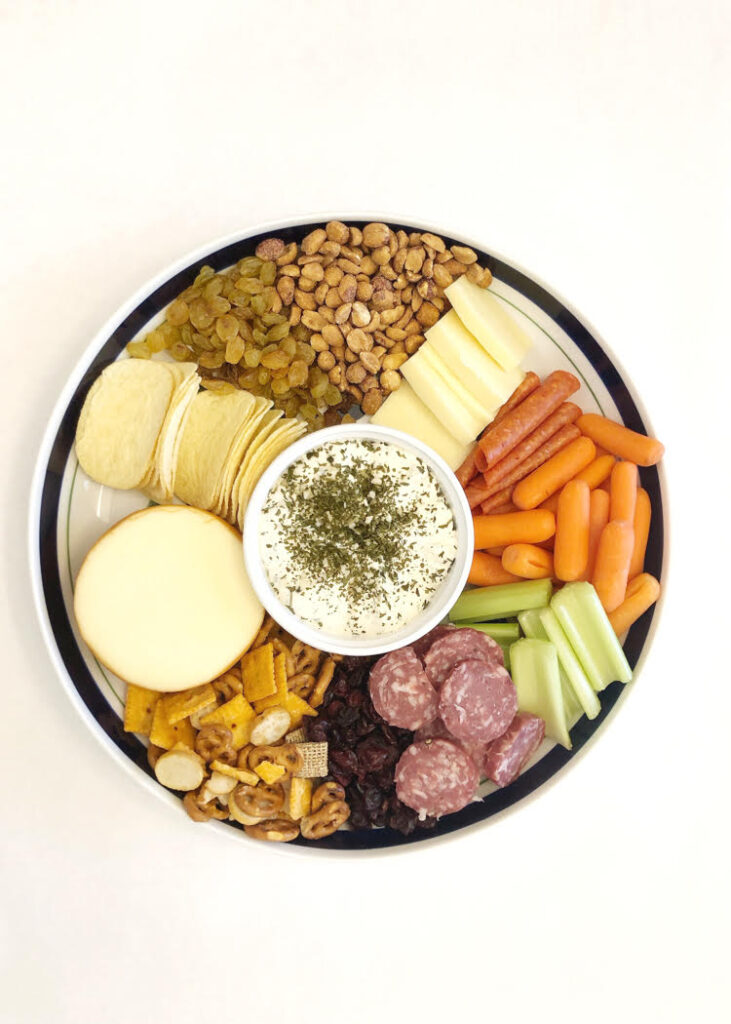 I plated my charcuterie "board" on a large round plate. Of course, it is more fun to serve your charcuterie board on an actual cheese board.
Many people plate their charcuterie spread on a wood board. Nonporous hardwoods like maple, teak and acacia are said to be good choices.
Marble is also recommended as a good cheese board surface. The marble will help the cheeses remain cool. Plus, the marble looks really nice, too. I really like the look for this Marble/Teak Wood Serving Board
.
It's also fun to get some tools for your charcuterie board. I've always been a little confused by the different types of knives for cutting cheese. It turns out that there are knives for getting even and thin slices, speciality knives for soft cheeses, cheese cleavers for hard cheeses and cheese forks.
In my opinion, I think it would be nice to start out with a soft cheese knife (which is made to have less surface for the soft cheese to stick to), a cheese spreader for cheese spreads like Alouette and Boursin, and a narrow plane knife for cheddar, and gouda cheeses or a cheddar cheese knife, which is also good for hard cheeses. (Check out this really good illustrated guide to cheese knives.)
This 4 Piece Knife Set
from Amazon looks like a good choice.
What do you like on a charcuterie board? Please share in the comments!