This post contains Amazon affiliate links.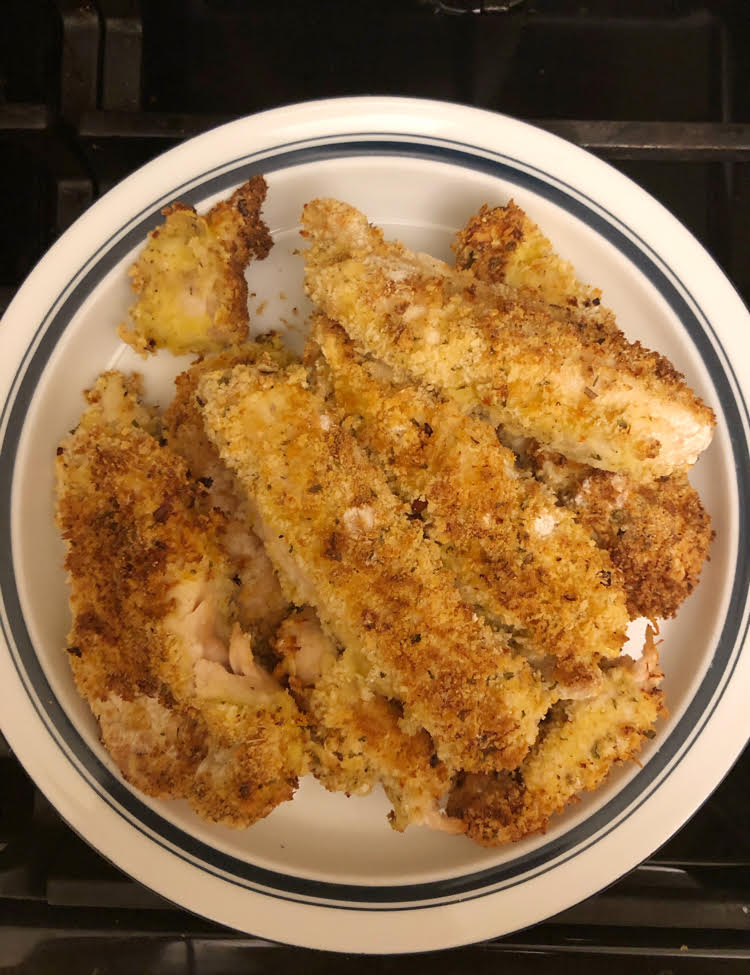 One of my daughters loves chicken nuggets. I recently cooked up a batch of air fryer
chicken nuggets for dinner one night, and she loved it! What I like about using the air fryer is that it is quick and easy, doesn't involve messy oil, and is a cinch to clean up! Air fryer chicken tenders taste just as good as traditionally fried chicken tenders do, but are healthier since they aren't fried in oil.
I got my air fryer about two years ago. I haven't used it much, however. Now that I've made these chicken tenders, I will be looking for more air fryer recipes to use! My chicken tenders cooked up in just 15 minutes, and cleaning the tray of my air fryer was so much easier than cleaning a pot or a baking sheet. I think I might be in love with my air fryer!
I got my air fryer chicken tenders recipe from Jo Cooks. My family likes everything to be extra flavorful, so I added extra garlic powder and dried oregano to the breadcrumbs to taste to my recipe.
Air Fryer Chicken Tenders Recipe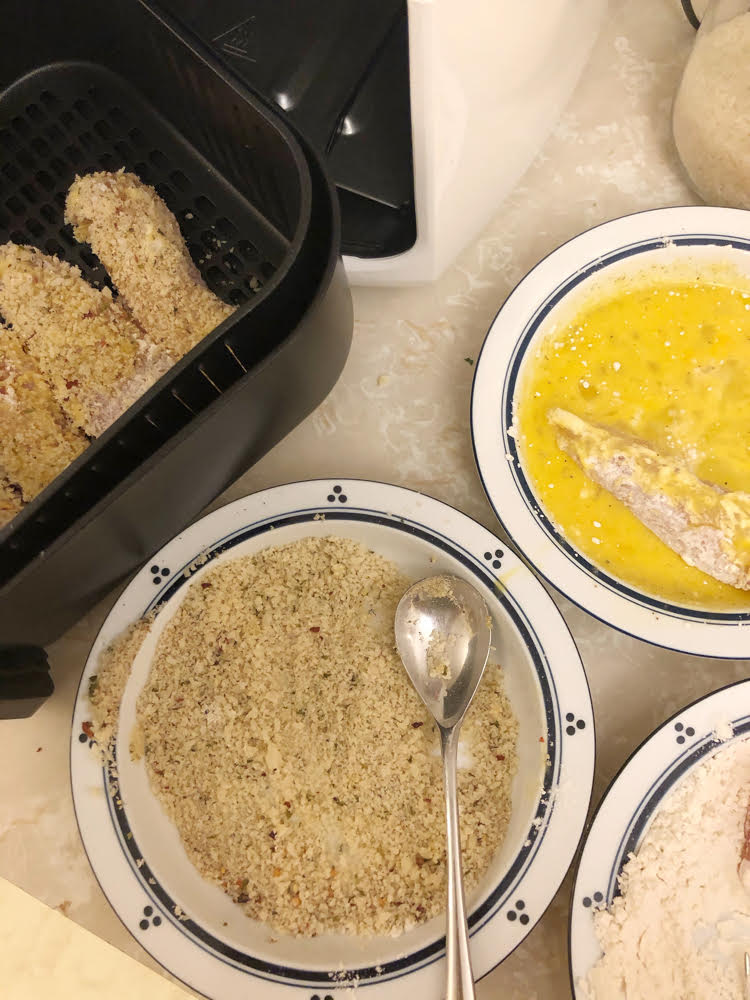 Chicken Tenders
Breadcrumbs (I used Panko)
Salt and Pepper (to taste)
Galic Powder (to taste)
Dried Oregano (to taste)
Eggs (Large)
All-Purpose Flour
Air Fryer Chicken Tenders Instructions
This recipe calls for breading the chicken in the same way you'd bread chicken for traditional frying.
I put flour in one shallow bowl, egg in another bowl and seasoned breadcrumbs (I used Panko) in another.
I dredged the chicken in flour, then egg and then my seasoned breadcrumbs.
Once each chicken tender was coated, I laid it across the bottom of my air fryer pan. I was able to fit all the chicken tenders in the pan.
I made a quick and easy dipping sauce for the chicken tenders. I basically mixed about a quarter cup of sour cream with yellow mustard to taste and stirred. This "sauce" adds the taste of mustard to the chicken and is a lot creamier!
I will definitely be making these chicken tenders for dinner again.
Check out my recipe card below for the complete ingredients and instructions.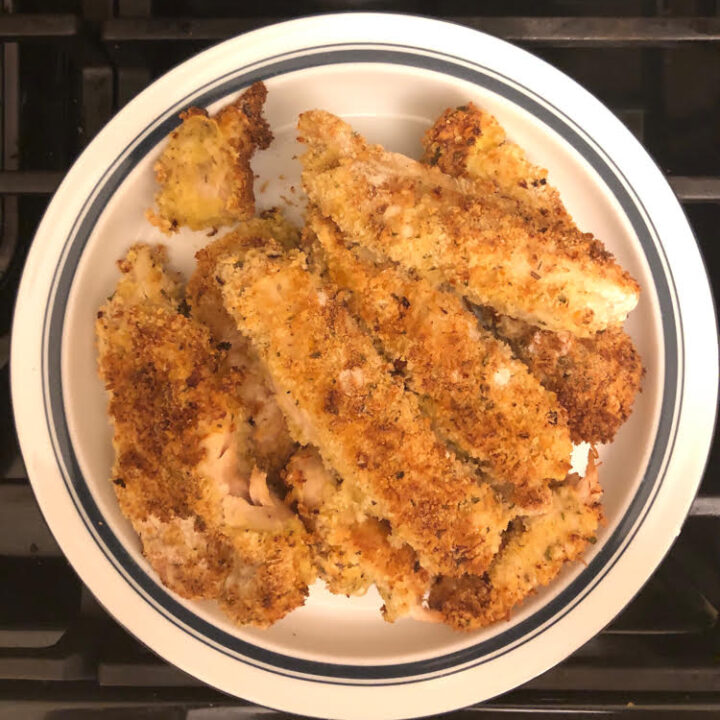 Air Fryer Chicken Tenders
These chicken tenders are crispy and delicious and cook up in minutes in the air fryer.
Ingredients
1 lb chicken tenders
1/2 cup breadcrumbs like Panko
1/2 tsp salt or to taste
1/2 tsp pepper or to taste
1/2 tsp garlic powder
1/2 tsp dried oregano or to taste
3 large eggs beaten
1/2 cup all-purpose flour
Instructions
Prepare the dredge: Preheat the air fryer to 400F. Get 3 shallow plates. Mix the breadcrumbs, salt, pepper and garlic powder in one of the plates. Beat the eggs in the second plate and add the flour to the third plate.
Dredge the tenders: Coat each tender in flour, then the beaten egg, and finally the breadcrumb mixture.
Air fry the tenders: Add the tenders to the air fryer basket. Cook for 8 minutes, flip the tenders, and cook for another 7 minutes or until golden brown. You might have to do this in batches if you can't fit all the chicken in one go.
Serve: Serve with your favorite dipping sauce.
Notes
You can make a siimple dipping sauce for the tenders by mixing yellow mustard to taste in about a 1/4 cup of sour cream.
You Might Also Like