This post contains Amazon affiliate links.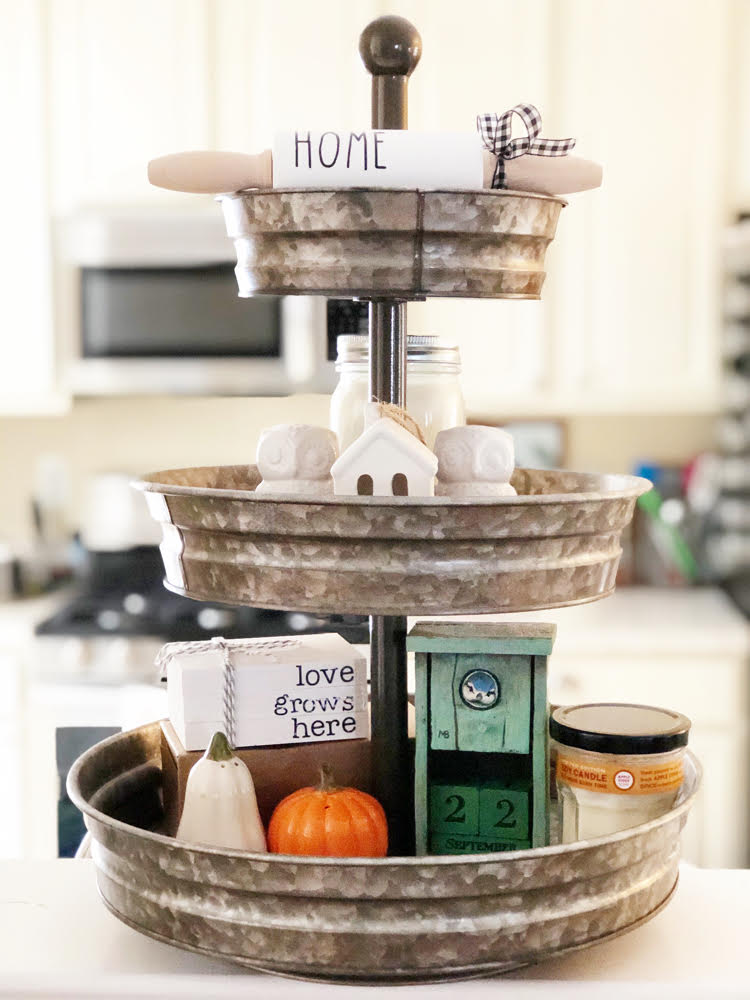 Happy Friday! Today I'm sharing a new column on Mom Home Guide called Friday Finds. In this column, I share some of my favorite Amazon finds. These Amazon best buys are some of my favorite purchases! I am a big Amazon shopper, and I am always looking for a good deal. Today I will be featuring my Galvanized Tiered Tray ($37.40). This tray and stand has 3 different levels. I enjoy decorating the tray throughout the seasons.
Galvanized 3 Tier Tray
I got my Galvanized Tiered Tray
over a year ago because I love decorating my home for the seasons. It's fun decorating a tiered tray because you can get a big seasonal or holiday look in a small space! I found my tiered tray on Amazon, and I think it's one of the best Amazon products I've purchased.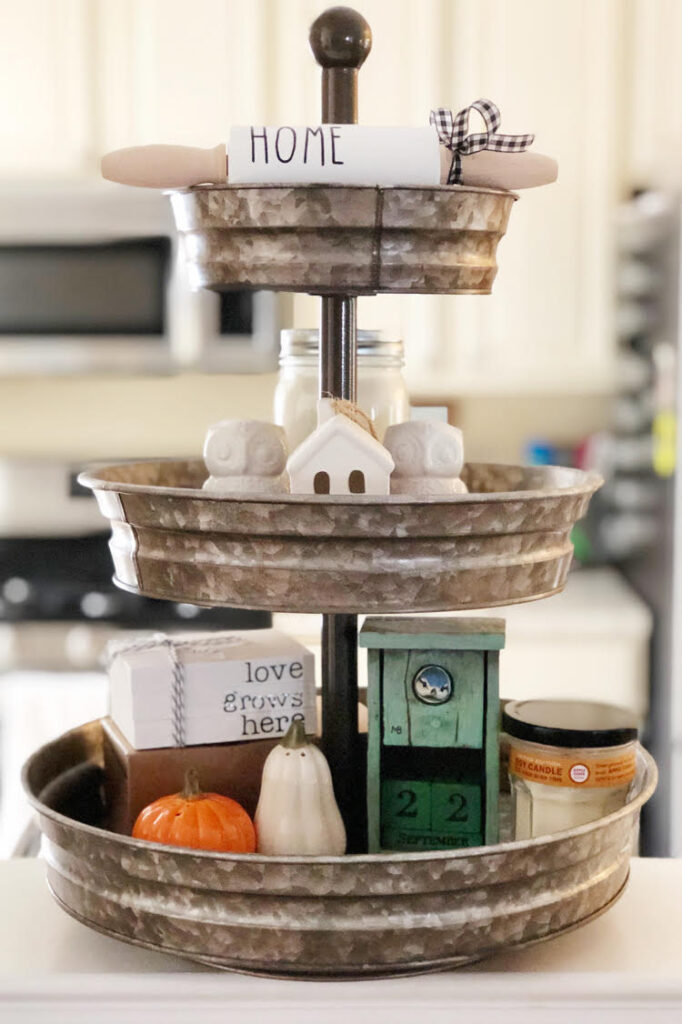 Tiered trays are a good way to get more storage – I am thinking of adding one to my kitchen counter to store spice bottles, etc. There is a corner of my kitchen counter that's rarely used since it's hard to reach. I've been thinking that it'd be a great spot for a practical use of a tiered tray or one just for decoration.
I like the galvanized tiered tray I chose. It is 18.7 inches tall and is 12.5 inches wide. It gives me a lot of room to display my seasonal decor. The galvanized steel gives the tiered tray a fun farmhouse-style look.
Decorative Galvanized Tiered Tray
The trays on my tiered tray stand are a silver galvanized metal, while the finial on top has an antique bronze color for a nice contrast.
I've been using mine as a decorative piece, but I've seen this 3 tiered tray used on a coffee bar (to hold coffee cups, sugar and cream, etc.) and to hold craft supplies – like multiple mini bottles of acrylic paint.
The stand comes in 6 pieces but it is more than simple to assemble. I didn't even need the directions! This tiered tray stand includes a large, medium and small tray. This top Amazon item has been reviewed at least 247 times, with a rating of 4.0 out of 5 stars. It seems that most people love this 3 tiered tray!
This year has been a bit stressful – and it's only been recently that I've decorated my tray! In 2019, I made a Valentine's Day tiered tray, a St. Patrick's Day tiered tray, and a garden themed tray.
On my tiered tray currently is a sweet mini "Home" mini rolling pin that my friend, Carrie of Curly Crafty Mom, made for me. Isn't it cute? I believe Carrie gave me the cute mini white ceramic white house (it lights up), too.
On the bottom tray is a faux book stack my friend Carrie gave me and cute pumpkin and gourd salt and pepper shakers. (This salt and pepper set is similar.)
, I also have a candle and a wooden birdhouse calendar.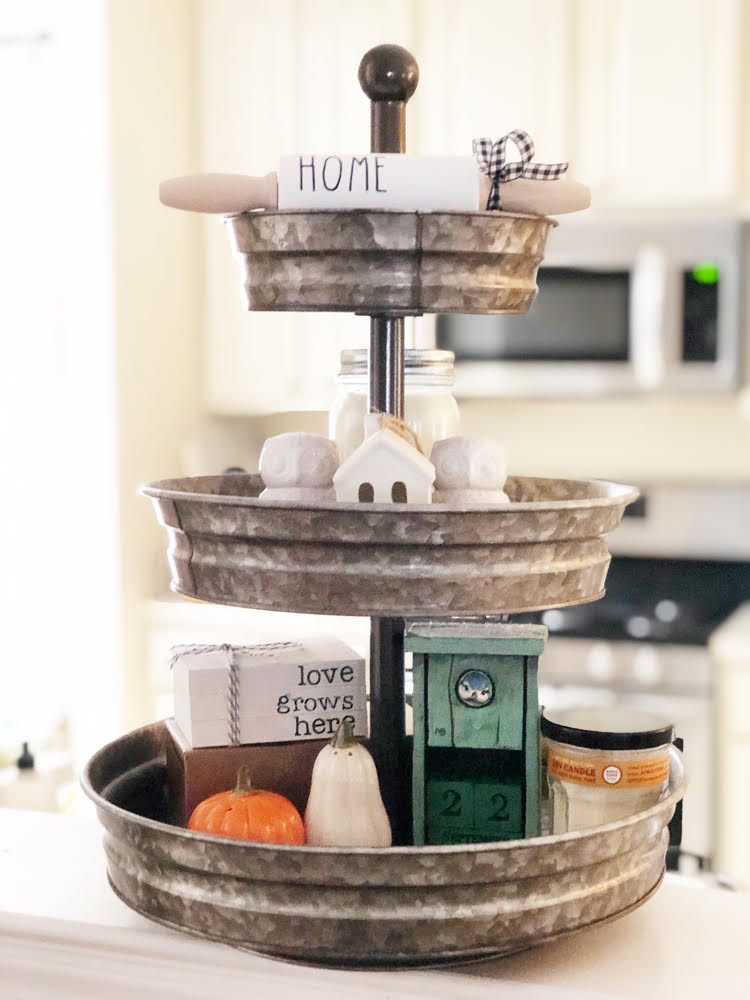 Check out some of my previous Friday Finds:
Silicone Muffin & Cupcake Liners for Baking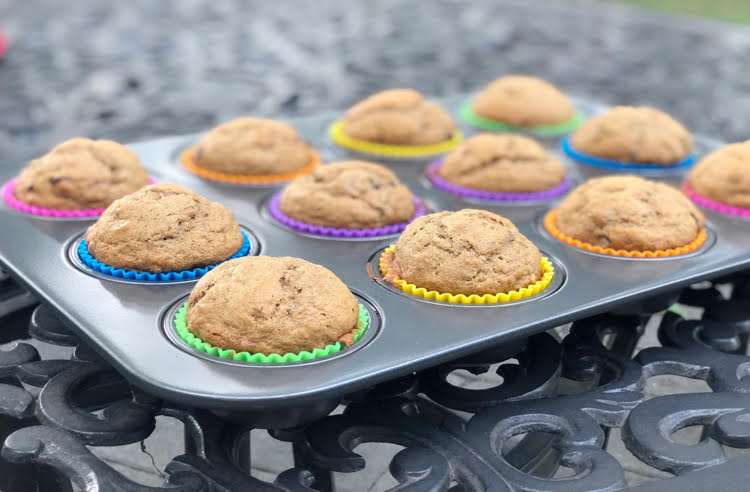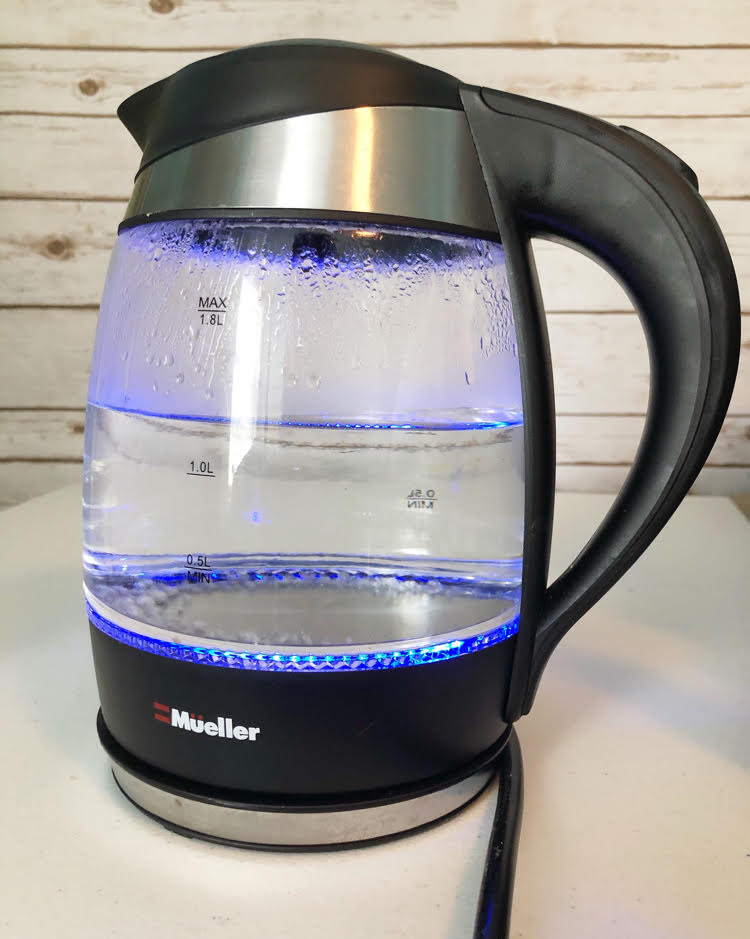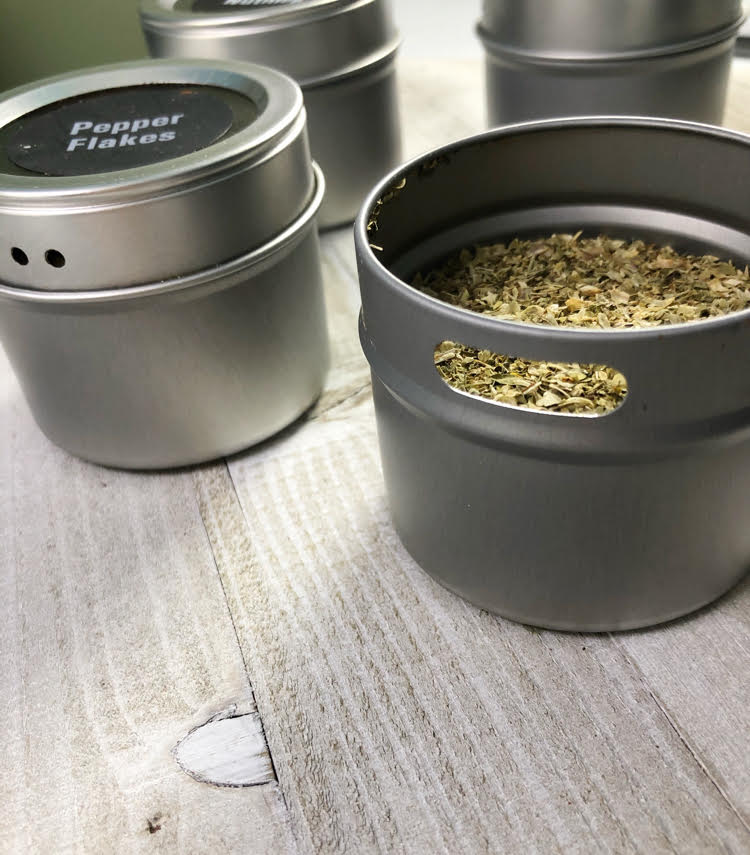 Check here a week from today for my next Friday Find: The International Concepts Shaker Sofa Table ($97.) This hardwood console table is unfinished, and I stained and chalk painted it myself for my home's living room!