This post contains Amazon affiliate links for your shopping convenience. If you click on an Amazon link, it costs you nothing, but I may earn a small commission that helps to fund this blog. Thanks!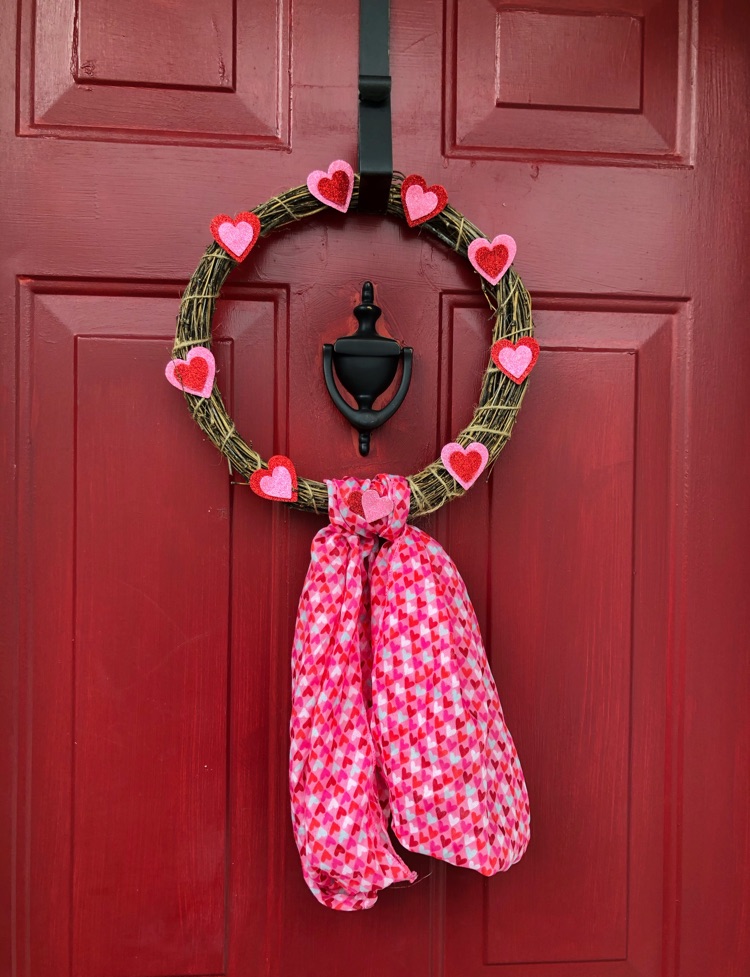 Do you like decorating for the holidays and seasons but don't like to spend a lot of money doing so? If so, check out my project today on Mom Home Guide. I'm sharing a sweet and pretty Valentine's Day wreath that I made for my home's front door for less than $4! A big place is that the wreath only took minutes to make!
Easy Dollar Store Valentine's Day Wreath
I love to shop dollar stores for craft supplies. My local dollar store often has such fun materials for home decor craft projects like seasonal wreaths. Plus, each item only costs $1! My daughter and I shopped a new-to-us dollar store a few weeks ago, and I was lucky enough to find everything that I used for my new Valentine's Day wreath. Since I only purchased three items, I spent less than $4 (with tax included).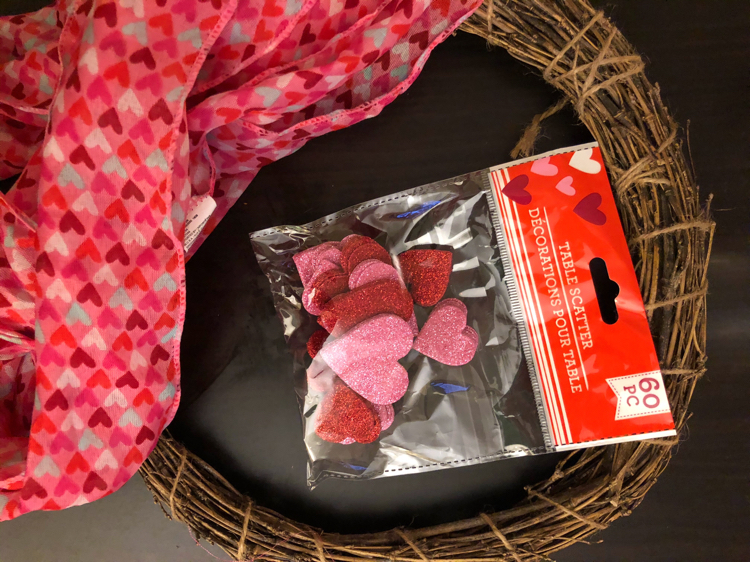 Valentine's Day Wreath Supplies
My Valentine's Day wreath is probably easier than most wreaths you'd find on Pinterest. You only need a handful of craft supplies, plus some hot glue and a glue gun.
1 small Grapevine Wreath
1 Valentine's Day Scarf
1 Glue Gun and Hot Glue
1 small package of small Glittery Foam Hearts
of various sizes
Valentine's Day Wreath Instructions
Making this wreath couldn't be simpler! I started out by laying out my supplies, putting a cylinder of hot glue in my glue gun and heating up my glue gun. Then I got to work!
I laid out a series of my larger foam hearts around the grapevine wreath. I then topped each heart with a smaller foam heart in a contrasting color. I used my glue gun to glue the small hearts to the tops of the larger hearts. I then glued the hearts around the top of the grapevine wreath.
To finish my wreath, I looped my Valentine's Day scarf around the bottom of the grapevine wreath and secured it with a simple knot. Then my wreath was complete!
Grapevine Dollar Store Valentine's Day Wreath
I hung my easy dollar store Valentine's Day wreath on my home's front door. On my front door I have an over the door wreath hanger
that makes it quite simple to change out the decor on the door whenever the whim hits!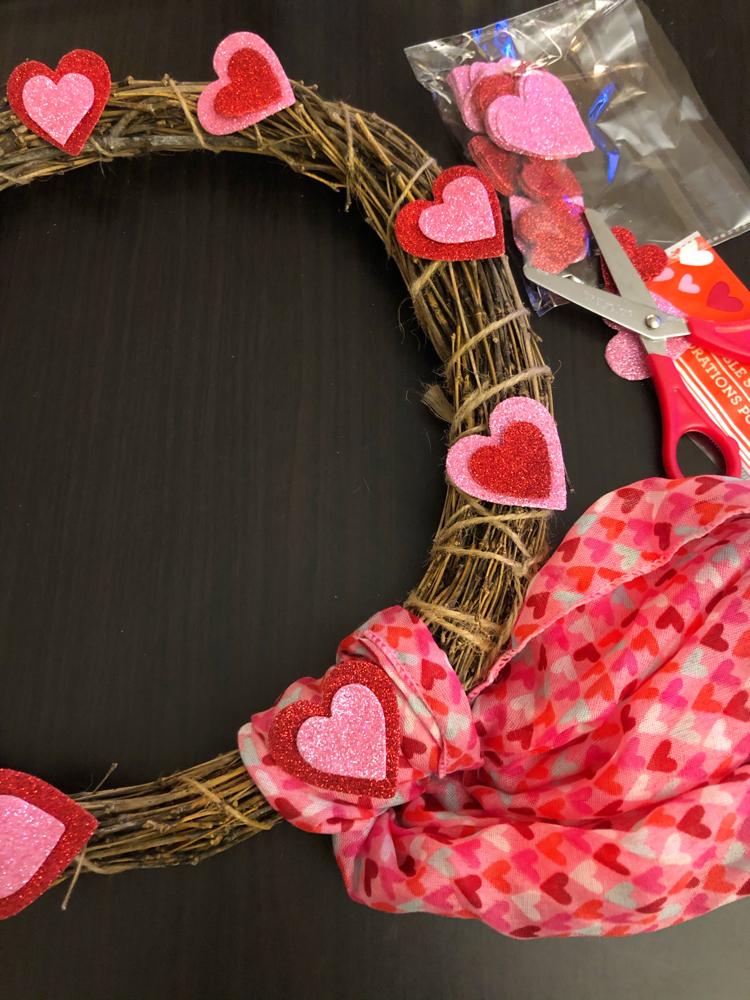 I think the wreath looks super pretty against the red of my home's front door.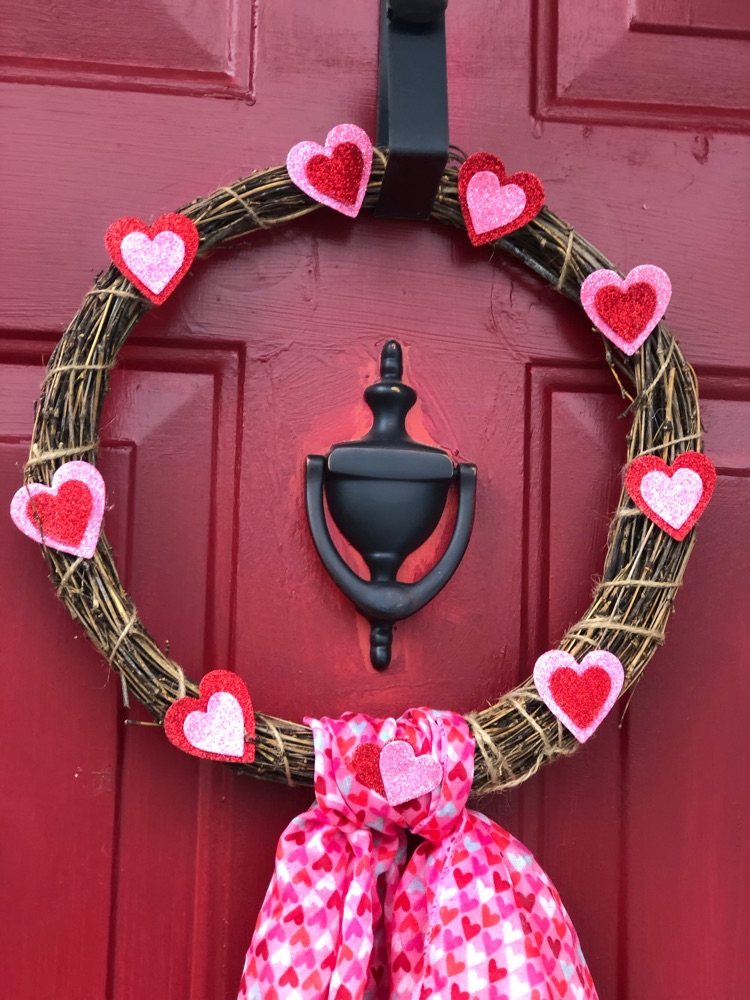 If you like the color of my door, check out my post on painting my front door with Modern Masters' paint in "Sophisticated." (Modern Masters sells a line of water-based front door paints that are made to withstand sunlight, etc., and not fade. Modern Masters Front Door Paint
is great for my home's front door, which faces the morning sun.)
Valentine's Day Ideas
Check out these other Valentine's Day ideas on Mom Home Guide!

Valentine's Day Tiered Tray
DIY Valentine's Day Display Box
Valentine's Day Rice Krispies Treats Recipe
Valentine's Day Chocolate Truffles Recipe