This post contains Amazon affiliate links. Thanks to Nearly Natural for sponsoring this post by providing me with a beautiful Nearly Natural faux Christmas tree.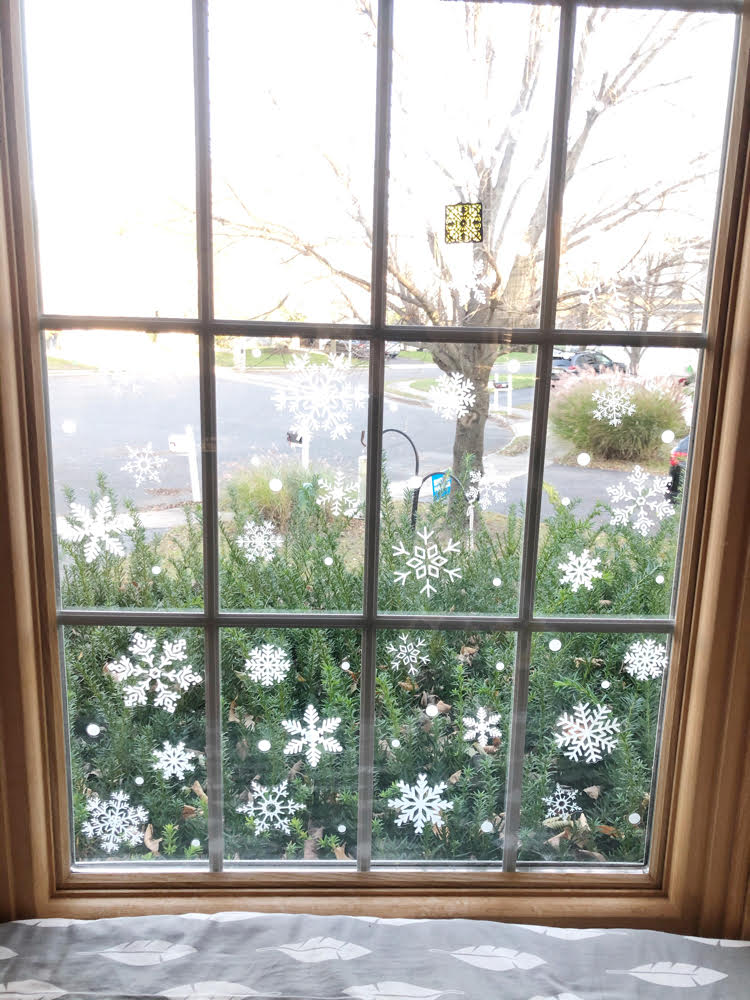 Welcome back to the Festive Christmas Ideas blog hop! Today my blogging friends and I are sharing Christmas decorating ideas! Today I am sharing an easy Christmas snow window that my daughter and I created in my living room's bay window as a backdrop for the new Christmas tree I put up this year. Be sure to scroll all the way down to the bottom of this post for more Christmas decorating ideas from my blogging friends!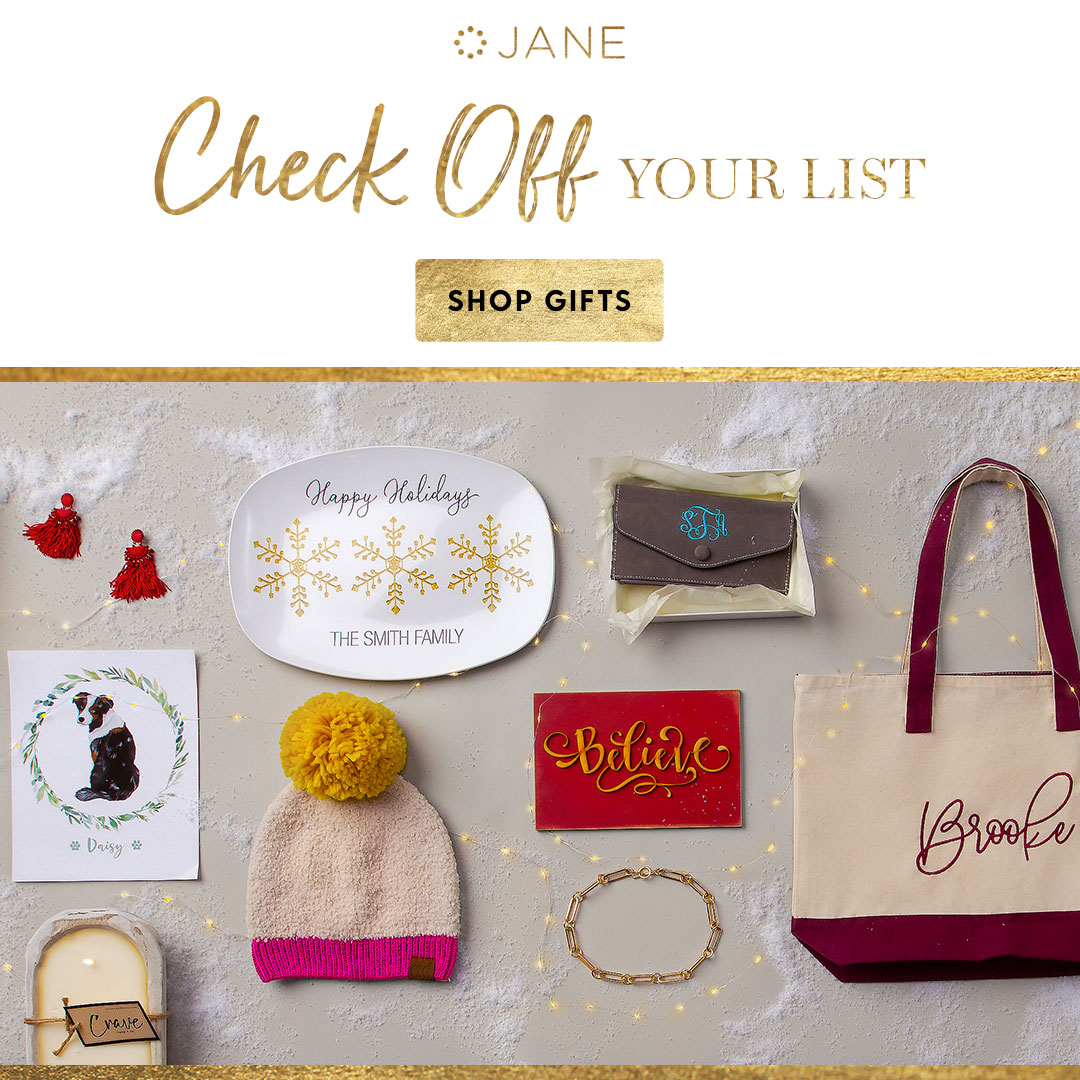 How to Easily Add Snowflakes to a Window
This year, I got a beautiful new Christmas tree from Nearly Natural. I am so happy with my new Christmas tree. My new tree is the 6′ White Mountain Pine Artificial Christmas Tree with 300 Clear LED Lights and Pine Cones from Nearly Natural ($138.99) My new tree only has a depth and width of 24 inches, so it's perfect for tighter spaces and a smaller living room like mine.
I chose the tree because of its rustic and natural look. The tree is designed to look as lifelike as possible and has both natural looking pinecones and clear LED lights. I thought it would be nice to provide a faux snowy backdrop for my new tree.
Snowflake Vinyl Window Decals
You can create a faux snowy window with Snow Frost Spray
and Christmas Snowflake Stencils
. That is a lot of work, though! When I saw the 223PCS+ Christmas White Snowflake Window Clings Decal Stickers
($8.49) on Amazon, I knew they would perfect for a quick but beautiful snowy Christmas window.
My order came with 9 sheets of snowflake stickers/decals. The snowflakes come in a broad variety of styles (some are daintier and more old fashioned, while others are chunkier and more modern looking). You can see the sheets of stickers in the photo below. (The photo also shows my Shih Tzu, Mochi, sitting in the window.) My pup is seated on the DIY window seat cushion that I made for the space.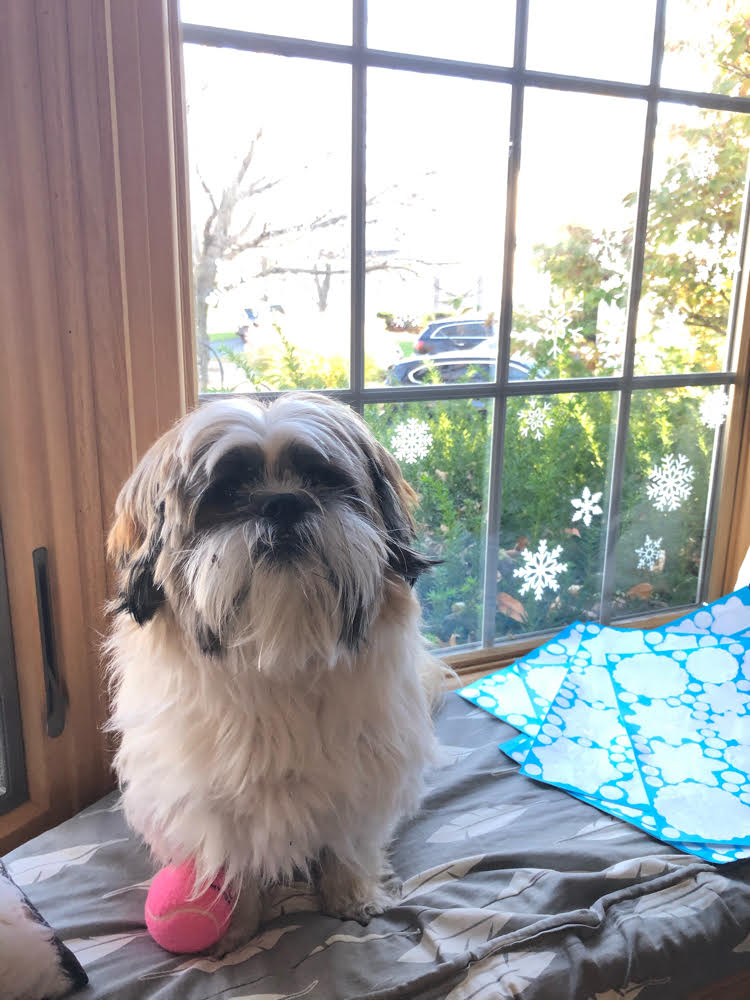 I recruited one of my daughters to help me put the decals up in the window. She did such a good job and was enjoying the process so much, that I let her take over decorating the window. I really like how the window looks! It only took us about 30 minutes or less to get all our snowflakes up. (And she did most of the work on her own.)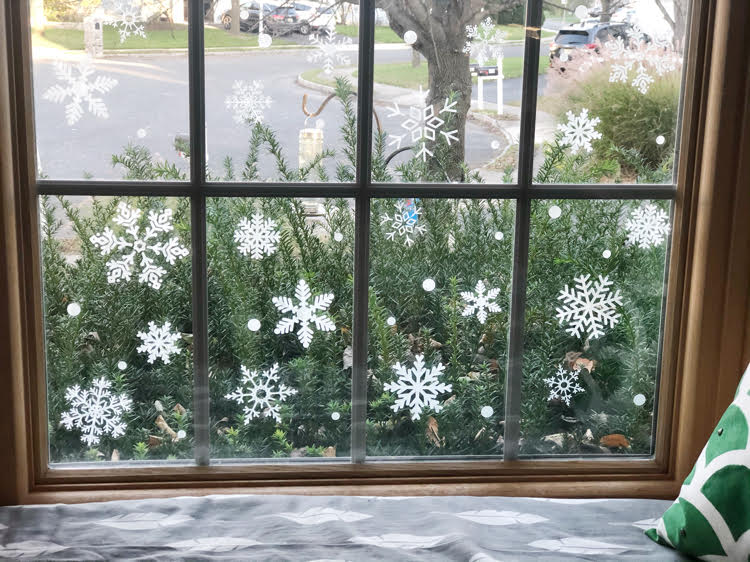 I think the snowy snowflake window is the perfect backdrop for my new Nearly Natural rustic mountain pine Christmas tree.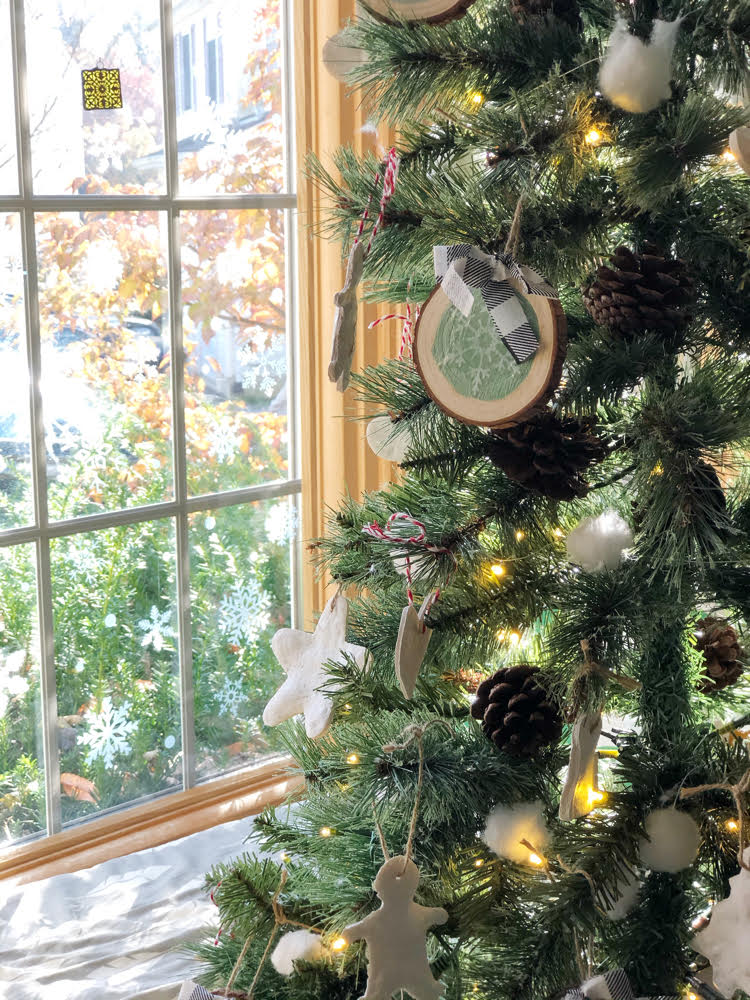 For my new Nearly Natural Christmas tree, I went with a minimalistic, Scandinavian-inspired look for my Christmas tree.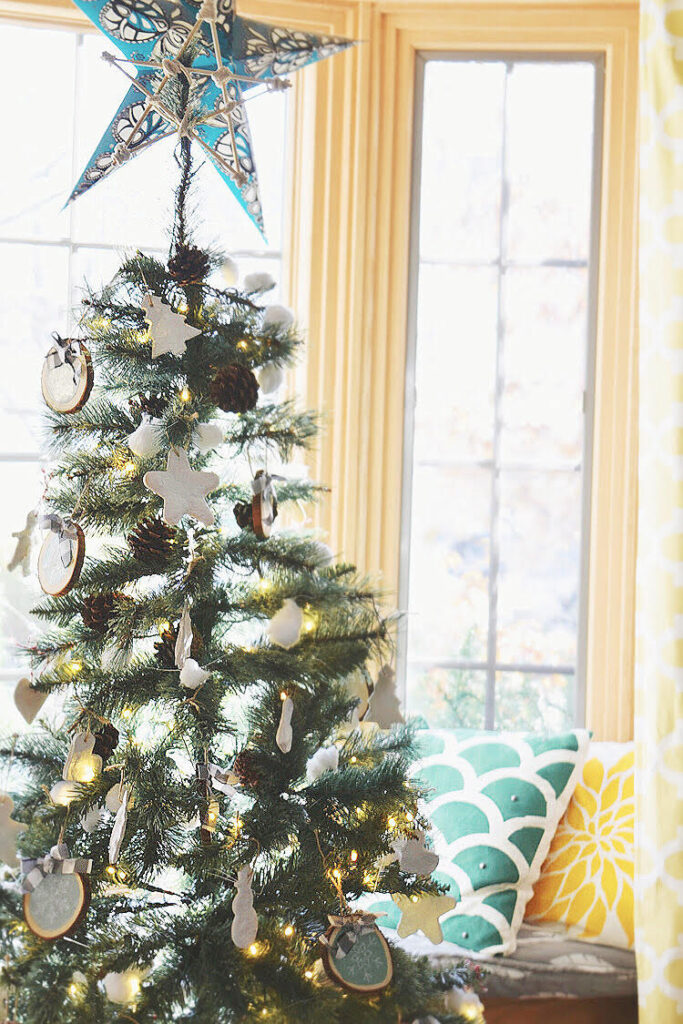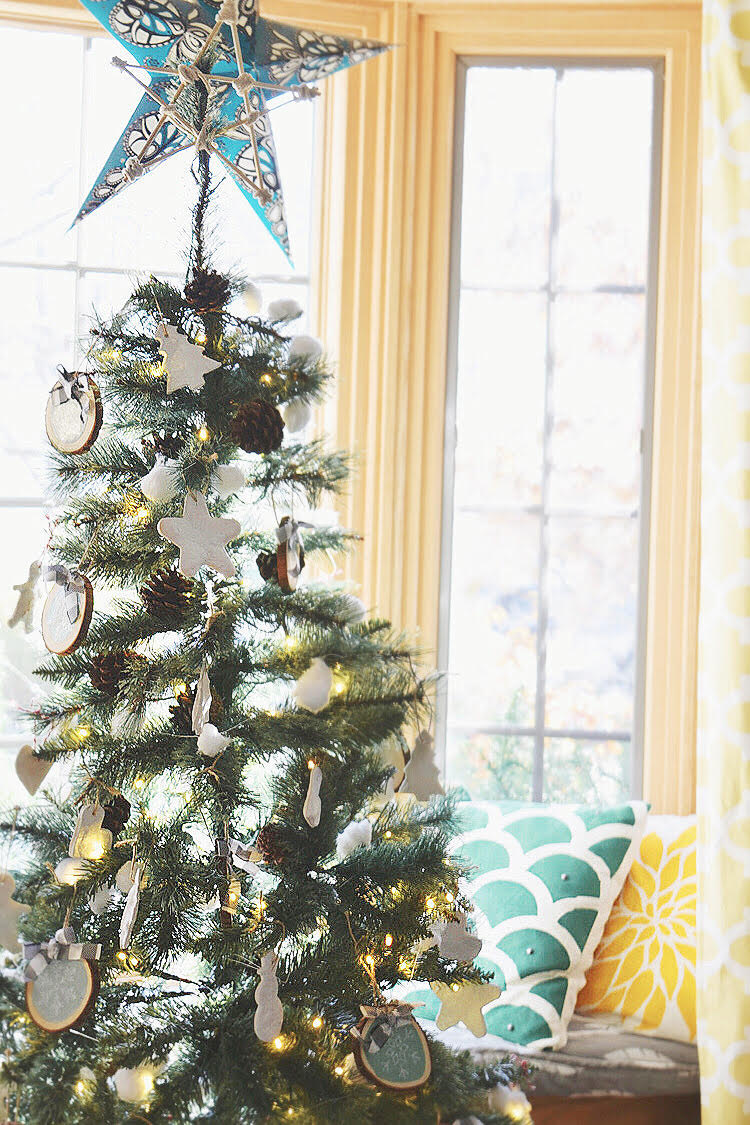 I made homemade wood slice ornaments, salt dough ornaments and a snowy garland made from upcyled kite string (that I found in my home's basement) and some cotton balls.
I think the tree and my snowflake decorated window look beautiful together! I think my pup enjoys the festive atmosphere, too,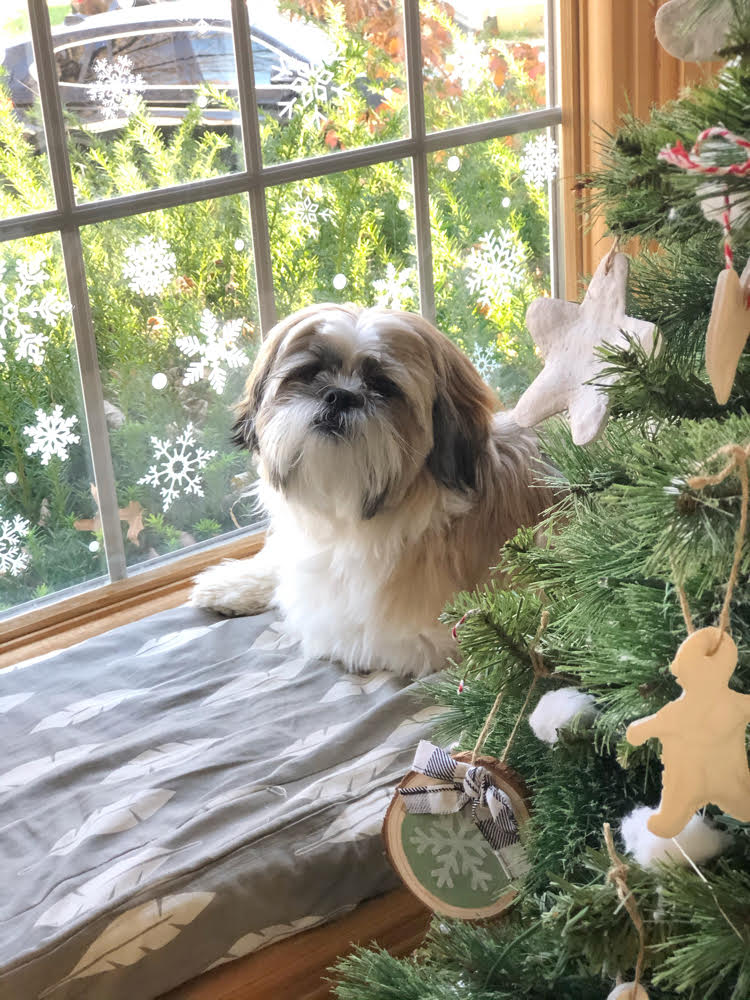 Check Out These Other Festive Christmas Decorating Ideas
Festive Christmas Decorating Ideas
You Might Also Like These Festive Posts