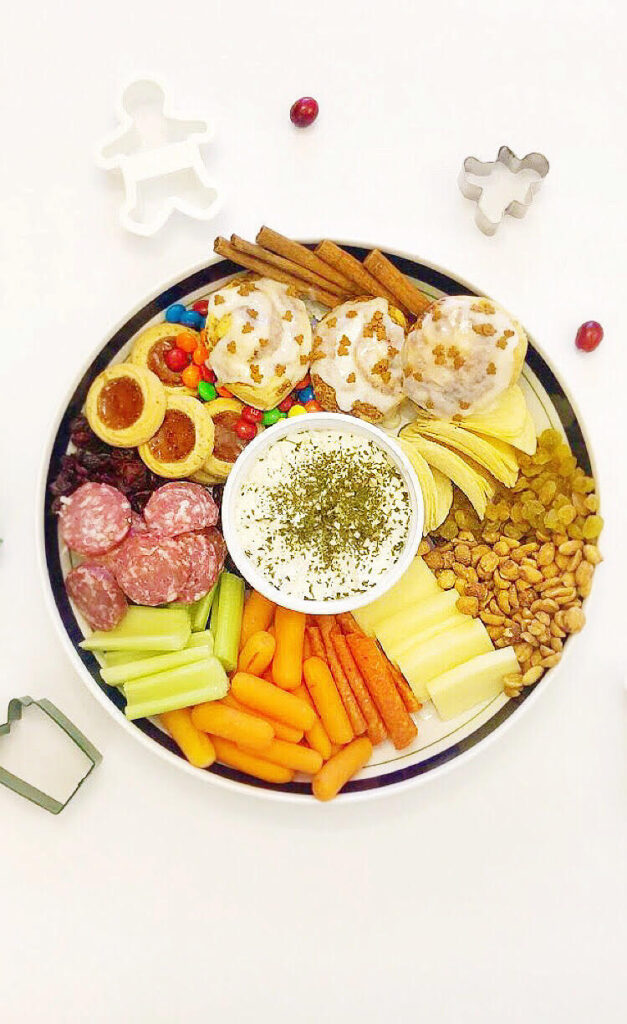 Welcome to the final day of the Festive Christmas Ideas blog hop! Today my blogging friends and I will be sharing Christmas breakfast ideas. I will be sharing a fun Christmas charcuterie board and snack tray!
In my home, I already have a rustic Christmas tree up with homemade ornaments, tree topper and garland. Now that's taken care of, it's time to think about what to serve my family on Christmas day!
In my home, our Christmas tradition is to have cinnamon rolls while opening presents. Not the homemade ones, but the refrigerated ones you buy in a can from the supermarket and then cook in your oven. (I have also served homemade cinnamon rolls. But with it being 2020, after all, — I plan to make it easier on myself and go back to our store bought cinnamon rolls tradition!)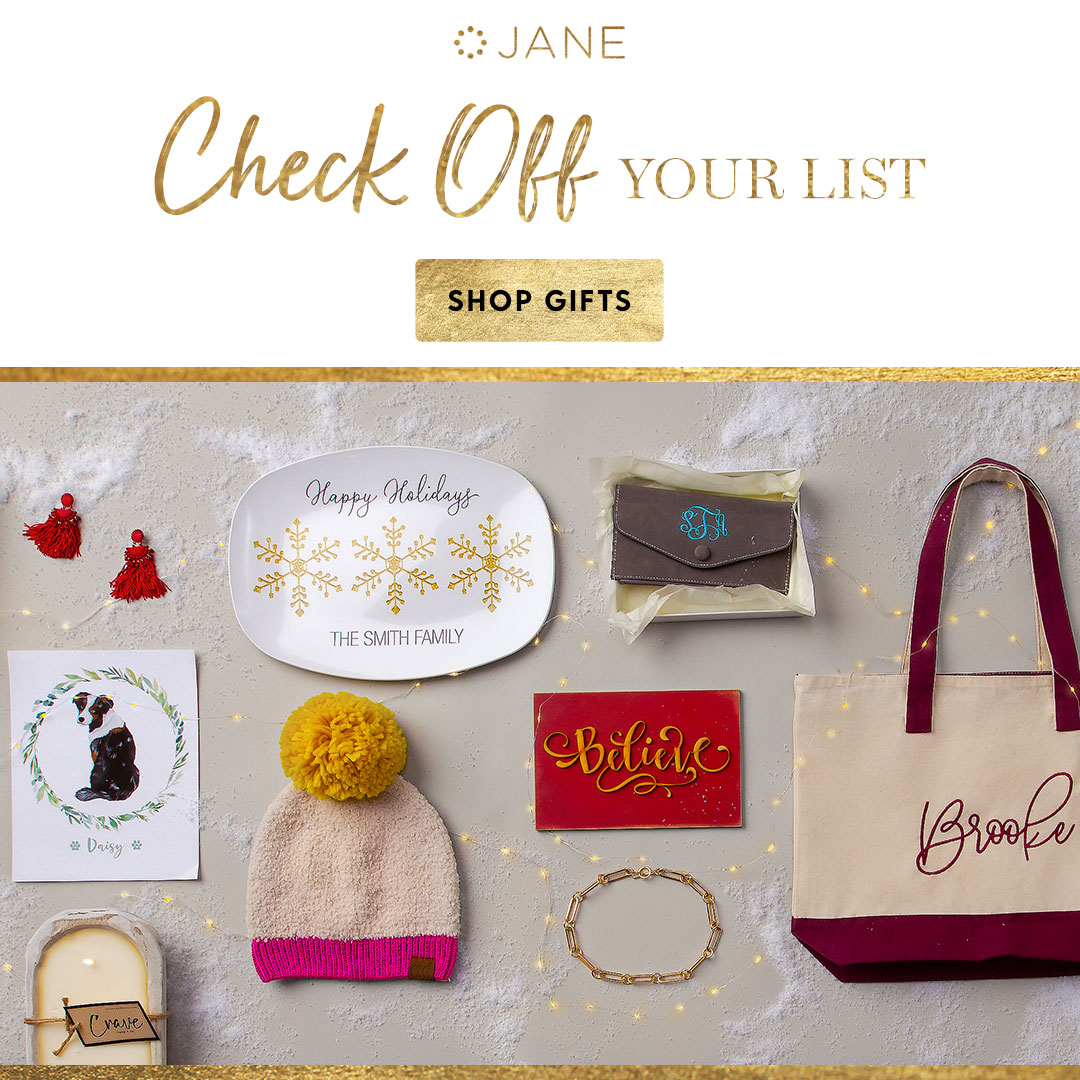 This year, since my family and I will be celebrating at home together, it would be fun to amplify our Christmas morning tradition!
For our Christmas morning, I plan to make a Christmas charcuterie board and snack tray that will include cinnamon rolls – but I will include a lot of other goodies, too! That way, we can nibble on our charcuterie board and snack tray Christmas day.
Oprah's Favorite Things is here!
Christmas Charcuterie Board and Snack Tray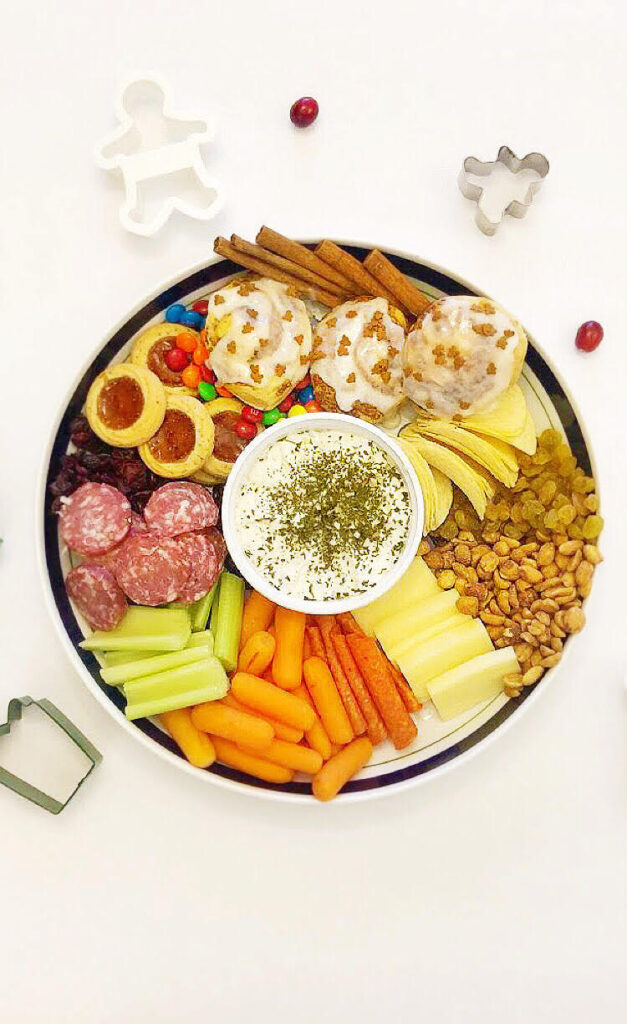 A Christmas charcuterie board and snack tray is an excellent option for Christmas morning and afternoon.
You can prep a lot of the ingredients the day before (like the fresh veggies, snacks and cheeses) and just place them on your charcuterie board or tray Christmas morning. That way, you won't miss out on any of the fun while you are in the kitchen!
There are lots of variations you can do for your charcuterie board and snack tray – you can make sure that you include a few of each family member's favorite snacks or foods, for example.
I love charcuterie boards – I shared a fall charcuterie board and snack tray earlier this season.
You can put whatever you like on your Christmas charcuterie board and snack tray. I plan to include cinnamon rolls – of course – but also some fresh veggies, dried fruit, cheeses, meats, snacks and dried fruit. I didn't include crackers on this tray, but I did put out a tray of crackers on the side when I served this charcuterie board.
Charcuterie Board & Snack Tray Ingredients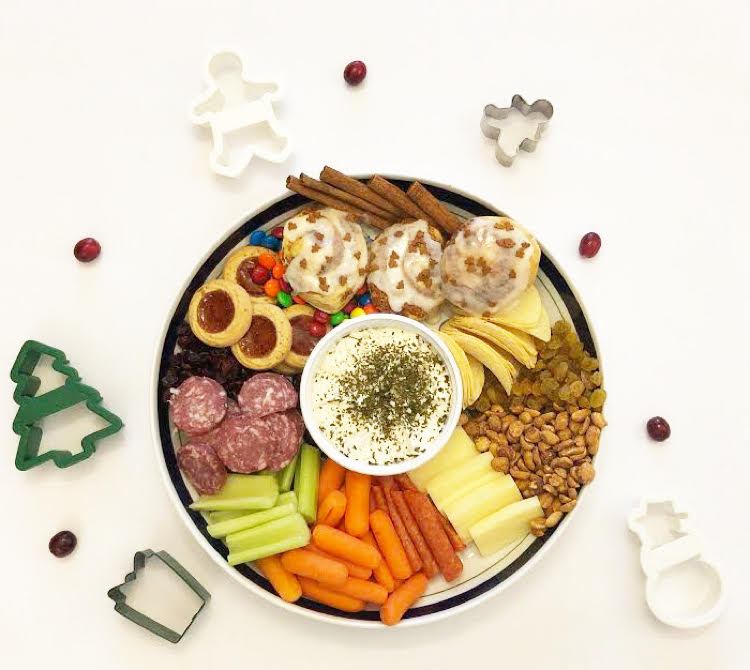 (Ingredients, clockwise)
Cinnamon rolls
Chips (I used Pringles)
Raisins (I used golden)
Honey-Roasted Peanuts (my favorite)
Sliced Sharp Cheddar Cheese
Soppresatta Slices
Carrot Sticks
Celery Sticks
Hard Salami Slices
Dried Cranberries
Cookies (The ones on this tray are store bought, but you could also try these recipes: Raspberry thumbprint cookies, chocolate chip cookies and frosted gingerbread cookies)
M&M's
Alouette Garlic & Herb soft cheese spread (in the middle)
(On this tray I also have cinnamon sticks. An option is to serve this tray with cups of warm apple cider for everyone. You can add a cinnamon stick to each cup for extra flavor.)
I like this mix of charcuterie board and snack tray items for Christmas. It think it will be good to have a mix of cheeses, meats, crackers, dried fruits, chocolate, veggies, nuts and cookies — something for everyone. I didn't include crackers on the tray in the photos here, but if you put some cheeses on your tray, including some crackers is a good choice, too!
Check Out My Friends' Christmas Breakfast Ideas
Check Out These Charcuterie Board Ideas
Best Charcuterie Board Ever – Mom On Timeout
Make a Christmas Charcuterie Board in Red and Green – The DIY Mommy
Christmas Charcuterie Board – Kath Eats
You Might Also Like These Festive Posts