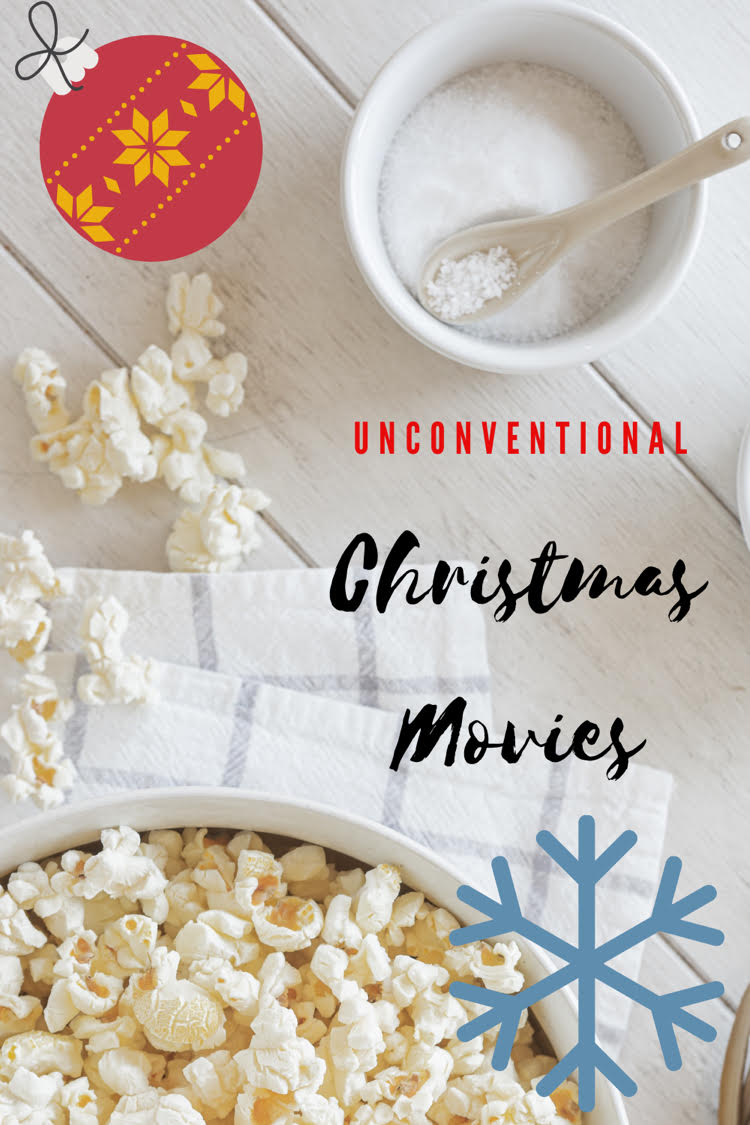 This post contains Amazon affiliate links.
During the holiday season, one of my favorite things is to spend an evening in with my husband and kids and watch a Christmas movie. When you like to watch holiday movies as much as I do, sometimes the list of traditional or standard Christmas movies can be kind of short! But luckily, I have found other non-standard Christmas movies that can get me in the holiday spirit, too! These festive unconventional Christmas movies aren't 100% Christmas movies, but they do the trick! Some of these unconventional Christmas movies happen to be among my all-time favorite movies, too. So if you are looking for some new movies to watch this holiday season, check out my list of festive unconventional movies to watch this Christmas! (Click on the links to see scenes from the movies.)
I am sharing this list of fun unconventional Christmas movies as part of the Festive Christmas ideas blog hop! This blog hop will share lots of holiday ideas, recipes, crafts and decor ideas to make the Christmas season extra festive! Check here every Monday and Wednesday for new holiday ideas! Plus, be sure to scroll al the way to the bottom of this post for more great Christmas movie suggestions!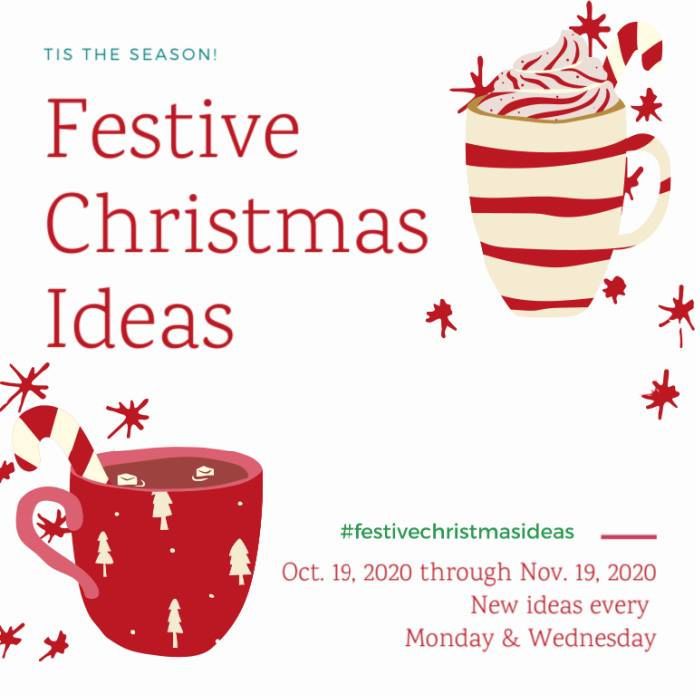 Festive Unconventional Christmas Movies
Last Christmas
"Last Christmas" is a romantic comedy that came out in 2019 and is the newest addition to my all-time favorite Christmas movies list. My daughters and I saw Last Christmas in the theater last December. I absolutely loved it, but they thought the ending was a bit too corny for them. But not for me! (I'm a big romantic at heart.)
The movie follows Kate, an aspiring English singer who always seems to be down on her luck. Struggling to make it big, she works as an elf in a year-round Christmas shop. She meets Tom, who turns her luck around and teaches her to see what is truly important in life. Tom doesn't turn out to be what you expect him to be, but there is still an uplifting ending.
Big plusses to the movie are the George Michael songs throughout the movie. Whoever put the movie together seriously loves George Michael! Another big plus is that Malaysian/British actor Henry Golding (who also starred in "Crazy Rich Asians") was cast as Tom – it's easy to see how Kate (Emilia Clarke) fell for him! I also love that the movie takes place in London. I can spot some places I came to know my junior year abroad in the movie!
The Family Man
"The Family Man" (2000) might be my second favorite unconventional Christmas movie. In The Family Man
, Nicolas Cage plays a high-powered, successful businessman, Jack. Just out of college, Jack left his college sweetheart, Kate (Téa Leoni), behind to pursue a Wall Street Career.
Years later, he unwittingly stops a robbery in a NYC bodega on his way home Christmas Eve. It turns out that the robber (Don Cheadle )is actually an angel, who gives Jack a "glimpse" of what his life could have been like.
Jack awakes in a different life in New Jersey – as a car tire salesman next to his wife, Kate, in a suburban house with their kids.
Just as Jack comes to enjoy his new life, he is abruptly sent back to his former life. It is up to him to see whether he can rekindle a romance with Kate and perhaps achieve a sweet family life like the one they shared in his "glimpse."
You've Got Mail
In "You've Got Mail," Meg Ryan plays Kathleen Kelly, who owns an adorable independent book shop in New York City. She meets Joe Fox (Tom Hanks) in a chat room on AOL. (This movie is from 1988, after all.) The two develop a sweet relationship online, but an adversarial one in person at first.
It turns out he's the owner of a big chain bookstore that's opening nearby that threatens her bookstore, a shop that her now departed mother had started when Kelly was a child.
Somehow, the two become friends in real life, too, not knowing that they are each other's online crush. This movie is a good one for Meg Ryan fans and for anyone who loves a sappy romance in which love conquers all.
There is a holiday flair in the movie, with one scene showing Kathleen decorating her book shop's Christmas tree while musing about the pseudo Christmas song,"River," by Joni Mitchell.
When Harry Met Sally…
"When Harry Met Sally…" (1989) is a special movie for my husband and me – we watched When Harry Met Sally…
together on one of our first dates when we first met on the job only about a month or two after graduating from college.
Like Harry (Billy Crystal) and Sally (Meg Ryan) in the movie, we were friends for a while before we became a couple. We danced to "It Had to Be You," a song in the movie, at our wedding.
When Harry Met Sally…
depicts the travails of dating and finding your special someone. Harry and Sally become friends and see each other through various dating travails, not realizing they were meant for each other.
The movie is quintessential Meg Ryan for those who are Meg Ryan fans. (She played the sweet, relatable heroine looking for love extremely well.) Billy Crystal is quite funny and relatable in his role as Harry.
This movie also shares scenes of New York City during the Christmas holiday season, and there is a scene of Sally picking out a live Christmas tree and struggling to drag it to her apartment on her own. The movie culminates with a romantic New Year's Eve celebration.
Anastasia
Meg Ryan also plays Anastasia in the animated movie, Anastasia
, another of my unconventional Christmas movie favorites. (You can tell I am a Meg Ryan movie fan.)
In the movie, "Anya" is an orphan who has lost her memory and has no idea that she's actually Anastasia, the one surviving child of the murdered Tsar Nicholas II, the last sovereign of Imperial Russia.
By chance, Anya meets Dimitri, who as a child, worked as a servant at the palace where she and her family lived. Dimitri is searching for someone who can pass as Anastasia, so he can earn a reward for finding the missing Anastasia. The reward is being offered by Dowager Empress Marie (Anastasia's grandmother), who is living in Paris.
As part of his scam, Dimitri convinces Anya that she is indeed the missing Anastasia, and the two travel to Paris together to meet the Empress. Along the way, Dimitri discovers that Anya is truth the missing Anastasia. The movie has some weird plot lines that I can do without about an evil (and deceased) Rasputin who tries to curse Anastasia using dark arts,. But I still love the movie.
Dimitri is willing to forgo his reward for finding Anastasia so she can live a grand life with her grandmother amongst the privileged class, but of course, love wins out in the end, and you see them riding on a boat in the Seine River as they look forward to a life together.
There aren't any true Christmas scenes in the movie, but there are lots of snowy wintery scenes set in Saint Petersburg and surrounding Russia. There is also a beautiful ballroom scene set in the palace, in which a young Anastasia is gifted with a beautiful music box and necklace key that opens the music box. I love the beautiful haunting "Once Upon a December" song in this movie.
A Bad Moms Christmas
The comedy, "A Bad Moms Christmas" (2017), can be raunchy at times, so I didn't love it at first. But A Bad Moms Christmas
has grown on me and is now in my collection of Christmas movies. This movie is all about the ups and downs of being a mom during the holidays season, and also about the sometimes emotionally fraught mother-daughter relationship.
The movie follows moms played by Mila Kunis, Kristen Bell and Kathryn Hahn as they navigate the ups and downs of the Christmas season while also dealing with the sometimes less than perfect relationships they have with their own moms. In the end, they all come to appreciate the family bonds they share.
Check Out My Friends' Lists of Festive Christmas Movies
Festive Christmas Movies
These Christmas movie ideas will be sure to get you in a festive mood this holiday season.
You Might Also Like These Festive Posts