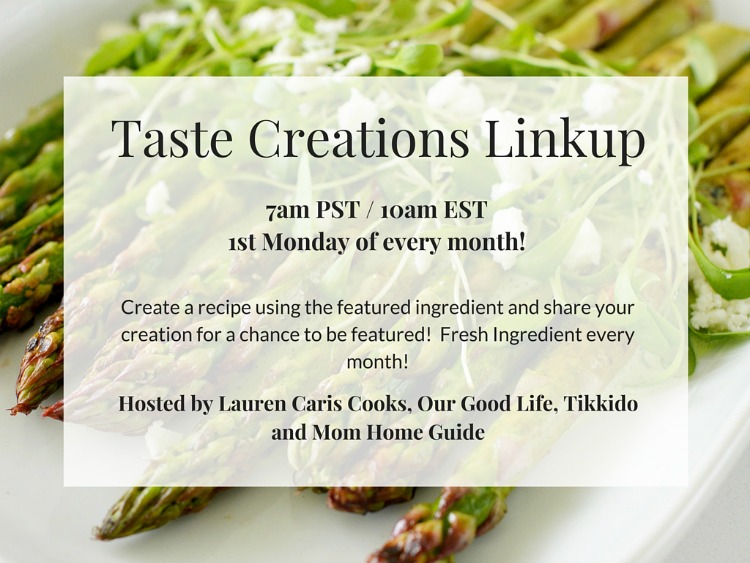 Welcome to this month's Taste Creations Linkup, where we will be sharing recipes using Leeks! The Taste Creations Linkup happens on the 1st Monday of Every Month at 7 a.m. PST / 10 a.m. EST. You can participate by submitting your recipes below any time until February 8 at 7 a.m. PST / 10 a.m. EST.
Next month we'll feature our favorite and most creative recipes from this month, so make sure you submit your post below!

Next month's ingredient is potatoes! Don't forget to come back on Monday March 7 at 7 a.m. PST / 10 a.m. EST to submit your recipes featuring potatoes!
Leek & Mushroom Pasta
For this month's linkup, I decided to make a delicious and creamy leek and mushroom pasta! I topped my pasta with grated parmesan cheese, which made the dish even more delicious! I just adore the taste of the salty, rich cheese against the creaminess of the leek and mushroom sauce!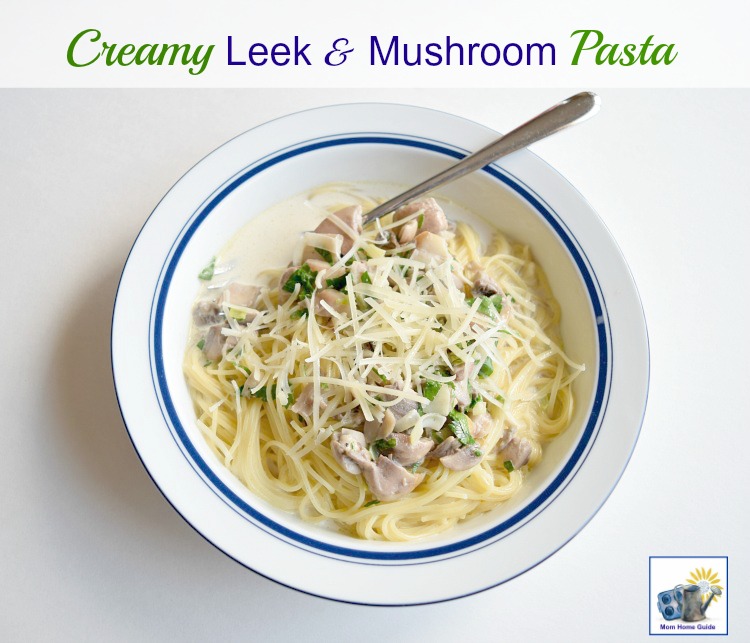 As it turns out, this dish is the first time I've ever cooked with leeks — and my kids loved it!
Leeks are a vegetable that belongs to the same family as onions and garlic (both of which I love). Leeks have a mild onion taste.
My daughters loved my pasta dish and declared leeks to be much better tasting than onions! Because I am so fond of onions myself, I am surprised that it's taken me so long to cook with leeks!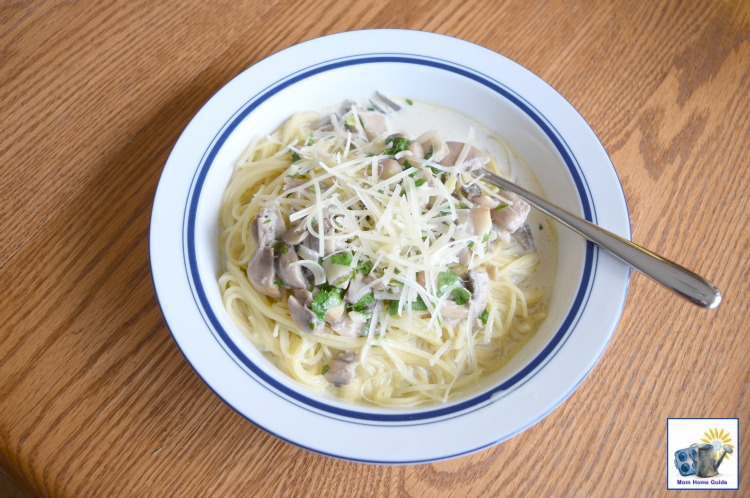 This recipe is incredibly simple to make — if you can cook up some pasta and chop some veggies, you can make this dish! For the full instructions, check out the recipe card below!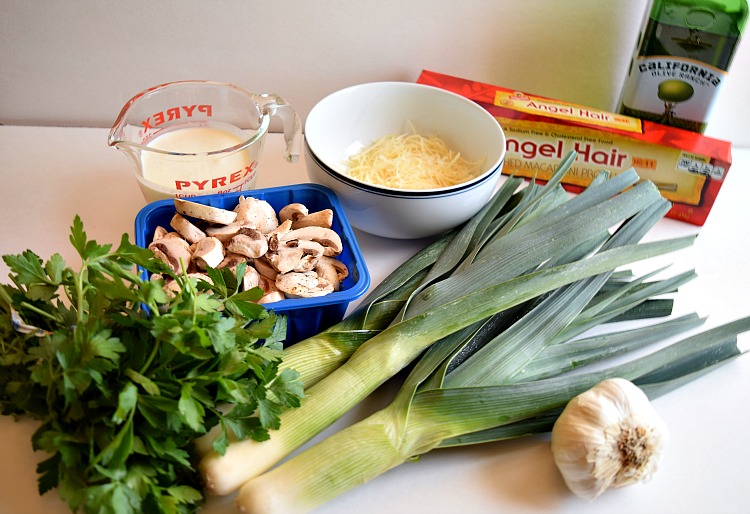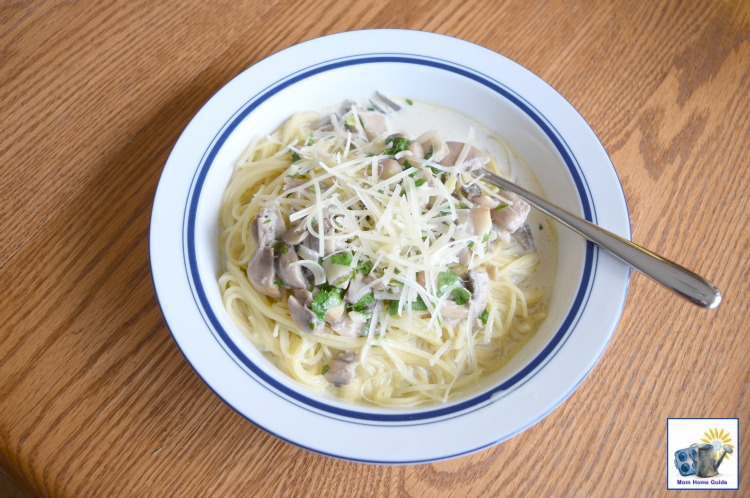 Creamy Leek & Mushroom Pasta
2016-01-28 22:32:46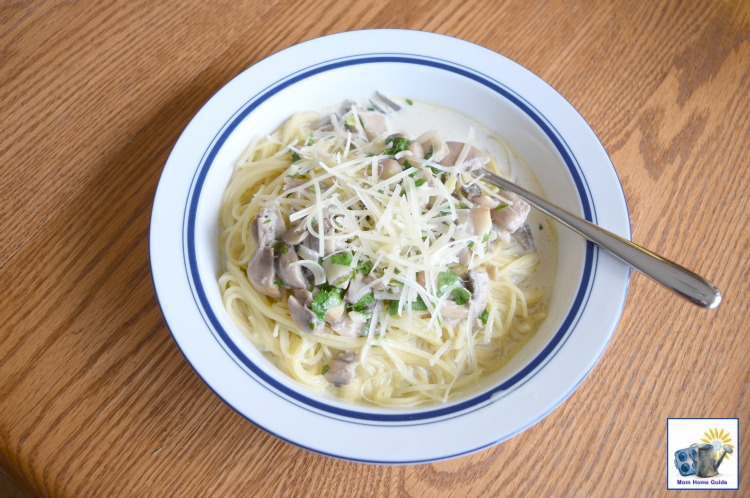 Pasta with a creamy mushroom and leek sauce, topped with fresh parsley and shaved parmesan cheese.
Ingredients
2 Tbsp olive oil
2 large leeks, stems removed, thinly sliced
1/2 lb mushrooms (I used white mushrooms)
3 garlic cloves, finely chopped
1/2 cup reduced sodium chicken broth
1 1/2 cups heavy whipping cream
2 Tbsp chopped fresh parsley
Salt to taste
Pepper to taste
Grated parmesan, for serving
12 oz of your favorite pasta, cooked in salted water according to package instructions, drained and rinsed.
Instructions
Start boiling the water for your pasta; it may take longer to cook your pasta than to prepare the pasta sauce.
Prepare your leeks by cutting off the root hairs and green stems. Finely chop the white part of the leeks and thoroughly rinse the chopped white part of the leeks in water. (Leeks can hide dirt.)
Cut your mushrooms into quarters.
Saute your leeks and mushrooms in the olive oil until they are tender.
Stir in 1/2 cup chicken broth and 1 1/2 cups heavy whipping cream.
Add 2 Tbsp chopped parsley and salt and pepper to taste. Simmer uncovered another 5 minutes or so until the sauce thickens.
Once your pasta is cooked (I used angel hair, my family's favorite), drain the pasta.
Plate your pasta by adding a mound of pasta to the plate with a healthy topping of the leek and mushroom sauce. Top with shaved parmesan cheese. Add extra chopped parsley if you like.
Adapted from Natasha's Kitchen
momhomeguide.com https://momhomeguide.com/
Taste Creations Linkup
We'd love you to link up your recipes! Here are the rules for participating in the linkup:
1) Everyone is welcome to link up 1 family friendly recipe, using the featured ingredient of the month. (No homepages please). We reserve the right to delete any posts we don't believe to be "family friendly."
2) Please follow your hosts on social media!
Lauren Caris Cooks / Youtube / Instagram / Pinterest /
Our Good Life / Facebook / Twitter / Instagram
Tikkido / Pinterest / Facebook / Instagram
Mom Home Guide / Facebook / Instagram / Twitter
3) Have a Visible Link Back to Mom Home Guide on your blog and in your recipe submission post. You can grab the Taste Creations button below to do this!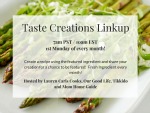 3) Please do not link up any round up posts. We ask that all images be original by you.
4) Visit at least 3 other posts and don't forget to comment! We will try our best to visit as many linkers as possible.
5) By linking to this party you are giving Lauren Caris Cooks, Our Good Life, Tikkido and Mom Home Guide permission to feature one picture on our websites, social media, and blogs. Proper credit will always be given to you. Neither Lauren Caris Cooks, Our Good Life, Tikkido or Mom Home Guide is responsible for stolen and/or misused images, misused projects and ideas..
This post was shared at Fiesta Friday.