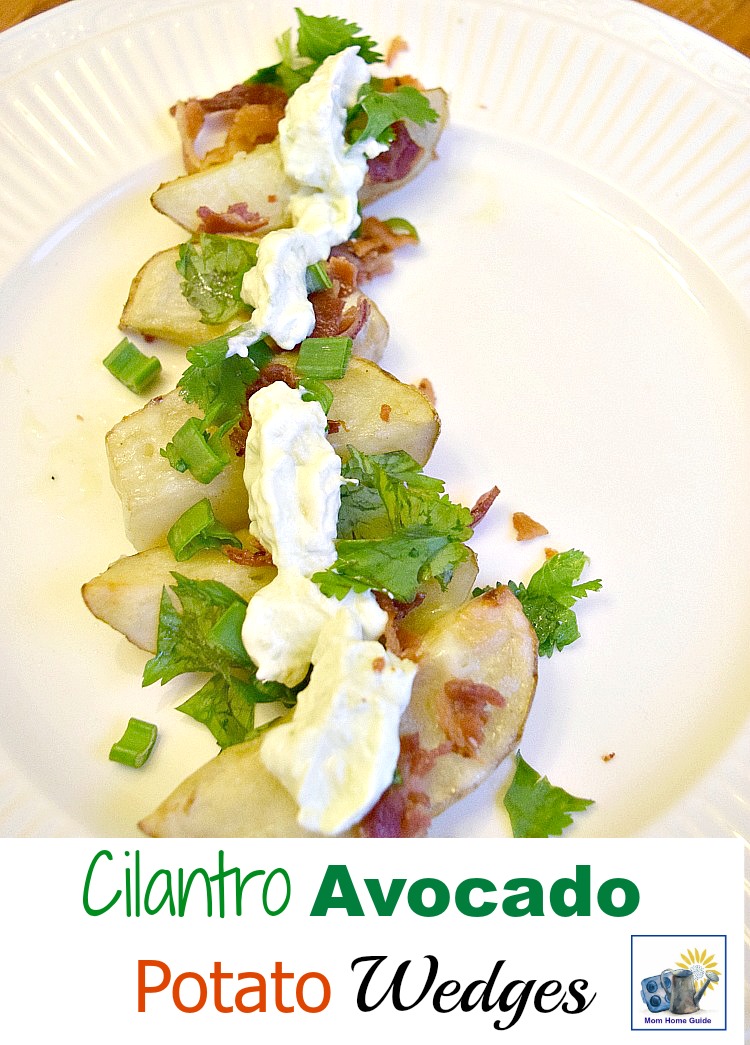 Welcome to this month's Taste Creations Linkup where we will be sharing recipes using potatoes! The Taste Creations Linkup happens on the 1st Monday of Every Month at 7am PST / 10am EST. You can participate by submitting your recipes below any time until the 8th February at 7am PST / 10am EST.
Next month we'll feature our favorite and most creative recipes from this month, so make sure you submit your post below! April's featured ingredient will be dark chocolate (I am REALLY looking forward to that one), so be sure to stop by on Monday, April 4, to browse some great chocolate recipes or link up your own recipes!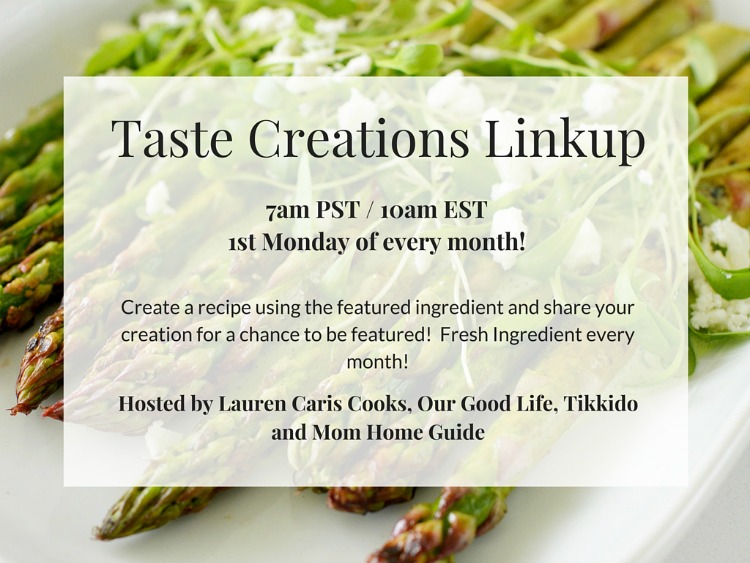 From last month's linkup, I loved the baked potato soup recipe from What a Girl Eats. To a traditional leek and potato soup, she added bacon, green onions, shredded cheddar cheese, chopped green onions and some sour cream to make an incredibly yummy baked potato soup! Doesn't it look great?

Loaded Potato Wedges
This month, I opted to make loaded potato wedges with pepper jack cheese, bacon, avocado, cilantro and scallion. I topped the potato wedges with avocado sour cream — yum!!
These potato wedges are so YUMMY and so easy to make, that I've actually made them a few times in the past few weeks! My daughters love them!
For the potato wedges, wash and scrub (with a potato brush) some Russet potatoes. (Yukon or any baking potato would probably work, too.) Cut each potato in half, and slice each potato half into 3 to 4 wedges.
Preheat your oven to 400 degrees.

Place the potatoes in a large bowl, and toss them with olive oil, garlic powder, salt and pepper. Then spread the potatoes on a baking sheet lined with foil or parchment paper. Bake the potatoes for 35-40 minutes, flipping the potatoes halfway through.
While your potatoes are baking, fry up some bacon to top your potatoes with, or get a package of pre-cooked bacon out of the fridge. Use a large chef's knife to chop your bacon.
Once your potatoes are baked, top them with some grated or shredded cheese (I used pepper jack, but you could also use cheddar or a Mexican blend of cheeses) and the chopped bacon. Bake the potatoes for another 5-6 minutes to melt the cheese and warm the bacon.
Top your potato wedges with chopped scallion, cilantro, or both! (I like both!)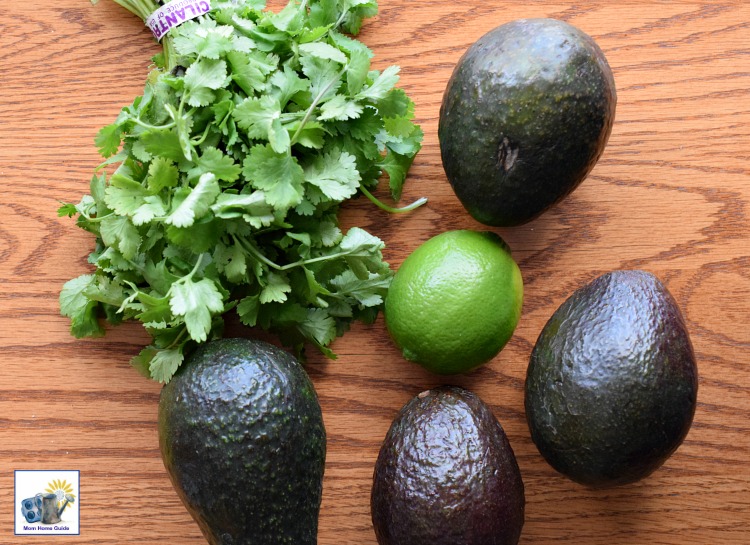 You could also top your wedges with a really easy avocado sour cream sauce. I did this, and my kids and I LOVED it! To make the sauce, all you have to do is put some sliced ripe avocado in the blender with about a cup or two of sour cream and add some lime juice and a pinch of salt. Blend the avocados, lime juice and sour cream in the blender, and you have a rocking avocado sour cream sauce!

Then, all there is left to do is top your potatoes with some avocado cream sauce and enjoy!
Taste Creations Linkup
Here are the rules for participating in the Linkup:
1) Everyone is welcome to link up 1 family friendly recipe, using the featured ingredient of the month. (No homepages please). We reserve the right to delete any posts we don't believe to be "family friendly."
2) Please follow your Hosts on social media!
Lauren Caris Cooks / Youtube / Instagram / Pinterest /
Our Good Life / Facebook / Twitter / Instagram
Tikkido / Pinterest / Facebook / Instagram
Mom Home Guide / Facebook / Instagram / Twitter
3) Have a Visible Link Back to *Insert your Blog Name* on your blog and in your recipe submission post. You can grab the Taste Creations button below to do this!
*Display the HTML for the button so that people can have the image on their blog that links back to your site* Let me know if you have any questions about inserting the HTML of the button that people can take.
3) Please do not link up any round up posts. We ask that all images be original by you.
4) Visit at least 3 other posts and don't forget to comment! We will try our best to visit as many linkers as possible.
5) By linking to this party you are giving Lauren Caris Cooks, Our Good Life, Tikkido and Mom Home Guide permission to feature one picture on our websites, social media, and blogs. Proper credit will always be given to you. Neither Lauren Caris Cooks, Our Good Life, Tikkido or Mom Home Guide is responsible for stolen and/or misused images, misused projects and ideas.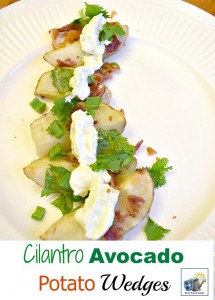 Cilantro Avocado Potato Wedges
2016-03-04 11:03:54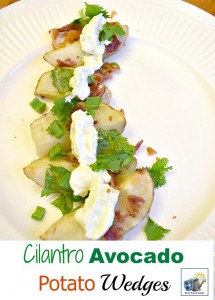 Baked potatoes loaded with melted cheese, bacon and chopped cilantro and scallions.
Ingredients
2 pounds Russet potatoes, wedged
2 tablespoons olive oil
1 teaspoon kosher salt
1 teaspoon ground black pepper
1 teaspoon garlic powder
1 avocado
1/2 cup sour cream
1 lime, juice only
Cheese, grated (I like to use cheddar jack)
Bacon, crispy and crumbled
Scallions or cilantro -- or both!
Instructions
Preheat oven to 400.
Wash and cut potatoes into wedges.
Toss with olive oil, garlic powder, salt and pepper.
Bake potatoes 35-40 minutes on a foil or parchment paper lined baking sheet for 35-50 minutes.
Top your potatoes with grated or shredded cheese and bake another 5 minutes or so, or until the cheese is melted.
Top potato wedges with chopped scallion, cilantro or both.
Avocado Sour Cream
Add 1 sliced avocado to a blender with 1/2 cup of sour cream. Blend until well mixed. Then use a spoon to top your potato wedges with the avocado sour cream sauce.
momhomeguide.com https://momhomeguide.com/
This recipe was shared at the
Party in Your PJS
,
This Is How We Roll Link Party
and
The Creative Corner Link Up Party